Winning constructors' title 'almost more exciting' than drivers', says Hamilton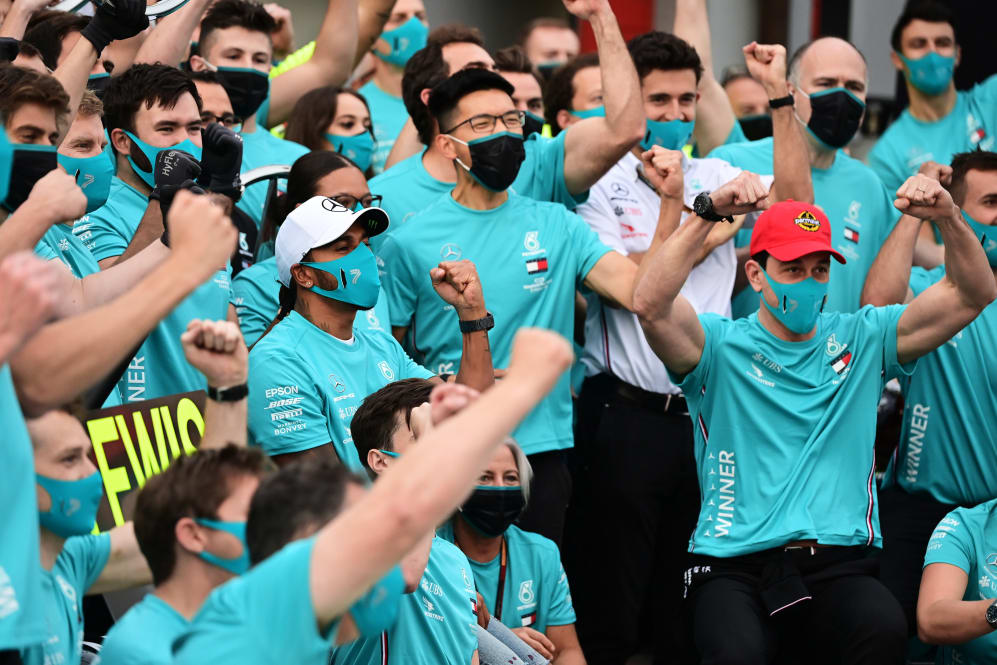 Barring a catastrophic end to his season, Lewis Hamilton looks almost certain to win his seventh drivers' title in 2020. But after securing the victory at Imola that helped ensure Mercedes' seventh consecutive constructors' title, Hamilton said that winning the team prize tasted nearly as sweet as claiming the drivers' championship...
Hamilton's win over team mate Valtteri Bottas at the Emilia Romagna Grand Prix moved him 85 points clear of the Finn in the drivers' standings with just four races to go this year. But it was Hamilton and Bottas' maximum 44-point haul from Imola that put Mercedes' seventh consecutive constructors' championship beyond doubt, as they surpassed Ferrari's previous record of six straight titles that they'd matched last year.
READ MORE: Wolff says he has successor in mind after 'blood, sweat and tears' of seventh title
And asked how winning the constructors' crown compared to winning the drivers' title, Hamilton replied: "It's almost more exciting winning the team one.
"It's a very strange sport in the sense that it is a team sport but there are two championships... but what is at the core our job is to deliver points and results for the team. So when you win a team championship, I think it's almost better than an individual because it's something you do collectively, with a large group of people, and whilst we are the ones standing on top of the podium, we are not above anybody. We are on the same level, we are all part of the chain links.
"You can tell that everyone is so happy when they get the constructors' title," Hamilton added. "When we do the Christmas party and we celebrate with everyone, everyone just knows that they did a remarkable job and that they have done something that nobody else has done before.
"That's cool to be a part of. Even if I was to stop today, that would be something that I would be able to share with that large group of people for the rest of my life."
READ MORE: Imola race winner Hamilton says he wants to stay in F1 but there's 'no guarantee'
Valtteri Bottas may have played a supporting role to Hamilton's heroics during the four years the pair have spent together winning constructors' titles, with Hamilton winning all four drivers' championships in the same period. But the Finn said that he was nonetheless "proud" of the job he'd done at Mercedes since replacing Nico Rosberg at the team in 2017.
"For me, it's crazy to think that I've now been part of the team four years in a row… winning the constructors' championship," said Bottas. "It's quite unreal – but I think everything that Lewis said, for me, I'm just really thinking the same.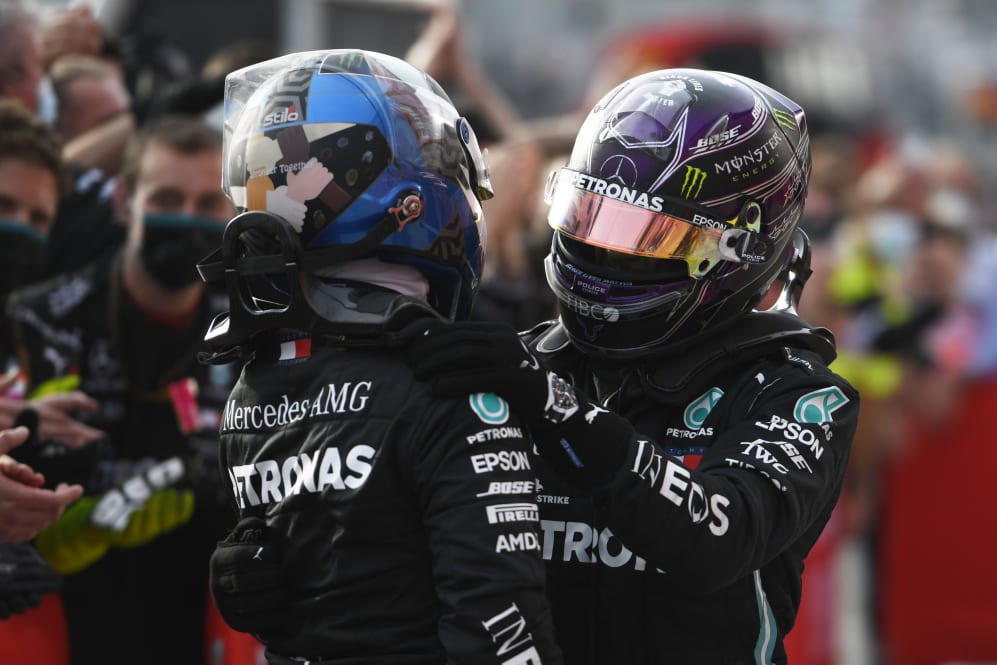 "I'm so proud of every single team member, what they're doing, all the factories and in the race team. We keep raising the bar for every single team member but we do it united. We support each other but the spirit the team has, it's making these things possible. And I'm really, really proud to be part of it.
READ MORE: Bottas says floor damage cost him '50 points of downforce' as Mercedes reveal size of debris he hit
"I think for all of us in the team, it takes a bit of time to understand what we're doing and what we are achieving," Bottas added, "but we should definitely enjoy it because it is amazing."
Hamilton, meanwhile, has the ability to wrap up his drivers' title at the next event, the Turkish Grand Prix, in a move that would see him draw level with Michael Schumacher on seven individual championships – with Hamilton having matched and now surpassed Schumacher's win record this year, with the Briton now on 93 victories.