Feature
Superman, Star Wars, and Ocean's Twelve – 5 special Monaco Grand Prix liveries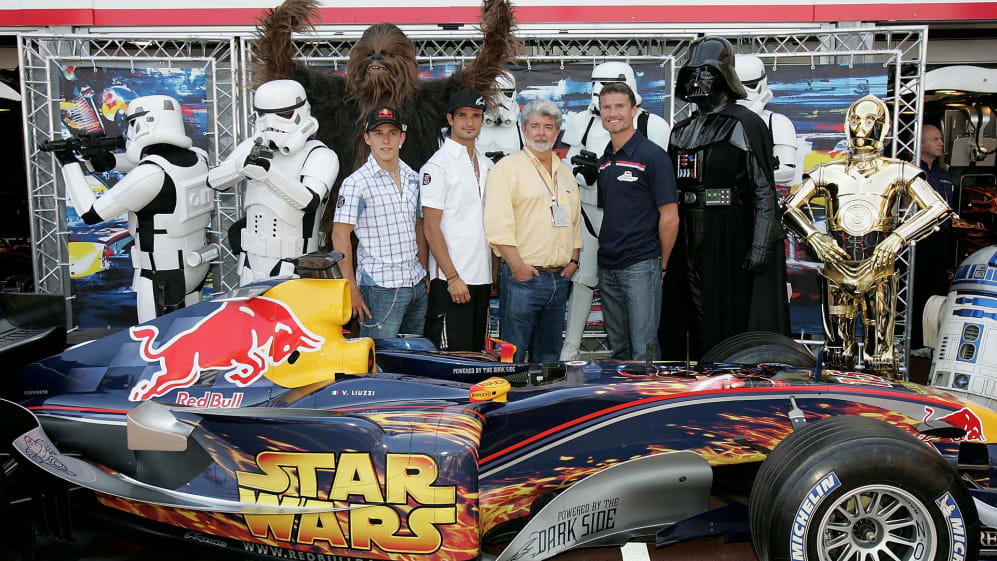 McLaren's incredible one-off Gulf livery for this weekend's Monaco Grand Prix got us thinking about other teams who have pushed the boat out for F1's most glamorous race.
McLaren are just the latest team to sport a special paint job for the race weekend in the Principality and, below, Superman, Star Wars and diamonds feature in a collection of notable one-off liveries teams have sported in Monaco.
Scroll down to see our favourite special designs from Monaco GPs gone by, in no particular order.
READ MORE: How fan power inspired McLaren to go with a special livery for Monaco
1. Red Bull turn to the dark side
Stormtroopers, Chewbacca and a special livery adorned Red Bull's 2005 Monaco GP entry to promote Star Wars: Episode III – Revenge of the Sith.
Ahead of the weekend the team enjoyed numerous promotional stunts in their new Star Wars-themed uniforms – but things didn't go quite to plan as David Coulthard and Vitantonio Liuzzi both retired from the race. We're just surprised that no one had a bad feeling about this...
2. Larrousse's chequered livery
Larrousse usually ran a green livery in 1994 but for the Monaco, San Marino and Pacific Grands Prix they changed up to a red-and-white, chequered paintjob to promote Kronenbourg beer. And chequered their season would prove to be, as the fast but unreliable LH94 would see the team suffer a retirement in all but three Grands Prix that season.
3. Mercedes pay tribute to Niki Lauda
Formula 1 was saddened by the passing of Niki Lauda in 2019 and in Monaco, the whole paddock wore red hats in tribute to the late legend.
Mercedes took the tribute one step further as Lauda was the team's non-executive chairman - the W10 car had a red halo, a red star on its engine cover and Lauda's signature on the nose with Lewis Hamilton winning that day as the ultimate homage to the Austrian.
5. Jaguar prove that diamonds aren't forever
In 2004 Jaguar unveiled a special Monaco livery to promote the new Ocean's Twelve film, but most eye-catching was the presence of an absolutely massive (and genuine) Steinmetz diamond on the nose of both of their R5s.
Mark Webber's car retired on Lap 11 with the diamond still in place, but when the team recovered Christian Klien's car after a Lap 1 accident, the jewel was nowhere to be found. Had it become dislodged in the crash? Or had some opportunist villain snatched it when no one was looking? To this day, the huge gem has never been found.
Find out more in the new F1 On The Edge podcast, with the first episode out May 19!