Feature
Schumacher's comeback and Wurz's record wait – 10 of the longest gaps between F1 podiums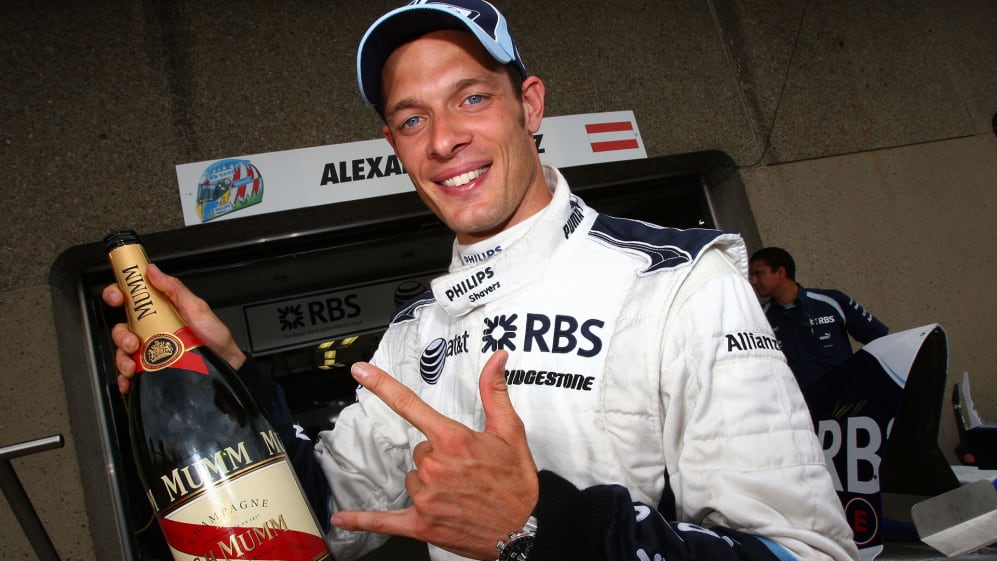 Daniel Ricciardo finally scored his first podium for Renault last week with third place at the Eifel Grand Prix, ending a long run without a top three finish stretching back 868 days to his 2018 win at Monaco. So after the Australian's long wait to get back on the rostrum, we've picked out ten other F1 drivers that had a big gap between tasting the champagne after a Grand Prix…
1. The longest wait in F1 history for Alex Wurz
2842 days
Alex Wurz only scored three podiums in his whole career, his last coming in the 2007 Canadian Grand Prix for Williams – after a wait of over two years. But the Austrian had waited far longer for success before that, as the gap between his first and second podiums was a stunning seven years, nine months and 11 days.
In only his third start Wurz managed third place at the 1997 British Grand Prix when Michael Schumacher and Mika Hakkinen both retired. Fast-forward to the 2005 San Marino Grand Prix and he'd managed a solid fifth-place finish.
However, both BAR Hondas of P3 Jenson Button and P4 Takuma Sato were disqualified, promoting Wurz to his second podium after a wait of nearly eight years. To date, it is the longest gap between two F1 podiums for a driver.
PODCAST: Alex Wurz on his F1 podiums, designing tracks, leading the GPDA and more
2. Nick Heidfeld capitalises on Malaysia mayhem
1,449 days
Nick Heidfeld's first career podium came for Sauber as treacherous conditions surrounded Interlagos for the 2001 Brazilian Grand Prix, and he pounced for the podium when Heinz-Harald Frentzen's Jordan packed up late in the race, which had just 11 finishers.
A second podium would come nearly four years later, as Heidfeld pulled off another shock – this time for Williams. From 10th on the grid, he made it up to fifth and watched Mark Webber and Giancarlo Fisichella collide at Sepang, ending a painfully long wait for a second podium.
He wouldn't have to wait quite that long again, with a run of appearances on the rostrum for BMW-Sauber from 2006-09.
READ MORE: Canada '08 – How BMW Sauber sacrificed Heidfeld for Kubica's breakthrough win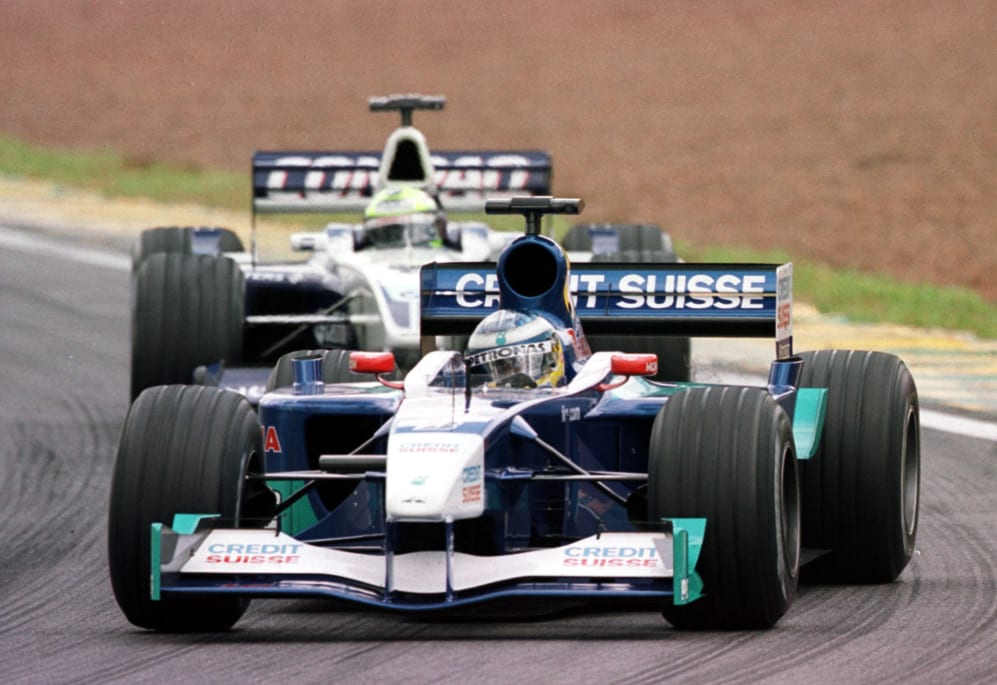 3. Christian Horner takes the plunge thanks to Coulthard
959 days
David Coulthard began his career with a bang, scoring podiums regularly in his full debut season of 1995 and managing at least one podium every year of his career up to the 2003 Japanese Grand Prix.
Then, McLaren-Mercedes' form waned and Coulthard found himself 10th in the championship in 2004 and without a podium all season. For 2005, the Scot jumped ship to Red Bull, and set about helping put in place the building blocks for success.
Winning would come later for Red Bull but at Monaco in 2006, Team Principal Christian Horner said he would jump naked into the swimming pool if either of his drivers scored the team's first podium there.
With a red cape protecting his modesty, Horner did just that as Coulthard finished third to take the team's first top three finish, and his first in over two years and seven months.
4. Giancarlo Fisichella uses the Force (India)
1,057 days
While he scored eight podiums with the works Renault team in 2005 and 2006, Giancarlo Fisichella couldn't match team mate Fernando Alonso's championship-winning form.
Then, Renault began to flounder and the Italian's final Renault podium would be at the 2006 Japanese Grand Prix. For 2008 he joined Force India and endured a point-less season, only for the team to retain him and switch to Mercedes engines in 2009.
A mighty pole position, late in the season at the 2009 Belgian Grand Prix, set Fisichella up perfectly to end a wait of more than two years and 10 months for a podium. The only shame was that he didn't win, with Ferrari's Kimi Raikkonen taking victory by just 0.939s from the Italian.
READ MORE: Swap shop – drivers who switched teams mid-season
5. Was Jackie Oliver denied by chaos in Canada?
1,785 days
Endurance racing maestro Jackie Oliver never had much good fortune in F1, finishing just 15 of the 51 Grands Prix he entered. Still, he nabbed a podium in the third race he managed to finish, which was the 1968 Mexican Grand Prix – where he took third from 14th on the grid.
Between that and his next and final podium – at the 1973 Canadian Grand Prix – there was a wait of four years, 10 months and 20 days. In that time, he won the Sebring 12 Hours, Le Mans 24 Hours, and Daytona 24 Hours, so it wasn't all bad.
Amidst the mist and rain at Mosport, Oliver tiptoed around numerous spins and crashes and was classified third at the flag, but controversy reigned: officials were suspected of a timing blunder, and many consider Oliver to be the actual winner of the 1973 Canadian Grand Prix.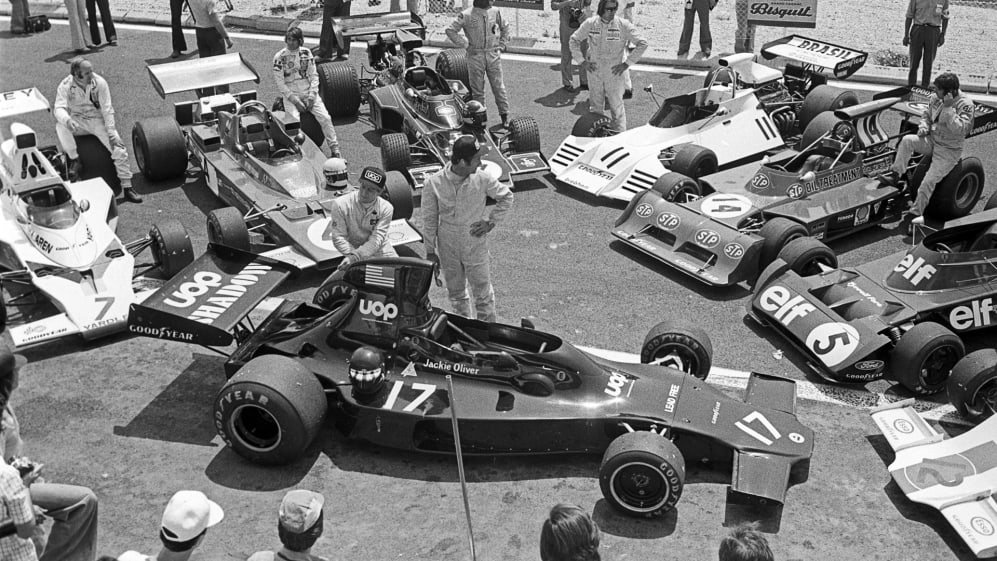 6. Bruce McLaren makes a name for himself
1,092 days
Bruce McLaren began his Formula 1 career with Cooper, outgunning F1 cars with F2 machinery in 1958, and scoring F1 podiums and wins with Cooper's factory team the following year at just 22-years-old. In 1965, he scored his last podium with Cooper at the 1965 Belgian Grand Prix.
And in 1966, McLaren decided that Bruce McLaren Motor Racing Ltd would make their foray into Grand Prix racing – but they had to wait until 1968, when the Cosworth DFV-powered M7A made its debut, for success.
Bruce himself drove the M7A to victory in Round 4 of the season, at Spa-Francorchamps, ending his own wait of nearly three years for a Grand Prix podium, and McLaren's wait of 749 days for a debut podium as a team.
READ MORE: 11 things that happened in F1 between McLaren's 2014 and 2019 podiums
7. Kimi's comeback
952 days
What happened in the two years, seven months and nine days between Kimi Raikkonen taking third in the 2009 Italian Grand Prix for Ferrari, and second in the 2012 Bahrain Grand Prix for Lotus?
Well, Ferrari bought him out of the final year of his contract to have Fernando Alonso in their 2010 machine, and Raikkonen was free to compete in the World Rally Championship and, in a baffling cameo, NASCAR's Truck Series.
The Iceman couldn't resist the pinnacle of motorsport though and returned to F1 with a brilliant 2012 season for Lotus. Not only did he take P2 in his fourth race back, he won the Abu Dhabi Grand Prix and cemented the phrase: "Leave me alone, I know what to do" firmly into F1 folklore.
READ MORE: From Malaysia 2003 to Austin 2018 – Ranking Raikkonen's best wins from 10 - 1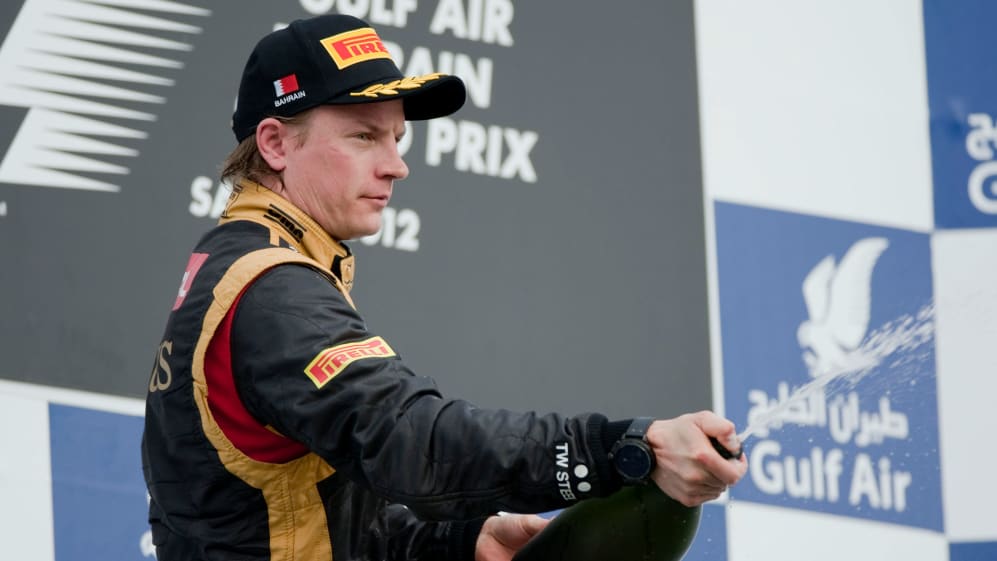 8. Mario Andretti's five year wait
2,003 days
One of the most versatile drivers ever, Italian-American Mario Andretti could win in anything from single-seaters to sprint cars. Underlining that, he won on his first F1 outing for Ferrari in the 1971 South African Grand Prix.
However, F1 opportunities were sporadic for Andretti and he favoured Indycar and sports cars instead, only returning to F1 full-time with the uncompetitive American squad Parnelli in 1975. They pulled out in 1976 and Andretti joined Lotus, helping the team evolve their initially recalcitrant Lotus 77 into a race winner. Finally, in Round 12 of the season, he took a third career F1 podium.
That third-place finish, at the 1976 Netherlands Grand Prix, came as Andretti charged up the field from sixth on the grid, and it ended a wait of five years, five months and 23 days for a top three finish.
PODCAST: Mario Andretti on his journey from child refugee to F1 world champion
9. Schumacher's last hurrah
2,093 days
"To make it short, this is going to be my last Monza race," said Michael Schumacher as he welled up after the 2006 Italian Grand Prix when announcing his first retirement from F1.
Some suspected that the seven-time champion wasn't quite ready to leave at the end of the 2006 season, and their suspicions may have been correct: Schumacher returned in 2010, after three years away from F1, joining Mercedes as they returned as a full constructor.
His final podium – and the first since his return to F1 – came in his final year of racing, at the 2012 European Grand Prix where he finished a stunning third from 12th on the grid. As his previous podium finish was victory in the 2006 Chinese Grand Prix, the seven-time champion had waited nearly five years and nine months for a repeat. Only Alex Wurz had to wait longer.
WATCH Kings of Monaco: How the likes of Hill, Senna and Schumacher mastered F1's most magical race
10. Lauda's Long (Beach) wait
1,302 days
In 1979, Niki Lauda decided he was "tired of driving around in circles" and quit F1 on the spot, right in the middle of practice for the Canadian Grand Prix. That was after a season in which Lauda had finished fourth in the championship for Brabham with two wins – a final podium coming as he won the 1978 Italian Grand Prix.
Skip to 1982 and Lauda was back, having signed a lucrative $5m contract with McLaren, after Ron Dennis had lured him out of retirment.
READ MORE: F1's Best Drives – Lauda's barely believable 1976 Monza comeback
In the 1982 Long Beach Grand Prix, 11 of the 26 starters reached the finish line and Lauda, starting second, made light work of polesitter Andrea de Cesaris, who eventually crashed out, to take the 18th Grand Prix win of his career – more than a minute ahead of runner-up Gilles Villeneuve.
And with that, he bridged a gap of three years, six months and 25 days from podium #40 to podium #41.
READ MORE: 'Quite simply irreplaceable' - F1 pays tribute to Niki Lauda