Feature
The constructors' title, win records, team battles and much more – what's still to be decided in 2022?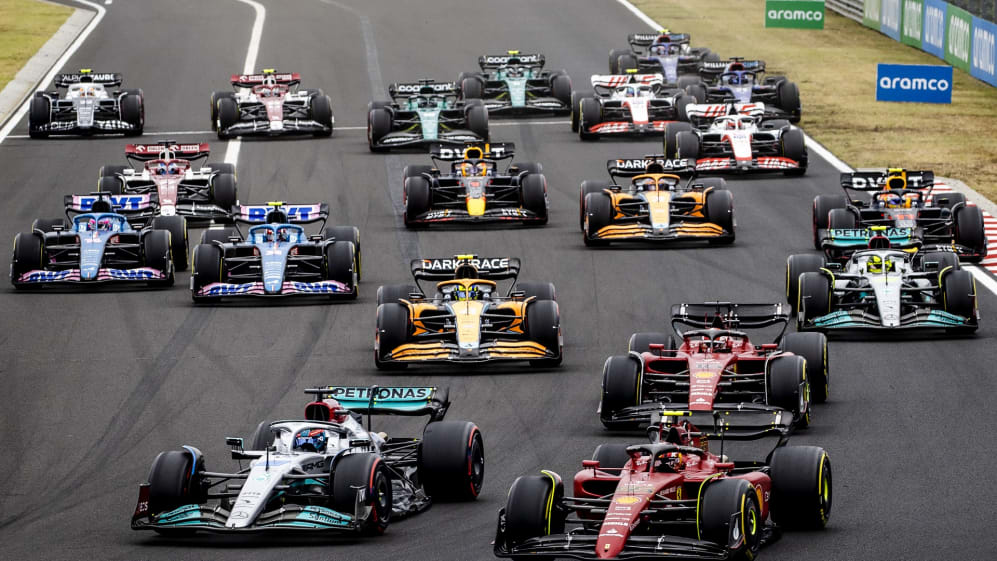 Max Verstappen may have already wrapped up the title but the 2022 season is far from over with the constructors' championship yet to be clinched, and plenty of battles still being fought down the grid – and between team mates.
So, here's everything that still needs to be decided in the remaining four races of the season...
Constructors' championship
Battle for first
Austin will be the first time that Red Bull – on 619 points – could close out the constructors' championship but Ferrari – who are 165 points behind – will be hoping that a strong showing in America could put the Milton Keynes teams celebrations on hold.
POINTS PERMUTATIONS: How Red Bull can seal their first constructors' title since 2013 at the United States GP
Second in the championship
Ferrari may still have half an optimistic eye on Red Bull, but they will also be looking over their shoulders at Mercedes in third. The current gap between the two is 67 points and while Ferrari have extended that lead in recent races, expect the Silver Arrows to be hot on their heels till the end.
Top of the midfield
It has been a back-and-forth affair between McLaren and Alpine for much of the season. After losing fourth position to McLaren in Singapore, Alpine hit back in Japan to regain P4. The gap is now 13 points between the two teams as the pressure ramps up, with both squads knowing that one bad weekend could play into their rivals' hands.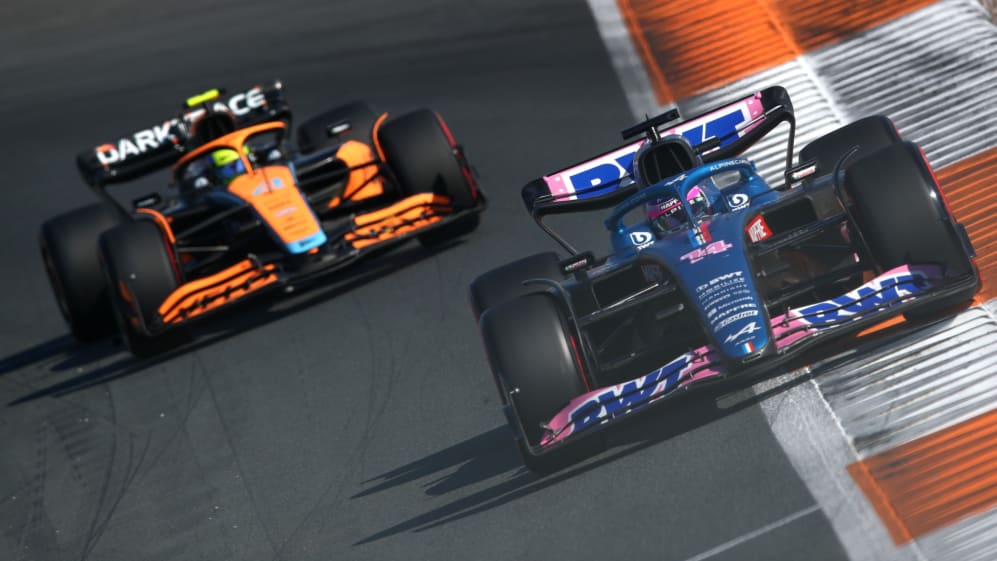 Battle for sixth
On 52 points, Alfa Romeo at one stage looked to be in the fight for fourth, but having only taken one point since Montreal, their sixth position is now under threat from a resurgent Aston Martin team who are only seven points adrift. Also in contention are Haas and AlphaTauri, who are both tied on 34 points.
Drivers' championship battle
Battle for P2
The battle for second in the championship is far from over, with Sergio Perez, currently on 253 points, just a solitary point in front of Charles Leclerc, in third. While those two are the favourites, George Russell, with 207 points, in fourth and Carlos Sainz in fifth are mathematically still in the hunt. Lewis Hamilton is also still technically in with a chance, although his odds appear slim as he is 73 points behind Perez.
BEYOND THE GRID: Karun Chandhok on defying the F1 odds, chaos at Lotus and designing his own racetracks
Midfield tussle
Lando Norris is currently at the top of the midfield with 101 points and could still technically catch Hamilton – who is 79 points ahead of him in sixth. The Alpine duo of Esteban Ocon and Fernando Alonso are on 78 and 65 points, respectively, and will have hopes of not only beating each other but catching Norris.
Top-10 finish
At one stage Valtteri Bottas – on 46 points - was in competition to be the leading driver in the midfield, but he has failed to score a point in his last eight outings. His 10th position is now under threat from an in-form Sebastian Vettel, who is now 14 points behind the Finn – having scored two top-10 finishes in a row.
Three drivers also in contention for P10 but with slim chances are Daniel Ricciardo, Pierre Gasly and Kevin Magnussen, on 29, 23 and 22 points, respectively. Although, one big result could do wonders for their chances.
Looking for a strong end to the year
While their hopes of making it into the top-10 in the championship standings appear slim, the likes of Lance Stroll, Mick Schumacher, Yuki Tsunoda, Zhou Guanyu, Alex Albon, and Nicholas Latifi – who are in the bottom five of the table – will be setting their sights on a strong final four races this season.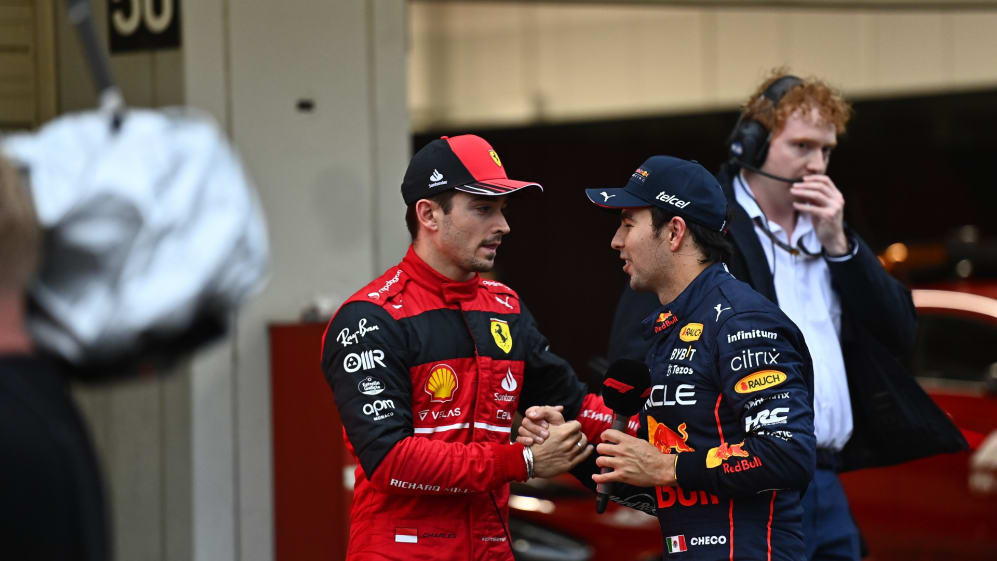 Records
MAX VERSTAPPEN
He may have already sealed his second consecutive title, but Verstappen still has a few more accolades to target in the remaining weeks of the season.
Wins: The record for the most wins in a season is 13 – held by Michael Schumacher and Sebastian Vettel – and with his triumph in Japan, Verstappen now has 12 victories this year. This means the Dutch driver needs two wins in the next four races to break the record, which the form book tells us is very possible.
READ MORE: Max Verstappen's 2022 Formula 1 title... in his own words
Points: Verstappen has already accumulated 365 points so far this season, meaning he has a chance to break Hamilton's record of most points in a campaign – which is 419. With four races left and a Sprint, could the Briton's record be under threat?

Largest Championship Win: Verstappen currently has a 113-point lead over his team mate Sergio Perez, which means he could eclipse the record for the largest margin of victory in a season – the record being Vettel's 155-point victory over Fernando Alonso in 2013.
LEWIS HAMILTON
Win in every season: Hamilton is currently tied with Schumacher for the record of having won a Grand Prix in 15 consecutive seasons – which is every year the Briton has been in the sport. But after 18 races, he is yet to stand on the top step of the podium this year. With four races to go, can Hamilton find a way to get that W13 to the front of the pack to break this record?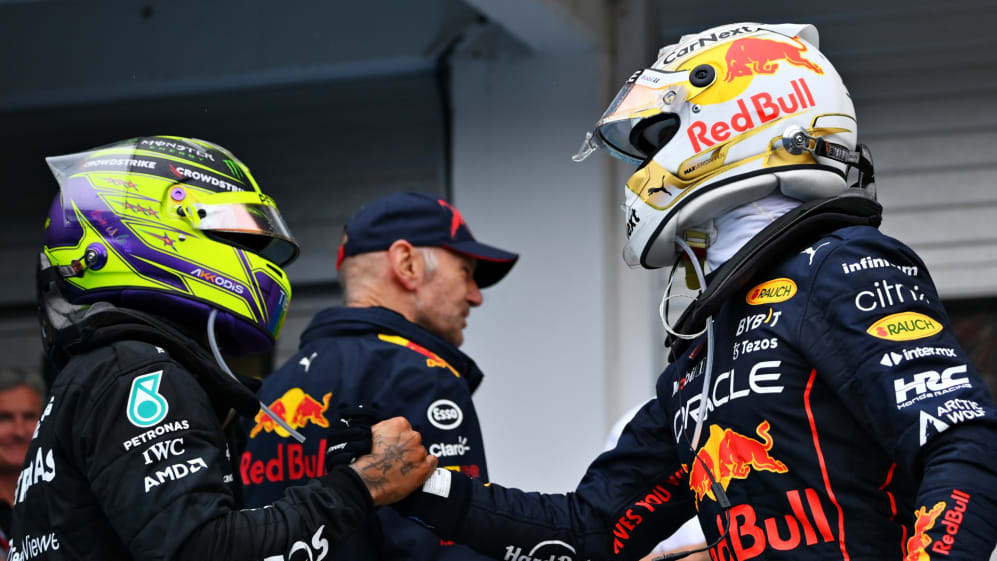 FERNANDO ALONSO
Longest gap between race wins: Ricardo Patrese went six years and 211 days between victories and on the day of the United States Grand Prix it will be 9 years and 166 days - 3,451 days in total – since Fernando Alonso's last victory - which was at the 2013 Spanish Grand Prix. So he'll take this record if he ever takes another F1 win.
GEORGE RUSSELL
Most laps led without a win: Chris Amon currently has the record of having led for 183 laps without winning a Grand Prix but it is very possible that this record could be broken this year. Russell has led 87 laps in his career but is still yet to win a race. With 256 laps left in the season, could the Briton take this dubious accolade?
F1 NATION: Inside Max Verstappen's title-winning celebrations in Suzuka
CHARLES LECLERC
Most poles in a season for Ferrari: Leclerc has been the man to beat in qualifying so far this year, with nine pole positions already. The record for the most pole positions by a Scuderia driver in a season is 11 – set by Michael Schumacher in 2001 – and the Monegasque will have his eye on eclipsing the German's record in the next few weeks.
RED BULL
Most points in a season: Currently on 619 points, the team from Milton Keynes are not only within touching distance of constructors' title, but they are also closing in on breaking Mercedes' record for the most points in a season – which is 765 – set in 2016. They would need to score a one-two finish in all four races left but with the form they are in, it is not beyond the realms of possibility.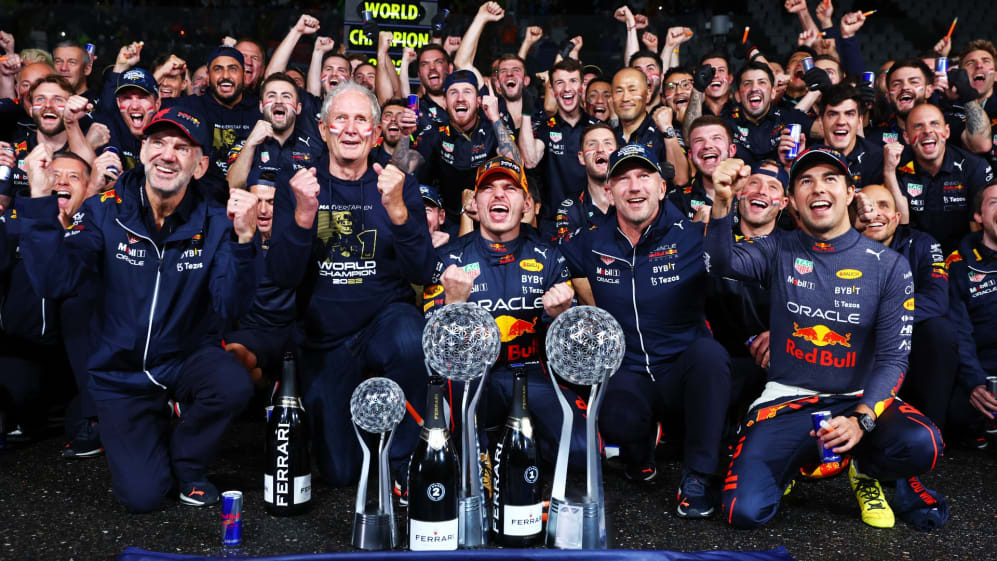 Intra-team qualifying battle
Many of the teams qualifying battles have been decided but there are still four squads where the fight for Saturday supremacy is still up for grabs.
MERCEDES: Lewis Hamilton 11 – 7 George Russell
Hamilton could seal the season series in Austin if he outqualifies his team mate next weekend. Since we returned from the summer break, Hamilton has been the lead Mercedes on five consecutive Saturdays, but can Russell fight back?
ALPINE: Fernando Alonso 9 – 8 Esteban Ocon
If their form this season is anything to go by this contest will be decided on Saturday in Abu Dhabi at the season finale. It has been a tight affair between the two racers all year which saw Ocon close the gap to one in Japan.
POWER RANKINGS: One perfect 10 as the scores come in from the 2022 Japanese Grand Prix
ALPHATAURI: Pierre Gasly 11 – 7 Yuki Tsunoda
The battle at the Faenza based team could be concluded in Austin, if Gasly outqualifies Tsunoda. The Japanese driver has been a lot closer this season after only beating Gasly twice last year, but the French racer has still been a touch quicker this year.
ASTON MARTIN: Sebastian Vettel 10 – 6 Lance Stroll
Vettel has always been a strong qualifier and that has been shown again this season as he also sees himself in a position to close out the season series against team mate Stroll in Austin. Stroll has been closer to Vettel in recent races, although the German was quicker on Saturday in Japan.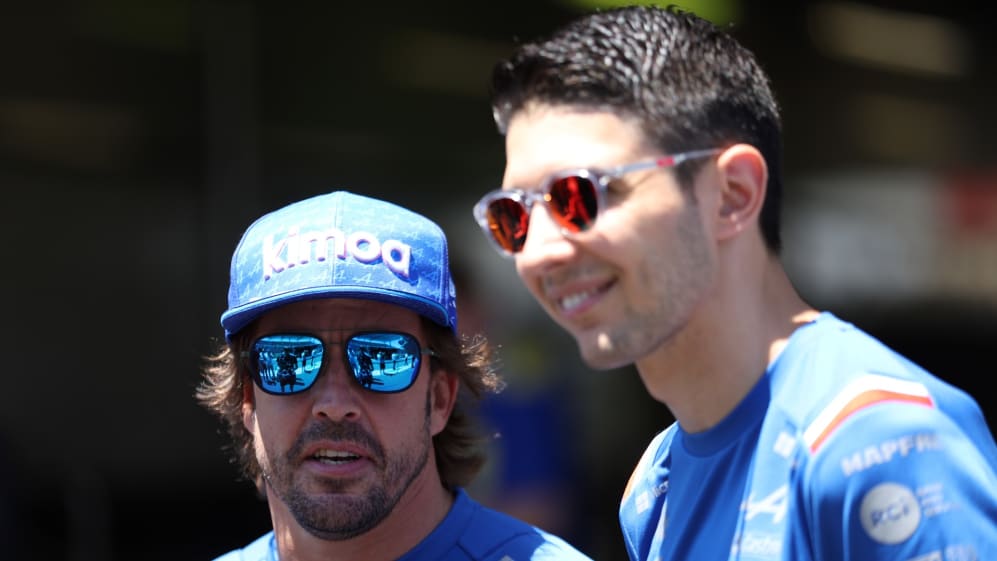 Intra-team Grand Prix battle
Half of the teams' intra-team race day battle is over but the remaining five are still wrestling it out over who will be the dominant driver on a Sunday. While some teams' fight could be wrapped up in Austin, others look to set to go down to the wire in Abu Dhabi.
FERRARI: Charles Leclerc 10 – 7 Carlos Sainz
While Leclerc has been the dominant driver of the two on Saturday, the battle between the pair on Sunday has been quite closely matched for much of the season. However, Leclerc has beaten Sainz in the last four races and if he makes it five in a row in Austin, he will take an unassailable lead to Mexico.
MERCEDES: Lewis Hamilton 8 – 10 George Russell
Russell was on fire to start the season, beating Hamilton in seven of the opening eight races but since Montreal, the seven-time world champion has fought back – leading seven of the next 10 Grands Prix including the last two races. This is a tight battle that could go down to Abu Dhabi.
ALPINE: Fernando Alonso 8 – 9 Esteban Ocon
Close on Saturday and just as close on a Sunday. Alonso may be leading in qualifying, but Ocon has the upper hand in the race, gaining the lead after finishing higher than the Spaniard in Japan. Another remarkably close battle that could go down to Abu Dhabi.
BEYOND THE GRID: Karun Chandhok on defying the F1 odds, chaos at Lotus and designing his own racetracks
ASTON MARTIN: Sebastian Vettel 8 – 7 Lance Stroll
It has been a tight affair on a Sunday between the two Aston Martin drivers, but Vettel is just ahead of the Canadian heading to Austin. In the races they have finished since the summer break, it is tied at two a piece, so expect this close battle to continue until the end.
HAAS: Mick Schumacher 10 – 6 Kevin Magnussen
Magnussen has already wrapped up the qualifying contest between the two Haas drivers but so far it is the German who has shone the brightest on race day. Schumacher may not have as many points as Magnussen, but he has finished higher on more occasions this season and could wrap up the head-to-head battle in Austin.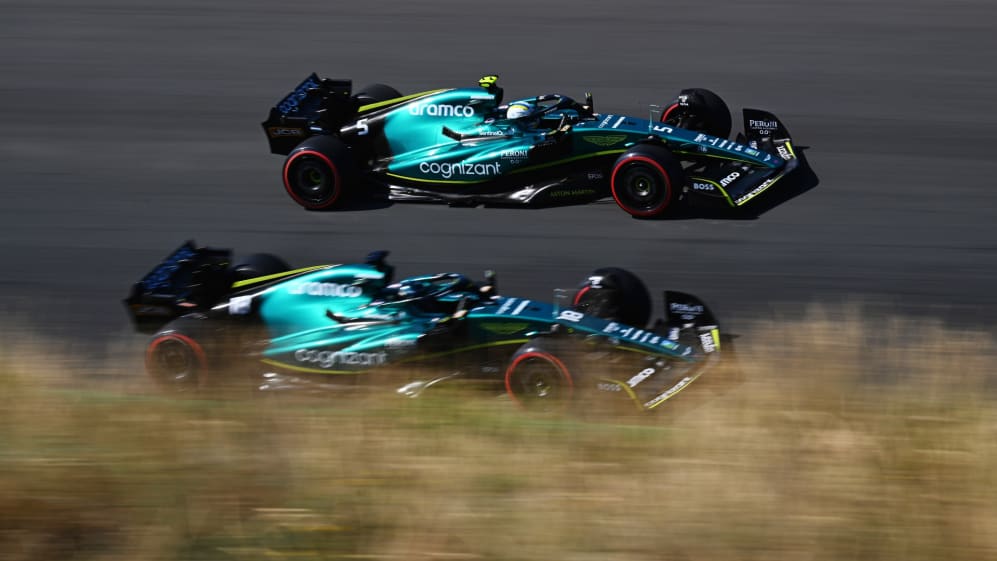 Awards
Crypto.com Overtaking King Award
In 18 races so far, 12 different drivers have won the award for the best overtake. Leclerc and Hamilton have achieved this three times – the most so far this season – followed by Alonso and Vettel who have won it twice. Let's see who will be making the best moves over the next four race weekends.
DHL Fastest Pitstop Award
Red Bull are at the top of the constructors' championship, and they are also the leaders of the fastest pitstop award. The team from Milton Keynes have recorded the fastest pitstop on eight occasions this season, most recently in Singapore. McLaren, with four, are the only team that could equal their total come the end of the season.
BUXTON: Why comparisons to Schumacher are inevitable after Verstappen's imperious run to his second title
DHL Fastest Lap Award
Having achieved the fastest lap on five occasions this season, Verstappen has won this award the more times than any other driver this season, ahead of team mate Perez and Leclerc – who have three. Also with an opportunity to have the most fastest laps come the end of season is Hamilton – who has already done so twice.
Driver of the Day
Verstappen has been voted as the driver of the day the most times so far this season – having won the award five times. Leclerc closely follows him, with four, Perez, with three and Hamilton with two.
Pirelli pole position award
Leclerc has been a man on form in qualifying this season, having taken nine pole positions this year, with Verstappen – having won the award six times – the only driver that could topple the Monegasque for the most starts from pole at the end of the year.