'The first black woman to stand on the F1 podium' – Hamilton heralds Stephanie Travers after Styria win
The woman who joined Lewis Hamilton on the podium at the Red Bull Ring for the second round of the 2020 season was Petronas trackside fluid engineer Stephanie Travers, and the six-time F1 champion paid tribute to her in a lengthy post on Instagram after the race.
Hamilton may not have got off to the winning start he wanted in the season-opening Austrian Grand Prix, but in the second race of the season at the same venue he opened his account, and Travers was selected to join him on the podium to receive the constructors' trophy for Mercedes.
READ MORE: Styrian GP victory 'a great way to bounce back' after opening weekend struggles, says Hamilton
After the race Hamilton posted a message on Instagram highlighting her role.
"I wanted to post this because it's such an important moment," he wrote. "This is Stephanie who is one of my team mates. She is one of our trackside fluid engineers. On Sunday, she became the first black woman to stand on the podium in Formula 1 history.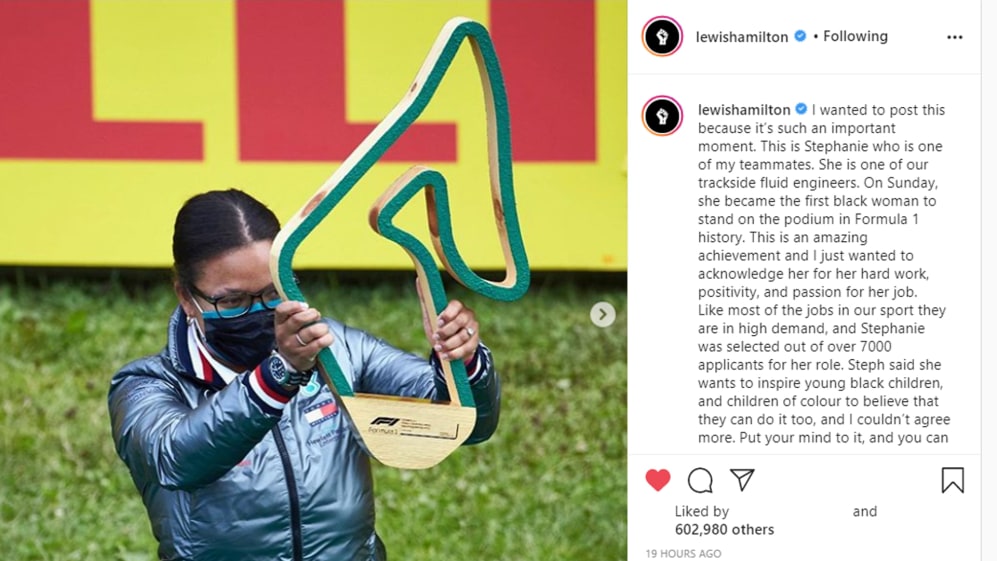 "This is an amazing achievement and I just wanted to acknowledge her for her hard work, positivity, and passion for her job.
"Like most of the jobs in our sport they are in high demand, and Stephanie was selected out of over 7,000 applicants for her role. Steph said she wants to inspire young black children, and children of colour to believe that they can do it too, and I couldn't agree more.
READ MORE: 'I won't stop fighting for the title or equal rights' - Hamilton hits back on question of focus
"Put your mind to it, and you can be anything you want to be. So whilst I really appreciate all of the congratulations, I wanted take the opportunity to lift her up, and share them with her," he added.
Hamilton has been one of the world's most vocal sports stars on the subject of racism and diversity in recent months, and as well as a number of visible actions including taking the knee before each race, and pushing for Mercedes to switch their livery from the traditional silver to black for this season, he also announced last month that he is launching The Hamilton Commission, a new research partnership aimed at making motorsport "as diverse as the complex and multicultural world we live in".