Feature
The rise of Lando: How Norris has gone from points scorer to potential race winner in the space of a year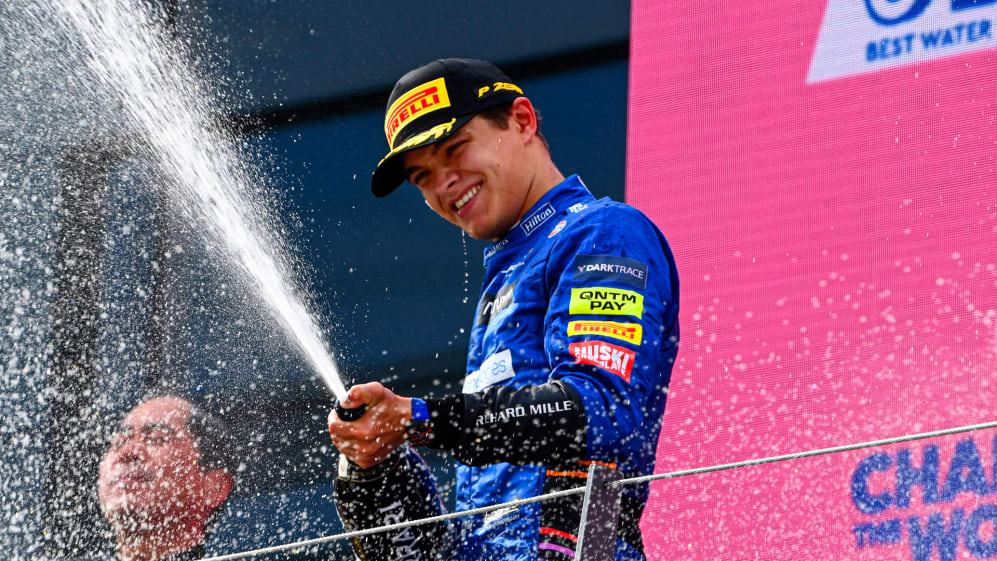 That Lando Norris sits fourth in the drivers' championship with just six rounds to go in 2021 tells you all you need to know about how strong a season the 21-year-old Briton has had.
That no one was surprised at the way he commanded the Russian Grand Prix in what was his first real chance of taking his maiden F1 win tells you even more.
Norris' rise has been rapid. His opening season in F1 was solid, the Briton impressing early doors with sixth in only his second race and while beaten by more experienced team mate Carlos Sainz on points, he did edge the qualifying head-to-head 11-10.
His second campaign was a step on, starting with his maiden podium in the first race and ending the season with nearly double the points he scored the previous year. He also narrowly finished more races ahead of Sainz, edged the qualifying head-to-head by a race again and only ended the year eight points adrift of the Spaniard.
Lando Norris in F1
| | 2019 | 2020 | 2021* |
| --- | --- | --- | --- |
| Podiums | 0 | 1 | 3 |
| Top-fives | 0 | 6 | 10 |
| Points | 49 | 97 | 145 |
| Standings | 11 | 9 | 4 |
*Six races to go
He carried that momentum into this year and appeared seemingly unfazed by the arrival of eight-time race winner Daniel Ricciardo in the other McLaren cockpit. Norris scored points in each of the first 10 races, clocking up three podiums to boot including an impressive third in Monaco.
Pole position was within his grasp at Belgium before a crash and he felt he had the pace to win in Monza, before finishing second behind Ricciardo. So when he took his first pole in Russia and then wrestled back the lead from old team mate Sainz in Sochi, few believed Norris couldn't convert. And that included Norris.
READ MORE: 'You learn more from the hard moments' – Norris on how he's getting over his Russian GP heartbreak
"I don't think Russia made me suddenly think I'm able to win a race," he tells F1.com. "I felt capable early in the season, almost for the whole of this year. The pressure and the decision making is always different if you're leading to if you're second, third, fourth or whatever.
"But I don't think it changed anything. It just backed up the feeling I had already, that I felt confident enough that if I'm in the lead, or if I have that opportunity to take the lead or whatever it is, I'm capable of leading the race, making the correct decisions – sometimes! – and being able to win a race."
Norris vs team mates
| | 2019 (Sainz) | 2020 (Sainz) | 2021 (Ricciardo)* |
| --- | --- | --- | --- |
| Race head-to-head | 5-9 | 7-6 | 11-5 |
| Points | -47 | -8 | +50 |
| Qualifying head-to-head | 11-10 | 9-8 | 10-6 |
*Six races to go
The rain in Russia robbed him of that maiden win – with Norris and the team opting to stay out rather than boxing for intermediate tyres, and he crossed the line seventh. It was, as he said, heart-breaking – but after a couple of days to process and analyse, he could easily see the positives – and that's a key factor behind his meteoric rise.
He is currently on 145 points, around 50% more than his tally last year and there are still six races to go. He's also an impressive 50 points clear of team mate Ricciardo, and heading him comfortably in both qualifying and race head-to-head metrics. But he's not getting carried away.
Jolyon Palmer: Has Ricciardo's arrival at McLaren spurred Norris on to a new level in 2021?
"I don't think I get carried away by anything," he says. "I guess I always see more the negatives than positives in situations. I have to get reminded to think of the positives but I don't think that is necessarily a bad thing. Maybe in some scenarios it is, but I guess it puts a lot of focus on me – I'll remember the good things, but it makes me work hard to avoid the negative.
"I spend a lot of time and effort going through my own stuff, own mistakes and faults, but also the team's faults and what we do as a team, reviewing those negatives and trying to make them a positive for next time. It's good. I'm a negative guy but I'm sometimes positive when I need to be. When I am negative, it's more for my own benefit, to make sure I do a better job next time."
His remarkable trajectory has been clear for a while to McLaren, who signed him up on a multi-year deal just five races into this campaign – but that work ethic and constant drive to be better are just a snapshot of what has impressed Norris' boss Andreas Seidl.
"With everything Lando has shown so far… he's clearly showing that he has everything he needs to become a top driver in the future," says Seidl.
"In F1, he's only in his third year now but it's impressive to see what he is pulling off inside of the car but also outside of the car in terms of how he works together with the team, how he voices clearly what he needs from the team in order to perform.
"He's very self-critical as well and he's the first one to raise his hand if something went wrong on his side. That's an attitude I like a lot, we like a lot in the team. I want to have this culture from every single member of the team as that's the only way of getting better as a team and moving forwards."
TREMAYNE: Why Norris should take heart from former champs Hunt, Mansell and Hill after his Sochi woe