Feature
'This one is the best' – Verstappen's third title in his own words
Fresh from claiming his third title in the Qatar Sprint, Max Verstappen took centre stage in a champion's press conference on Saturday evening at the Lusail International Circuit to reflect on his indomitable season.
With round 17 of the season taking place in Qatar, 2023 has already witnessed a full 10 pole positions and 13 victories from Verstappen with six Grands Prix still to run – including Sunday evening's Qatar Grand Prix.
BUXTON: Nobody came close to Verstappen in 2023 – Catch him if you can
That's given him a points tally that, on its own, is a full 93 points – or nearly four race victories – ahead of second-placed Mercedes in the constructors' standings, let alone the drivers'…
So, with a phenomenal third World Championship in the bag, read what Verstappen had to say about his searing run to the title.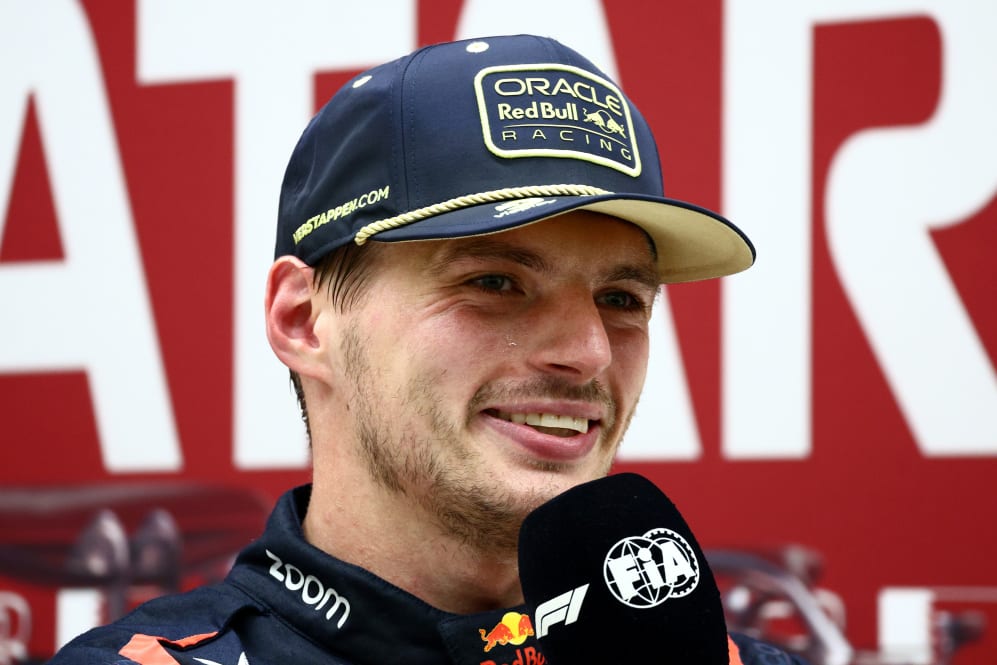 Verstappen on… winning a third title
"Of course, it sounds great. It's something I never even really dreamt of. It's, of course, a very proud moment for myself, for my family, my close family. I think everyone within the team I'm working with, you know, to be able to experience all of this together is amazing.
"And I said it on the radio already on the in-lap. Of course, we talk about performance and, you know, you can always thank the team for that, but I also find the whole atmosphere and how much I enjoy working with all these people, I find that probably even more important. It's very important to come to the track and know that you have nice people to work with."
READ MORE: Horner says Verstappen is amongst the 'greatest this sport has seen' as he applauds three-time champion
Verstappen on… where his 2023 title ranks alongside his other championships
"This one is the best one. I think the first one was the most emotional one, because that's when your dreams are fulfilled in F1. But this one is definitely… It has been my best year. Yeah, well, so far, you know, consecutive wins and stuff like that, and the car itself has been probably in the best shape as well. So for me, this one is probably the one I'm most proud of in a way because of consistency."
Verstappen on… how he views his legacy after joining the list of three-time champions
"I'm not in Formula 1 to leave a legacy in a way. I'm here to win and I'm here to try to do the best I can and try to enjoy the moment with the people who helped me achieve these things. That is, for me, way more important than trying to leave a legacy.
"But yeah, it's something that I never thought was possible, to be in that list. When you see those names, you're like, wow! That's incredible what these people have achieved in their careers and now you're alongside them. It is, of course, an amazing feeling."
TREMAYNE: Verstappen can hold his head high in the company of his fellow three-time champion greats
Verstappen on… driving his championship-winning Red Bull RB19 for the first time
"It always felt nice. And I thought it had good balance. But you never know what the other teams have come up with over the winter time. And we really expected it to be close into Bahrain. But I think we were all positively surprised with how good the car was there. But that's one track. And, of course, when you go to the next tracks, and you can see, you know, the cars always been quick, and especially in the race, like we always had really good race pace, I think that's, of course, always very promising. And yeah, throughout the year… I think we had a lot of great results in tough conditions as well, where it was easy to make a mistake as a team, even if you would have a dominant car. But yeah, I think for most of the races, we just did an incredible job."
Verstappen on… where he felt the most pressure in 2023
"The race in Zandvoort, when you're driving on slicks and it's raining. I know of course I normally enjoy driving in the wet, but I also know that I'm leading the championship and if I go off and I'm stuck, you know – you lose a lot of points. So naturally, you're always driving a little bit under the limit, but that can be, in a way, dangerous as well.
"So probably when I was out there on slicks, you feel a bit pressured. Sometimes there are people behind you that are a bit faster, because they have nothing to lose. So it's a very different mindset as well that you're in when you are fighting for a championship."
Check out the championship Max Verstappen collection on F1 Store here
Verstappen on… his favourite of his 10 pole positions
"Probably Suzuka. Yeah, I've had a few. I mean, okay, maybe it didn't count but the one in Spa probably that I enjoyed – those kinds of conditions where you really have to pull it out of the bag. But yeah, in Suzuka the car was on rails. It was unbelievable to drive. And, you know, while driving, I was smiling and that's quite rare in a qualifying lap."
Verstappen on… his favourite of his 13 wins
"It's a few. I think my win in Miami, I really enjoyed. Spa, Zandvoort, but also Suzuka, like, winning the constructors' for example with the team there was fantastic. It's difficult to really pick one to be honest."
Verstappen on… how many more titles he can win
"It depends a lot also on the package, right? That's how Formula 1 works. Personally, I'm still young even though I'm already in F1 for a while. Yeah, definitely, I have quite a few more years in me to be able to operate at my best. But yeah, we'll see how long that is. To be honest, I think it's more about how long I want to be here. That's different.
"I don't know how long this is going to last. I'm enjoying the moment and I think that's also very important. I've achieved more than I could have ever even dreamed of, or set any goals that I wanted to achieve in F1, right? So I'm loving the moment. We'll see where we end up but it's already way more than I ever thought I could achieve. So it's perfect."
READ MORE: Inside Red Bull's rocket ship – How its remarkable dominance was achieved
Verstappen on… having to wait six weeks to collect his championship trophy
"It's okay, they look the same! I have two at home so they're not changing – it's just one extra name on it. But it's okay, I can wait a little bit. Yeah, I got one next to my sim rig and one next to the TV!"