Verstappen and Hamilton on the art of laps to the grid – and why they sometimes go wrong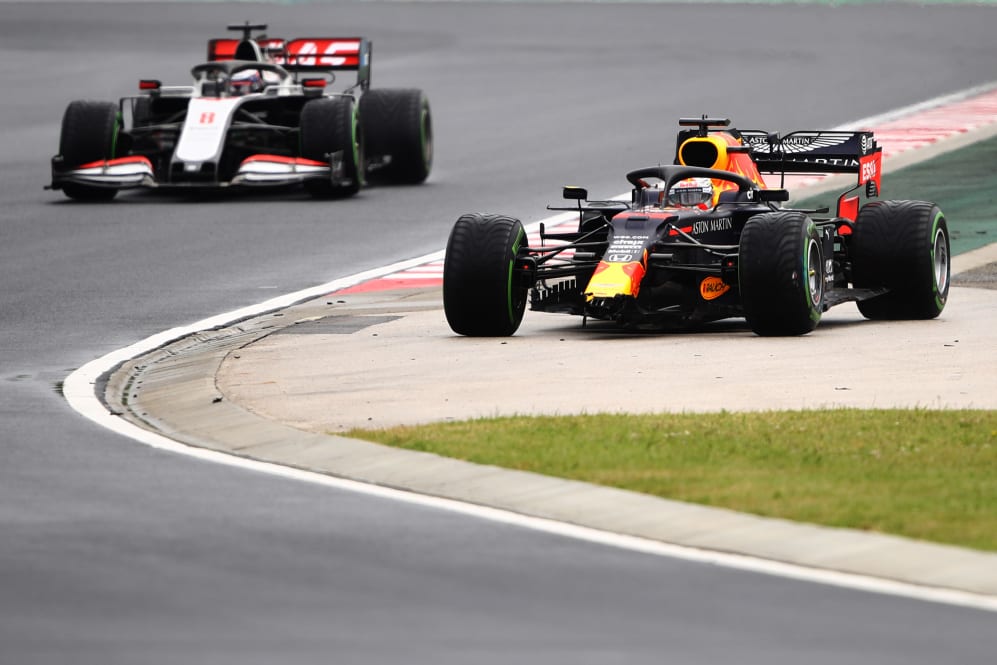 Especially in the wet, an F1 driver's 'laps to the grid' are an important fact-finding mission about grip levels, or the lack of them. And while Max Verstappen found out the hard way ahead of the Hungarian Grand Prix how low-grip the track was – as he crashed half an hour before the Grand Prix start – the knowledge gained from that crash helped him to take an unlikely P2 behind Lewis Hamilton in the race. Verstappen and Hamilton went on to dissect their approaches to these crucial sighting laps after the finish.
Hamilton – who opened up an extraordinary 8s leading gap in the damp first five laps of the Hungarian Grand Prix – explained how his laps to the grid had helped him understand where the limit was early on.
READ MORE: Last-gasp fastest lap on way to victory was 'crucial risk' says Hamilton after 86th career win
"It was very, very slippery in those laps to the grid," said Hamilton. "[That] really helped me gauge where the track was. But already when we started… it dried quite a lot even from doing those laps to the grid… It had dried quite a lot and there is this balance of going over the limit and easily risking it.
"It's not a sprint, it's a marathon race, so you've really got to be cautious not to throw it all away. And of course when you're in the lead, you don't have any turbulence from the car ahead so it makes it a little bit easier to manage it and try and find the right balance."
Explaining how he had managed to open up so large a gap so early on, Hamilton said: "Every time we do those starts, sometimes people are on your tail and you feel like you're on the limit and obviously you're slightly wooden, or the other person is finding more grip. And then there are sometimes you just pull these gaps and the others are, I don't know, caught sleeping or just not as comfortable."
READ MORE: Why Hamilton's Hungarian GP win wasn't as straightforward as you might think
Verstappen's infamous pre-race crash, as he locked his wheels going into Turn 12 and slid into the wall, forced his mechanics into a lightning fast repair. But Verstappen repaid them with an incredible start that saw him jump from P7 on the grid to P3, before securing the second place he'd hold until the end. But according to Verstappen, the grip-hunting that had led to his crash had also played a part in that scintillating start.
"I just had really cold tyres on the lap to the grid and I locked up and just went straight," he explained Verstappen.
Jolyon Palmer's Analysis: How Verstappen went from pre-race crash to the podium
"The start itself was pretty decent… I knew of course there was going to be a bit of a traffic jam into [Turn 1] so I went around the outside. I know there is grip anyway; I think I've done enough wet laps around here that I know there is grip there and it worked out.
"Everybody was focusing on the inside, trying to block each other and I could just go around the outside. That also makes your race because if I would have stayed in seventh, then suddenly you're really in for a struggle to try and get past those cars."
Hamilton added: "I don't know what everyone else was doing on the inside to leave a gap completely open for Max, but I know what that feels like… I think my first Grand Prix in Melbourne, everyone was on the inside and I went round the outside and so I empathise and know what it's like to see that window and go for it, and he obviously did a great job to recover from the laps to the grid."
READ MORE: Verstappen was 25 seconds away from not starting the race, reveals Horner
Meanwhile, asked whether he'd been cautious on his first flying lap through Turn 12, Verstappen replied: "No, no. Like the first lap you go round anyway looking a bit around, 'Okay, everything is settled… I'll go a bit rearwards on the brake bias just to make sure that's not going to happen again', but it's not like you're going to drive through that corner like a granny, you know? You have to keep on pushing."