Verstappen has his say on Silverstone clash – including the penalty, Hamilton phone call and Mercedes' celebrations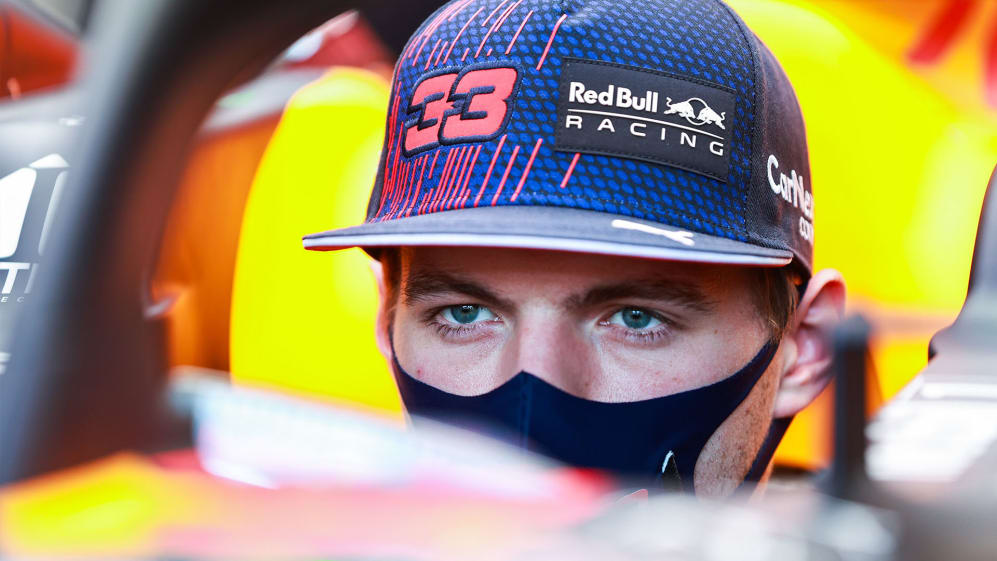 Max Verstappen was bombarded with questions ahead of the Hungarian Grand Prix regarding his crash with Lewis Hamilton at the previous round at Silverstone, and he still had plenty to say on the matter...
Verstappen's Red Bull team said the Dutchman suffered a 51G hit in the impact, after he and Hamilton touched at the fearsomely fast Copse corner on Lap 1 of the British Grand Prix, having sparred for several corners beforehand.
READ MORE: Hamilton reveals what he said to Verstappen in post-Silverstone phone call – and why he'd try same overtake again
Following the crash, Verstappen was taken to hospital for checks, before arriving in Budapest ahead of the 2021 Hungarian Grand Prix. And in a tense press conference at the Hungaroring, the Dutchman summed up his views on the crash, Hamilton's penalty and more, two weeks on. Here's what he had to say...
On how he's feeling
"I'm good. Of course the first few days after the race, you feel quite sore, but since then, it's just getting better and better. So I'm just ready to go… [I've been training] harder than ever.
"You anyway can't change the outcome. I'm not happy with what happened there. Especially to lose that many points due to someone else, but it's what it is."
On whether he's spoken to Hamilton
"He did call me. I don't need to go into details about that, but we did have a chat."
On why he thought Mercedes' post-race celebrations were 'disrespectful'
"When one guy's in the hospital and the other one is waving the flag around like nothing has happened, well, you've pushed the guy into the wall with 51G. And not only that but just the whole reaction of the [Mercedes] team, besides that. That's not how you celebrate a win, especially a win how they got it.
"That's what I found really disrespectful, and in a way it shows how they really are. It comes out after a pressured situation. But I wouldn't want to be seen like that.
"But I would also be upset at myself with a move like that, if it was the other way around. And I would definitely not be celebrating like that."
READ MORE: 'All of us know racing etiquette' says Ricciardo as he says nothing was 'out of line' in Hamilton-Verstappen clash
On whether he thought Hamilton's 10-second penalty was fair
"I don't think the penalty was correct, because basically you take out your main rival, and especially with the speed we have in our cars, we're miles ahead of, let's say, the third best team. We are easily 40-50 seconds ahead in normal conditions, so a 10-second penalty doesn't do anything. So definitely that penalty should have been more severe."
On being surprised that the stewards judged Hamilton to be 'predominantly' – but not wholly – at fault
"I don't think I did anything wrong there. Like I said, we were racing hard, and of course that corner is very fast, but I don't know how I had a percentage in that fault.
"What do they expect, me to just completely run off the track and then just keep my position? Probably then they will tell you that you can't run off the track so from my side, a bit surprised that there is a little bit of a percentage in there."
On his reputation as an aggressive driver
"Of course, people easily say I'm an aggressive driver or whatever, which I don't think I am. I think I'm a hard driver, I race hard, but at the end of the day, I think I know quite well how I have to position my car, and I haven't been involved in accidents where I run into people. I have zero penalty points as well, so I think that already says quite a bit."
READ MORE: Wolff looking to maintain Mercedes momentum in Hungary after 'polarising' Hamilton-Verstappen clash
On Hamilton's pass on Charles Leclerc at the same corner
"It does show that it is possible to go up the inside but then back out more, slow down a bit more and not hit the other driver. Because I think in the middle of the corner, I was actually opening up more than Charles did even. It's a great example actually within the same race that it is possible to fight into that corner – cleanly."
On whether he'll change the way he races Hamilton in the future
"I don't think so, because from my side, I didn't do anything wrong. I fought hard, I defended hard, but not aggressive because if it would have been aggressive, I could have squeezed him into the inside wall, but I did give him the space.
"Then I just opened up my corner and when you then commit on the inside like he did and not back out, expecting you can do the same speed on that angle that I had on the outside, you are going to, of course, crash into me.
"But of course, I'm on the outside, I'm opening up my corner, not expecting him to commit and he understeered into the rear of my car. There's not much I can do, I think."
READ MORE: Verstappen to test power unit from Silverstone crash in Hungaroring Friday practice
On whether his relationship with Hamilton is irreparably damaged
"At the end of the day, we are racers, we just keep on going. Of course, I'm not happy with what happened there, but we just keep on pushing, we're still fighting for that championship together and we'll race I think in the best manner going forward, at least from my side."
On racing Hamilton this weekend in Hungary
"We'll try of course and have a good weekend here… The determination is the same. We are here as a team to win this race. Hopefully not by fighting, by just taking off."