Vettel determined to 'push through' difficulties in final 11 races with Ferrari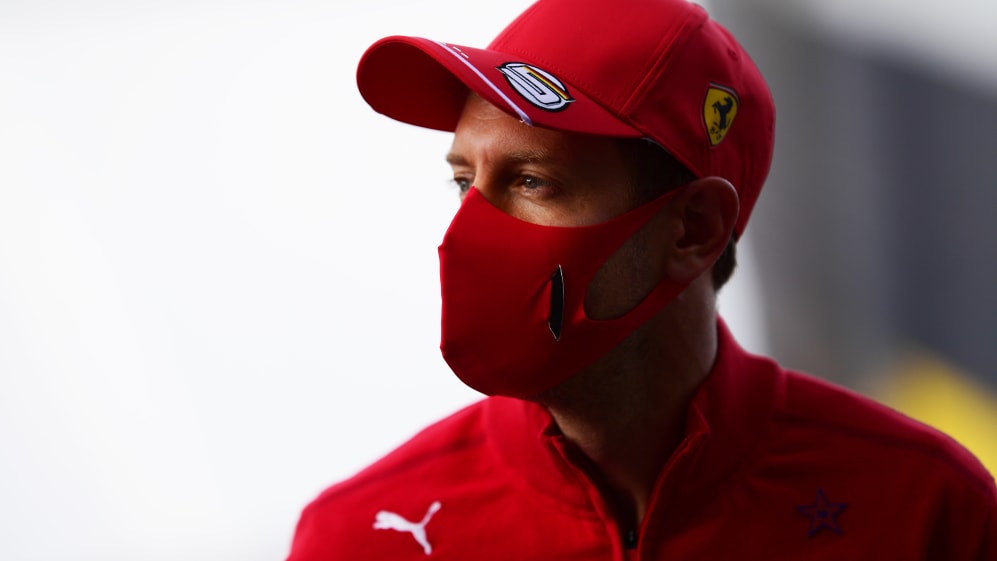 Sebastian Vettel's Ferrari swansong isn't exactly going to plan: ahead of the Belgian Grand Prix he sits 11th in the standings with a best finish of P6 in Hungary – but the four time world champion insists he is still optimistic about the rest of the 2020 season with the Scuderia.
Vettel, who is set to leave Ferrari at the end of the year, is enduring his worst start to an F1 season with the Italian team, having scored just 16 points after six races, compared to a haul of 82 after six races in 2019. But ahead of this weekend's race at Spa, the German veteran said he's not getting downhearted by his poor form.
READ MORE: 'It's very hard to accept' – Gasly on emotional return to Spa one year on from loss of Hubert
"There's always two ways to look at it: you can get frustrated by it or you tackle it and you push through, and that's what I'm here to do. I'm always optimistic," he said.
"I think there's always stuff that you can learn but those things just don't go away like that. They come up like that, but they don't just go away. We have to work on it and I'm sure we'll get through it."
I'm always optimistic and would rather see the opportunity than the struggles
Vettel's frustration has been evident this season through several heated radio messages to his race engineer at Silverstone and in Spain, but as he approaches the end of a six-year stint at Ferrari, he says he will leave with fond memories of his tenure that saw him take 14 wins, 12 poles and 54 podiums – and he hasn't given up on adding to that tally in the final 11 races of 2020.
"The year isn't over so as a team we try to make progress and individually I also try to make the best out of the situation and… it's not an easy one but as I said we will are trying to make the most out of it," he explained.
READ MORE: Ferrari say they've identified ECU issue behind Leclerc's Spain DNF, as they ready for 'tough' Belgian GP
"It's only a sign of respect to give everything that I have back as well, independent of the amount of races that I have left, for the team."
"I don't look at the negatives or the bad things. I think first of all I'm not counting the races, I'm going race-by-race and I'm trying to do my job, do the best I can looking forward. I'm always optimistic and would rather see the opportunity than the struggles. And I think that's also the right thing to do in respect of what we have achieved in the last years.
"For sure there were some moments that were not good and not great and the moments that we did not enjoy but there were equally great moments, wins, etc, so a lot of positives as well.
"Independent of what happens next year and the year after that I'm trying to enjoy the time that I have left with the guys that I spent so much time with over the last years."
Vettel has been coy about his future post-Ferrari, whether that means retirement, a sabbatical or a move to another team – perhaps Racing Point – and in Belgium he said there was no update on his 2021 plans.