Vettel says his Bahrain race was compromised by having to avoid 'ruthless' Leclerc at start
After his podium in Turkey, Sebastian Vettel endured a disappointing outing in Bahrain, with the German coming home P13 and saying afterwards that his race had been compromised almost from the start by Ferrari team mate Charles Leclerc's "ruthless" driving as the race restarted following Romain Grosjean's frightening crash.
Vettel was 10th at the restart and Leclerc 12th, but the Monegasque pushed his way ahead at Turn 1, infuriating the German who compared the situation to the Styrian Grand Prix where Leclerc took him out on Lap 1.
"And again he can't just do that, as if I wasn't there," Vettel told his engineer over team radio. "It's the same as Austria, seriously. This time I, you know I... should have crashed, maybe it was the better option."
WATCH: 2020 Bahrain Grand Prix race restart
Speaking after the race, Vettel explained in more detail.
"I took extra care for Charles who I think was maybe a bit ruthless, but after that there was probably a lost fight from there," he said.
"I don't know, the first stint was really poor; obviously at the start I think I lost a lot of ground because I got squeezed [by Leclerc]. I took extra care for the other car, and then I was compromised a lot, lost positions…" he maintained.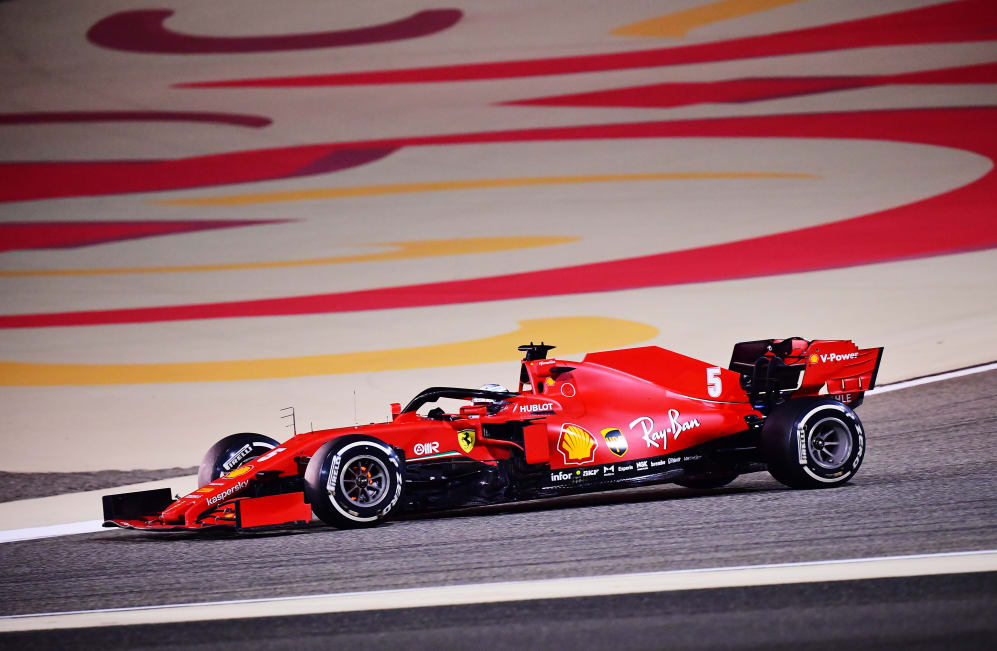 That first stint of the race on hard tyres had Vettel languishing as low as P18 and led him to describe the car as 'undrivable' on the team radio after a quick 360 spin. Later on, the four-time champion explained that his Ferrari SF1000 was left stranded on hard tyres.
"The hard tyres never seemed to work, so yeah, after that it was not too bad but we were nowhere and there wasn't much to recover," he said.
READ MORE: Hamilton wins Bahrain GP interrupted by huge Grosjean crash, as Perez suffers late heartbreak
However, Vettel said that his race pace improved once he pitted for mediums on Lap 20.
"I think in free air, in the end, it was not so bad - after the first change in tyres, it was OK," continued Vettel. "But the first set just never seemed to start working, so it was very difficult. We lost a lot of ground at the start," he explained.
Leclerc, who made it a seventh consecutive points finish with P10 thanks to Sergio Perez's late retirement, praised his own performance on the restart, but questioned why he had to line up 12th on Lap 2, as he gained places before Grosjean's crash.
"A very good start on both starts; unfortunately we had to drop back for the second start for some reason – I don't know yet why – and we need to look at this," he said.
READ MORE: Perez says late failure 'hard to digest', but admits podium irrelevant in context of Grosjean crash
"Starting P12, I was in a very good place after lap 1, but after that we were not quick enough," Leclerc added.
With P13 in Bahrain, Vettel sits 13th in the standings – nine points behind Renault's Esteban Ocon – with two races of the season remaining before he leaves for Racing Point.