'We deserved better' says frustrated Gasly as he misses out on British GP point to late puncture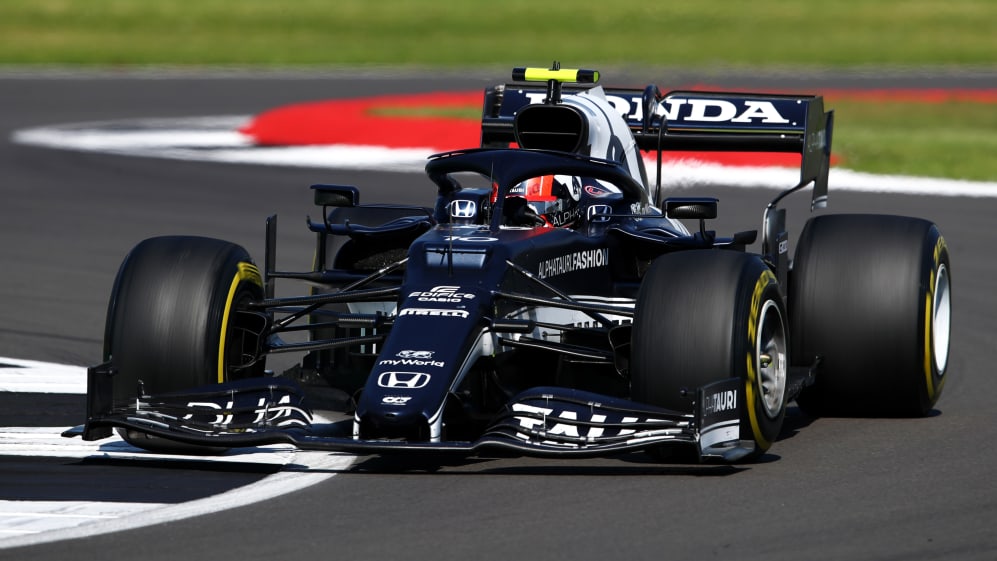 Pierre Gasly said he had "no words" to describe his frustration after a late puncture on his AlphaTauri at Silverstone dropped him out of the points, just a few laps from the chequered flag.
Gasly qualified 12th (but started 11th, thanks to George Russell's grid penalty) for the Grand Prix by virtue of his F1 Sprint finish but worked his way into the top 10 – passing Alpine's Esteban Ocon on the way – by Lap 31, three laps after his pit stop for hard tyres from mediums. But his hopes for an eighth points finish in 10 races were dashed five laps from the end.
READ MORE: Bottas reveals he raced in 30C heat with no drinks system, as he helped Hamilton to victory in British GP
"Honestly, I have no words, because it was such a hard weekend and we were in the points five laps until the end and I don't know, someone went off in Turn 7 and then we had a puncture and had to box with five laps to go, because the rear-left was punctured," he explained.
"Honestly. So frustrating, because it was, as I say, one of the most difficult weekends of the season and we managed to make it into the points and in the end to lose by nothing, just for a puncture, right at the end, is very frustrating."
AlphaTauri may have left Great Britain empty-handed but the Frenchman still took positives from the race given his pace compared to the Alpines of Esteban Ocon and Fernando Alonso, and the Aston Martin of Lance Stroll, all of whom scored points.
"I mean, the pace when I was alone was really good in that sort of mid-race, once we cleared a bit of traffic," continued Gasly. "The car was a bit more alive today for whatever reason, with the conditions, so we had the pace. I was right behind Stroll and Fernando, with more pace than them I believe; obviously we are really far from the Ferrari and McLaren this weekend.
READ MORE: Ricciardo relieved to hold off Sainz at Silverstone to register first top five finish with McLaren
"We knew our targets, we knew it was to fight with them [Ocon, Alonso and Stroll] and we were right in the mix and, yes, I mean we will obviously want to fight for better… so we'll work, try to understand what we can to better. But today I think we clearly deserved better than this P11," he concluded.
The British Grand Prix marked Gasly's first non-points-scoring finish of 2021 as he did not finish in Bahrain and Styria. But P11 at Silverstone was a long way off his season-best result of P3 in Azerbaijan, five rounds ago.