Feature
'We don't know what it's doing' – What Mercedes' rivals are saying about their trick steering system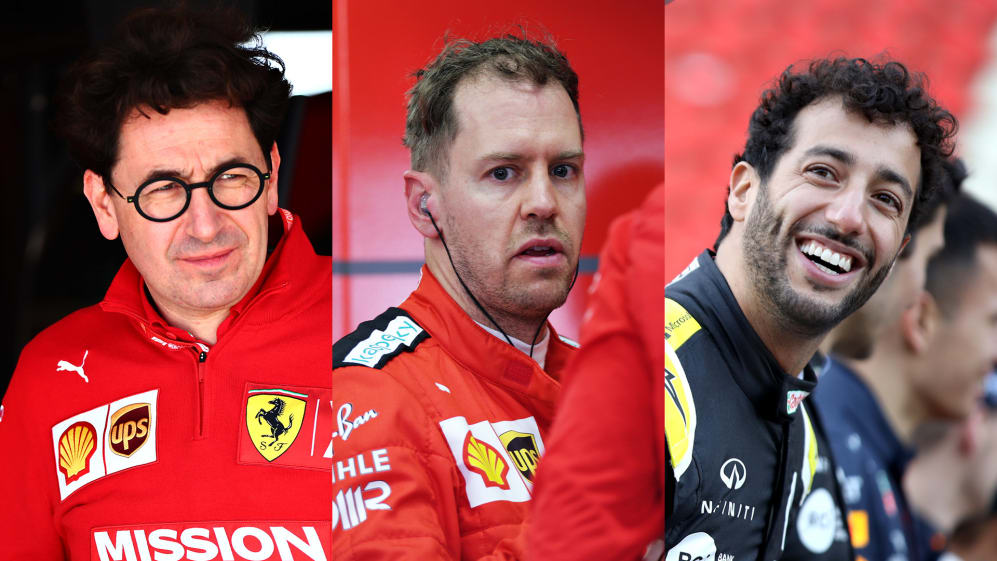 Mercedes' incredible new DAS (Dual-Axis Steering) system captivated fans and intrigued the paddock at the Circuit de Barcelona-Catalunya when it was spotted via onboard shots of Lewis Hamilton's W11 on Thursday morning at pre-season testing.
And it seems the other nine teams in the pit lane were just as interested, as engineers from rival outfits were spotted peering at replays of the footage as they tried to understand what the Silver Arrows had come up with. So what did Mercedes' opposition make of it all? Here's what the likes of Daniel Ricciardo, Sebastian Vettel and Mattia Binotto had to say – as well as the verdict from Pirelli's Mario Isola and the FIA Race Director Michael Masi.
Sebastian Vettel, Ferrari
"I could just imagine it feels weird… Imagine you're used to running and you put on your running shoes and then somebody asks you to run with your flip flops. You can also do that, but it just feels very different. Obviously it's not quite that extreme, but it's just that you add something that's completely new and feels probably strange and weird at first.
"But obviously if it gives you an advantage, gives you an edge and you can fulfil the task, you have the capacity to do it, and with enough practice then why not? For sure, if it's faster, there's no concern, you go for the faster option."
READ MORE: Vettel compares operating Mercedes DAS system to 'running in flip flops'
Daniel Ricciardo, Renault
"I loved seeing that, hats off to them. They've been dominant this whole turbo era yet they are still pushing everyone else when it should be us pushing them. They are setting an example right now and not many people would have thought about that."
Mattia Binotto, Ferrari Team Principal
"I think we need to understand how it works and what could be the real performance benefit of it. I don't think we have got a true understanding of it yet. We will look into it no doubt and develop it if it worthwhile.
"Are we discussing with the FIA? Not yet – we will do for clarification as it is important for us to understand – but, as I said, we will not challenge the FIA on their decision because we trust them fully in what will be or has been on the decision on it.
"I think what I would like to do is make their [Mercedes'] life difficult on track."
READ MORE: Leclerc – Ferrari have changed testing approach to avoid Melbourne disappointment repeat
Laurent Mekies, Ferrari Sporting Director
"It's one of the innovations you can actually see so from that perspective I guess it's good that the public can see some of the new stuff everybody brings to their cars every year and it's good to generate the right interest from the fans – the F-Duct was a good example of that. Everything else is down to the FIA after that."
Alan Permane, Renault Sporting Director
"I think we were a little bit wide-eyed, and thinking 'what's it doing and how's it doing [that]?' And I think, like most people, we did a bit of video analysis and we don't honestly know what it's doing. James [Allison] and his men have done something clever and undoubtedly they think there's plenty of lap time in it and I'm sure they've been through it with Nikolas [Tombazis, FIA Single Seater boss] and his guys at the FIA and are happy it's legal.
READ MORE: What we know so far about Mercedes' trick new steering system
"The detail lies in if it's a steering system or a suspension system and the two in the technical regs – they've been defined differently and that's where the detail is.
"Whilst we're jealous or frustrated or whatever we are… they've clearly found something they think is a benefit and that's one of the wonderful things about Formula 1."
Otmar Szafnauer, Racing Point Team Principal
"It looks like a clever bit of ingenuity, and I'm sure everyone now will see how quickly we can get it out. Even in a year like this, if it makes a big difference, we should do it.
READ MORE: Mercedes' trick DAS steering system won't be legal under 2021 F1 rules
"If we decide to go down this route we'll do it ourselves. We look around everywhere to see what other people are doing to improve our car, I know the other teams do the same so it's interesting to see who's the first follower around this."