Vettel compares operating Mercedes DAS system to 'running in flip flops'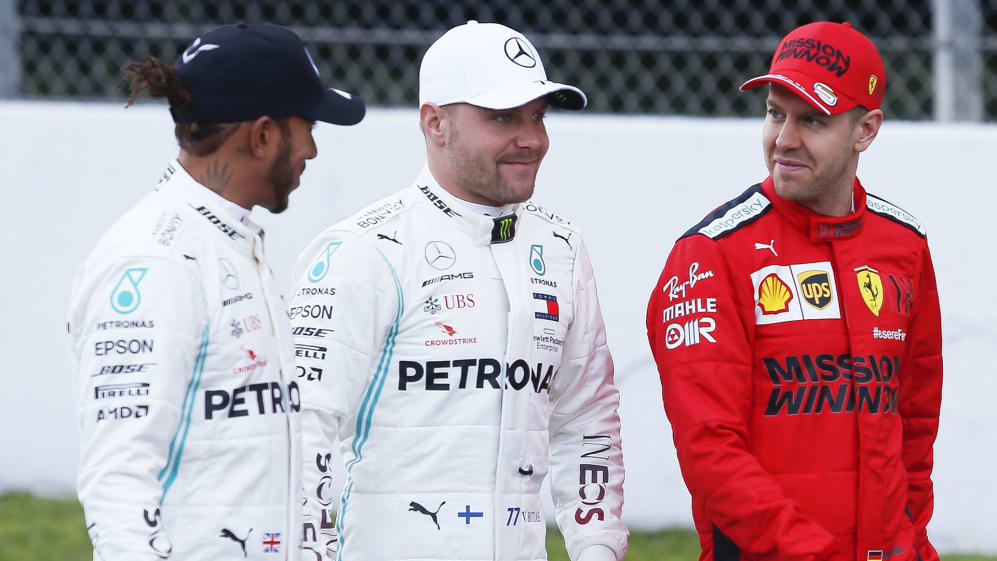 The technical talk in the first week of 2020 pre-season testing at Barcelona centred around Mercedes' innovative and controversial DAS system – and Ferrari's Sebastian Vettel appeared both impressed and wary of the device when asked about it at the end of his first day's running at the Circuit de Barcelona-Catalunya.
The Mercedes system calls on the drivers to push and pull the steering wheel, with that movement appearing to affect the camber of the front tyres – although exactly what the full benefits of the system were was a matter that was still being hotly debated in the paddock at the end of Week 1, with Mercedes understandably doing little to dispel the mystery.
DAS explained: What we know so far about Mercedes' trick new steering system
From a driver's point of view, however, Vettel argued that the action of using the Mercedes system would not feel comfortable for either Lewis Hamilton or Valtteri Bottas.
"I saw probably as much as anyone so far, from the outside – obviously we're lucky to have the onboards, otherwise we probably wouldn't see it," said Vettel. "I could just imagine it feels weird… when you have the feeling all of a sudden that you might have the wheel in your hands!
WATCH: What does Mercedes' 'DAS' steering wheel do? – Jolyon Palmer's Insight
"Imagine you're used to running and you put on your running shoes and then somebody asks you to run with your flip flops," added Vettel. "You can also do that, but it just feels very different. Obviously it's not quite that extreme, but it's just that you add something that's completely new and feels probably strange and weird at first.
"But obviously if it gives you an advantage, gives you an edge and you can fulfil the task, you have the capacity to do it, and with enough practice then why not?... For sure, if it's faster, there's no concern, you go for the faster option."
LIVE TIMING – full coverage of Formula 1 Pre-Season Testing 2020
Vettel went on to compare method of operating the Mercedes system to how drivers used to use F-Ducts, debuted by McLaren on their 2010 MP4-25 – while appearing to call on the FIA to ensure that Mercedes' system was safe for use.
"We had the F-Duct many years ago," he said, "and we drove around with one hand most of the track. That wasn't safe, but it was fast so you do what you're pushed to do. But then that's why we have the FIA, obviously, to look after us and make sure things make sense."
READ MORE: Vettel says Ferrari SF1000 'definitely a step up from last year'
But while Vettel was prepared to acknowledge the cleverness of Mercedes' DAS system, the four-time champion moved to dampen any ideas that it was a magic bullet that would make the difference in a title fight.
"I think it's much more dependent of the car you have around that [system]," said Vettel. "I don't know if I'm underestimating it, but I don't think this is the ticket to win – I think there's a lot more elements to building a competitive car. But for sure, it's an innovation, and we will see whether it's something that everyone has to pick up on or not."
READ MORE: Leclerc says Ferrari have changed testing approach to avoid Melbourne disappointment repeat