'We just had a slower car' – Wolff counters Bottas 'sleeping' criticism after Silverstone defeat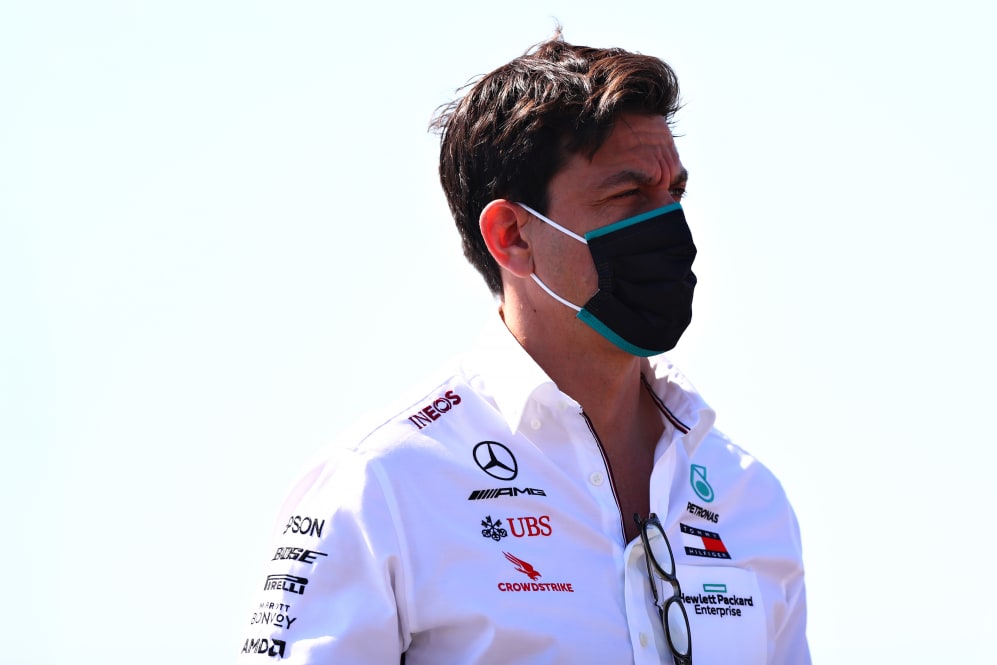 A furious Valtteri Bottas said Mercedes' strategists had been "sleeping" to allow both Max Verstappen to win the 70th Anniversary Grand Prix at Silverstone, and to let Lewis Hamilton enjoy a strategy that allowed him to pass his team mate with two laps of the race to go. But Team Principal Toto Wolff countered his driver's views, saying that Mercedes' pace deficit to Red Bull on race day had left them powerless to do anything differently.
Bottas was left particularly angry after failing to convert pole position at Silverstone to victory for the second time in three years, with Verstappen's superior pace allowing the Dutchman to breeze past the Finn immediately after his first pit stop on Lap 26, before going on to win the race.
READ MORE: 'As a team we were sleeping' – Bottas points finger at Mercedes strategy as he slips from pole to third
To add insult to injury, Hamilton was then able to pass Bottas for second on Lap 50 of 52, with Wolff revealing that Mercedes had learnt from examining Bottas' tyres at his second stop on Lap 32 that Hamilton could be kept out longer, until Lap 41, despite heavy blistering.
"The win was not there for us," said Wolff after the race. "Clearly we were not the fastest car, and then you cannot optimise the strategy. Did we get it right or wrong? Not clear. But definitely if you have such a margin that Max had, then it was ours to settle for second and third and protect this position."
Asked about Bottas' "sleeping" comments, Wolff replied: "I just spoke to Valtteri. I don't think we were sleeping but I accept his perspective. I think we just had a slower car today, and you have to just admit that. His point was, should we have done the opposite to Max [after both drivers pitted together on Lap 32]?
"But as a matter of fact, this wouldn't have changed anything because Max would have come out with a fresh tyre, and we would have continued with a tyre that wasn't in the best state any more, and he just pitted in front of us.
"So I'm not sure what we could have done better. Obviously he's not in a happy place that he was P2 and Lewis was P3 [before Hamilton got ahead], but it was the learning that happened on track when we got Valtteri's tyre in. We saw actually there was a lot of rubber left and we extended Lewis' stint – albeit that there were big vibrations, but a lot of rubber.
"And therefore he was getting quicker and quicker the more the rubber went down, and that's why we could extend the stint and eventually Lewis overtook Valtteri. It's clear that he's not happy and I totally respect that. None of us is happy today with the result."
READ MORE: Hamilton delighted to take P2 after 'hardcore' blistering presented 'unexpected challenge'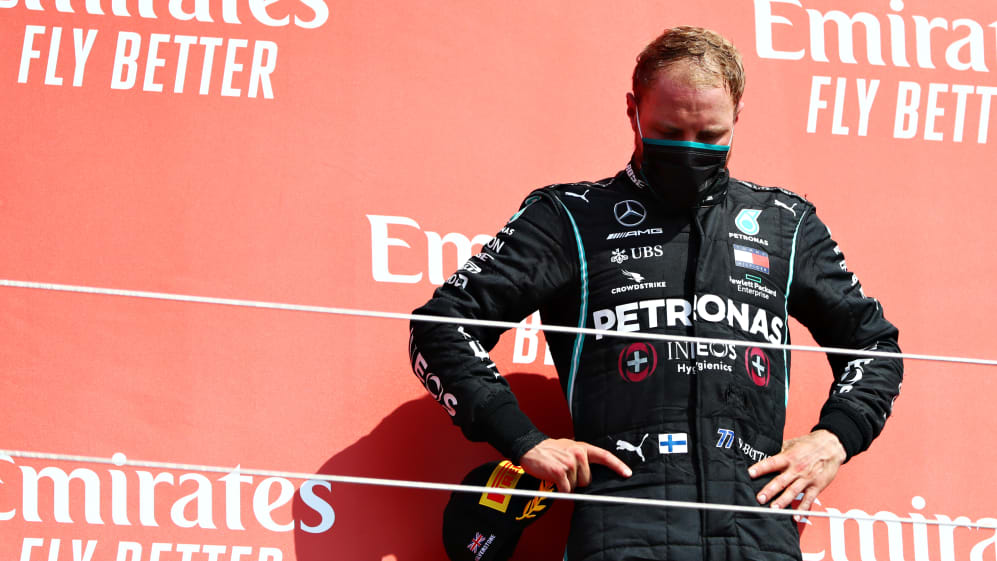 Wolff admitted that hot temperatures had played a big part in Mercedes' first defeat of 2020. And with more of those forecast for the Circuit de Barcelona-Catalunya in a week's time, the Austrian said his team would be working hard to apply learnings from Silverstone in Spain.
"I think we had indications in the past that our relative gap was not as large to our competitors when it was hot," he said. "It comes down to the fact that we have a car with high downforce, and obviously when conditions change, and parameters change like temperatures going up, compounds getting softer, pressures going up, we have to acknowledge that the Red Bull is a pretty fast car – and that's what we have seen today.
READ MORE: Verstappen hails 'incredible' victory at Silverstone, saying 'I didn't see it coming!'
"But we had these days in the past and came out stronger and I'm really looking forward to Barcelona. We have a handful of days to assess, come up with solutions, test them on the Friday in Barcelona and hopefully have a better race on Sunday. These days where we lose are the days where we learn the most."
Despite not winning for the first time this season, Mercedes still enjoy a 67-point lead over Red Bull in the constructors' standings, although Bottas slipped behind Verstappen to third in the drivers' standings after Silverstone – which won't have improved his mood, either...