'We were just slow' – Leclerc downbeat despite Ferrari's double points finish in their 1000th GP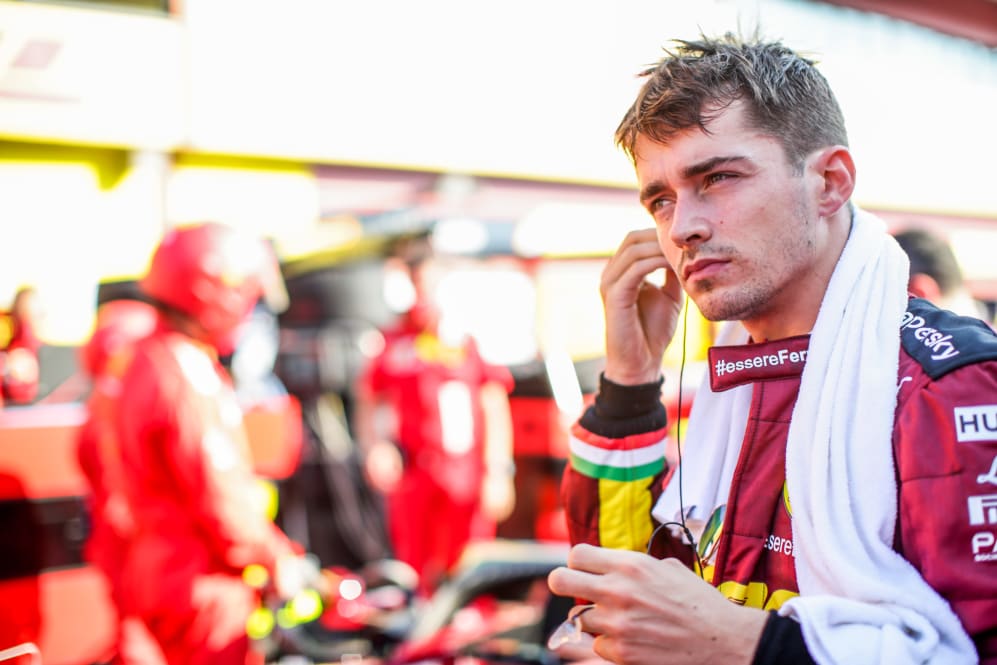 With the team celebrating their 1,000th Grand Prix at Mugello, the Tuscan Grand Prix was a timely moment for Ferrari to record their first double-points finish since the British Grand Prix, five races ago. But the teams' drivers were keeping the prosecco very much on ice, after a day when both Charles Leclerc and Sebastian Vettel struggled for race pace around the Ferrari-owned circuit.
After a starring turn in qualifying to take P5 on the grid, a fantastic start for Leclerc saw him climb to third on Lap 1, before he progressively fell down the order to end up ninth on the road at the finish – before a penalty for Alfa Romeo's Kimi Raikkonen promoted Leclerc to eighth.
Meanwhile, from his P14 starting position, Vettel overcame Lap 1 contact with McLaren's Carlos Sainz to make it to P10 at the chequered flag, having spent much of the race battling with George Russell's Williams.
READ MORE: Hamilton beats Bottas to win crazy Tuscan GP, as Albon secures maiden podium
However, despite the double points for Ferrari, with only 12 drivers classified in the race, it was hardly the performance the Scuderia would have hoped for at their 1,000th Formula 1 participation. "We were just slow," lamented Leclerc. "There's not much more to add to that. I did a good start, put myself, I think, in the best position possible behind the two Mercedes that were going away, so I had free air but just struggling so much with the car.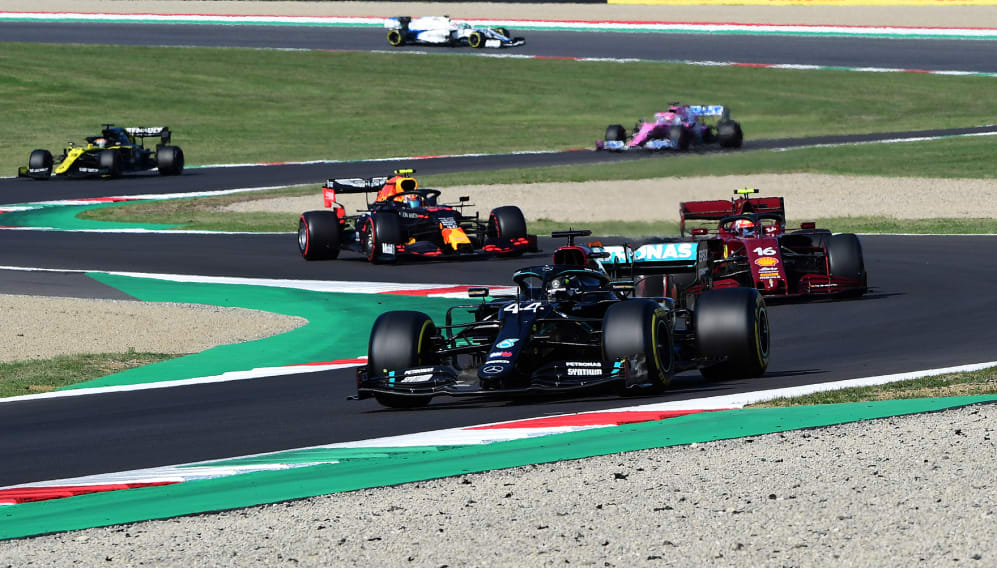 "We need to work, honestly, and try to understand," added Leclerc, "because some races, we are not very competitive in quali, and then we are better in the race, which I think was the case at the beginning of the season. Now we seem to have done quite a good job yesterday in quali but struggling massively with the car in the race, so it's a difficult moment."
READ MORE: 'We shouldn't have been in that position' – Verstappen rues power problems that led to lap 1 crash
Vettel, who announced on the Thursday before the race that he'd join the Racing Point squad for 2021 when they become Aston Martin, agreed with his team mate's assessment of Ferrari's struggles currently. But with just eight races left in his Ferrari career, Vettel said he was nonetheless still "playing around" to try and get on top of his SF1000.
"We were not quick enough," said Vettel. "Why is always a good question, and a difficult one to answer. There's always more than one reason so obviously we know that our car is not quick enough, but today I think we would have expected to have a better race pace, so we need to have a look…
"Obviously we were fighting hard and trying everything to get a point. I tried in the end with Kimi but we did everything we could.
"I'm playing around," he added, when asked how he could improve his car's performance. "There's still stuff that I can learn, so obviously it will be difficult to make a huge difference in terms of results, but I can still learn stuff so it's useful."
MUST-SEE: Mick Schumacher drives his father's F2004 ahead of Ferrari's 1000th GP at Mugello
A happier moment for Ferrari came earlier in the day, meanwhile, when Mick Schumacher, son of seven-time champion Michael, drove his father's Ferrari F2004 during a demonstration run around Mugello – with both Vettel and Leclerc on hand to witness the poignant moment ahead of the race start.