Feature
We're streaming the 2008 British Grand Prix – here's why you should watch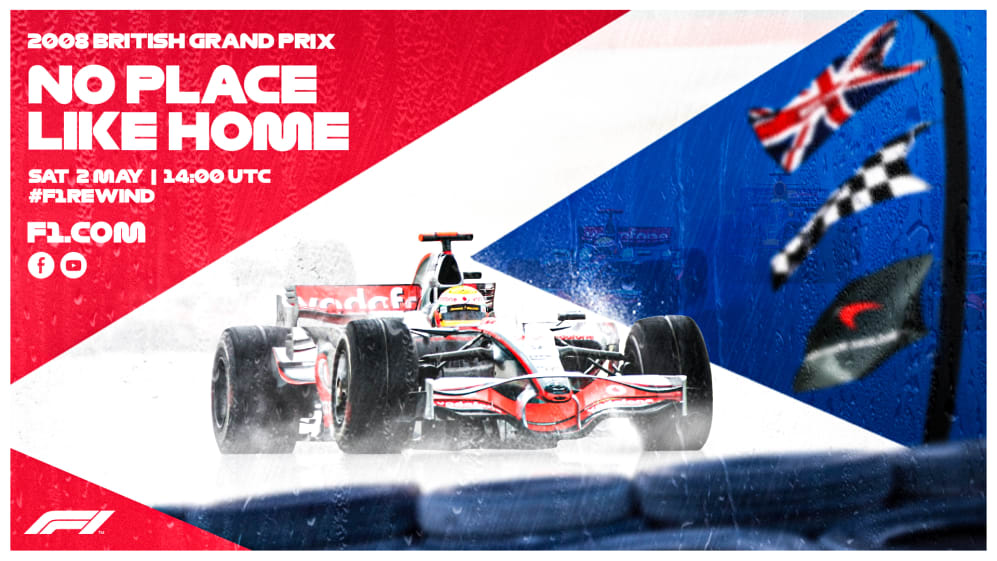 Arguably one of the greatest of Lewis Hamilton's 84 F1 victories came at a sopping wet Silverstone in 2008, when the McLaren driver claimed a dominant win in front of his home crowd. We'll be streaming this wet-weather belter on Saturday, May 2 at 1400 UTC – here's why you'll definitely want to stick this one in your diary…
It's almost hard to imagine now, but the 2008 British Grand Prix saw Lewis Hamilton turn up to Silverstone with his tail wedged firmly between his legs. Two races before, the McLaren driver had endured one of F1's face-palmiest crashes of all time when he failed to spot a red light at the end of the pit lane in Canada and piled into the back of a stationary Kimi Raikkonen.
Starting from 13th at the following race in France after being saddled with a 10-place grid penalty for his Montreal exploits, he'd then been handed a drive-through penalty during that race for passing Toro Rosso's Sebastian Vettel illegally, ending up 10th.
All was not going well in Hamiltonland, then. But don't worry – by the time he left Silverstone, the British racer would have been well and truly redeemed.
READ MORE: F1's Best Drives #8 – Hamilton's wet-weather masterclass at Silverstone
How they stood before the race
On the back of two no-scores, Hamilton was fourth in the drivers' standings by the time Silverstone rolled around, lagging 10 points adrift of French Grand Prix winner Felipe Massa – and we're back in the 10-points-for-a-win days here, remember – with Canada victor Robert Kubica and Ferrari's reigning champion Kimi Raikkonen both ahead too.
Win-wise, Hamilton had two to Massa's three, Raikkonen's two and Kubica's one.
Standings ahead of the 2008 British Grand Prix
| Position | Driver | Team | Points |
| --- | --- | --- | --- |
| 1 | Felipe Massa | Ferrari | 48 |
| 2 | Robert Kubica | BMW-Sauber | 46 |
| 3 | Kimi Raikkonen | Ferrari | 43 |
| 4 | Lewis Hamilton | McLaren | 38 |
| 5 | Nick Heidfeld | BMW-Sauber | 28 |
| 6 | Heikki Kovalainen | McLaren | 20 |
The background
Hamilton's redemption certainly wasn't delivered during the mixed conditions of qualifying, with the McLaren driver slewing off the track on the first of his final two attempts in qualifying, only doing enough to take fourth on the grid as new team mate Heikki Kovalainen claimed the first and only pole of his career.
Red Bull's Mark Webber did a sterling job to put his Red Bull on the front row alongside Kovalainen, while Raikkonen was third for Ferrari, as championship leader Massa could only manage ninth.
PODCAST: Mark Webber on how current stars took him to next level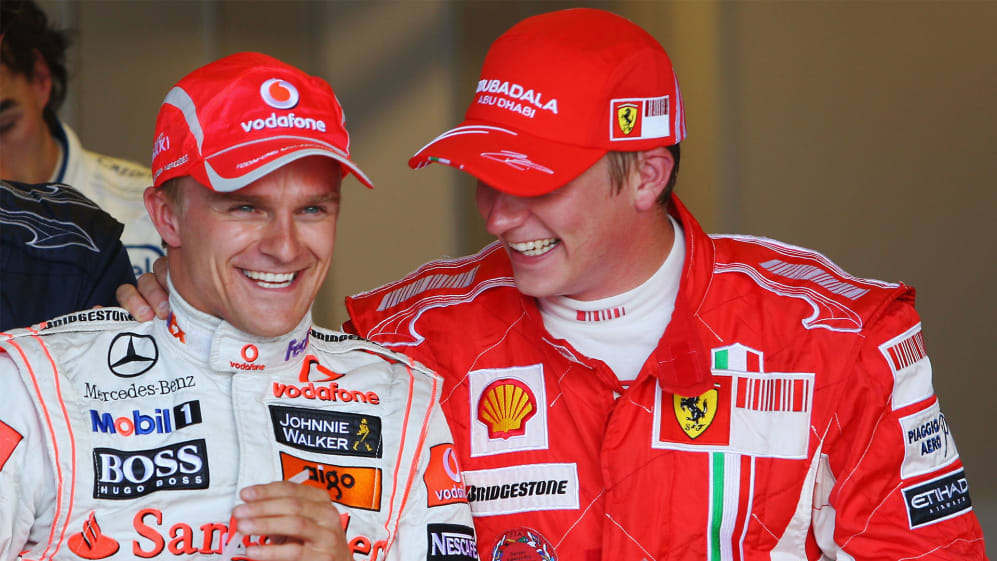 Four key moments
1. The getaway – Despite starting on the slicker side of the track, Hamilton's start was sublime, as he hustled the MP4-23 past Webber and Raikkonen to run side-by-side with Kovalainen through Turn 1, eventually slotting in behind his team mate.
Behind, Webber undid all his hard work by spinning on the opening lap, as did Massa, while David Coulthard and Sebastian Vettel did a lovely synchronised spin into the gravel and out of the race too.
2. Hamilton passes Kovalainen – Hamilton was in no mood to let his team mate hog the glory, and lined up a classic pass into Stowe on the Finn on Lap 4 of 60 to move into the lead.
Kovalainen would spin a few laps later, allowing Raikkonen to attempt an assault on Hamilton, but a bad call from Ferrari to keep the Finn on the same set of tyres at his first pit stop would ultimately see him finish a distant fourth.
LISTEN: Lewis Hamilton on how F1 has both built and broken him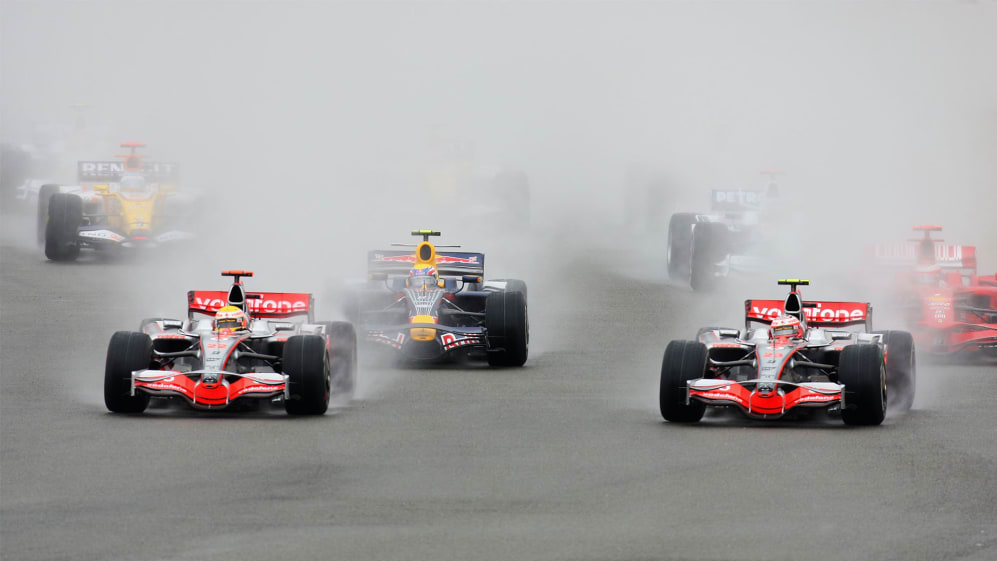 3. Spins galore! – In appalling conditions, Hamilton was serene at the front. Behind, though, it had gone a bit mad, with Massa spinning on five separate occasions across the Grand Prix
Meanwhile Force India's Giancarlo Fisichella and Adrian Sutil, Renault's Nelson Piquet Junior, Toyota's Timo Clock, BMW-Sauber's Kubica and Honda's Jenson Button would all spin out of the race, not to mention the countless others who endured heart-stopping, aquaplaning moments. This really was peak British summer weather…
4. Hamilton survives to take a momentous win – Barring a teeny wobble that put him on the grass on Lap 37, Hamilton was in a class of one.
He eventually came home over a minute ahead of BMW-Sauber's Nick Heidfeld, with Rubens Barrichello – who'd been impressive late on in the race on extreme wets – coming home third, with those two the only drivers to finish on the same lap as Hamilton. It had been a truly mesmeric performance by the 2008 champion-elect.
READ MORE: 'It's unprecedented' – James Allison reveals what marks Hamilton out from other F1 champs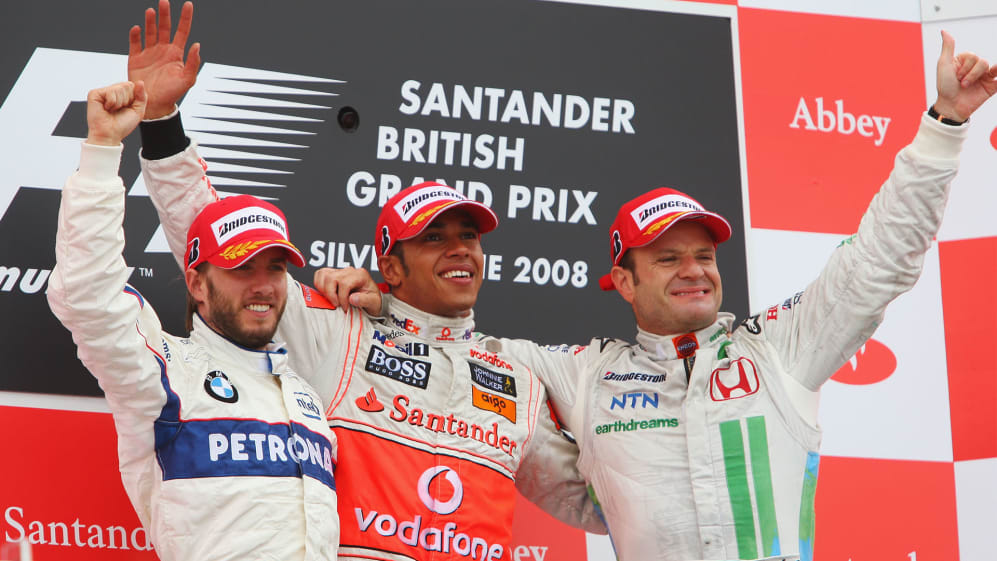 The headlines
Hamilton dedicates win to his family – Hamilton was quick to call the win – which, to be fair, was only his seventh – as his best yet. "It is by far the best victory I've ever had," he said.
"As I was driving I thought, 'If I win this, it will be the best race I've ever done'… I want to dedicate this to my family because we all know I've had some troubles of late, so this is for them." The win sent Hamilton to the top of the drivers' standings, level on points with Massa and Raikkonen.
Massa left red-faced – The 2008 British Grand Prix was not Felipe Massa's finest hour, as he limped home 13th, have qualified just ninth, and with his YouTube-friendly array of spins to boot.
"This Silverstone weekend is one to be wiped out," said Massa after the race. "Today, I could hardly keep the car in a straight line and it was always very difficult to drive."
PODCAST: Felipe Massa on Brazil 2008, his life-threatening crash and more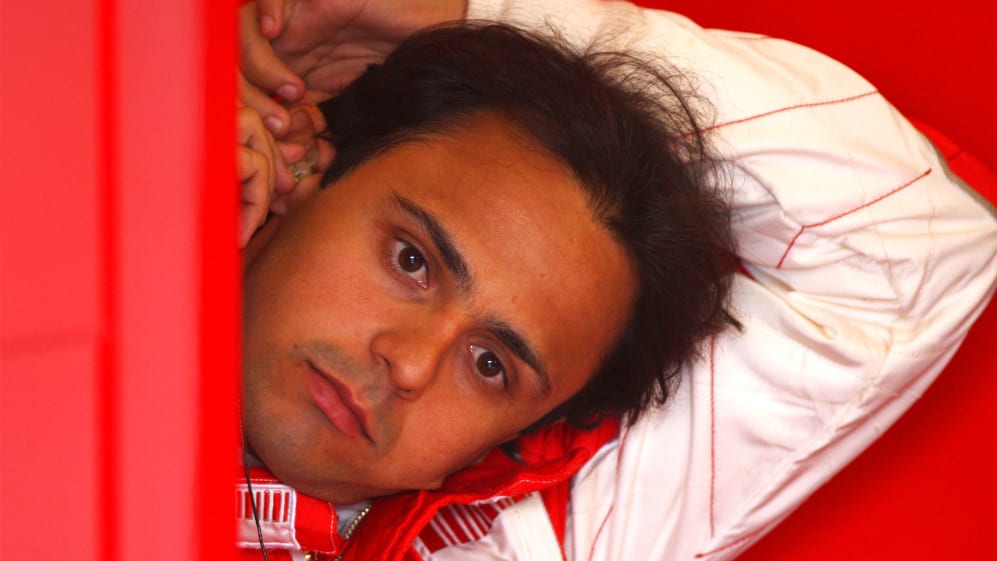 Barrichello rediscovers his youth – Having surged up the order after a prudent call to switch to extreme wets as the rain intensified, Barrichello was delighted to take a first podium for Honda, three years after his last rostrum appearance with Ferrari at Indianapolis.
"It's fantastic," he said. "I've never lost the belief I have in me. I've got this great feeling, it's like I'm young! I just love the sport. It was obviously a lucky day with the weather, but I love the wet weather conditions. It was a perfect race."
READ MORE: The inside story of Stewart GP's fairytale '99 European Grand Prix victory
How to watch
Tune into one of the greatest wet-weather drives in the history of F1 when we stream the 2008 British Grand Prix on Saturday, May 2 at 1400 UTC (1500 BST) on F1.com, Facebook and YouTube.