Feature
Canada '08: How BMW Sauber sacrificed Heidfeld for Kubica's breakthrough win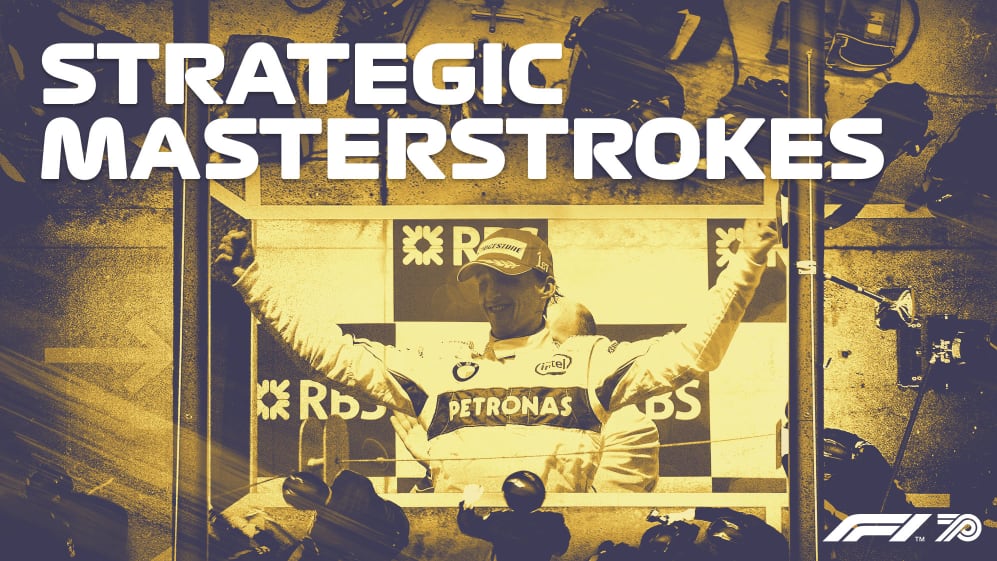 Twelve months on from his horror smash at the 2007 Canadian Grand Prix, BMW Sauber's Robert Kubica had a fantastic chance to take his maiden F1 victory at Montreal in 2008. The only problem was, so did his team mate Nick Heidfeld. In another in our series on the great strategic masterstrokes from F1's 70-year history, Mark Hughes looks back on a sensational, but far from straightforward, 2008 Canadian Grand Prix for the BMW Sauber squad.
BMW Sauber scored a famous breakthrough 1-2 in the 2008 Canadian Grand Prix, with Robert Kubica taking victory ahead of Nick Heidfeld. Although recalled as the Grand Prix in which Lewis Hamilton crashed into the back of a stationary Kimi Raikkonen as the latter waited at a red light at the end of the pitlane, BMW Sauber's subsequent race was a challenging one strategically.
In order to extinguish the possibility of Fernando Alonso's Renault stealing victory, they needed to compromise the chances of one of its drivers, as they were each on different strategies.
LISTEN: Nick Heidfeld discuss his fastest team mates, his toughest rivals and the best F1 car he drove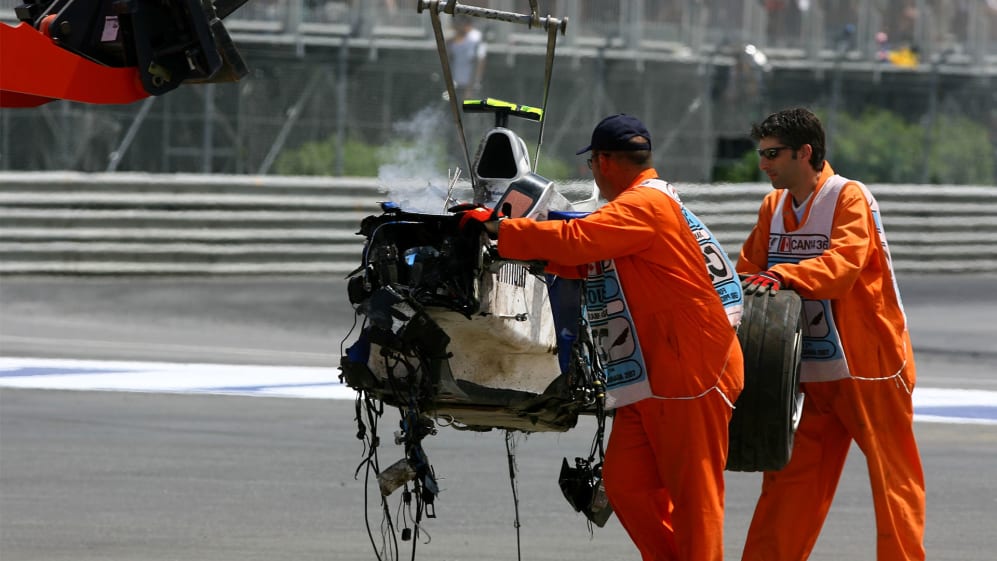 Back in the first decade of the millennium, when race strategy revolved around refuelling, things could get even more complex than they do in current F1, where the strategies are only tyre-based.
A Safety Car early in the race – too early to convert to a one-stop if you pitted under it – split the field into one and two-stoppers. BMW Sauber had a foot in both camps, with Kubica two-stopping while Heidfeld was to come in only once. The team played this flexibility perfectly in denying Alonso the chance to win, but in the process denied Heidfeld a chance to fight out the win with Kubica.
Kubica had qualified second-fastest to Lewis Hamilton's McLaren. The format at this time required the top 10 to qualify with the fuel load it would take into the start of the race.
Hamilton was fuelled for a calculated 22 laps, Kubica 23. Ferrari's Kimi Raikkonen was third-fastest with a fuel load set for 24 laps. Kubica's BMW team mate Heidfeld was loaded up for an opening stint of 27 laps and was only eighth fastest, over 1s slower than Kubica.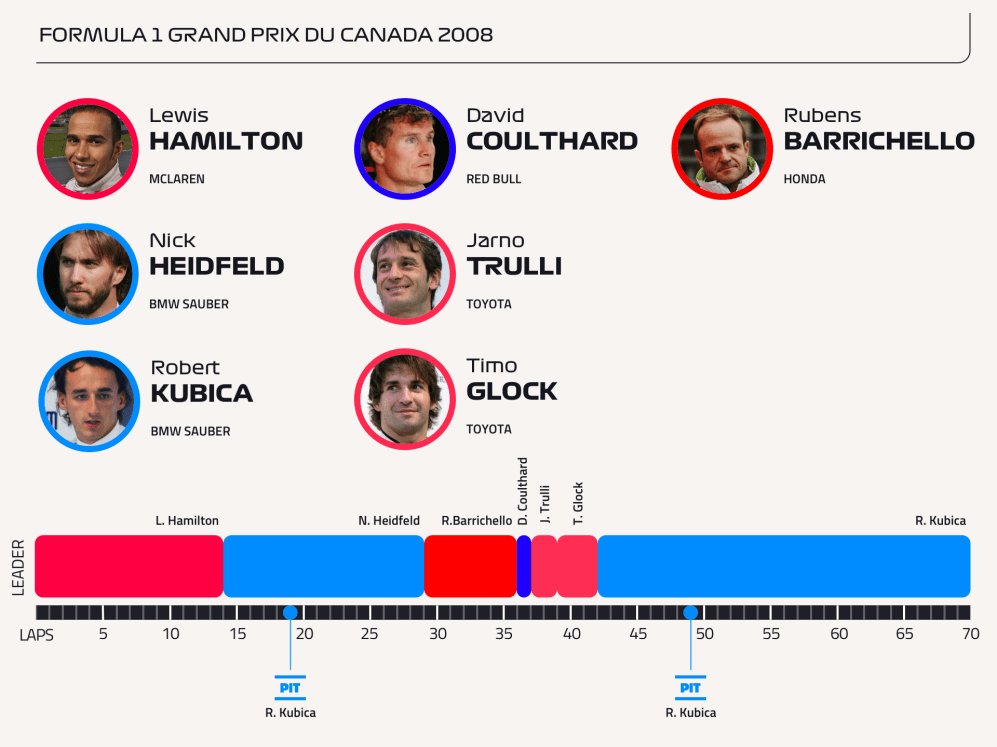 IN HIS OWN WORDS: Kubica on his '08 Canadian GP win
Hamilton led away from the start, with Kubica aggressively holding out Raikkonen on the run down to turn one. In the next few laps Hamilton stamped his authority on the race, pulling out a significant gap.
He was leading by 7s as Adrian Sutil pulled his Force India to the side with no gears. Marshals tried to move the car to a safe place under waved yellow flags but couldn't do it without the help of a service vehicle. So after three laps of their struggling, the Safety Car was deployed.
The first seven cars – Hamilton, Kubica, Raikkonen, Nico Rosberg, Alonso, Felipe Massa and Heikki Kovalainen – all made for the pits for new tyres and a refuel. The Safety Car was close enough to the planned first stops to make pitting under it advantageous for them. But crucially, it was too early to convert them to a one-stop as there were still more laps left than could be completed on a full tank.
With Heidfeld's BMW Sauber now leading the race, and fuelled to go a long way yet, the team committed him to a one-stop strategy. The Safety Car had wiped out all of Heidfeld's time deficit that had built up in those first 17 laps, and now he had track position too.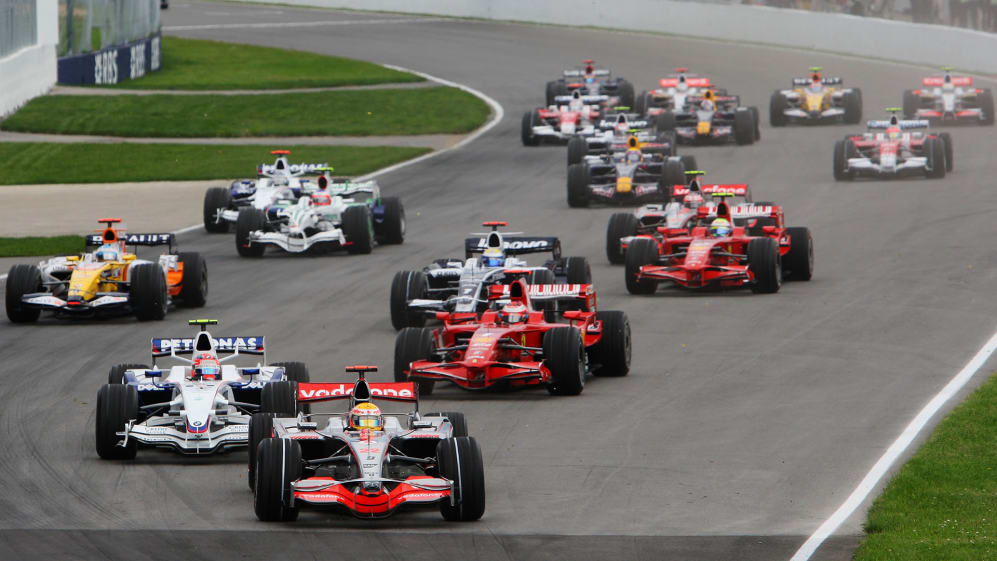 With the top seven trailing into the pits nose-to-tail, choosing how much fuel to put in was tricky: just a little, so as to retain track position? Or slightly more, even if it meant losing track position to a shorter-fuelled rival?
Hamilton lost out here through having chosen a shorter initial fuel load than Kubica or Raikkonen, meaning the McLaren would need to be stopped for longer even just to get to the same lap on the second stops. Sure enough, Kubica and Raikkonen were first away. Hamilton suffered a further delay as the fuel rig detachment snagged.
READ MORE: France '81, and the perfectly timed tyre change that secured Prost's first F1 victory
A red light at the bottom of the pit lane – to allow the Safety Car-led pack to pass by – prevented Kubica and Raikkonen from rejoining, so they stopped, side-by-side. As Hamilton accelerated down the pitlane, he failed to notice the red light until too late. He was heading straight for Kubica's car on the right-hand side and clearly wasn't going to get stopped in time.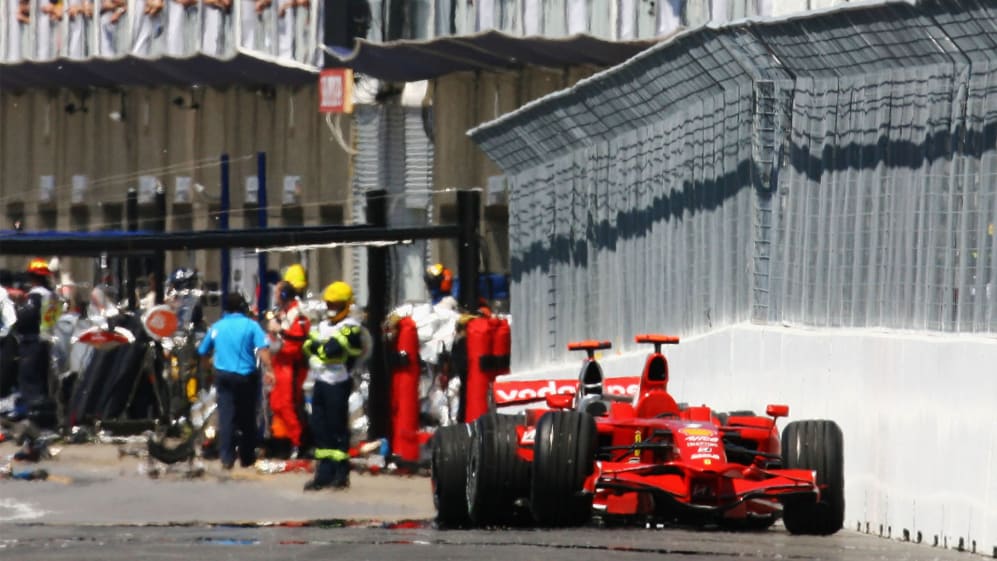 He desperately steered hard left, trying for the gap between Raikkonen and the wall, but it was too late and in trying for the gap he missed Kubica but hit Raikkonen's Ferrari hard.
Rosberg then crashed his Williams into the back of the McLaren. Hamilton and Raikkonen – the two race favourites – were out on the spot, with Rosberg consigned to a slow lap back to the pits for a new nose.
With the green light on, Kubica rejoined the race in 10th place, behind the one-stopping pack which Heidfeld now led. Directly behind Kubica was Alonso's Renault.
In theory, the two-stop should still have been a slightly faster way to complete the race given that time had been gained by making the first stop under the Safety Car. But making that strategy work would require that not too much time was lost lapping at the slower pace of the one-stoppers ahead.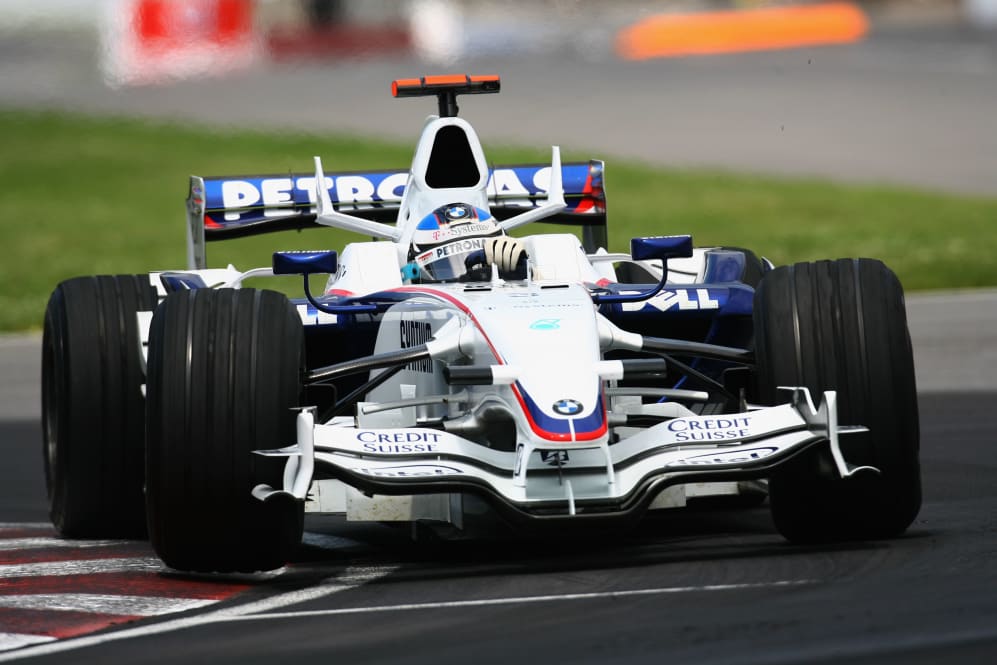 Up in the lead, Heidfeld needed to pull out more than a pit stop's worth of time (around 20s) over Kubica if he was to prevent his team mate's two-stop strategy from working. If he could pit and get out still ahead of Kubica (who would still have another stop to make, unlike Heidfeld) and hold him off for as long as possible with his much heavier car, it would severely damage Kubica's strategy.
But if Heidfeld exited behind, Kubica could use his weight advantage to sprint clear – possibly by enough to make his second stop without losing position to Heidfeld.
READ MORE: 5 moments of Robert Kubica brilliance
Had it just been as straightforward as that, BMW Sauber would have let its two drivers do their races unencumbered. But there was a complication: Alonso, on the same strategy as Kubica – and right behind him.
If Heidfeld came out behind, not only could Kubica sprint clear and get that second stop without losing position, but so could Alonso – who might then also be able to race Kubica for the win. Especially if he was fuelled to make his second stop later, which BMW believed he was.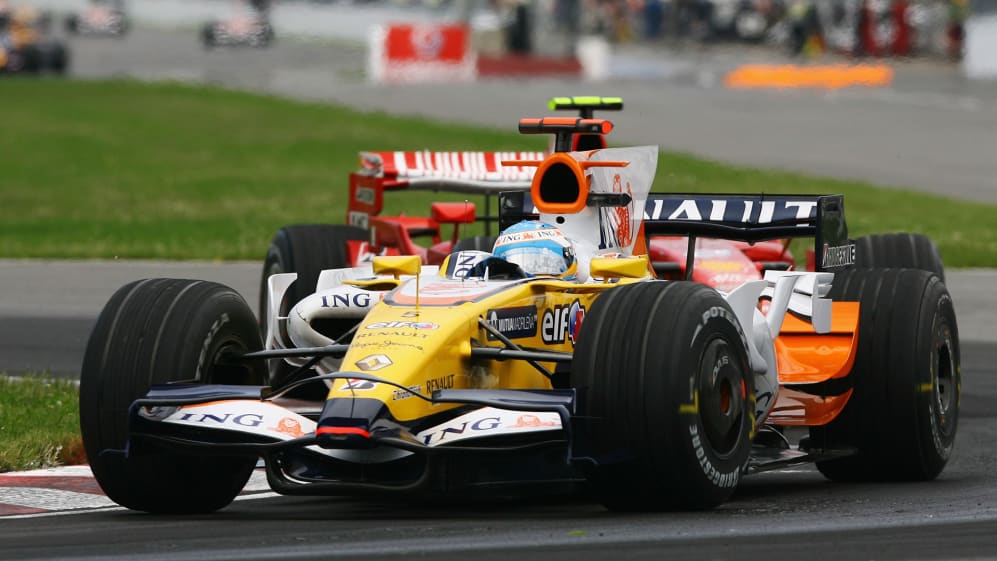 From a team perspective, BMW needed Heidfeld to exit in between Kubica and Alonso. That way Heidfeld could delay Alonso but leave Kubica free to make his two-stop work. Heidfeld had achieved the gap needed to do this by the 28th lap – and he was instructed to pit at this time, despite being fuelled to run until the end of Lap 29.
Heidfeld, without the fuller picture, believed his best chance would be to keep extending the gap for the extra lap he was fuelled for. So he ignored the request, did an extra lap and pitted at the end of Lap 29.
READ MORE: Alonso vs Hamilton – Nick Heidfeld names the 'most complete driver' he raced in F1
This had the effect of ensuring he joined in front not just of Alonso, but Kubica too, the two BMWs fighting for track space into turn 2 as Heidfeld rejoined from the pit lane, with Nick prevailing. So the slow, heavy one-stopping BMW was now ahead of the fast, light one – which really needed a clear track to make its two-stop work.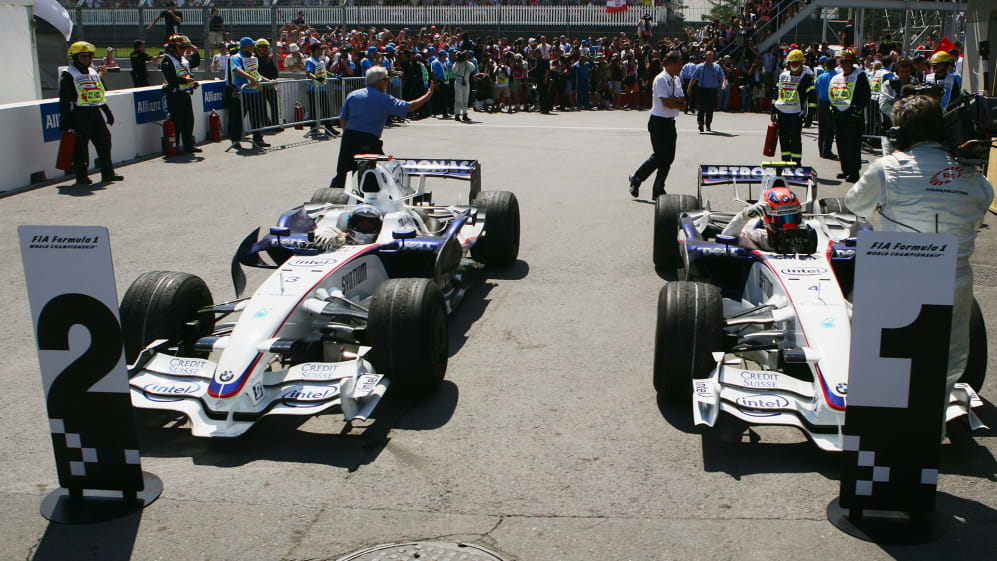 Kubica would probably be able to overtake, such was his weight advantage, but it would cost time and tyre life if he had to force that move. But Alonso too might be able to pass Heidfeld – and subsequently run longer than Kubica to the second stops and thereby win the race.
The team instructed Heidfeld to let Kubica pass which he did, reluctantly, on the next lap, into the first turn, taking care not to allow the Renault past too. Kubica quickly pulled away from Heidfeld, and Alonso was left unable to pass.
This had destroyed the strategy of Alonso – who would later crash out – and now all that was left to play out was the battle between the two BMW Saubers for victory.
Could Kubica pull out 20s in the next 18 laps and thereby exit from his second stop still ahead? There were several slower cars ahead of him but once Timo Glock's Toyota pitted out of the way, Kubica had a clear track for seven laps but was still 13.5s away from his target.
In those seven laps he set a searing pace (just as Heidfeld had done during his low-fuel laps before his stop) to pull out all that he needed – and 3s more. He rejoined without losing the lead and BMW Sauber's historic 1-2 was in place.
It was a year on from Kubica's horrific crash here, it was a first for both Kubica and BMW Sauber (as a constructor). But it could have been the first for Heidfeld.
"Obviously I'm happy for Robert. He did a great job," he said. "But what kind of a racing driver would I be, driving in the same team, being so close to my first victory, not to be a bit disappointed?"
READ MORE: Moss bluffs his way to victory at Argentina '58 – and ushers in new era