Feature
We're streaming the 2011 Canadian Grand Prix – here's why you should watch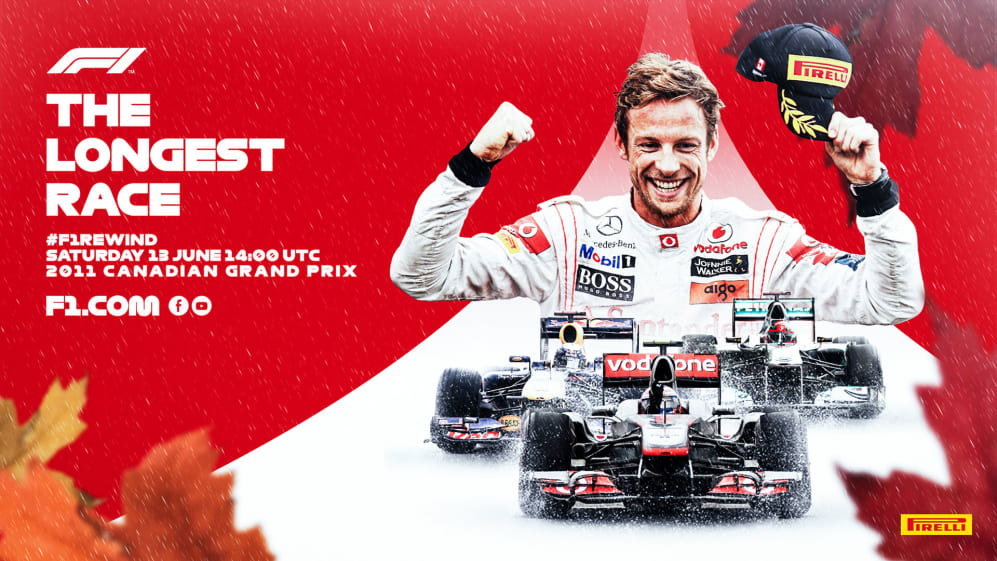 The 2011 Canadian Grand Prix may have been the longest race in F1 history – but it still packed one hell of a punch. We'll be streaming the race on F1.com, Facebook and YouTube on Saturday, June 13 at 1400 UTC (1500 BST) – here's why you won't want to miss it.
There were many points during the 2011 Canadian Grand Prix when McLaren's Jenson Button looked like the driver least likely to win the race. But the story of how he did, beating Red Bull's Sebastian Vettel with a dramatic last lap pass, made for one of the most exciting Grands Prix in the sport's history.
F1 REWIND: Re-live Daniel Ricciardo's unlikely victory at the 2017 Azerbaijan GP in full
How they stood before the race
If 2010 had seen Sebastian Vettel reveal himself as a driver who could win world championships, 2011 was when he really began kicking sand into everyone's eyes.
By the time the Canadian Grand Prix rolled around, Vettel had won five of the first six races of the year with Red Bull, to hold a commanding lead over Lewis Hamilton – who'd prevented Vettel's 100% streak by winning in China.
That win aside, 2011 was not a happy year for Hamilton, with the McLaren driver having already racked up a host of penalties and steward visits as he battled through his annus horribilis.
Still, he was at least heading the fight for second place when F1 came to Montreal, leading Vettel's team mate Mark Webber, the sister McLaren of Button and the Ferrari of Fernando Alonso.
Standings ahead of the 2011 Canadian Grand Prix
| Position | Driver | Team | Points |
| --- | --- | --- | --- |
| 1 | Sebastian Vettel | Red Bull | 143 |
| 2 | Lewis Hamilton | McLaren | 85 |
| 3 | Mark Webber | Red Bull | 79 |
| 4 | Jenson Button | McLaren | 76 |
| 5 | Fernando Alonso | Ferrari | 69 |
| 6 | Nick Heidfeld | Renault | 29 |
The background
Vettel was predictably dominant in qualifying around the Circuit Gilles Villeneuve, taking his sixth pole in seven races by 0.185s from Ferrari's Fernando Alonso, with Felipe Massa an encouraging third after a poor year for the Brazilian to that point.
Webber was fourth for Red Bull, having been forced to qualify without KERS, while in the McLarens, Hamilton and Button were fifth and seventh, the car lacking speed in the dry despite Hamilton executing a lap that was, in his words, "fantastic… I don't think I've ever driven the car so hard."
Pedro de la Rosa was 17th for Sauber, meanwhile, having been a late call-up to stand in for Sergio Perez, the Mexican having withdrawn after the first practice session, admitting he was still feeling the effects of his nasty Monaco shunt last time out.
LISTEN: Martin Brundle discusses the best cars he's driven from every decade of F1, including the 2011 Red Bull RB7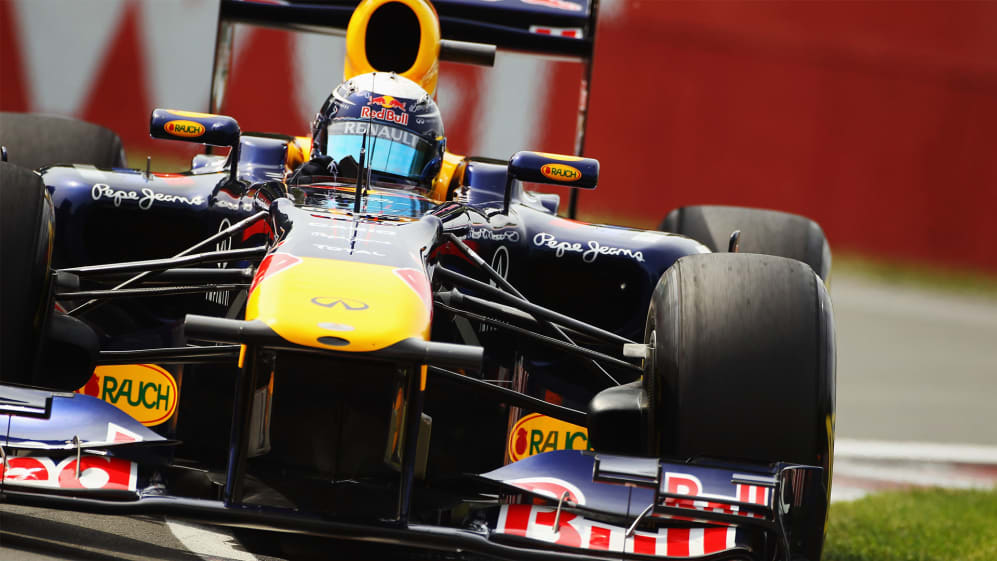 Four key moments
1. The start – With rain pounding the Circuit Gilles Villeneuve, the race was started behind the Safety Car. Released to go racing on Lap 5, Hamilton immediately blotted his copybook with a clumsy dive on Webber into Turn 1 that turned the Australian around. "I think Lewis thought the chequered flag was in Turn 3," Webber quipped later.
Both were able to continue, although Webber dropped to 14th as his team mate Vettel led at the front from Alonso, while Button and Mercedes' Nico Rosberg snuck past Hamilton, relegating him from fifth to sixth.
2. Button and Hamilton collide – Just a few laps later, and Hamilton was making headlines again, this time after colliding with team mate Button on the start-finish straight. Unlike the Webber incident, though, this one was far less clean cut, Button jinking to the left and squeezing Hamilton, who'd gone for a gap at the precise moment that Button decided to close it down.
Either way, the result was curtains for Hamilton, who retired the car on track. Cue another Safety Car, under which Button was handed a stop/go penalty for going too fast while the race was neutralised, dropping him to 15th.
The race was really neutralised just a couple of laps later, however, when the heavens opened and the decision was taken to red flag the proceedings on Lap 25 out of 70… for two hours. Fun job for the commentators that…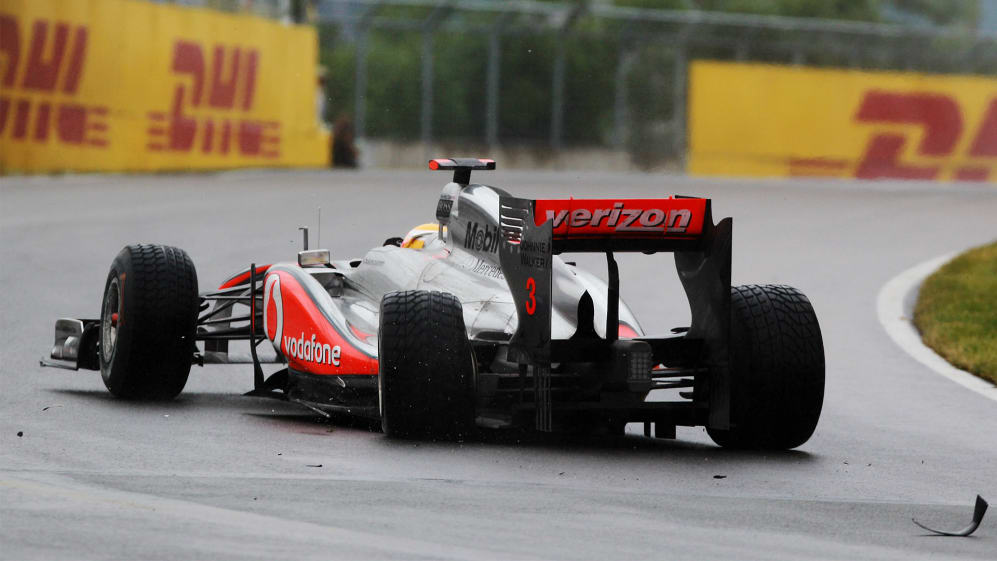 3. Alonso and Button clash – Racing resumed behind the Safety Car, but once that had pulled in, Button's seemingly nightmarish Grand Prix continued, as he divebombed Fernando Alonso into Turn 3, resulting in retirement for Alonso, and a puncture for Button that dropped him to last.
Button's saving grace, however, was the Safety Car that his crash had forced to come out again, allowing Button to catch back up to the pack and limiting the damage to his race.
4. Button passes Vettel for the win – Down in 21st place but with an MP4-26 that, despite its bruising afternoon, was still handling sweetly, Button used his mastery of changeable conditions to scythe through the field, perfectly timing a switch onto slick tyres on Lap 57 to find himself second behind Vettel as the race entered its final lap.
Then at Turn 6, the cameras picked up the unbelievable sight of Vettel slewing wide in the Red Bull. The German gathered the car up and continued, but not before Button had sneaked through to secure an against-all-odds win, 4h 04m 39.537s after he'd set off earlier that afternoon.
READ MORE: Check out the full race result from the 2011 Canadian Grand Prix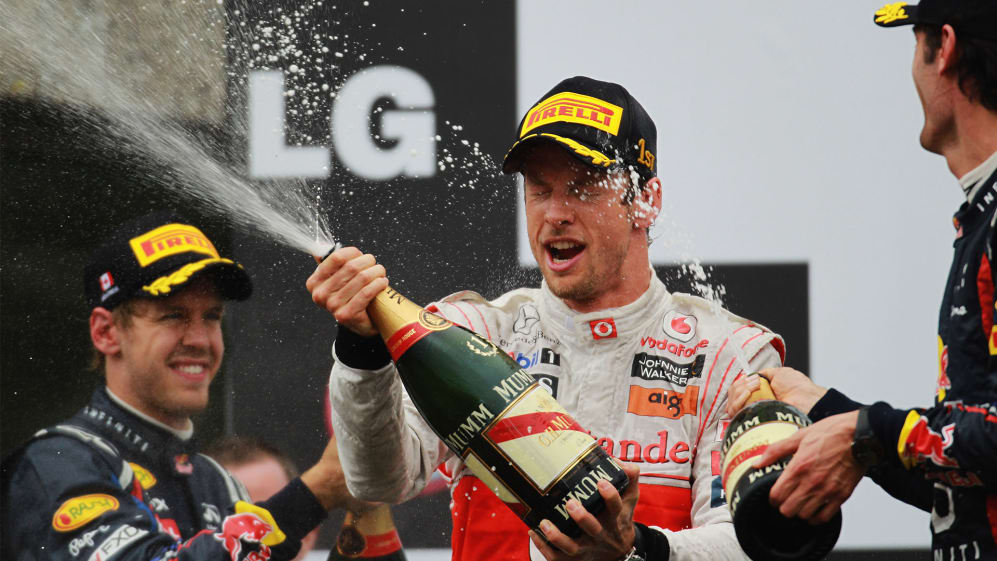 The headlines
Button's best victory – Button's race was so fantastic and unexpected that it even made the cut as one of F1.com's 10 best drives of all time – and on the day, Button too would call it his greatest win in the sport. "That was the best victory of my career, and today is therefore a very special day for me. I fought my way from last to first to win the race. To win a Grand Prix by getting one over on your rivals with a series of strong overtaking moves makes it even better."
READ MORE: F1's Best Drives – Button's Canadian comeback
Hamilton under fire – For some, Hamilton's scrappy afternoon added to the narrative of his career coming apart at the seams in 2011, not helped by the fact that at the previous race in Monaco, he'd had incidents with both Pastor Maldonado and Felipe Massa before accusing the stewards of being racially prejudiced against him.
"Hamilton has got the bad-boy reputation, and a slight attitude to go with it," wrote commentator Martin Brundle after the race. "Even if he smoothes it over with some carefully chosen words afterwards, it is not doing him any good. It's like the hard-tackling footballer – he's perceived as likely to be guilty before he does anything… He's collecting car damage when he needs to be finishing races. He has to come at his racing in a different way – it's not working." Hard to imagine people writing that about Hamilton now, eh?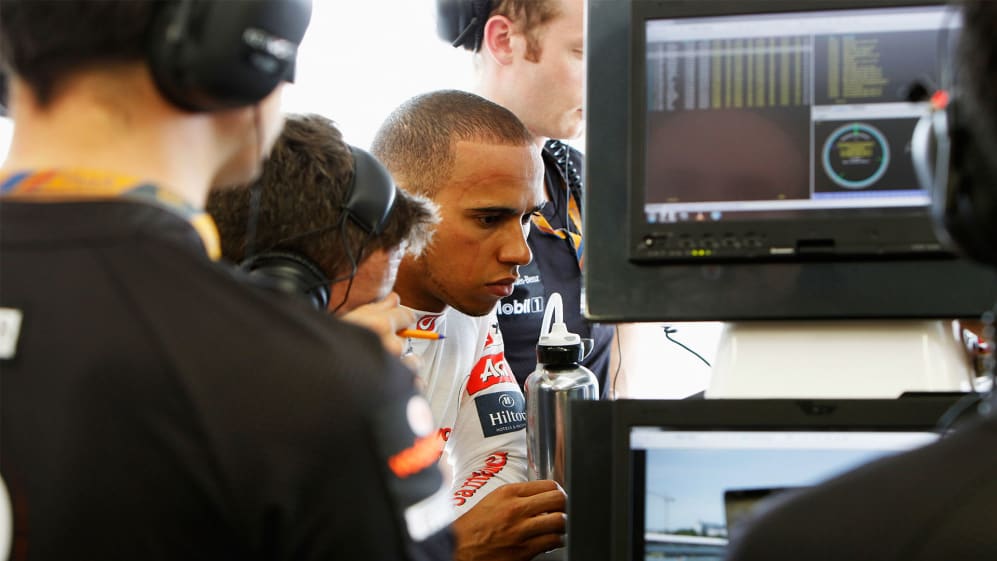 Vettel disappointed – Sebastian Vettel led all bar two of the laps around Montreal – and while many fans felt a slight sense of relief to see a human side to the relentless machine that Vettel was at the time, Vettel himself was naturally deflated by the loss… even if he still finished second.
"Of course I'm disappointed," he said. "I saw Jenson coming through, I was pushing and thought it would be enough to the end, but obviously it wasn't, as I made a mistake… The moment when you have it in your hands and you give it away, it's not the sweetest feeling. But I think, all in all, it was a good race for us today."
READ MORE: Vettel can still win championships, says Tost
How to watch
Tune into this belter of a modern classic when we stream the 2011 Canadian Grand Prix on F1.com, Facebook and YouTube on Saturday, June 13 at 1400 UTC (1500 BST).