Feature
We're streaming the 2018 Monaco Grand Prix – here's why you should watch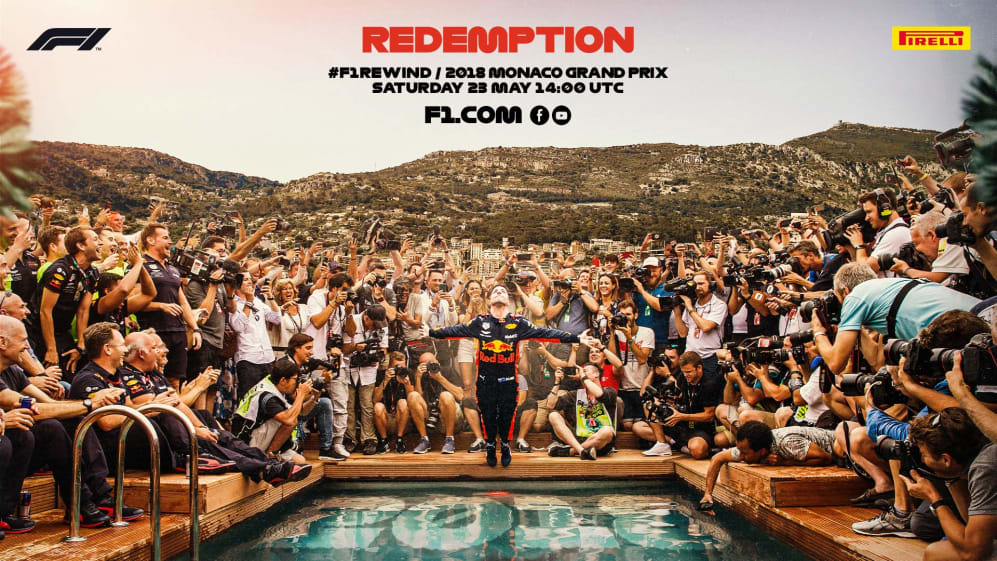 We know you all wanted to be tuning into the 2020 Monaco Grand Prix this weekend – but with the race cancelled at the hands of COVID-19, we'll be bringing you the next best thing, as we stream Daniel Ricciardo's heart-stopping win at the 2018 race. Here's why you should be watching when we show the 2018 Monaco Grand Prix in full on Saturday, May 23 at 1400 UTC (1500 BST).
Daniel Ricciardo usually brightens up any Formula 1 podium he steps on. But on the rostrum at the 2016 Monaco Grand Prix, Ricciardo looked less like the jovial shoey-wielding funster we all know and love, and more like a thunder-faced UFC fighter at a particularly fractious weigh-in.
The reason? A botched pit stop that had cost Ricciardo an almost-certain maiden victory around the streets of the principality. Two years later, and the chance to win at Monaco was again within Ricciardo's grasp – and it so, so nearly got away once more.
READ MORE: 2018 Monaco win was 'redemption' for 2016, says Ricciardo
How they stood before the race
Although Lewis Hamilton and Sebastian Vettel were already streaking away at the head of the championship table by the time F1 arrived in Monaco for round six of the 2018 season, a secondary group of Valtteri Bottas, Kimi Raikkonen and Ricciardo were still in the hunt too.
Ricciardo was the only one of those three with a race win to his name, having taken a dramatic victory at the Chinese Grand Prix with his surge through the field (in a race we've also shown in our F1 Rewind series).
Propping up the rear of the troupe was Max Verstappen, who was in the middle of a troubled run of form, having clumsily crashed with Vettel in China, before acrimoniously coming together with his Red Bull team mate Ricciardo in Azerbaijan.
Standings ahead of the 2018 Monaco Grand Prix
| Position | Driver | Team | Points |
| --- | --- | --- | --- |
| 1 | Lewis Hamilton | Mercedes | 95 |
| 2 | Sebastian Vettel | Ferrari | 78 |
| 3 | Valtteri Bottas | Mercedes | 58 |
| 4 | Kimi Raikkonen | Ferrari | 48 |
| 5 | Daniel Ricciardo | Red Bull | 47 |
| 6 | Max Verstappen | Red Bull | 33 |
The background
Around a track he loves, and in a Red Bull RB14 perfectly suited to Monaco's demands, Ricciardo was untouchable in qualifying, leading Q1 and Q2 before romping to pole, with a new track record of 1m 10.810s, making him the first driver to ever lap Monaco in less than 71 seconds.
Sebastian Vettel was alongside him in second place, with Lewis Hamilton third – while in a stark demonstration of the two Red Bull drivers' contrasting fortunes, Verstappen would start dead last, having failed to make qualifying after dramatically crashing out of Free Practice 3.
F1 REWIND: Watch the legendary 1982 Monaco Grand Prix in full
Four key moments
1. The start – Ricciardo was impeccable off the line, giving Vettel a checking squeeze before taking up position into Sainte Devote and leading the field up the hill.
Behind, Verstappen had nipped past the two Haases of Kevin Magnussen and Romain Grosjean to be P18 by the end of Lap 1, while Force India's Esteban Ocon was doing a fine job up in sixth, as the field politely filed their way through an incident-free first lap – rare for Monaco!
2. Ricciardo loses power – Having pitted on Lap 17, Ricciardo was looking untroubled at the front until, on Lap 28, a grim piece of team radio rang out over the airwaves. "I'm losing power," Ricciardo intoned. "Keep it focused," was race engineer Simon Rennie's calm, if not particularly practicable, advice. "Yeah… I've got no power though," Ricciardo retorted, before asking, without much hope: "Will it get better?". "Negative," came the reply.
With 50 laps to go, Ricciardo's MGU-K had failed, meaning he was somewhere in the region of 160bhp down on his rivals. It looked as though, once again, the Australian was to be cruelly denied a win in Monaco.
3. Leclerc smashes into Hartley – Further down the order, and Monaco was very excited about having its first home driver to cheer on since Olivier Beretta in 1994.
That man was Sauber's Charles Leclerc, who was going decently in P12 with six laps to go when he suffered a spectacular brake failure going into the harbour chicane. His C37 smashed into the back of the Toro Rosso of Brendon Hartley, taking both out of the race.
4. Ricciardo extends gap to win – Having managed to grimly hold onto the lead in the face of constant pressure from Vettel, Ricciardo, driving a car that was more Apollo 13 than RB14, somehow managed to extend his advantage over Vettel in the final 10 laps, eventually crossing the line over seven seconds to the good over the German to claim his second win of the year – and his first in Monaco.
"I don't know how you did that Daniel," a dumbfounded Simon Rennie said over the radio. "Holy tomorrow. Cheers boys. Redemption," was Ricciardo's succinct reply. A date with the Red Bull Energy Station swimming pool beckoned…
WATCH: 'I thought I'd have a world title or three by now' – Daniel Ricciardo bears his soul ahead of 2020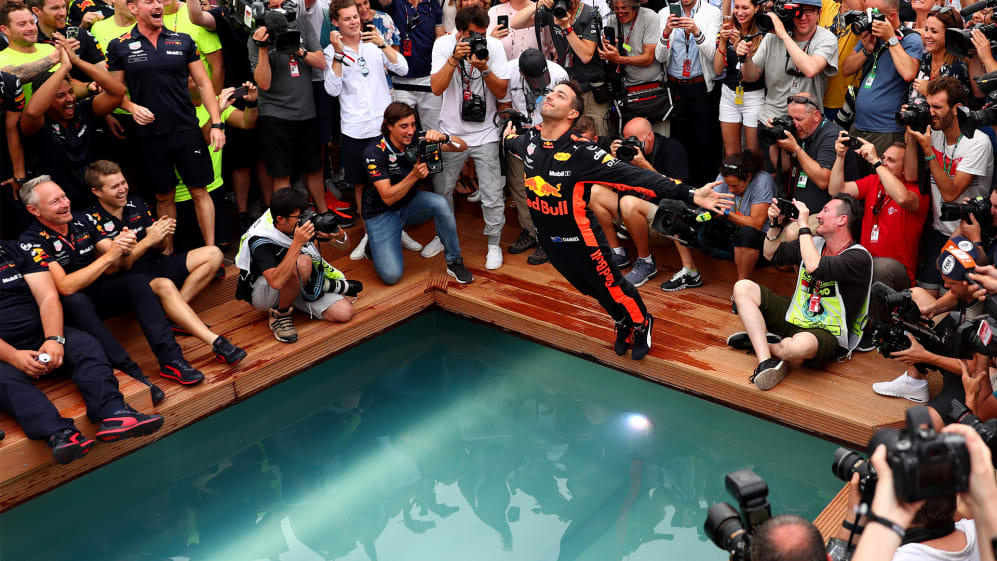 The headlines
Ricciardo moves into the title fight – With two wins to his name following his Monaco triumph – the same as Vettel and Hamilton – and with the wind firmly in his sails, Ricciardo was suddenly thrust into the role of title contender post-Monte Carlo.
Unfortunately for him, that status wouldn't last long. With the rest of his season blighted by unreliability issues, Ricciardo would add just 98 more points in the remaining 15 races (champion Hamilton scored a full 200 more) before exiting Red Bull stage right to head to Renault.
Gasly feels the joy – One of the star drivers in the early part of 2018 was Toro Rosso's Pierre Gasly – and he was on form again in Monaco, taking a strong seventh, just behind the equally impressive Ocon.
"Seriously, to drive on this track with these cars has just been pure joy," said a giddy Gasly after the race. "To finish the weekend with a seventh place and some points, I'm just super-happy about it."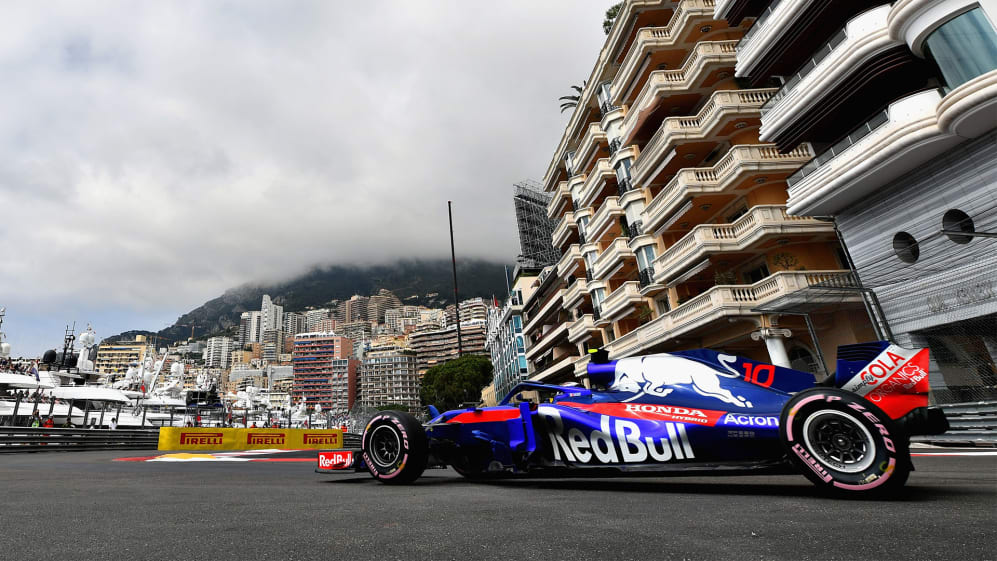 Verstappen recovers, but feels the heat – Max Verstappen's recovery from P20 to P9 represented a decent result around the notoriously tight Monaco circuit, as the Dutchman executed a string of clean, clinical overtakes.
But it couldn't make up for the fact that he'd thrown away a possible victory with his accident on Saturday morning – and with Ricciardo carrying the momentum in the team, Verstappen was coming in for some serious stick.
That led to an ill-tempered press conference appearance two weeks later in Montreal when, asked why he kept crashing, Verstappen responded: "I get really tired of all the questions. And I think if I get a few more, I might headbutt someone." Ouch.
READ MORE: The winners and losers from the 2018 Monaco Grand Prix
How to watch
Tune into Daniel Ricciardo's stunning redemption at the 2018 Monaco Grand Prix when we stream the race on Saturday, May 23 at 1400 UTC (1500 BST) on F1.com, Facebook and YouTube.