Feature
We're streaming the 2018 United States Grand Prix – here's why you should watch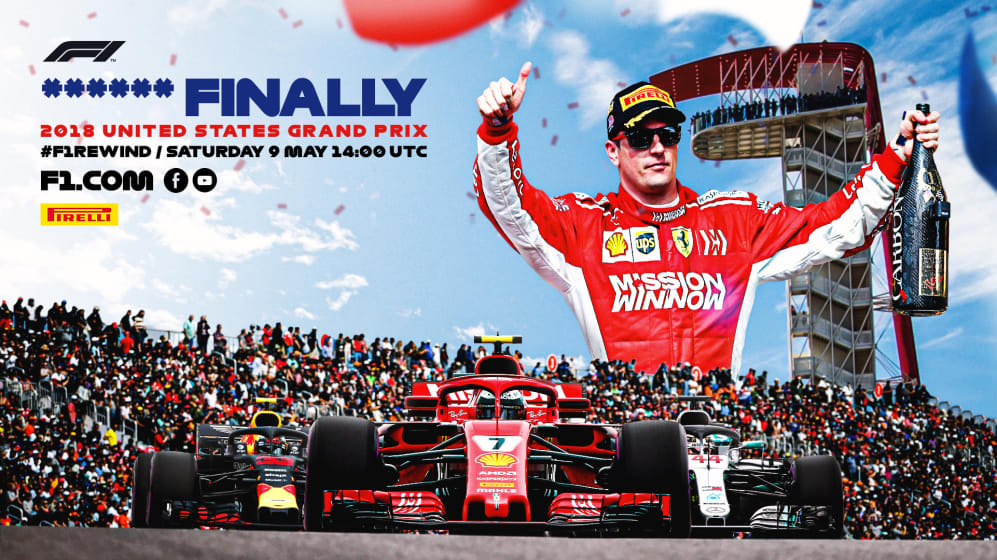 Kimi Raikkonen's triumph at the 2018 United States Grand Prix is our race of choice for this weekend, as we get set to stream it on F1.com, Facebook and YouTube on Saturday, May 9. Here's why you'll not want to miss this modern classic.
When Kimi Raikkonen woke up in his hotel room on race day of the 2018 United States Grand Prix, it had been 2,044 days since he'd last won a Formula 1 race. His second stint at Ferrari, beginning in 2014, had largely been a disappointment, and after the 2018 Italian Grand Prix, the announcement came – Charles Leclerc would replace him from 2019 onwards.
Ironically, Italy had been one of Raikkonen's strongest races of the year, as he was narrowly beaten to the victory by Lewis Hamilton. But now, in Texas, it was time to show, once and for all, that there was victorious life in the old dog yet…
ORAL HISTORY: The inside story of Kimi Raikkonen's legendary first F1 test
How they stood before the race
All eyes were on Lewis Hamilton and Sebastian Vettel's title fight going into the United States Grand Prix – although at that point, it was less of a fight and more of a cakewalk for Hamilton, on the back of a series of spins and costly mistakes for Vettel that had seen his championship hopes diminish.
The scenarios for Hamilton claiming his fifth title in Austin were numerous – but basically, if he won at the Circuit of The Americas, Vettel would have to finish second to prolong the battle. If Hamilton finished second, Vettel would have to finish fourth or higher...
Standings ahead of the 2018 US Grand Prix
| Position | Driver | Team | Points |
| --- | --- | --- | --- |
| 1 | Lewis Hamilton | Mercedes | 331 |
| 2 | Sebastian Vettel | Ferrari | 264 |
| 3 | Valtteri Bottas | Mercedes | 207 |
| 4 | Kimi Raikkonen | Ferrari | 196 |
| 5 | Max Verstappen | Red Bull | 173 |
| 6 | Daniel Ricciardo | Red Bull | 146 |
The background
Hamilton did everything right in qualifying, pipping Vettel to pole position by a narrow 0.061s – although Vettel would take a three-place grid penalty, handed out on Friday for failing to slow down sufficiently under red flags, that would drop him to fifth.
That meant the front row would be occupied by Hamilton and Raikkonen, with Valtteri Bottas, Daniel Ricciardo and Vettel behind, while Max Verstappen would start 18th after a suspension failure in Q1 and a subsequent five-place grid drop for replacing his gearbox.
READ MORE: Hamilton reveals he changes driving style 'every year' in relentless bid to improve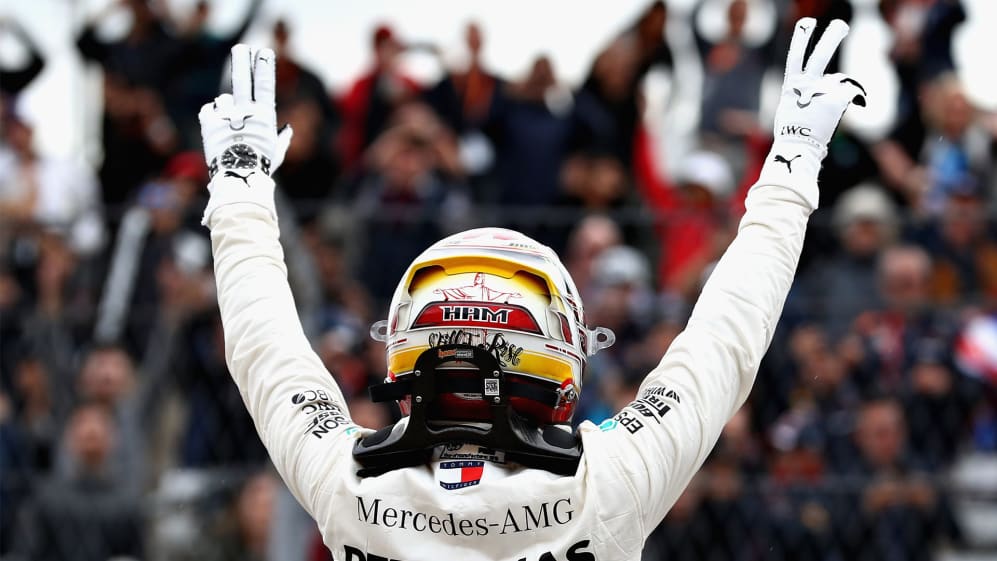 Four key moments
1. The start – Hamilton got away well off the line and chopped over on Raikkonen, but the Ferrari held its line and claimed Turn 1 and the lead, meaning Raikkonen had gained a position on the opening lap for the first time since Abu Dhabi 2016!
Behind, there was carnage going through the esses, as Williams' Lance Stroll over-ambitiously went for a move on McLaren's Fernando Alonso and took the Spaniard out. "These guys are impossible to race with – impossible," Alonso lamented. There was more trouble further back as Haas' Romain Grosjean collected the Sauber of Charles Leclerc at the end of the back straight, spinning the Monegasque around.
2. Vettel spins– Vettel and Ricciardo looked set for some juicy wheel-to-wheel action on Lap 1, before the lightest of wheel bangs sent Vettel spinning around – as he had done in Italy and Japan previously. Another recovery drive was called for, with Vettel in P15 at the end of the first lap, his chances of stopping Hamilton claiming the title in Austin seemingly in tatters.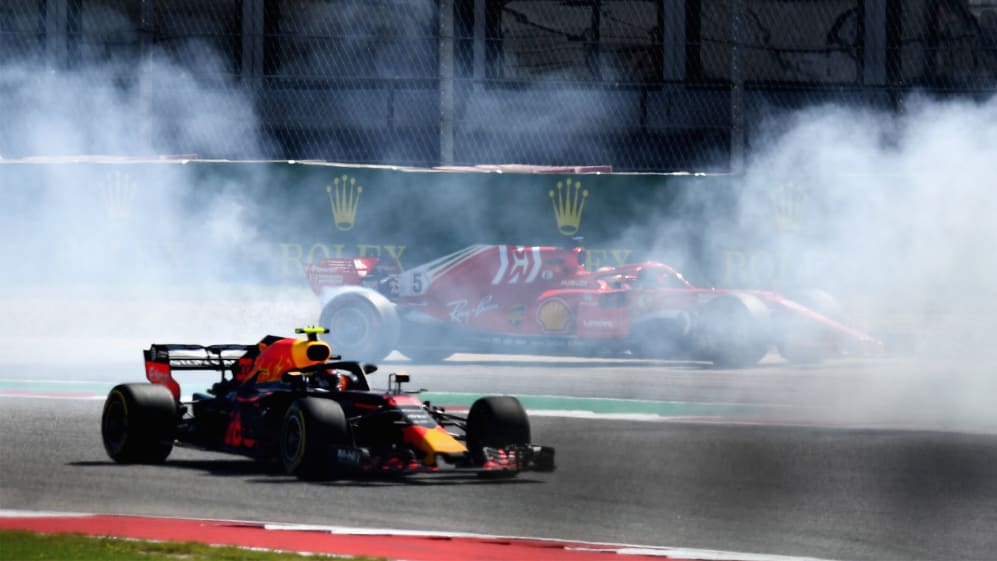 3. Ricciardo retires – One race on from the scream of frustration heard around the world after he was forced out of qualifying in Japan, Ricciardo's Red Bull once again refused to comply, as he ground to a halt on Lap 9 with an electrical problem. The special cowboy overalls sported by the Red Bull driver that weekend only added to the pathos as the cameras picked up the dejected Australian standing in disbelief trackside.
4. Thrilling final laps see Raikkonen triumph – With Verstappen having brilliantly worked his way up the order, the final laps boiled down to a straight fight between leader Raikkonen, second-placed Verstappen and third-placed Hamilton – who, unlike Raikkonen and Verstappen, had opted for a two-stop strategy.
On Lap 54 of 56, Hamilton was right on the Dutchman's tail but made a small mistake and ran off track at Turn 18 – settling the fight in Verstappen's favour. So it was that Raikkonen took his first victory since Australia 2013, ahead of Verstappen and Hamilton – with Vettel passing Bottas for fourth a lap before the end to deny Hamilton the title. "****ing finally," Raikkonen deadpanned over team radio.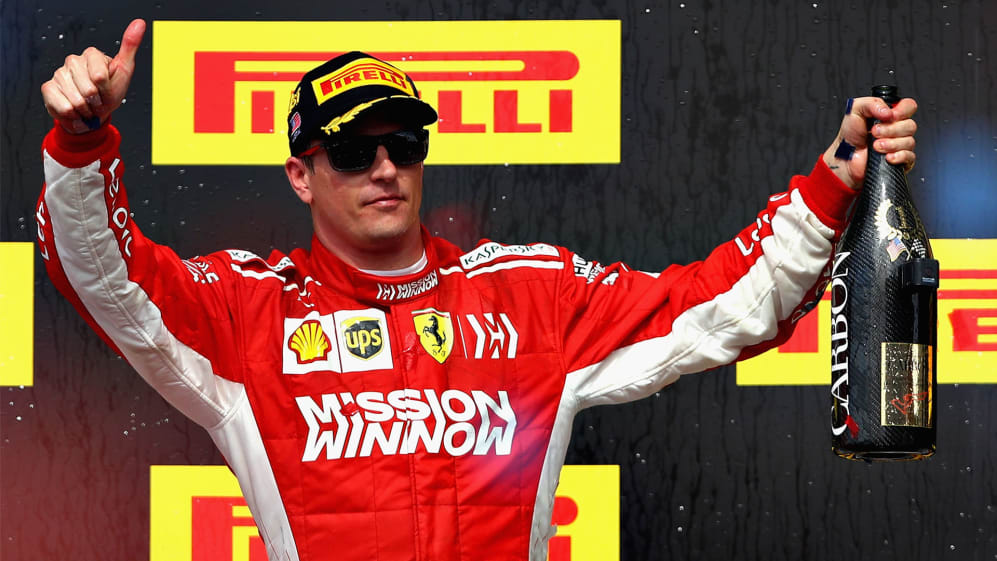 The headlines
Raikkonen silences the doubters – Perhaps still with a chip on his shoulder after his dismissal from Ferrari, Raikkonen was understandably defiant after his victory. "I'm happy we are here and that we win, but I think the biggest difference is the way people look at you," he said. "Just proving some people wrong is enough fun for me."
WATCH: Raikkonen's Greatest F1 Moments
Grosjean escapes ban for Leclerc contact – After the stewards reviewed footage of Grosjean's Lap 1 collision with Leclerc, it was decided to award him one penalty point, and a three-place grid drop for the following race in Mexico. Three penalty points for the Frenchman would have resulted in a one-race ban, following a string of incidents earlier in the year.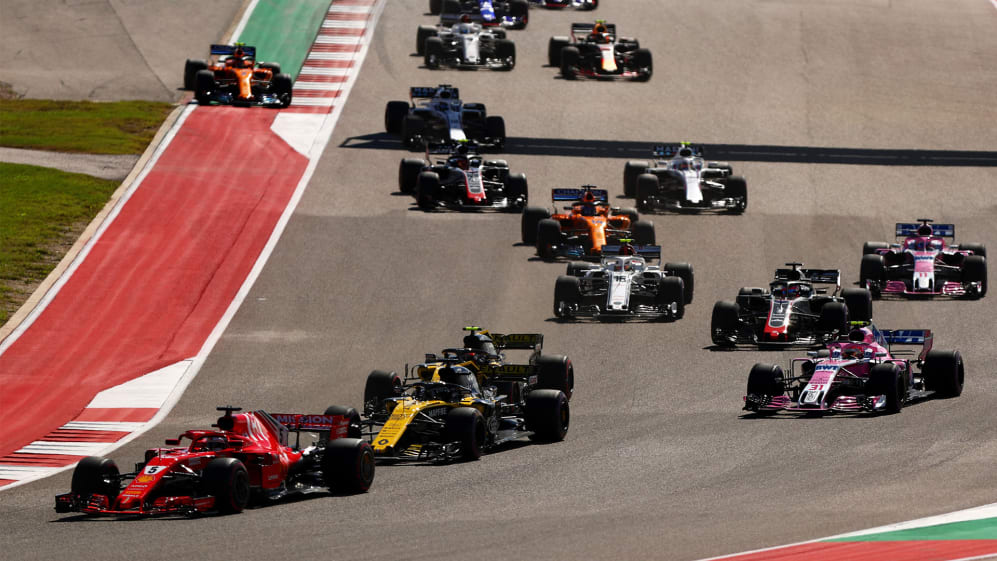 Vettel bored with recovery drives – Although Vettel did brilliantly to work his way from P15 back to P4, finishing just 18 seconds down on Raikkonen, he admitted that he was getting sick of having to claw his way back through the field, rather than fighting at the front. "It was unfortunate," said Vettel. "I'm sure we had the speed to win… I'm getting a bit tired of recovery drives."
READ MORE: Leclerc 'happy' if Vettel remains his team mate at Ferrari in 2021
How to watch
Tune in to enjoy Kimi Raikkonen's fantastic Austin triumph when we stream the 2018 United States Grand Prix on Saturday, May 9 at 1400 UTC (1500 BST) on F1.com, Facebook and YouTube.