'We've got a fight on our hands next year' says Hamilton as he eyes 2021 battle with Red Bull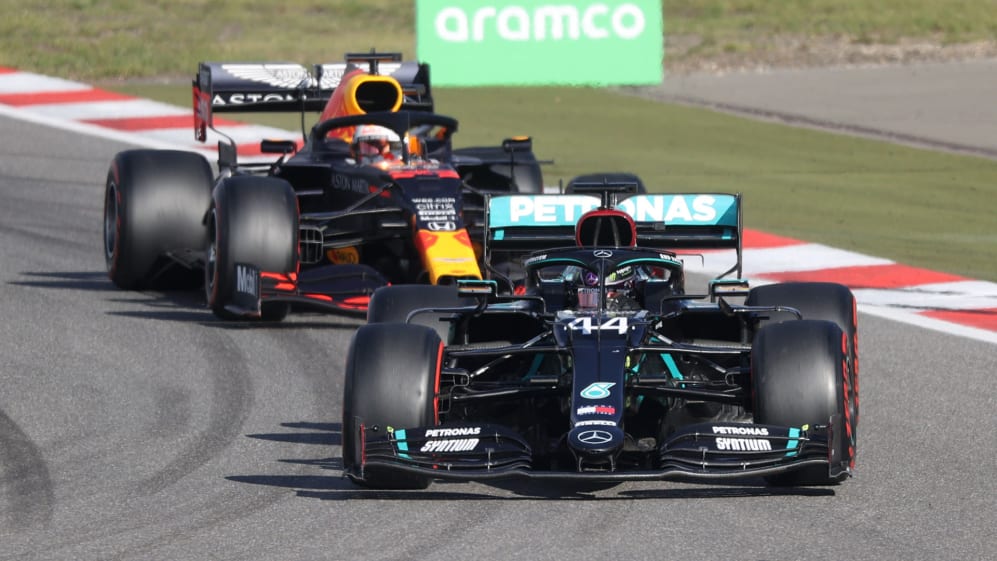 Lewis Hamilton says he's excited for the challenge he believes will come Mercedes' way in 2021 from the Red Bull team, after Max Verstappen beat both Hamilton and his team mate Valtteri Bottas in the Abu Dhabi Grand Prix.
The Silver Arrows have been the dominant force again in 2020, taking 13 wins from 17 races, and all but two pole positions as they wrapped up their seventh straight constructors' championship, and Hamilton took his seventh drivers' title.
But in the final race of the year, Verstappen and Red Bull hit back, the Dutchman grabbing an impressive pole before sealing a comfortable victory at Yas Marina. And Hamilton believes that could be a sign of things to come for next year.
READ MORE: The Ross Brawn Column – Red Bull's deserved win in Abu Dhabi could be a great sign for next season
"It's a great result, great drive from [Max] all weekend and a great showing that Red Bull has a solid car," Hamilton said after the race in Abu Dhabi. "As far as I'm aware, we haven't had any changes to our engine, so I think it's just true pace from them rather than us taking a step back, and I think they've worked so hard all through the year so congrats to him and his team."
And although the seven-time champion was pleased with a podium on his return after missing a race with Covid-19, he is very much expecting Red Bull to be fighting Mercedes for top honours in 2021.
"Yes, we didn't win but still we got a second and third and I think that's still a strong result," he said. "We still scored more points than Red Bull as a team so that's still a strong showing, and we've obviously got a fight on our hands next year.
"Without a doubt these guys are going to be strong as this car he's driving now is next year's car pretty much, and the same for us. So, I'm excited for that challenge and that battle that we hopefully will get."
For his part, Verstappen has called on Red Bull to ensure they hit the ground running next year, rather than follow the pattern of starting the season behind Mercedes, only to find pace later in the year.
"I just hope, of course, that we learn from the previous years that we have to be stronger at the beginning of the season," he said.
READ MORE: Verstappen calls on Red Bull to be 'stronger at the beginning of the season' in 2021 after Abu Dhabi win