Feature
What the teams said – Race day in Spain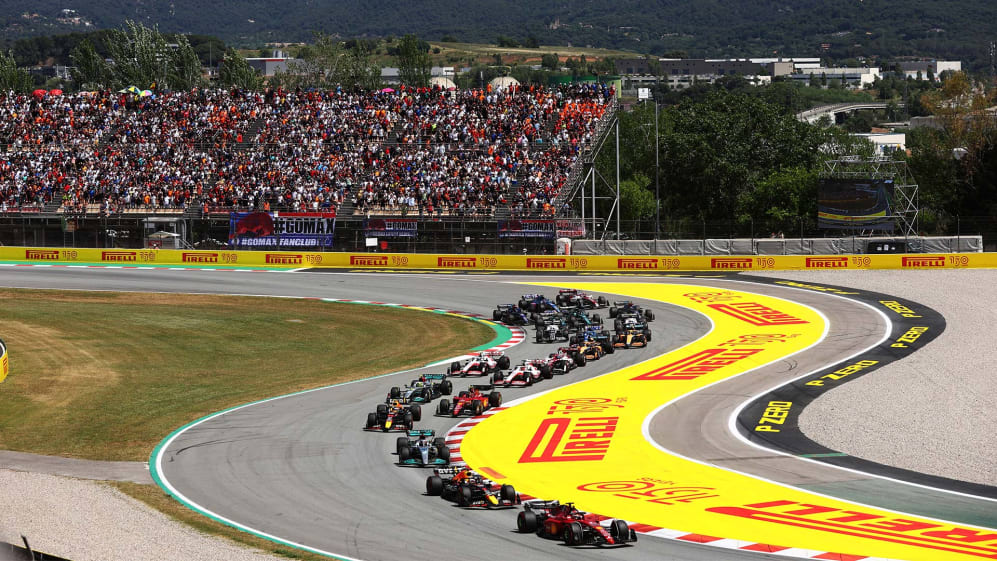 Red Bull
Verstappen was second in the early stages, but a gust of wind sent him skating through the gravel and down to fourth. Trying to recover with an intermittently working DRS frustrated the Dutchman, but an early call to swap him to what proved a quicker three-stop strategy proved ingenious, and saw him come back through the field to take his third straight win. As for Perez, he had the best start of anyone despite the smallest of contact with Russell, and led for much of the race but was asked to make way for his team mate late on given their differing strategies. In the end he had to make do with second and the bonus point for fastest lap.
READ MORE: Verstappen says he enjoyed 'really cool fight' with Russell on the way to Spain victory, as he addresses DRS issue
Max Verstappen, 1st
"It's great to finish the race today alongside Checo with a first and second place, it was a difficult beginning but a good end! I went off in turn four, I completely lost the rear and they said on Team radio that it was a big gust of wind. I lost a few positions through that and as soon as I wanted to attack, my DRS stopped working. It was upsetting at the time but then I calmed myself down and focussed on the bigger picture. It was a tough battle with George Russell, especially without the DRS, I didn't want to take too much of a risk as we were fighting for the lead, I had to be patient. As for the DRS, I'm not sure why there's an issue, we'll look into it and at the end of the day nothing was lost. We are on a good trajectory and we can be proud of that as a Team, but as you can see, some things are fragile and we need to keep on working hard, we have to be on top of everything."
Sergio Perez, 2nd
"It's a great result, we are leading the Constructors Championship so, although I obviously want to win, I have to be realistic and I am happy with the Team result. My frustration on the radio was in the heat of the moment but I need to speak with the Team to understand a few bits from the race. Sometimes when you are driving you can't get the full picture, so it is a normal thing to debrief things to understand the race. The Team momentum couldn't be any better here, it is a great Team and we are very united. It wasn't about Team orders today, what really changed my race was going onto different tyre strategies and that worked better for Max and, at the end of the day, the Team because we managed to both get past George. I could have won today but making the two-stop work was difficult and it turned out that the three-stop was the better strategy. I think we had a very strong race today, the race pace and management from us was great today and it was important not to make mistakes. Hopefully we continue this momentum on to Monaco and are strong next weekend too."
Christian Horner, Team Principal
"It is fantastic for the Team to bring home our second 1-2 finish in three races, which was hugely important for us in the fight for both Championships. Both drivers got great starts and things were settling down quite nicely, but a massive gust of wind sent Max into a slide and that dropped him down to fourth. We already knew he had a DRS issue, so at that point we decided to convert him to a three-stop strategy and give him tyre advantage over Leclerc and Russell – but we were still undecided whether a two or three stop was the better choice at that stage. With Checo on a two-stop strategy it meant both drivers were working as a Team and covering the opposition. To get maximum points today was our aim, it was hugely important for us as a Team and I'm glad we were all able to work together to achieve that."
Mercedes
Good starts from both drivers but differing fortunes – Russell got up to third which made his race, but Hamilton was slightly out of position after running side by side with Sainz, and wound up colliding with Magnussen in a racing incident. That left him with a puncture and the resulting pit stop left him down in P19. But from there he dug deep, climbed back to the points and should have come home fourth – only losing out to Sainz after being asked to lift and coast to cool down a critically overheating car. As for Russell, he made his car as wide as possible in holding off Verstappen for lap after lap but in the end didn't quite have the pace to live with the Bulls. But third and a second podium of the season is a very solid result.
READ MORE: 'This is the start of our season' says podium finisher Russell after duelling with Verstappen in Spain
Lewis Hamilton, 5th
"I'm just really grateful that I was able to come back and grateful to the team for keeping their head down and for all the amazing work to get us to this improvement. The car felt great in the race, our pace is closer to the top guys which is amazing. I was just really unfortunate at the start to get the puncture but I didn't give up - that's what we do, right? It's a lot hotter than predicted today and for everyone it's quite tough with these cars. I had to basically drive at half throttle at the end to try and cool the car, with lots of lifting down the straight just to get fresh air into the engine to cool it down. I was so gutted to lose the place to Sainz, especially after coming from where I came from. I mean, I was 30+ seconds behind last place - that's like no man's land. It's a horrible feeling being that far behind, but you just have to keep your head up, keep pushing, keep going and hoping for better. We do still have bouncing but not in the straight line, it's through corners but no way near as bad as we had before. The guys are working really hard and I am sure we can fix that over time. If I didn't have that issue at the beginning, who knows where we'd have been at the end. It's good to know we have similar pace to some of the front runners."
George Russell, 3rd
"Today was super tough! I'm just so proud to be standing here on the podium and bring it home for the team. The guys have worked so hard, so this result is for everyone back in Brackley and Brixworth who've worked tirelessly, thank you! I gave it everything I could to hold Max off, they were some enjoyable laps! With the Red Bulls in my mirrors, I was trying to get absolutely everything out of the car to keep them behind. It was very difficult last few laps, a real survival race when we knew we had the gap to manage. Thanks to all the fans out here in Barcelona - they've been amazing all weekend! The support for Formula 1 at the moment is in a great place, so it's great to be here."
Toto Wolff, Head of Mercedes-Benz Motorsport
"It was a very pleasing weekend with lots of positive signs, even though I'm not yet ecstatic. We had a solid race to beat Ferrari, and with Lewis we had probably the fastest race car of all today. We need to just unpick this now, analyse the data, and try to improve step-by-step for a race win. George put up a spectacular defence to Max, the way he positioned the car was spot-on, the kind of racing we love to see and he managed the car well at the end to bring home another podium. For Lewis, misfortune on the opening lap but what a recovery drive from then on, fantastic. As a driver, its always difficult when you are 50 seconds down but we never give up, and his pace at the end was stunning, he could have raced for the win. The weekend was better than expected because I am always pessimistic about things. We've moved clear from the midfield, at least in Barcelona, and caught up half a second to the front runners - we were a second off and now it's half a second. We unlocked the potential of the car by tweaking things on the stops and so today was the most valuable race for us to compare the two cars, across setups and tyres. Our understanding took a big step forward and there's definitely more to come."
Andrew Shovlin, Trackside Engineering Director
"There are positives to take from the weekend, not least a fine drive to the podium for George with some brilliant defending against the Red Bulls. Lewis didn't have any luck, Magnussen's move on Lap 1 caused a puncture that left him nearly a minute behind the leaders and with a mountain to climb just to make the points. He drove brilliantly and out-performed our expectations to make it back to fourth only for a water leak to force him to concede the place to Sainz in order to make sure we finished. The most encouraging thing is the improvement in pace that we have seen this weekend; a lot of hard work has gone into understanding the issues and bringing parts to the track for this race. We can now see a route to develop our way out of this and back into a position where we can fight for pole and wins. We've got some unusual tracks coming up, starting with Monaco where we need to focus more on low-speed performance but we've got some parts in the pipeline that can hopefully help in that regard. After some tough months in Brackley and Brixworth, it was great to feel like we were racing again, we're determined to be part of the battle for these championships and today has given us belief that we can do just that."
Ferrari
Leclerc led off the line and looked comfortable through the opening stages, pitting later than his rivals and emerging in front with fresh rubber. But with no warning, he lost power and was forced into a first retirement of the season. As if that wasn't disappointing enough, Sainz wasn't having a stellar afternoon – a sluggish start saw him drop a couple of places, before he spun into the gravel thanks to a gust of wind that dropped him out of the top 10. He did well to recover back to fourth, losing out to a fast moving Hamilton before returning the favour and overtaking the Mercedes with a couple of laps to go.
READ MORE: 'We cannot afford for this to happen' – Leclerc reflects on losing shot at Spanish GP win after power unit issue
Charles Leclerc, DNF
"So far this year, the team has been doing an incredible job in terms of reliability. Of course this one hurts, because we were in front all weekend and worked really well. I know that things like this can happen sometimes and in moments like these, it is important to look at the positives. Our pace was very strong in qualifying and in the race and the feeling in the car was really good. We made progress in terms of tyre management, which is something that has been a weakness in the past few races. So it's a shame and I'm disappointed that we lost the opportunity to score a lot of points, but the season is still long and we know we have the potential.
"Next up is my home race in Monaco, so I'm really looking forward to it and I hope that it will be a good one!"
Carlos Sainz, 4th
"It was a very tough Sunday and very far from what we were hoping for. A gust of wind threw me off in turn 4 and unfortunately, my car was damaged. From then on, it was a big struggle for me, as a lack of downforce meant I was sliding around with the tyres pretty much everywhere. We gave absolutely everything to recover and managed to get back to P4, which is not too bad given the circumstances, but it's far from ideal.
"A pity for Charles, as he retired when he was leading, but we will work as a team to come back stronger in Monaco. The biggest positive from today was the amazing crowd in the grandstands supporting us, so I want to really thank every fan out there for their support. On to the next one."
Mattia Binotto, Team Principal
"Clearly, we're not happy with today's result. It's disappointing to have had a problem with the power unit that robbed Charles of what would have been a well-deserved win, especially as the team in Maranello has done an excellent job of developing the power unit this season. Carlos finished fourth, coming back from a difficult situation. Probably, he still does not get quite the feeling he wants from the F1-75 and it's up to us to help him become completely comfortable with it. He is tenacious, he studies the situation and never gives up and so I am sure that he will soon come to feel really at ease in the car.
"After a result like this, I think we should look at the positive aspects. I said that after the first six races, we would be able to assess the performance levels and hierarchy among the teams and today, we can say that we have built a good car and we have done a fine job of developing it. The Barcelona track is demanding in many ways and it has usually been something of a bogey circuit for us, but the F1-75 was the quickest car on track yesterday and today, Charles was comfortably in the lead, running at a very good race pace.
"Now we will find out what the problem was that stopped him. Unfortunately, these things can happen, to us and to the competition, but given how many races are left this season, I'd say we have seen that we can fight for the wins in the upcoming Grands Prix, starting with Monaco, Charles' home race and luckily, we only have to wait until next Sunday."
Alfa Romeo
Bottas lost out to Schumacher at the start but soon recovered that place. Thanks to the trials and tribulations of the frontrunners, he found himself third at one point, but looked to be settling for fourth when he was passed late on by both Sainz and Hamilton, soon lamenting that his two-stop strategy wasn't the right choice. Nonetheless sixth is still a good outing and keeps his record of finishing in the points in every race he's seen the chequered flag going. As for Zhou, he was running down the order when he was called into the pits to retire the car with reliability issues.
Valtteri Bottas, 6th
"We got some good points today and we take plenty of positives home. Our pace throughout the race was really strong and it was nice to be in battles with the big teams ahead – it shows how much progress we are doing and how the upgrades we brought here seem to work well. In the end, we chose to be aggressive and take a risk with the strategy, going for a two-stopper when everyone else went for three: it didn't pay off, as the tyre life of the medium compound was a bit shorter than we anticipated and we struggled at the end, but we still brought home a good result. I'm really looking forward to Monaco now, our car should be pretty good there."
Zhou Guanyu, DNF
"It's disappointing to finish the race ahead of time for the second weekend in a row, especially when we were potentially on the way to a good result. We need to further investigate the issue in detail, both to understand exactly what went on and to prevent it from happening again, since it's hurting us a lot. Until the retirement, I was having a good race, fighting with the midfield guys ahead of me trying to get into the top ten. Let's hope for a better outcome in Monaco, it will be a very interesting weekend."
Frédéric Vasseur, Team Principal
"We experienced another race in which we showed just how quick we can be, and to bring home eight more points, finishing just behind the front runners, is a positive result. We can be pleased about our performance, even more so given that we were not expecting Barcelona to suit us too well, so we can be confident we can be competitive on every race weekend. Valtteri did an excellent race, without putting a wheel wrong and managing his car well. In the end, he was powerless to stop Sainz and Hamilton, on fresher tyres, passing him, but we will take sixth. Unfortunately, we cannot be happy about the technical issue that stopped Zhou. He was doing really well, moving up the places and heading to the top ten, when the car let him down. We need to address these issues and fix them, as we have the potential to be scoring with both cars in every race."
Alpine
They said they had a better race car than qualifying car and so it proved, both cars coming home inside the points despite starting 12th and last. Alonso was at the rear of the field after taking on new PU components, which he put to good use at the start as he made up five places. From there he played the long game, choosing his moments and still coming home in the points despite his last pit stop being slow. As for Ocon, he was quick all race long and did well to come home ahead of Norris, for his fifth points finish in six races.
Esteban Ocon, 7th
"I'm very happy for the team today with a good double result. It's probably the best result we could have hoped for after yesterday and the team should be very proud for what we achieved today. It was a great first stint with some good overtakes and, overall, I don't think there is anything we could have done better. It was awesome to see Fernando in the points as well after starting from the back, and to do it here in Barcelona is even better. After a difficult Saturday we proved that the pace is there, and the car is working well so this result definitely feels good. I'll sleep well tonight!"
Fernando Alonso, 9th
"It's great to finish in the points today especially after our bad qualifying yesterday, so I'm very happy with that. The atmosphere was special today and even though we were starting last I feel like we managed to put a show on for the fans. It feels a bit like a victory! Hopefully we can start scoring consecutively in the points from here. I think we still need to improve on Sundays, but we did a good job today and managed it well. In reflection on Miami and Thursday, maybe I see it in a different way now. The Stewards did their job in Miami and perhaps we see things differently from inside the car in the heat of the moment. I am fully supportive of the FIA's ideas and we want to work with them to improve the show for the fans."
Laurent Rossi, CEO Alpine
"While the weekend didn't look promising before the race, we managed to recover with both cars finishing inside the points. To go from 20th, and last, on the grid with Fernando and 12th with Esteban to eight points in the bag at the end is certainly satisfying and well deserved. We've managed to salvage points after a tough Qualifying, which is important in a close championship fight like we're in. That said, we need to continue the hard work, in particularly ensuring more performance consistency throughout the whole weekend to better our starting grid positions. We've demonstrated today, on a demanding track in tough conditions, that we have what it takes to perform well on Sundays. We now need to ensure we put ourselves in a position where we're battling for the higher points-scoring places on a more regular basis. In the circumstances, a good job by everyone in the team today and we now look ahead to Monaco next week where we know Saturday performance there often defines the outcome for Sunday's race."
McLaren
Ricciardo started higher than his team mate but couldn't extract much pace from his tyres in the first stint, Norris making up places as the Aussie dropped backwards. In the end, nothing worked for Ricciardo and he came home out of the points. Norris though made a three-stop strategy work perfectly to come home eighth despite suffering from tonsillitis, in what could be deemed a fairly heroic effort.
READ MORE: 'One of the hardest races I've ever done' – Norris diagnosed with tonsillitis after gritty drive to P8 in Spain
Lando Norris, 8th
"Today was tough. I was feeling really unwell before the race as I'm suffering with tonsillitis, and that, in combination with the high temperatures, made this one of the hardest races I've ever done. I've been a bit on the backfoot this weekend as most of my energy has been spent fighting off this illness. I've had to miss a lot of engineering sessions, which has compromised my weekend, and I definitely wasn't as prepared for the Grand Prix as I could have been. With that in mind, I'm really pleased to have come out of the race with decent points for the team.
"The team have been working really hard to bring performance to the car, so I'm glad we could take something from the weekend. We'll look at the data over the next few days, see if there's any additional performance we can extract from the car and make sure we're ready to go for Monaco."
Daniel Ricciardo, 12th
"It wasn't a good race today. I'd love to find something positive, but it was just a struggle from the start. I was slow, and I simply had a lot less grip than everyone else around me. With the three stops, we had four chances on different sets of tyres, but we didn't have the pace on any of them. I'm not really sure why, to be honest, so we'll try to have a look and understand it. Hopefully, we can get on top of it as the upgrades we brought were good. We've got a short turnaround for Monaco and then we'll go again and hope for a better one in a week."
Andreas Seidl, Team Principal
"It was a long and challenging Spanish Grand Prix under very hot conditions. Lando together with the team maximised everything we had in our hands today and finished in P8. On Daniel's side unfortunately, after getting into Q3 yesterday, we were struggling a lot with the rear of the car whenever we tried to push more, and went backwards in the race finishing in P12. We have some homework to do over the next couple of days to understand why.
"The entire team here at the track and back home did a great job in the recent weeks and days to bring all the upgrades to the car this weekend and race it on both cars. This allowed us to make a step forward in terms of performance and it worked as expected but we still have a lot of work to do in understanding and optimising it in the weeks ahead. We are up against strong competition and must keep working hard to improve the car further to stay in the battle for P4 in the constructor championship.
"Lando did not feel well all weekend but showed great fighting spirit battling it through and bringing home some points for the team. We wish him a speedy recovery now in the next few days and will hopefully have him back at full energy in Monaco in a couple of days.
"My thanks to the whole team here at the track and back at the factory, together with our colleagues at Mercedes HPP for their efforts over the weekend and for their incredible work to bring the upgrade. We keep pushing ahead and go to Monaco."
AlphaTauri
Not to be for Gasly in Spain – he was always outside the points, and was awarded a five-second time penalty after tipping Stroll into a spin late on when the Aston Martin was trying to sweep around his outside. Tsunoda though kept his head down, worked hard and had to pull off a few overtakes to sneak into the points which is a decent result from 13th on the grid.
Pierre Gasly, 13th
"I'm extremely disappointed with today, it's very frustrating. I had a small touch early on that damaged the car and from then on, I had no pace, we were losing downforce and sliding everywhere. I take responsibility for the accident with Stroll, I was pushing it to the limit, so I want to apologise to Lance for that. We tried everything we could from then on, but at the end of the day there wasn't much we could do."
Yuki Tsunoda, 10th
"That was a super tough race, it was so hot in the car today and then we were in a constant battle to make it into the points, so the pressure was there. I'm quite happy with my performance today and where we finished in the race, we haven't been comfortable in the car the whole weekend, so to be fighting for points was a good step forward. However, I think we've still got a lot of work to do to be able to be higher up the midfield."
Jody Egginton, Technical Director
"Today's race has been tough, but with both drivers battling hard we managed to come away with a point. Pierre picked up front wing damage early on, which made the car a bit trickier to drive and cost him some time. Yuki had a cleaner start and was in a battle with the McLarens and Alonso early on in the race, fighting for points. With the hot conditions moving the race to a three stop for the majority, track position was key, and Yuki's final stop was timed to prevent Vettel, who was one of the two stoppers, getting ahead when we stopped and this worked out well. Then it was a case of getting past Schumacher and trying to get back on terms with Alonso, who had got ahead earlier in the race. We have a lot to understand from this event, as we have not been able to get the car working as we want, but we have a few ideas already and the expectation is that we will bounce back in the next events."
Franz Tost, Team Principal
"First of all, big congratulations to Oracle Red Bull Racing for this fantastic 1-2, which has helped Max in the close battle for the Championship.
"From our side, the weekend was quite difficult and we struggled with the car. We suffered with the rear, especially with the tyres overheating, therefore we couldn't show a good performance yesterday in Qualifying. Because of this, today in the race we started only from P13 and 14. Fortunately, both drivers had a good start and came back in the first lap with Yuki in 11th and Pierre in 12th. The race pace at the beginning was reasonable on the Softs, but after a few laps we decided to go for a three-stop strategy, so we called Yuki in to change to the Mediums. On this compound he struggled a little bit to warm up the tyres, which meant he lost a few seconds to Alonso. Then we changed back to the Softs to end the race. We scored one point and I think that's the most we could get out of this weekend after a difficult Qualifying session. As for Pierre, he was struggling with the car, suffering from an unstable rear, and was not able to fight for points this race. From the first laps onwards, he had damage on the front wing, which of course had a negative impact on the performance of the car. We need to go away and analyse everything, to bring the car back to the level of performance we had in the past, trying to understand why we lose performance in hot conditions, also because we will have other races with very high temperatures – like Budapest for example. Now we go to Monaco, where we normally perform well, so I hope this will be the case again this year."
Aston Martin
The two Aston Martin cars started to recover ground early on despite being on differing strategies. Vettel was on what was ultimately the less favoured two-stop strategy, and despite running in the points for much of the afternoon wound up in P11. As for Stroll, he was tipped into a spin late on by Gasly when he was trying to overtake the Frenchman, and lost time as a result.
Sebastian Vettel, 11th
"Today was all about managing the tyres and the grip – it was very slippery out there. Everyone's tyres were falling to pieces and lots of drivers pitted fairly early, so we tried something different by opting for a two-stopper. In the end, I do not think it really made too much of a difference. Ultimately, we just lacked a bit too much pace to really be able to attack the points-scoring positions. But we tried something – P11 is not much of a reward, but we had a decent race. We knew this new package was not going to be a massive step straight away, but we believe it is a better direction for the future. We are making progress and going forwards, and that is what really matters."
Lance Stroll, 15th
"It was a difficult race, though it was largely ended by the contact with Pierre [Gasly] when I overtook him going through Turn 1. We had to pit and check over the car, so that cost us up to 30 seconds. The positive is that the car did feel better than it did in qualifying, which is important considering we are running a new package. We need to go away and review the whole weekend, look at what we have learned, and then apply it for Monaco. I am very excited for the next race - it is such a special Grand Prix and I cannot wait to get started."
Mike Krack, Team Principal
"From our starting positions of P16 for Sebastian and P17 for Lance, scoring points today was always going to be a challenge. Nonetheless, both our drivers executed well their different tyre strategies - a Soft-Soft-Medium two-stopper for Sebastian and a Soft-Soft-Medium-Soft three-stopper for Lance - and the result was a P11 finish for Sebastian, whom we successfully managed to keep out of traffic wherever possible, and a P15 finish for Lance. Had Lance not lost quite a bit of time on Lap 28 as a result of contact with [Pierre] Gasly, which not only tipped him into a spin but also necessitated an earlier second pit stop than we had been planning for him, he would have finished a few places farther up. He was not therefore able to convert his good race pace into a points result today, but it indicated the promising performance potential of our updated car. Finally, I want to pay tribute to the great work done by the team to get two updated cars ready for this event; we are all looking forward to working hard to achieve better results with them at Monaco next weekend and in the races to come."
Haas
Not to be for Haas after the highs of getting both cars into Q3. Schumacher had a good start, but couldn't extract much race pace from his VF-22 and soon started to drop backwards. Magnussen did not have a good start as he tangled with Hamilton, which sent him wide through the gravel and back to the pits at the end of the first lap. He returned in last, and from there struggled to make headway, whilst having the distinction of the only driver to try the hard compound tyre out there.
Mick Schumacher, 14th
"It's quite unfortunate. Obviously, we knew it was going to be tight with the two-stop and it didn't quite pay off to stay out so it's something to learn, something to understand and move on from here. It was a great Saturday, and we had a very clean Friday too which is very beneficial. We had a good start, a good first lap and that's all you want from today. Maybe the pace just wasn't there today but hopefully it will next week, so we'll keep pushing."
Kevin Magnussen, 17th
"I was on the outside and got hit in Turn 4, had a puncture straight away and that was basically the end of the race. I think we were on a tough strategy because of the first lap incident but when the tyres were sort of new, the car was good. On to the next one."
Guenther Steiner, Team Principal
"The day didn't go as planned. There were a few things, first of all the interaction between Kevin and [Lewis] Hamilton in Turn 4 which put him out of the race really. With him we just tried to do things on a strategy that if something strange happened, we could maybe do something, but it didn't work. With Mick it was a tough race, it was a very good start, and it all went well, but after six laps we lost a few positions, and then it just went away from us. Not as planned but onwards and upwards."
Williams
Williams were struggling for pace on Sunday, with Albon in particular hampered by tyre wear, even asking for a four-stop strategy early on. His red hair couldn't bring him any luck and he came home last. As for Latifi, he had an entertaining battle with Magnussen and came home ahead of the Dane in an encouraging showing, the first time he's finished ahead of his team mate this season.
Nicholas Latifi, 16th
"We struggled on track today with overall pace, but it was also tough on tyre degradation and physically due to the extreme heat. That being said, I'm happy with the way that we managed the tyres and it's nice to have an aggressive strategy that allowed us to push and race a bit more. I enjoyed chasing down Kevin at the end, especially as the Haas is a car that's much faster than us on paper, and although we weren't fighting for points, it's still something to be pleased with."
Alex Albon, 18th
"It was a tough day out there. I picked up damage to the floor after my first stop which heavily impacted the car's performance. There was a lot of tyre degradation and I really struggled with speed, especially into a couple of the corners. It's unfortunate as it meant we didn't really stand a chance today, but that's racing sometimes and we'll go again next week in Monaco."
Dave Robson, Head of Vehicle Performance
"It was blisteringly hot today, which pushed everything to the limit. We had prepared the cars for these conditions, but even so, we couldn't make as much progress during the Grand Prix as we had hoped.
"Managing tyre pace and degradation was very challenging, but nonetheless, Nicholas was able to put together a strong race and manage his tyres well enough to catch Magnussen near the end of the race and claim sixteenth place. "Alex had a strong start and opening stint and although he wasn't able to make much progress initially, he was able to stay with the pack and give us an opportunity to make progress with strategy.
"Unfortunately, immediately after his first pit stop, he suffered significant damage to the floor, which cost him a lot of aero load. This effect on pace and degradation was stark and ruined Alex's race before it had really begun. "The layout of the Barcelona circuit, the very high track temperatures and the damage to Alex's car has tested the FW44 to new limits and has given us some good data to highlight where we need to focus our car development efforts.
"However, our immediate focus turns to Monaco, which will present a whole new set of challenges for the 2022 cars, but which should also give us an opportunity for a much better weekend."
Pirelli
Mario Isola, Motorsport Director
"This was certainly one of the biggest tests that our new 18-inch tyres have faced all year, thanks to a high-energy circuit with big degradation expected and track temperatures that exceeded 50 degrees centigrade. We can say now that they coped with the challenge very well, and what makes their performance even more impressive is that the drivers concentrated on just the softer tyres nominated here. In particular, the soft tyre was a revelation, with nearly all the drivers choosing it for the start and many of them running the soft for the bulk of the race. There was a wide variety of strategies seen throughout the field, with drivers willing to push the limits and target three stops, adding to the spectacle of an extremely hard-fought race: also because these cars make it easier to overtake. Congratulations to Red Bull for a decisive one-two; now we move on to a very different challenge in Monaco next weekend."
FACTS AND STATS: Sainz's best-ever home race as Verstappen goes one better than girlfriend's dad