Feature
Why the crash that had the biggest effect on the outcome of the Bahrain GP wasn't Romain Grosjean's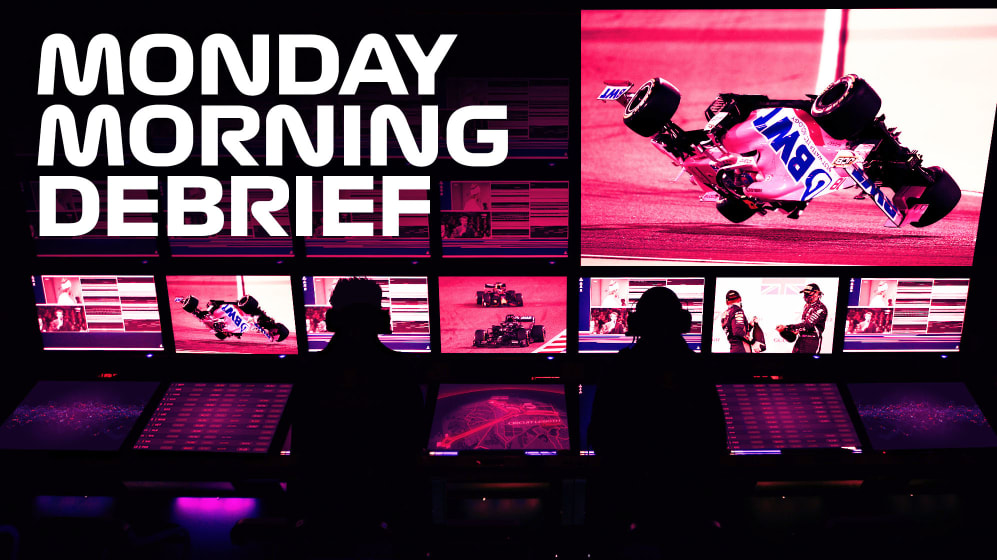 The first lap accident of Romain Grosjean created all the headlines and left Lewis Hamilton's victory over Max Verstappen as just a postscript. But as Mark Hughes explains, it was the accident of Racing Point's Lance Stroll on the first lap of the restarted race which shaped the race's destiny.
The seven-lap Safety Car period which followed after Stroll's Racing Point RP20 was turned upside down after interlocking wheels with Daniil Kvyat at Turn 8 changed the prime strategy from a three-stop to a two-stop. At least for Red Bull.
READ MORE: Hamilton wins Bahrain GP interrupted by huge Grosjean crash, as Perez suffers late heartbreak
In an era of almost uniform one-stop races, Bahrain always stands out. The left-rear tyre is under such stress around the high-grip multiple acceleration zones and the lack of cooling-off sections that it suffers a lot of thermal degradation.
Even though there can still be plenty of tread on the tyre, it simply becomes slow – up to the point that it's quicker to suffer the 23s loss of time of a pit stop than to continue with it. Invariably this process unfolds at least twice but this year, with a softer tyre choice, it was more extreme still.
The Red Bull is usually a little harder on its rear tyres than the Mercedes – which is why it was quicker to warm them in Istanbul. Around Sakhir, the Red Bull simulations suggested that three-stopping was theoretically the fastest way. That was the target going into the race. To that end, Verstappen had saved two brand new sets of hards. Hamilton had just one.
The timing of the first stop would be determined by when there was a gap in the pack to fall into to get clear space after the 23s pit stop loss. At Mercedes, a three-stop was on the radar but not as nailed-on, as their tyre deg was not as bad.
READ MORE: Grosjean describes halo as 'greatest thing' from hospital bed, saying he 'wouldn't be here without it'
Although Hamilton and Verstappen quickly pulled away in a race of their own, those seven laps behind the Safety Car ensured they were not going to get anything like the gap over the field that they would otherwise have done before their tyres began to wilt. This had the effect of switching the ideal strategy to two-stop, even for Red Bull.
Had it remained as a three-stop, the short stints that entailed would have allowed Verstappen to exert greater pressure on Hamilton without anything like the late-stint disparity between the two cars. Although Verstappen did end up actually stopping three times, the third one was just a late free stop taken to get fresh tyres on which to set the fastest lap.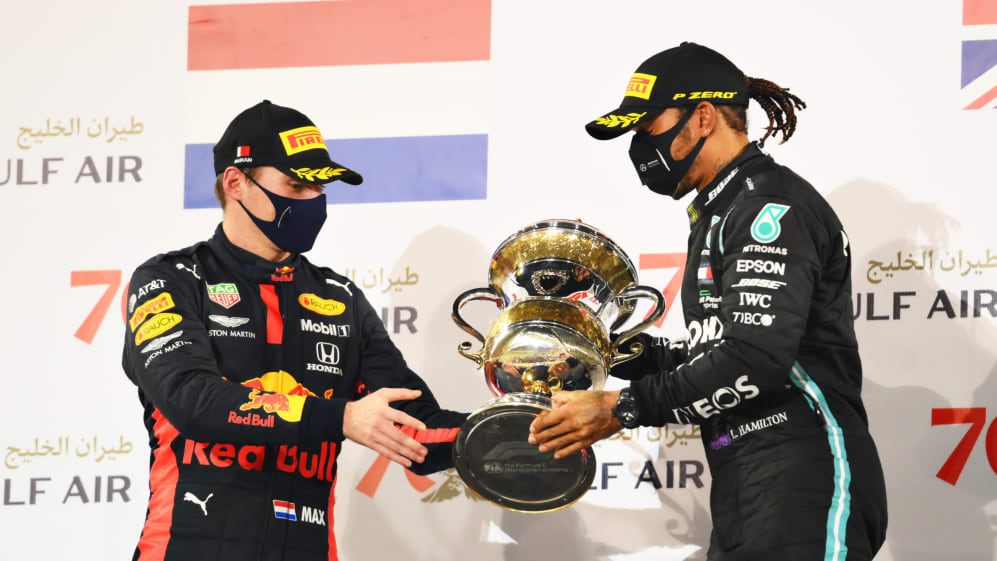 The way it played out was that Mercedes pitted Hamilton as soon as there was a gap to drop into. Verstappen didn't have that gap until the following lap, as he'd trailed the Mercedes by around 4s, his pace dropping off towards the end of the stint. So the one-lap undercut effect actually extended Hamilton's lead. Pitting first was the tactical ploy which ensured Mercedes converted its greater pace and tyre usage into the result.
Verstappen was afterwards critical his team didn't adopt a more aggressive strategy. "We didn't do a good job with the strategy today. We had the tyres to be more aggressive and we didn't do it. First stop we should have pulled Lewis in, instead of Lewis pulling me in. So, I don't know what was going on there.
READ MORE: Runner-up Verstappen says he wanted Red Bull to be 'more aggressive' as he questions Bahrain strategy
"I don't think we had the better pace but we could have done a better job with putting them a bit more under pressure and we didn't do it… If it fails being aggressive, so be it. I have nothing to lose. Even if we would fail I would still be second. So I don't get why we were so conservative."
"Yes, we just talked about it," said Christian Horner when asked about Verstappen's comments, "but if we'd pulled the plug earlier we'd have pitted into traffic. I'm not sure what else we could have done. They had the pace to have been able to cover us. Ultimately they just had slightly better pace and slightly better tyre range than us."
READ MORE: 'We had to be there to capitalise' – Albon '95% satisfied' with opportunistic podium in Bahrain
That's just the way the frustrating reality of how the Mercedes superiority played out for Red Bull on this occasion. There are other ways it might have played out, but the end outcome would likely be unchanged.