Wolff is 'without doubt the best leader' in F1, says Hamilton after Mercedes take title record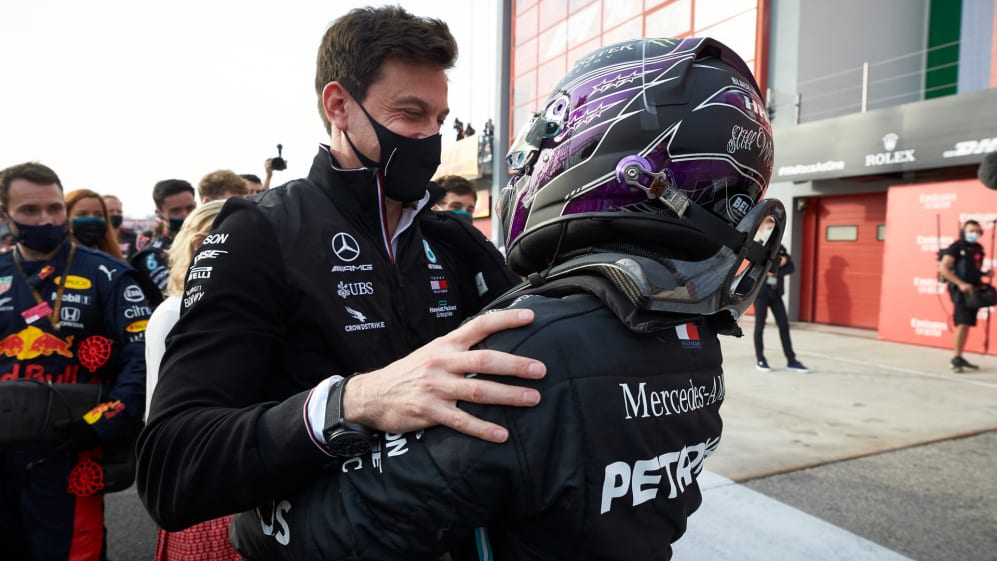 Mercedes wrapped up a record seventh-consecutive constructors' title at the Emilia Romagna Grand Prix, and after the race Lewis Hamilton heaped praise on Silver Arrows team boss Toto Wolff, who has overseen all seven championship wins.
Hamilton led home team mate Valtteri Bottas at Imola to ensure Mercedes sealed the title win with another 1-2 finish. Asked whether he was surprised that Wolff declined to join him on the Imola podium, Hamilton explained that the team boss's impact was clear even if he's not always in the limelight.
READ MORE: 'We knew we had to keep our edge' - Lack of complacency key to Mercedes' seventh title, says Allison
"He's not trying to be at the front of every photo. He's not trying to claim anything. He puts the team first. I think that's- without doubt, he is the best leader here. It doesn't matter what anyone says, no one has done as good a job as he has," said Hamilton.
The British ace scored a record 93rd victory at Imola, and is well on course to wrap up his own seventh championship title this season, to match Michael Schumacher's record. All but one of Hamilton's titles have been won at the Mercedes team, and he said Wolff is the "best boss you could have".
He said: "I think it's his mentality, the balance of drive, compassion, understanding and ego. All of them come together to create the best boss you could have.
READ MORE: OPINION – Mercedes have earned the right to call themselves F1 greats
"Every single person in the team, no one's below him, and he really cares about how everyone is doing: 'how're things away from the track?', 'how's things at home with your family – is there anything we can do so you can be better at the office?' He's a great guy and I feel privileged to have him as our leader. We wouldn't have been able to do this without his guidance."
Instead of Wolff it was Mercedes engineer Leo Stevens who got the privilege of spraying champagne with the top three finishers on the podium at Imola, which left Hamilton somewhat bemused.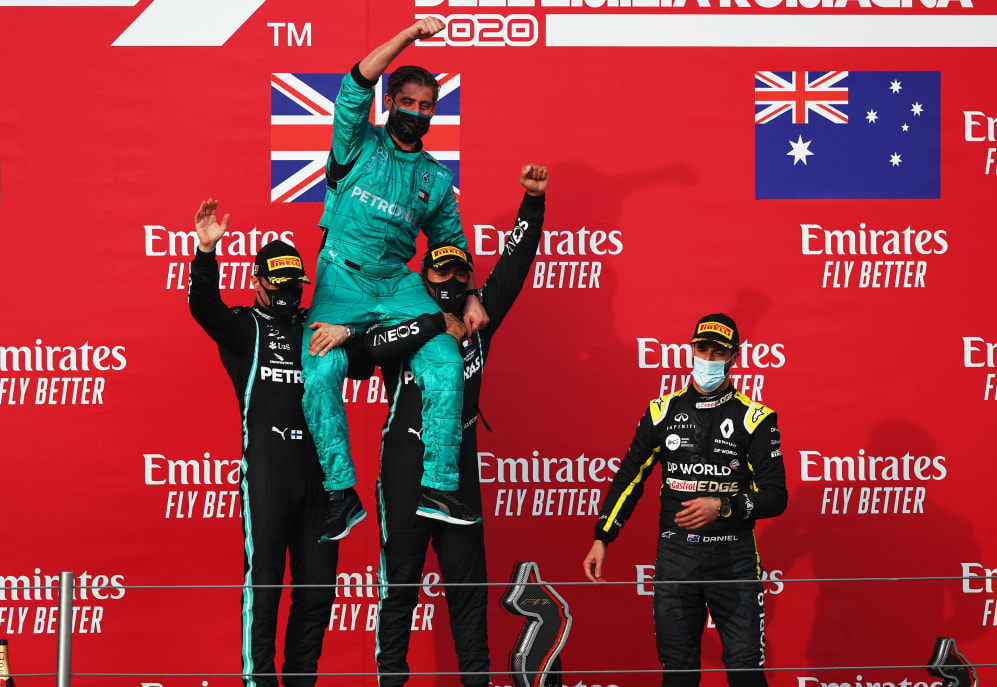 "I thought that he [Wolff] was [to join us on the podium] so I was a bit surprised," said Hamilton.
"I thought that's why he was at the front. We very rarely see him at the front there and he came and did an interview, so I thought that he was coming up – but I think whilst it would have been nice for him to be up there with us, I think that's a real showing of a leader," he concluded.
Next up is the Turkish Grand Prix, where Hamilton could seal that seventh title for himself.