Wolff: 'Total relief' to end 'tough' 2019 season on a high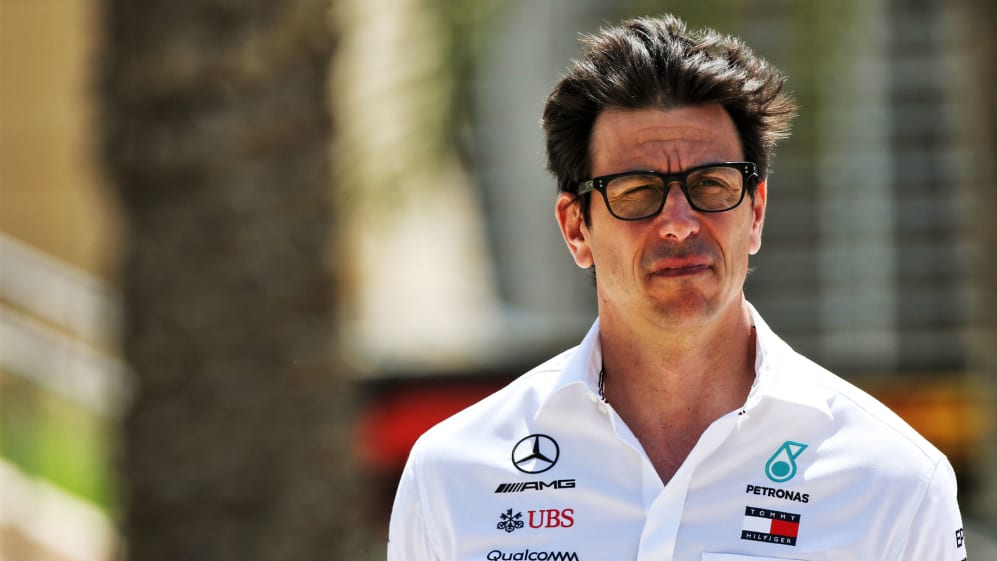 Mercedes ended 2019 having won 15 of the season's 21 races. But even though that dominance saw them secure the drivers' and constructors' championships with two and four races to go respectively, Team Principal Toto Wolff has claimed that the pressure was on his squad right up until the chequered flag in Abu Dhabi.
Statistically, it's been another stellar year for Mercedes, who sewed up their sixth double championship, establishing a new record in the sport, while Lewis Hamilton – who won comfortably in Abu Dhabi – took his own sixth drivers' title, and his fifth with the team.
READ MORE: The culture behind Mercedes' greatness
But there have been low points, not least the death of Non-Executive Chairman Niki Lauda in May – while on track, there was the disastrous home race in Germany as Mercedes-Benz celebrated their 125th year in motorsport, as well as a sound besting in Brazil, where Valtteri Bottas suffered the team's first mechanical retirement in a year and a half.
And those moments, added to the pressure of maintaining Mercedes' hybrid-era dominance, all meant that, despite the numbers, "tough" was the word Wolff chose to describe the 2019 season on Sunday night in Abu Dhabi.
At the moment, I feel just relief for the first time this season
"I think overall, the season with all its up and downs, was tough, and for me this is the best moment now – somehow total relief," said Wolff. "It wasn't before, even when we won the championship, but this is Abu Dhabi now, the last race, it's finally over. We can go home.
"At the moment, I feel just relief for the first time this season," he added. "And I have this sense of fun, thinking about next year, which is a positive sign. So I think we need to sit down and define the objectives for next year, see where we can improve, where we need to maintain the level. That's an exciting exercise."
READ MORE: The Winners and Losers of the Abu Dhabi Grand Prix
With the rules remaining largely unchanged in F1 next year before the 2021 regulations overhaul, Wolff knows that the threat from an increasingly strong Red Bull-Honda team, as well as a Charles Leclerc who's growing in confidence at Ferrari, will mean Mercedes need to come back even stronger in 2020 to maintain their advantage.
But Wolff has confidence in the Silver Arrows' team spirit, while remaining neutral on whether he'd prefer to see Hamilton take a Michael Schumacher-equalling seventh drivers' championship or for Bottas to claim his first title.
READ MORE: Hamilton wishing season wasn't ending after '2019-best' Abu Dhabi victory
"Next year is the tricky one," Wolff said. "2021 is the easy objective. But at the moment there is just such a strong bond within the team, that it's a good place to work at, and for me personally, I take great contentment from the relationships within the team, and that has been a very, very strong part of our success. I'm really personally looking forward to the 2020 season, to try to be the best, come up with the best power unit, come up with the best chassis, have the drivers in the right space.
"We have been always very neutral to the drivers, and we want to provide them with equal equipment and equal opportunity, and [for them to] both know that. There is no hidden agenda within Mercedes, and no politics. I think we will see how we get out of the blocks, and I hope Valtteri will have a great season, but equally I obviously cheer for Lewis to giving it his best at a seventh title to equal Michael's record."
2019
The final constructors' championship standings
POSITION
POINTS

1

Mercedes

739

2

Ferrari

504

3

Red Bull Racing

417

4

McLaren

145

5

Renault

91

6

Toro Rosso

85

7

Racing Point

73

8

Alfa Romeo Racing

57

9

Haas F1 Team

28

10

Williams

1