Baku: a tale of two tracks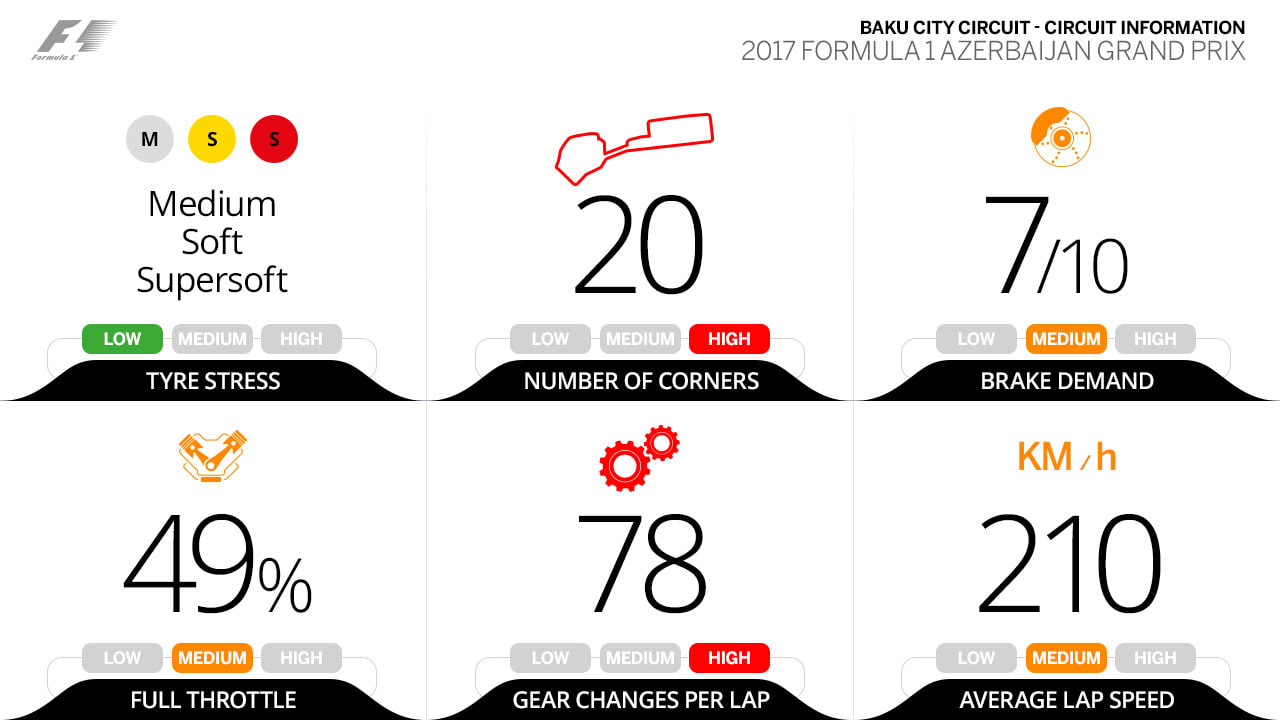 Many of the drivers say the Baku City Circuit is a combination of two other famous venues – it has the tight (and tricky) street sections of Monaco, plus the flat-out, high-speed blasts of Monza. It may not be particularly tough on tyres, but its fairly tough on brakes and its walls are unforgiving and demand maximum concentration – as several high-profile drivers discovered to their cost last year. The only 'downtime' (if you can call it that) is when they get to plant the throttle for over 2km as they head towards the start-finish straight and then into Turn 1, clocking up some amazing speeds in the process (more of which later).


The key corners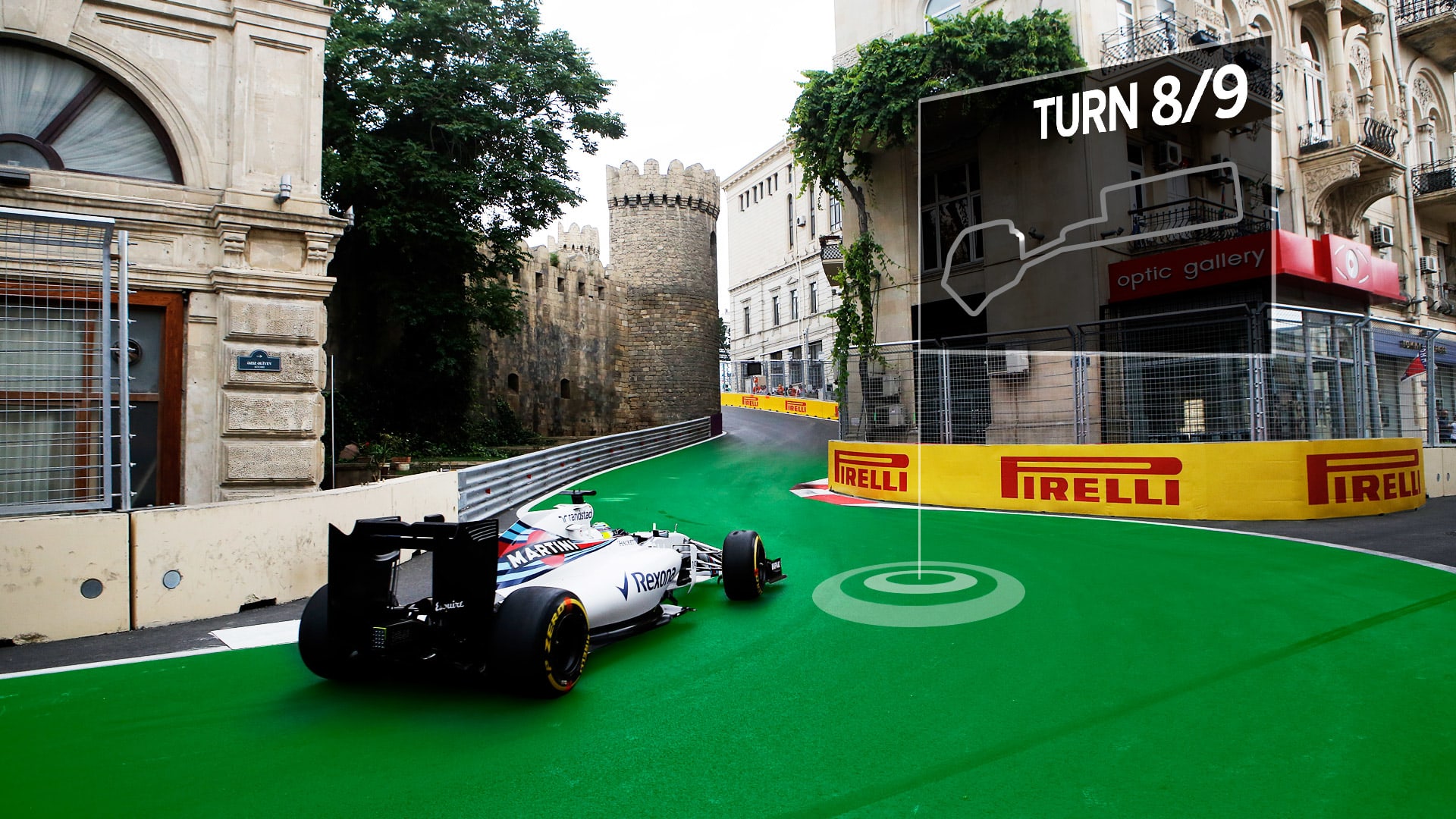 When the drivers turned up at the Baku City Circuit for the first time last year, there was one section of track that caught the eye more than most – the narrow passage skirting the old city walls through Turns 8, 9 and 10. Normally cobblestoned [but covered in temporary asphalt for this event], this section is only 7.6m wide at its narrowest point, meaning the drivers have little margin for error as they thread the needle – and it'll be even tighter this year with the cars 200mm wider than before. Put simply: don't expect any side-by-side action here – this unique complex is strictly 'follow the leader'. 

A hard act to follow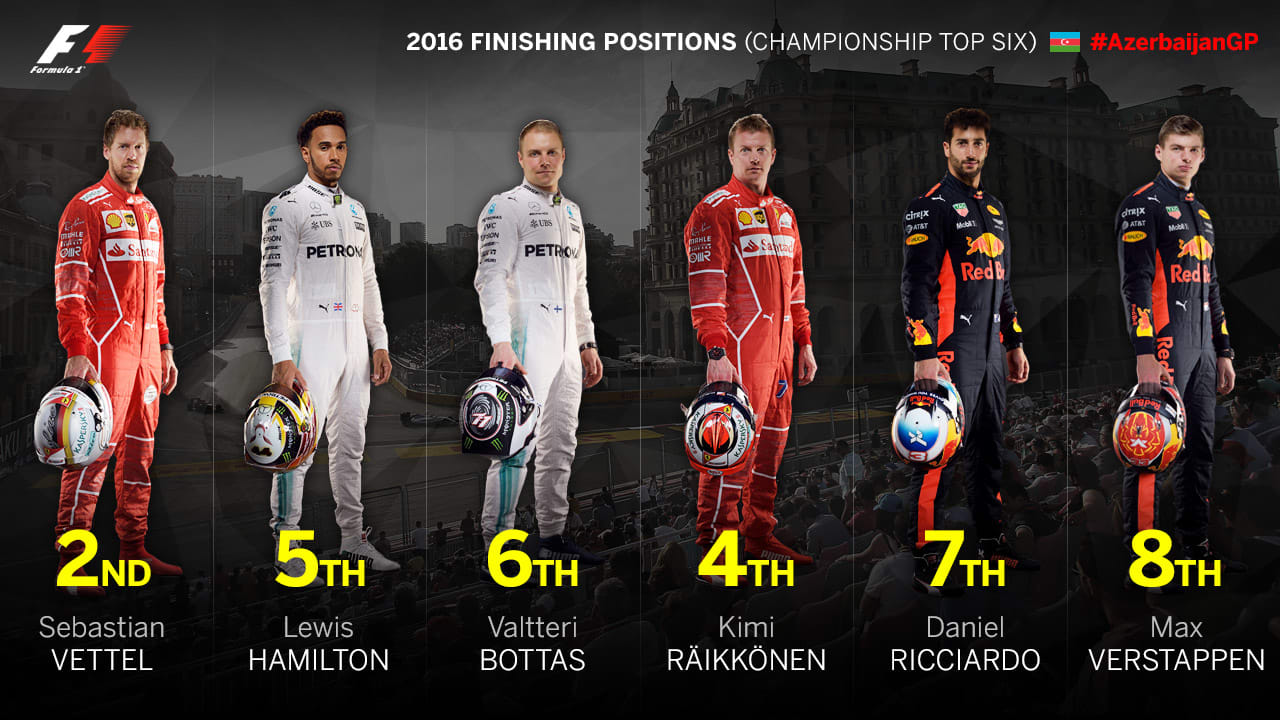 One man dominated last year's event in Azerbaijan, and his name is notable by its absence from the list above. Reigning world champion Nico Rosberg took pole position, fastest lap and led every lap en route to victory for his second career Grand Slam. Lewis Hamilton has scored two slams of his own this season, including one last time out in Canada, but his chances of emulating his former team mate in Baku seem likely to depend on whether he can get his tyres working consistently - something he has failed to do on similar surfaces in Russia and Monaco. One thing's for sure - Baku will have a brand new winner on Sunday!

Where's Sergio?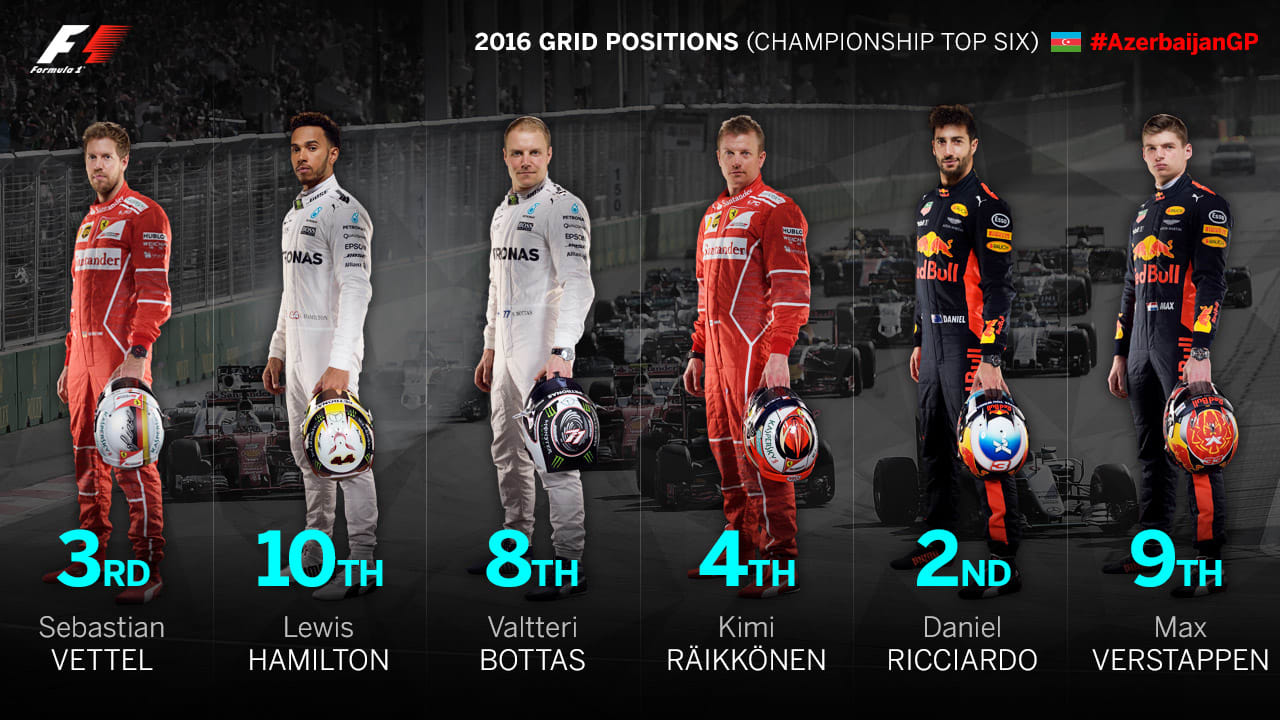 Daniel Ricciardo is the only current driver to have started from the front row in Baku, but the table above doesn't tell the whole story. Ricciardo didn't actually qualify directly behind the aforementioned Rosberg last year. That honour went to Force India's Sergio Perez. However, the luckless Mexican was demoted five grid places for an unscheduled gearbox change, needed after he crashed in final practice. The drop didn't do him too much harm, though – from his P7 starting slot he fought his way to a superb third-place finish, splitting the two Ferraris in the process. 

Dane gains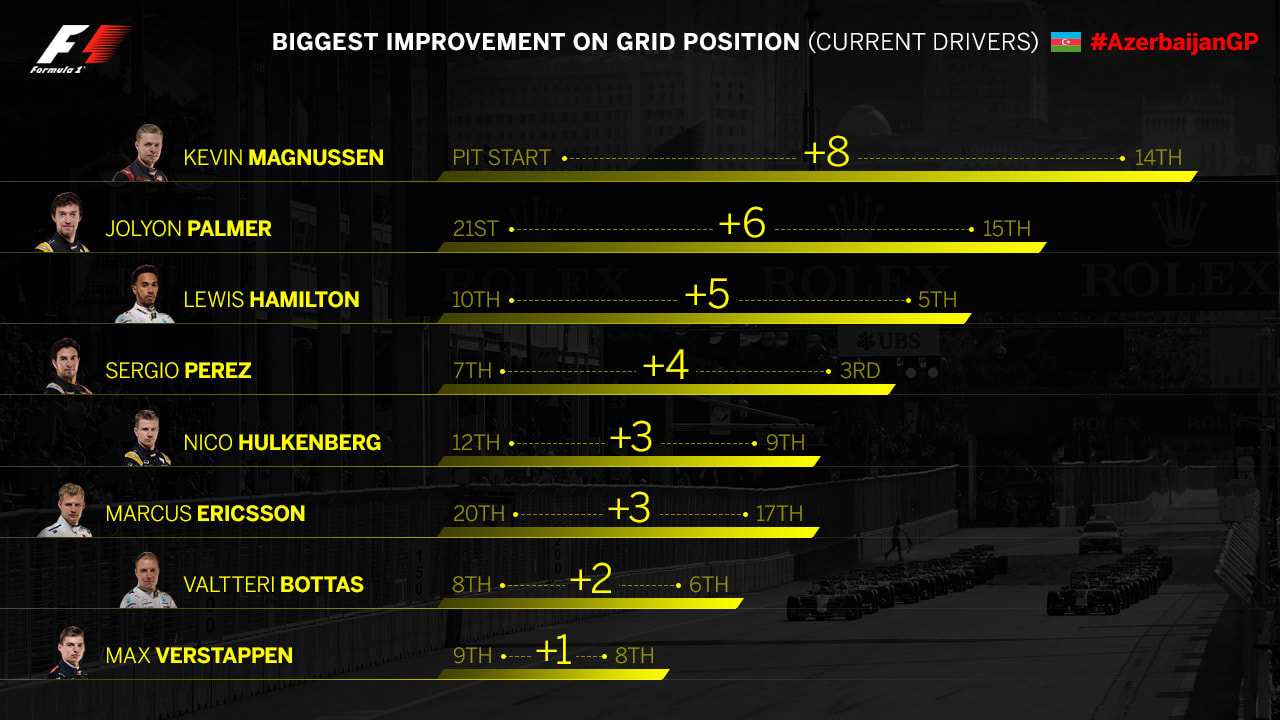 Perez's four-place improvement during the 2016 race was impressive, but Kevin Magnussen – then driving for Renault – doubled that figure. Okay, there is the caveat that the Dane started from the pit lane following set-up and gearbox changes, thus avoiding many of the usual lap-one dangers, but it was a strong drive that took him to 14th at the flag – one place ahead of team mate Jolyon Palmer, who also moved up multiple places. The rise that got most attention, however, was that of a frustrated Lewis Hamilton. The Briton started tenth having crashed in qualifying, and would have undoubtedly finished much higher than fifth, had he not been thwarted by engine mode problems on his Mercedes – problems which he may have been able to resolve via steering wheel settings, had radio restrictions not prevented the team advising him on the exact nature of the issue.
 
Quote unquote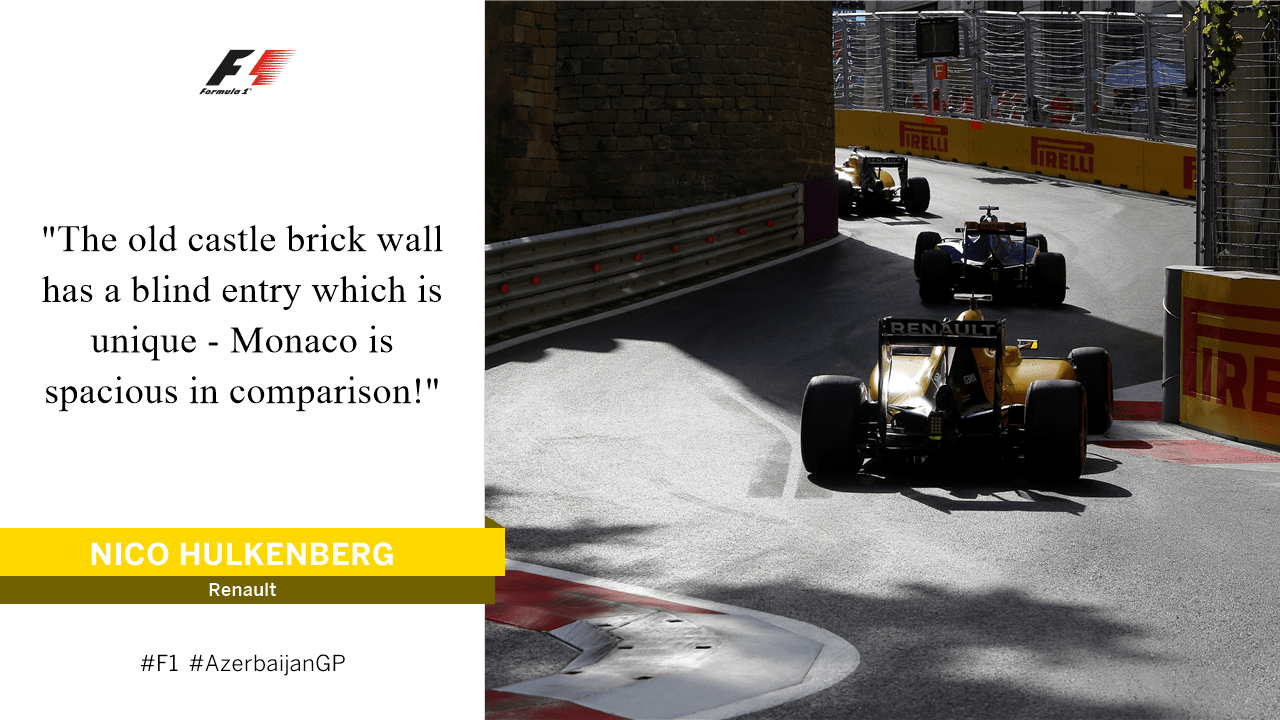 Renault's Nico Hulkenberg reflects on the challenge of Baku's aforementioned Turn 8-9-10 complex. It's a challenge the German rose to last year, when he kept his Force India away from those walls for the full 51 laps to come home in ninth place and bag two valuable points. He'll be looking to score more for current team Renault this weekend...

Maiden points up for grabs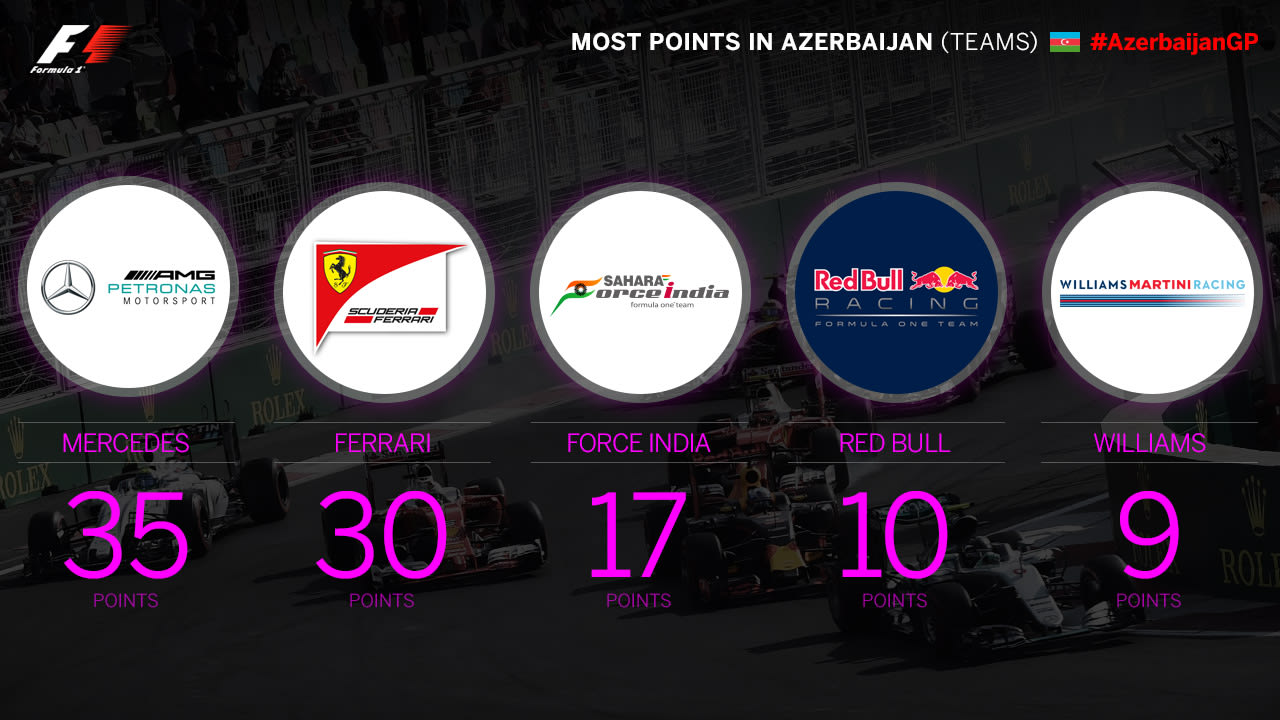 Only five teams scored points in last year's inaugural Baku race – meaning the other five will be desperate to score their first in Azerbaijan this weekend. In an unusual show of symmetry, Mercedes, Ferrari, Force India, Red Bull and Williams all got both cars in the top ten. Don't bet against the likes of Renault and Toro Rosso breaking up that party in 2017 – and McLaren will be similarly eager to get their name on the scoreboard for the first time this season, having come oh-so close last time out in Canada.

Flat-out to the finish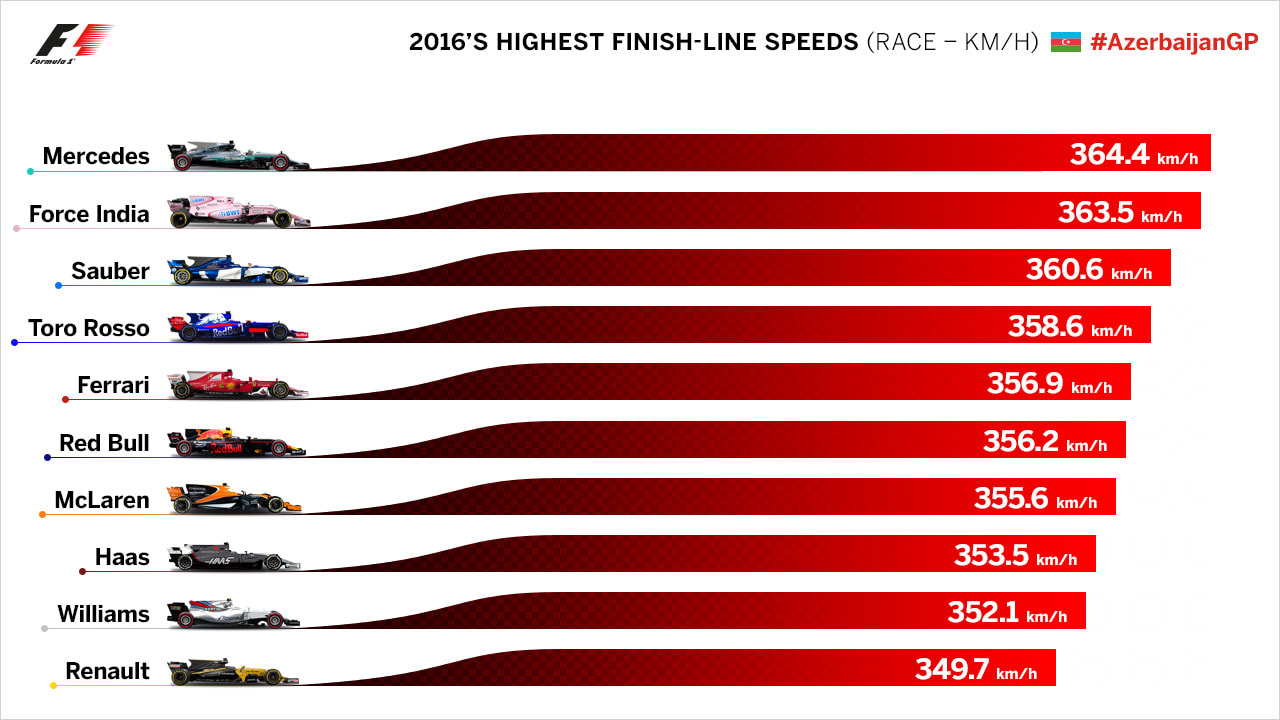 Nowhere are Baku's 'Monza-like' characteristics more evident than when glancing at the incredible speeds achieved by the cars last year – almost 365km/h, or 227mph. The increased drag from this year's wider cars mean they might not hit quite such giddy heights on Sunday, but watching them fly across the finish line will still be a sight to behold.

The big number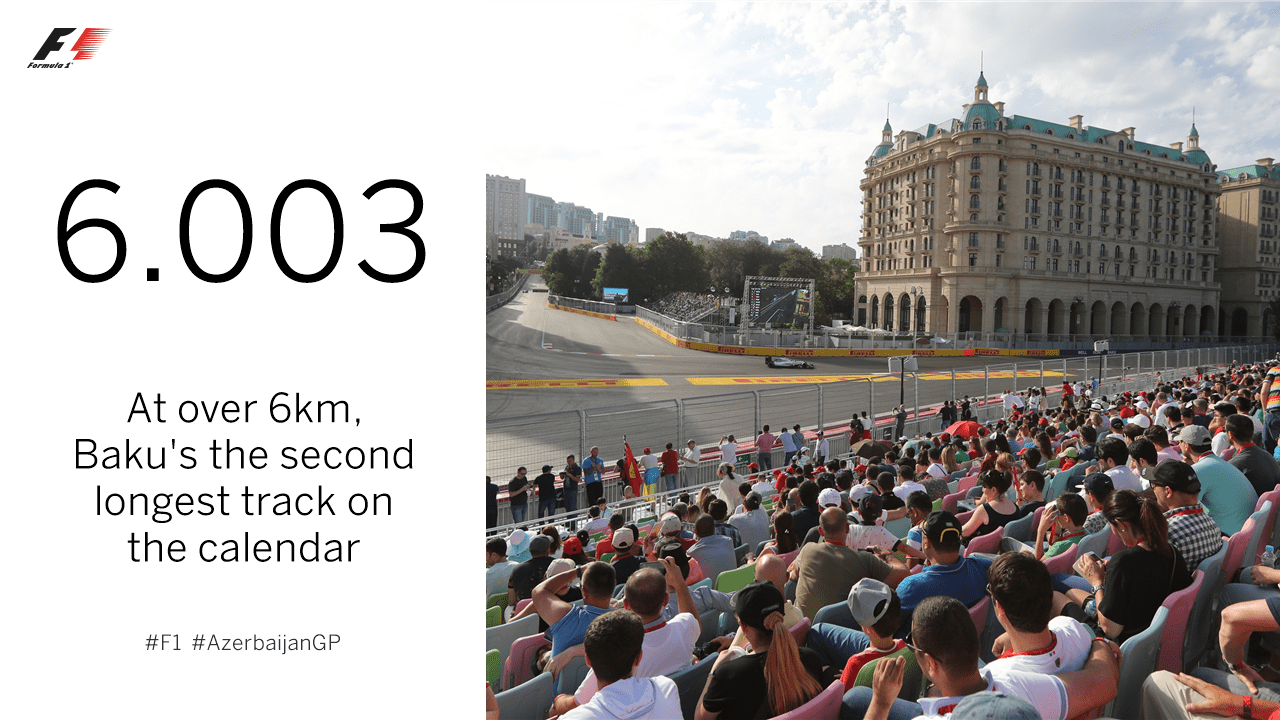 Of the current F1 venues, only Belgium's historic Spa-Francorchamps is longer than the Baku City Circuit, which is also the first anti-clockwise track of the year. Its sheer length will mean a heady learning curve in practice for those drivers new to the course, among them Force India's Esteban Ocon, Williams' Lance Stroll and McLaren's Stoffel Vandoorne.

A single stop for sure?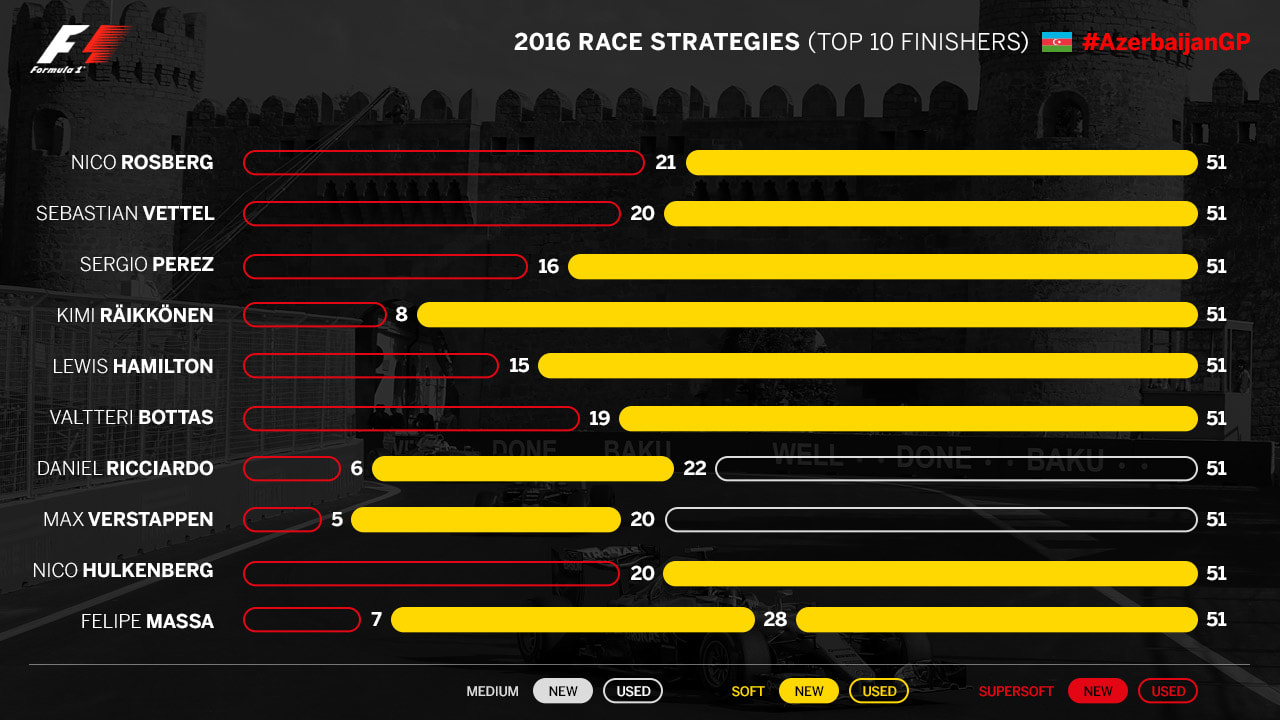 You have to look outside the top six in last year's results to find anyone using something other than a one-stop race strategy. Those in first to sixth all did a short, first stint on the red-marked supersoft tyres, followed by a longer, second one on the yellow-marked mediums. The Red Bull drivers – seventh and eighth – bucked the trend with two stops, using the more durable, white-marked medium rubber for their final stint. Pirelli are bringing the same three compounds to this year's event, but the 2017 versions are far more durable. That may well mean single-stop races all round, but as previous races this year have shown, there is still plenty of scope for unexpected strategy variations in terms of undercuts and overcuts. The pit wall crews are going to have plenty to think about.

Those all-important session times...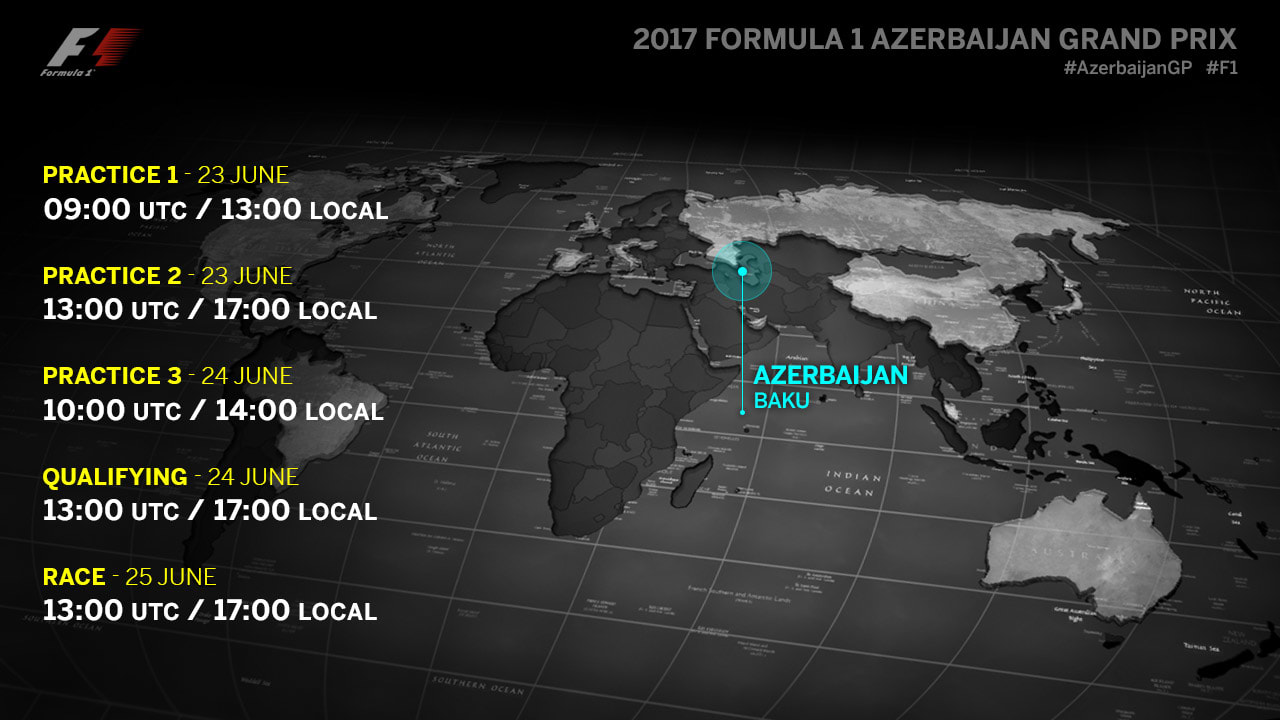 Don't forget, if you are registered with F1® Access (it's free!) you can follow live timing and commentary from Azerbaijan on Formula1.com, or by downloading the Official F1 App. For more details, click here.