The Winners
Lewis Hamilton - the new king of Silverstone
There was simply no stopping Hamilton this weekend.
He actually came into the weekend under some flak for not attending the F1 Live London event - but didn't let that negativity affect him in the slightest. Instead, he kept his focus and did his job in supreme style. Pole - the 67th of his career, moving him to within one of Michael Schumacher's all-time record - was secured with the biggest margin so far this season. The race start, and restart, were executed superbly. And for the remainder, he was simply untouchable. It was his 57th victory, his fourth straight at Silverstone - and his fifth in total on home soil, bringing him level with greats Jim Clark and Alain Prost, who each also won the British Grand Prix five times.
Better than anything, though, it slashed Vettel's points lead from 20 right back to one. Game on in the championship.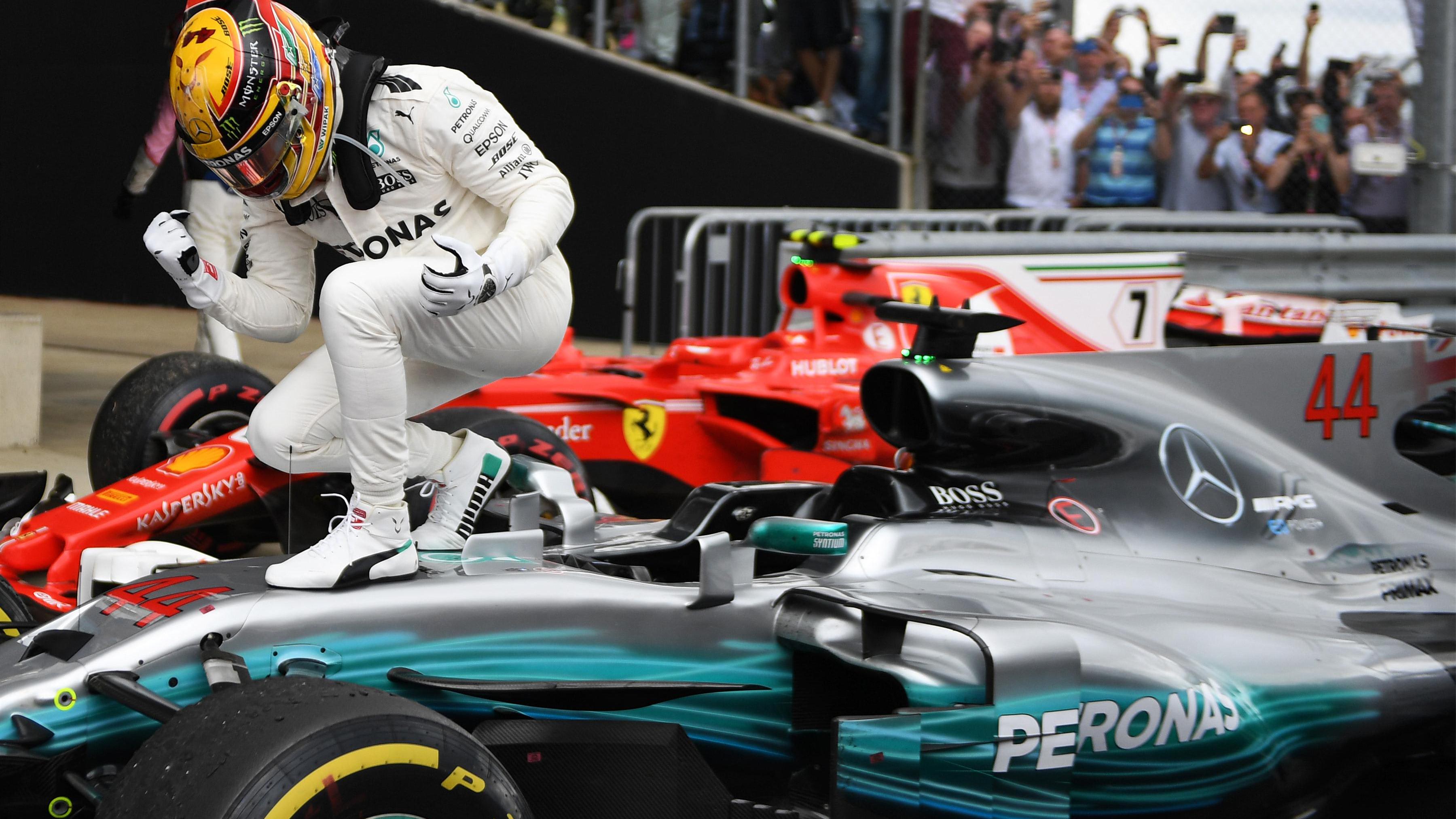 Bottas, recoveries and championship credentials
Had Bottas not had a grid penalty for his gearbox change, Mercedes might well have run 1-2 all through the race. As it was, the Finn had another chance to showcase how nicely he is maturing alongside Hamilton.
He drove beautifully to make a set of soft Pirellis last 32 laps, while hauling up from ninth on the grid to second - and then after his stop made the most of fresh rubber to haul in Vettel and pass the Ferrari for third, much to the delight of Mercedes. The Finn wasn't done there however, as his barked instruction for 'no more talking' showed - he had Raikkonen firmly in his sights. That chase might not have paid off, but fortune was smiling on the Silver Arrows as the Ferrari driver's front left tyre threw its tread. Bottas snatched second, and rightfully reflected afterwards on the merits of never giving up.
The result denied Ferrari and Vettel points of course - but it also maintained Bottas's excellent momentum and kept him firmly in the championship fight. He's now only 22 points off the lead - within one race victory, in other words...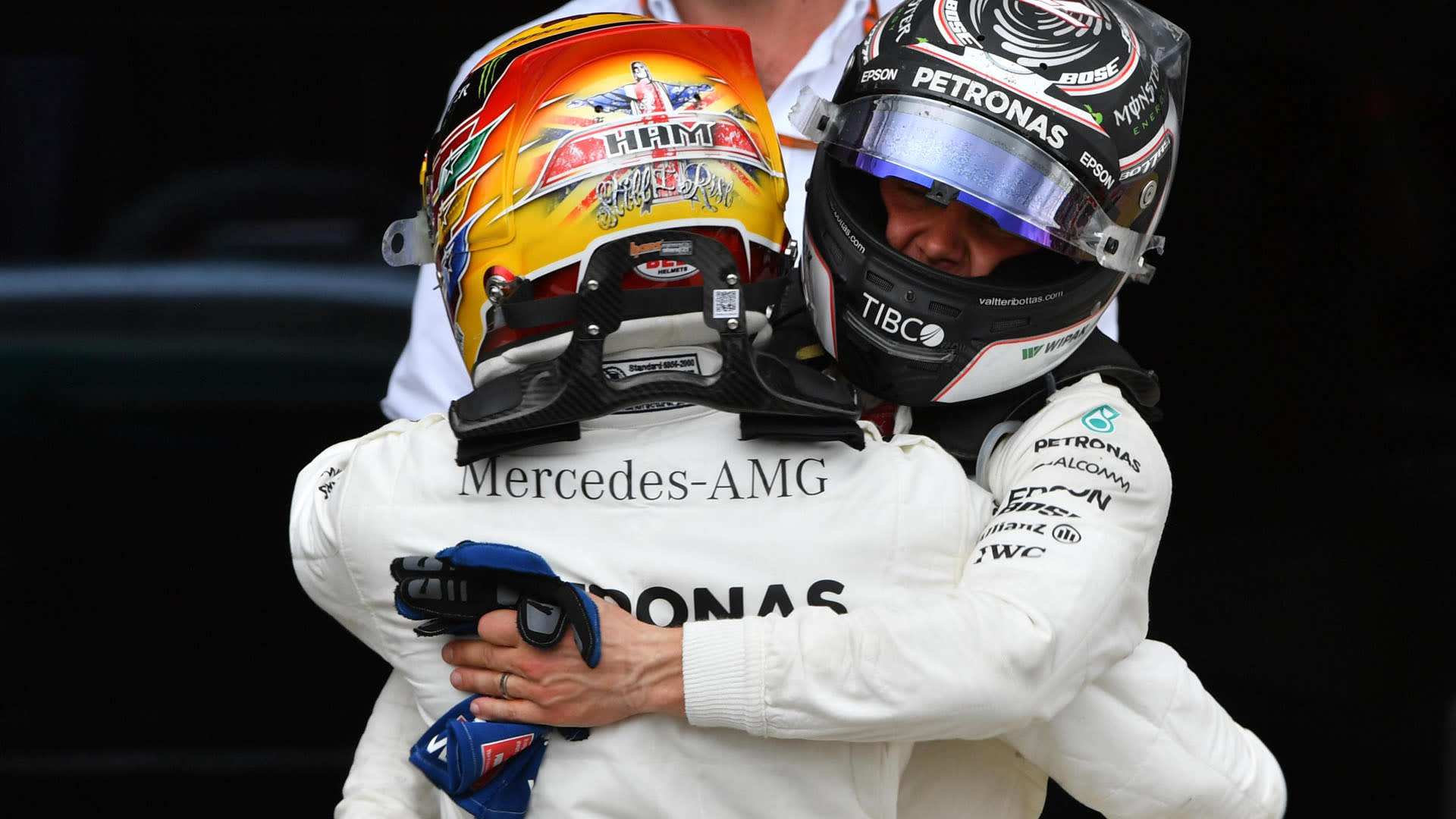 Verstappen and never backing down
The one thing that Max Verstappen really wanted was a finish. A podium would have been great, and arguably the caution of a late tyre stop – in light of Ferrari's problems – cost him exactly that. But after five DNFs in seven races, a fourth-place at the flag still made him one of the race's winners.
There were reminders too of exactly why he is already such a sensational force in F1. The manner in which he he jumped Vettel off the start, and regained third place from him round the outside in The Loop having briefly conceded it in the previous corner, was what we all want to see. And his resolute defence of third place at Stowe on lap 13 had the crowd on their toes cheering - as did his nonchalant quip about Vettel wanting 'to play bumper cars'.
Yes, he subsequently lost track position - a slow stop didn't help, but ultimately Ferrari had the upper hand on pace. And yes, without his late stop he could have been third - but equally he could have suffered the same fate as Vettel. All in all this was a good day for Verstappen - and a welcome demonstration of exactly why he remains one of the most exciting drivers to watch.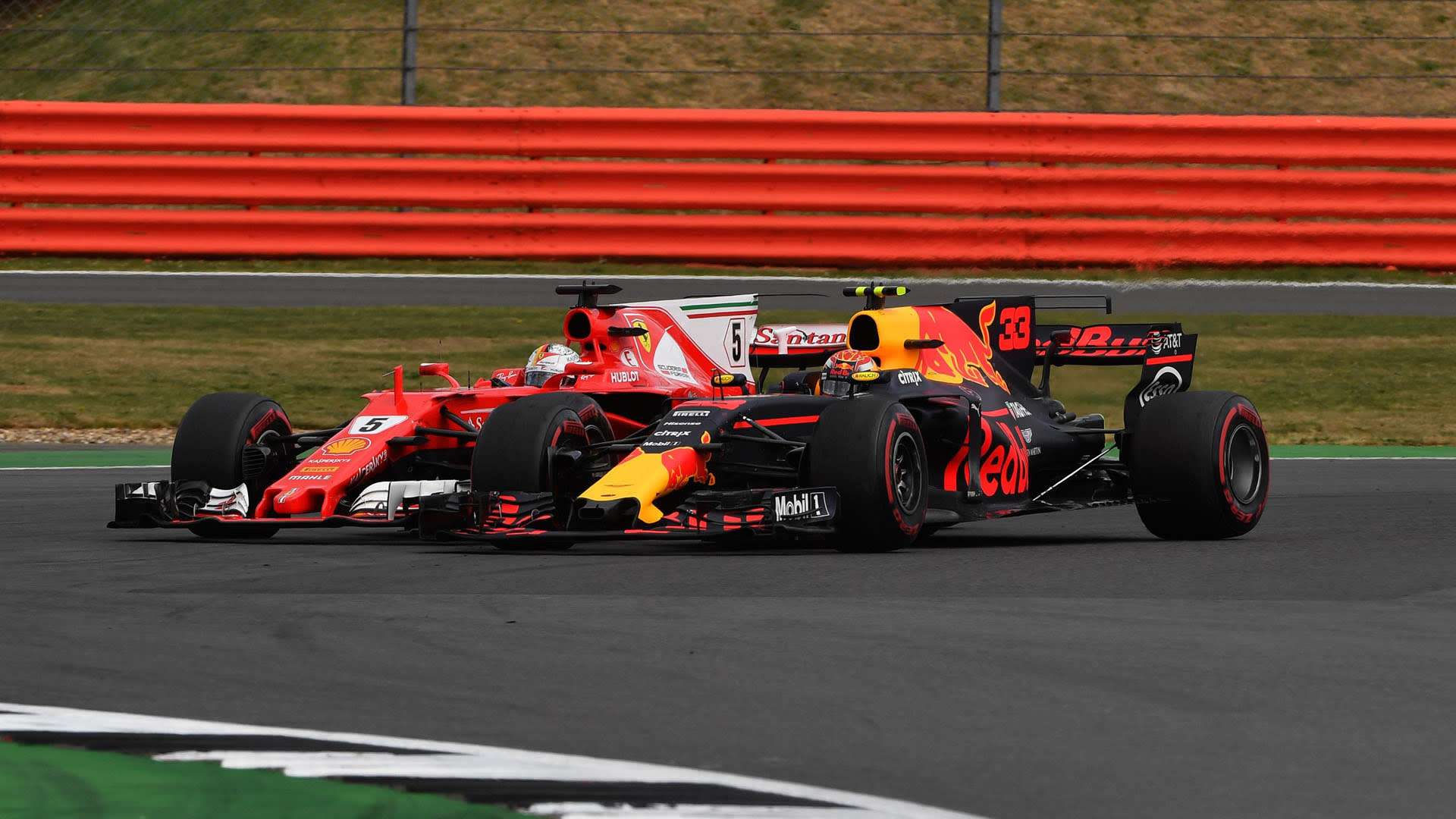 Hulkenberg and Renault hit their stride
Vettel's late tyre misfortune handed back to Renault the sixth place that Nico Hulkenberg had looked like scoring all afternoon, but it could have been fifth. Unfortunately, an exhaust leak in the final laps led to a gradual loss of the energy recovery system and left him powerless to defend against the closing Ricciardo. But on the 40th anniversary of their F1 debut here, Renault had a good day. 
"We are very happy with the race result," Hulkenberg said. "P6 is a big success for the team. We were able to get a good lap in qualifying and then to carry it through to the race. We had strong race pace, and were able to keep ahead of both Force Indias, which is really positive. We lost some power at the end, especially down the straights, which made it easier for Daniel to pass me, but then we gained back a position from Seb when he had his problem. 
"Overall this is a very positive result. The new upgrades worked really well, we were able to push the car, and I'm really pleased for the team."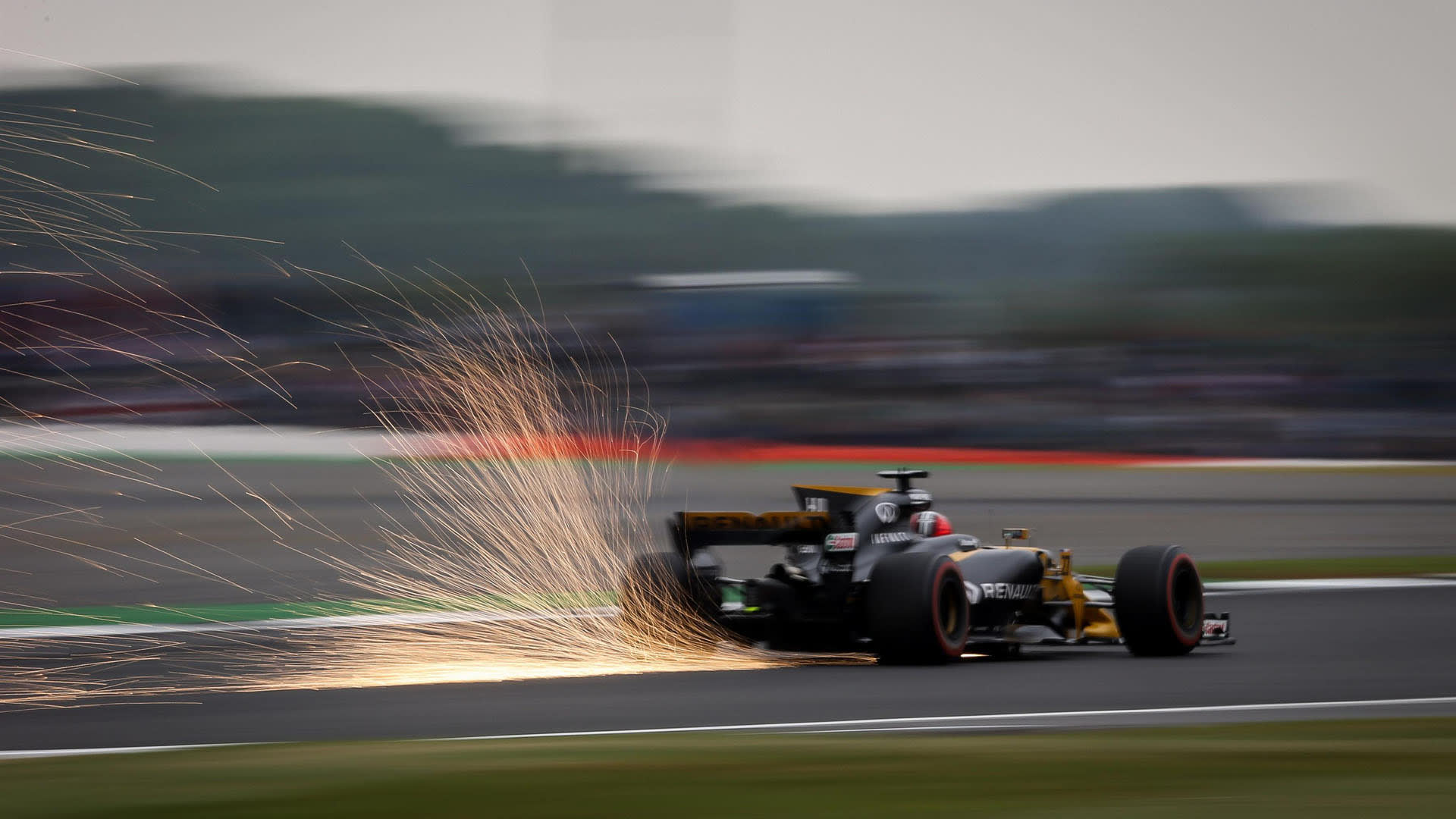 Vandoorne outguns Alonso
There were to be no points for McLaren on Sunday at Silverstone - but Vandoorne was mighty close, finishing less than 4s off Felipe Massa in tenth and less than 7s off Esteban Ocon in eighth. So while the Belgian's wait for a first top 10 of 2017 continues, he did score several other breakthroughs on what was a strong weekend overall.
On Saturday for example he out-qualified Alonso for the first time - and in the process secured his highest ever starting spot of eighth. He also spent nearly half the race inside the top 10. The only time he has managed before was Monaco, a track more typically suited to McLaren's strengths.
"There are plenty of positives to take away from this weekend," Vandoorne said afterward. "The pace we showed in the race today was very encouraging: to run as close as we did to both Force Indias and a Williams on a circuit like this is a real positive."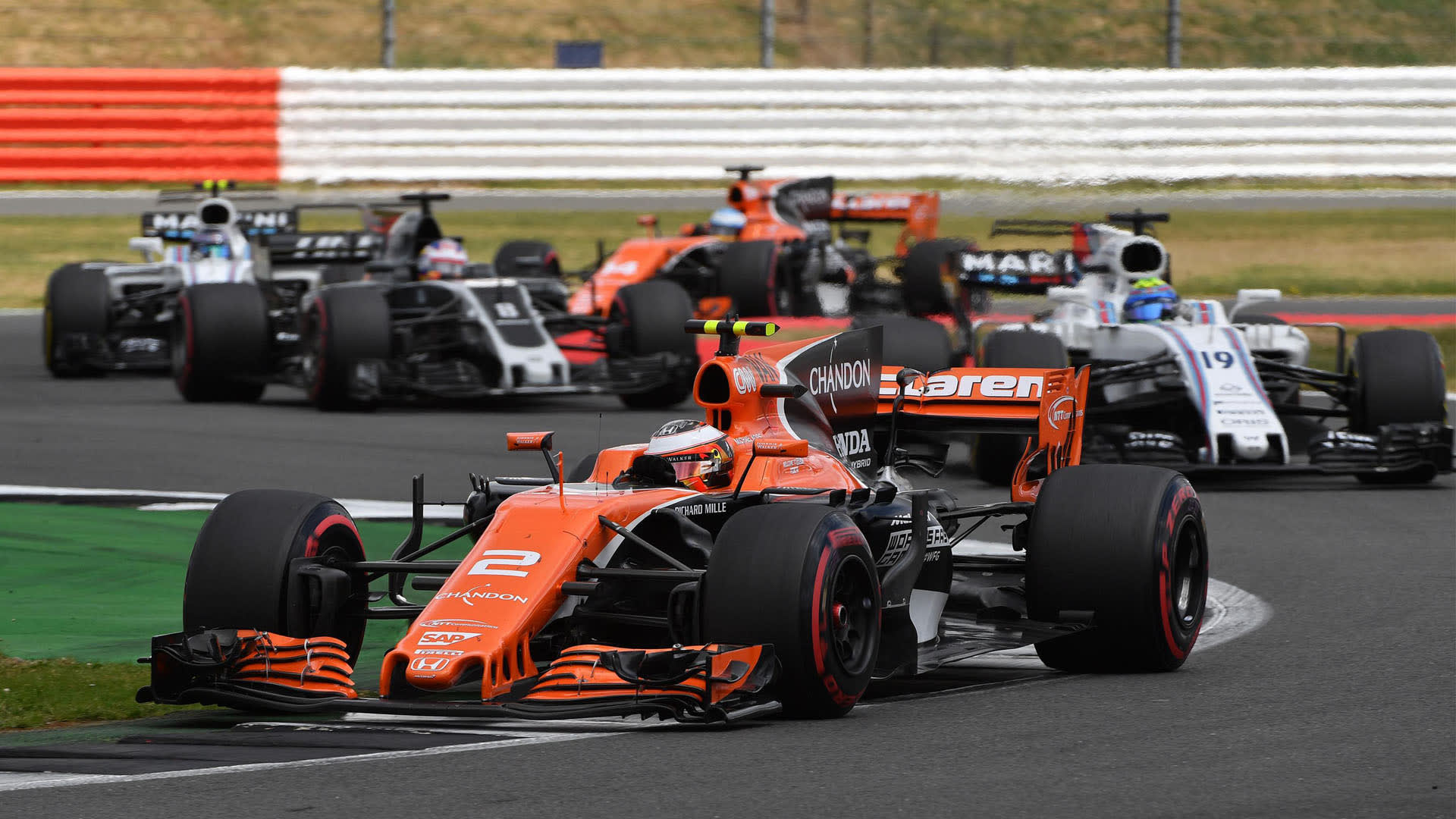 Daniel Ricciardo and that charge
From 19th on the grid, it was perhaps inevitable that Ricciardo would put on a show on Sunday. But even so, this was something special.
The Australian wasted no time making up ground from the start, dropped back after an overly optimistic attempt on Grosjean put him on the grass, and then set about doing it all over again. On the way he underlined why many consider him to be the best overtaker in F1 - the combination of perfectly controlled aggression, the ability to judge braking points and force to perfection... all were on show as the Australian offered up a masterclass in coming through the field.
His ultimate position of fifth had a touch of fortune about it, yes - but this was a day when Ricciardo shone, underlining all the skills that make him one of the most feared and respected drivers on the grid.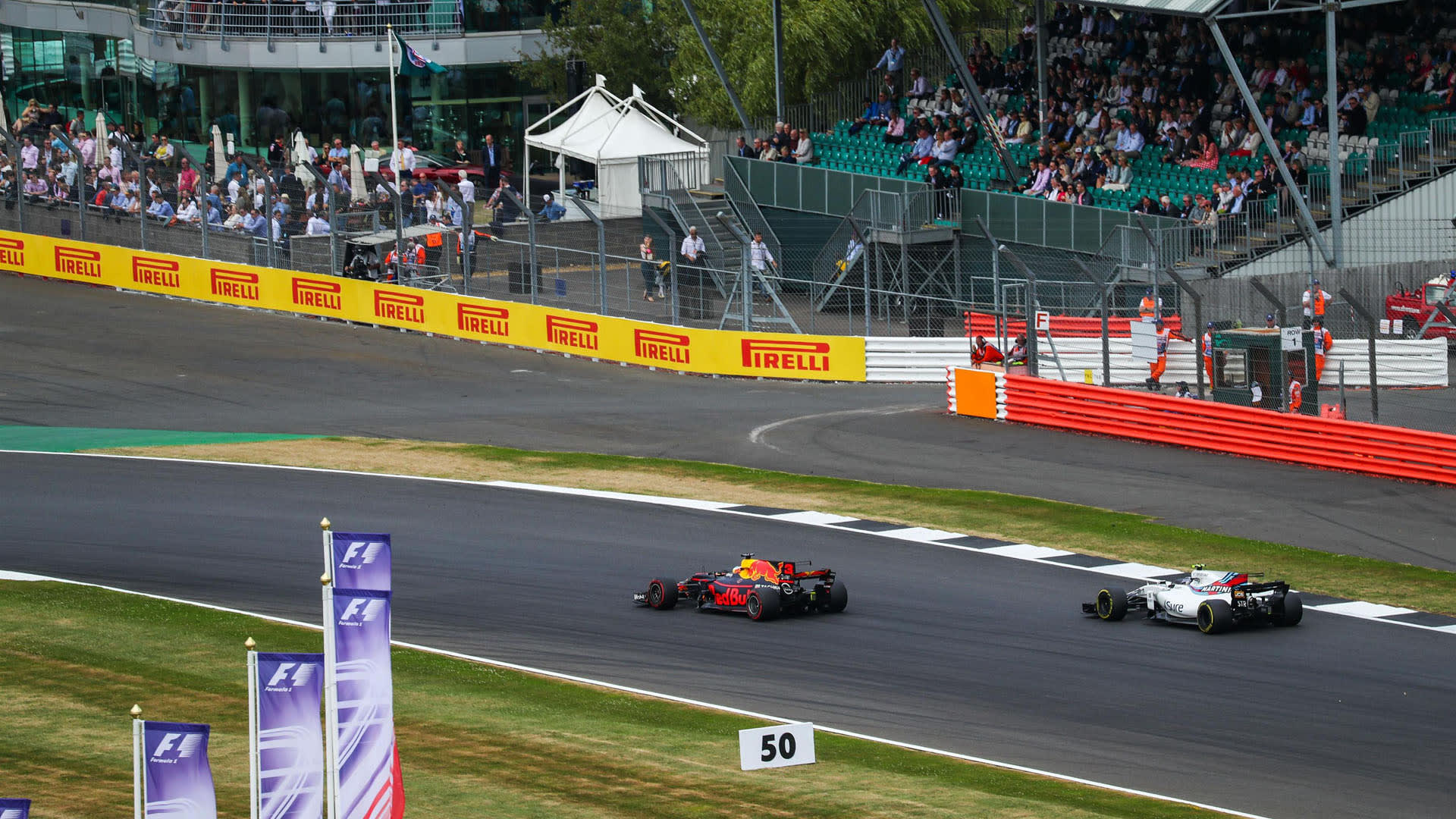 Raikkonen's growing Ferrari haul
A late blowout may have cost him second at Silverstone, but Raikkonen had still done enough in the race to pit and seal a podium - the 87th of his career, and his 36th with Ferrari. 
Only five drivers in history can better the Finn's overall haul - and only three have ever scored more for the Scuderia. 
The perfect riposte to Sergio Marchionne's recent 'laggard' comments...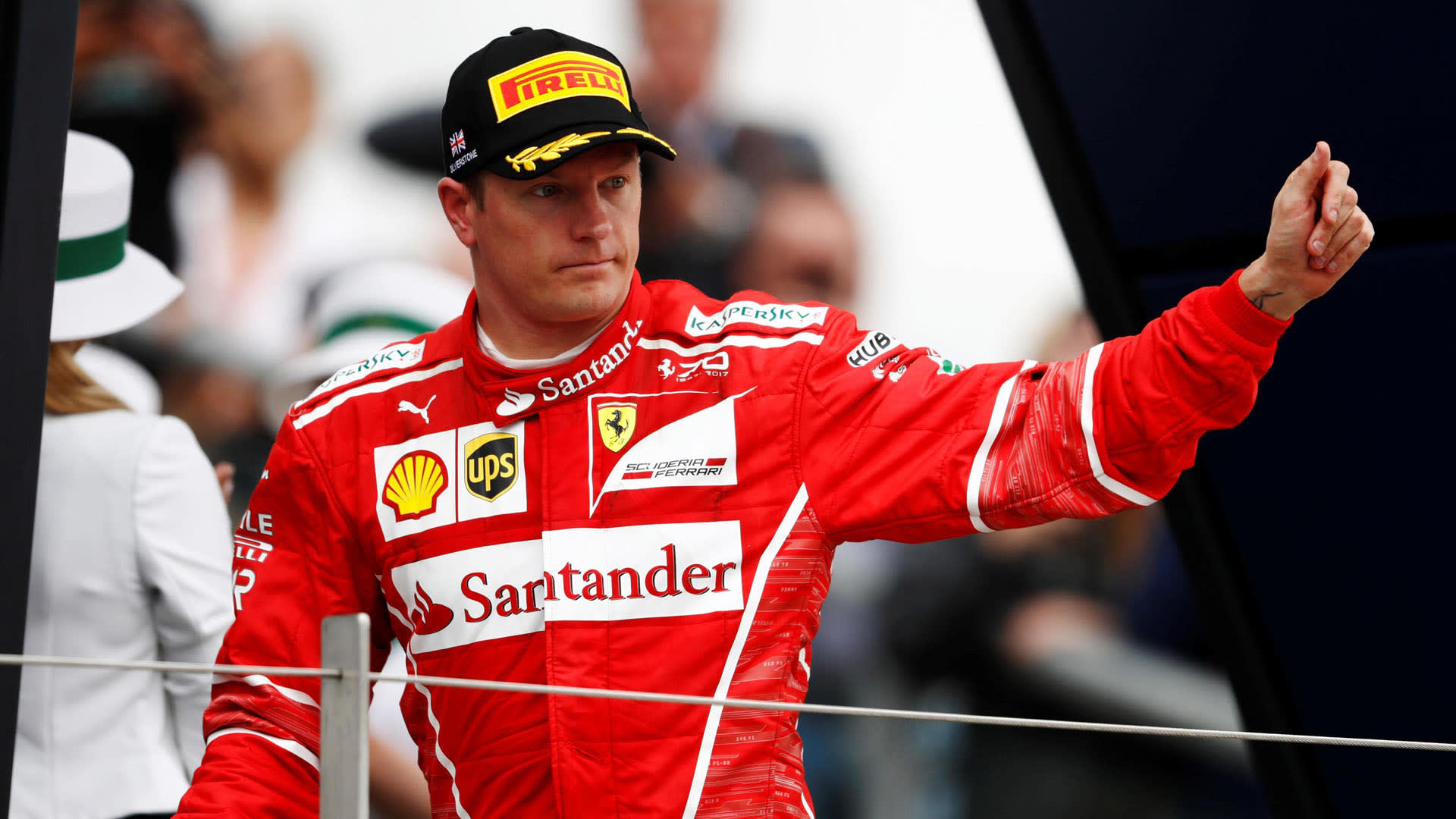 The Silverstone Party
There is no doubting that the British fans produce something special when it comes to Grand Prix racing. From packed and raucous grandstands to festival atmospheres away from the track action, there is a buzz that feeds through into every aspect of the weekend.
Alonso for example remarked how he could hear and feel the fans when he went fastest in Q1. Hamilton too was wrapped up in the occasion when he grabbed pole... and as for the sensations of victory? The images do all the talking...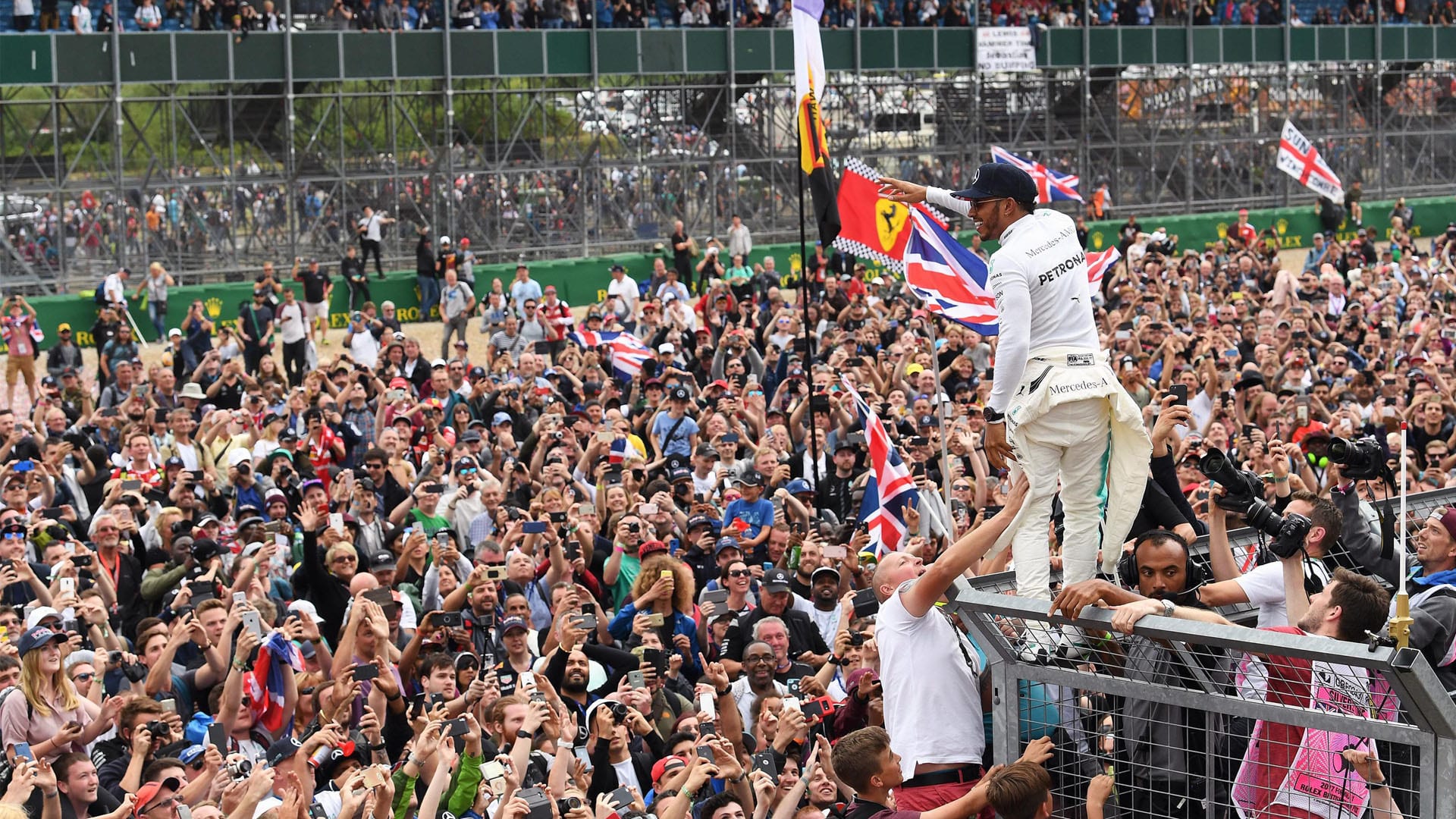 The Losers

Ferrari fall back from Mercedes
Ferrari were beaten even without the tyre problems that afflicted both their drivers.
Raikkonen traded fastest laps with Hamilton for a while but it was soon clear that he could offer no realistic challenge to Hamilton. The best Ferrari was 0.224s slower than the best Mercedes in Sector 1, which ran from the start/finish line to just before Brooklands corner; 0.451s slower in Sector 2, from that reference point round to the exit of Chapel Curve; and only 0.016s slower from that reference point back to the start/finish line. So the Mercedes were faster in the twisty stuff just after the start, and the virtually flat-out, flowing curves that take the cars through Copse, Maggotts, Becketts and Chapel. That's a worrying dynamic for the Prancing Horse.
On that basis, it's also hard to argue that Bottas would also have had the pace to run up front, had he not taken a grid penalty for a gearbox change.
The tyre problems proved dramatic and costly - but for the first time this year Ferrari simply weren't genuine contenders for victory.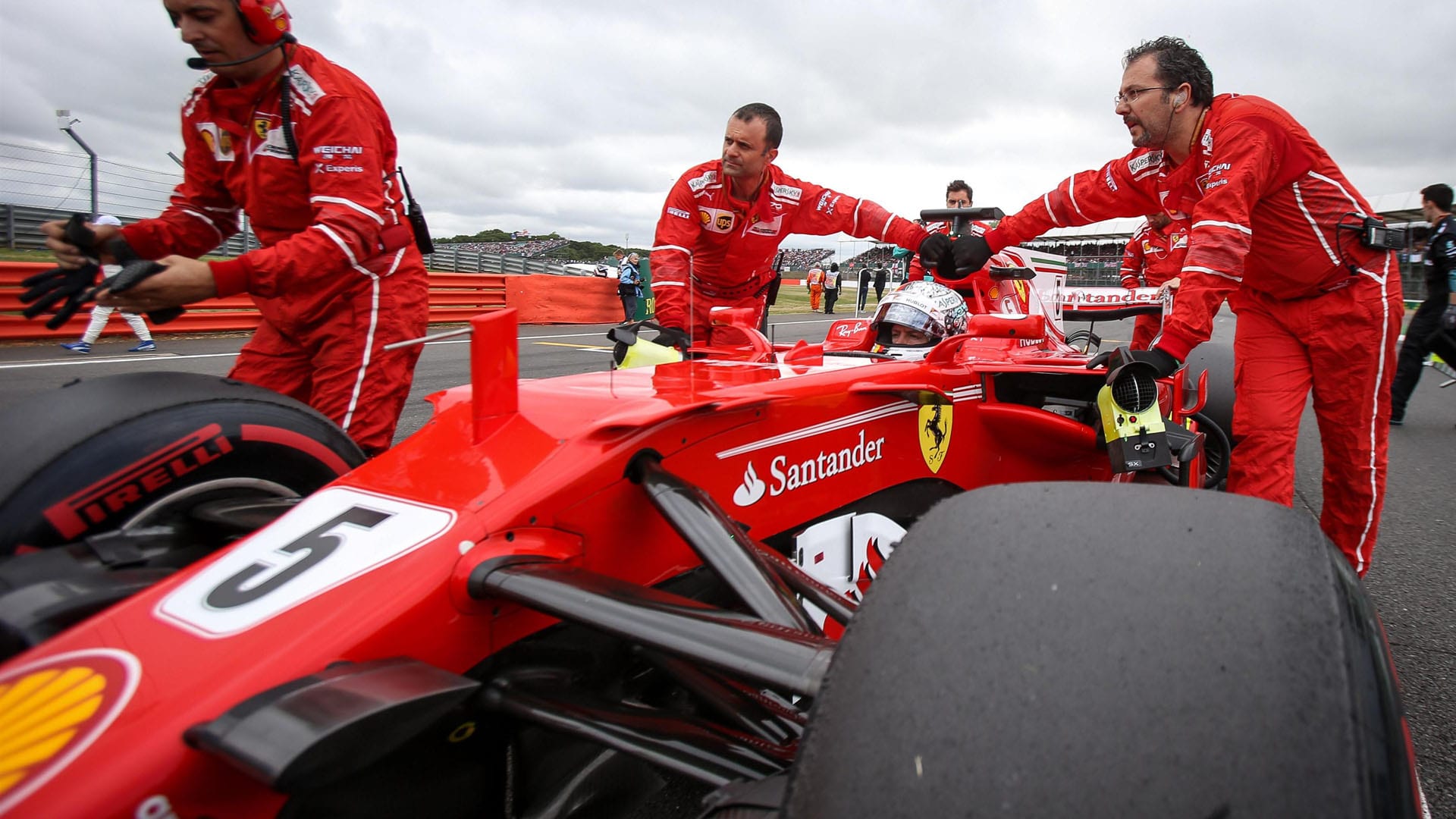 Vettel's championship advantage

Of course, the hardest hit at Ferrari was Sebastian Vettel. Tyre dramas demoted him from fourth to seventh, slashing his championship lead from 20 points to just 1.
The German had been in the thick of it all day - first grappling with Max Verstappen, at the start and again on lap 13, and then later with Valtteri Bottas. On both occasions he ultimately came off worse.
More worrying for the German will be whether Silverstone represents a changing trend. It has now been five races since Ferrari captured pole - and seven since Vettel managed it. In that time, Hamilton has claimed four.
It has also been five races since Vettel last triumphed - and in that time Hamilton has won twice, with Bottas and Ricciardo sharing the other two victories. Gone, in other words, is Vettel's relentless consistency. He was off the podium in Canada, Azerbaijan and Great Britain - three of the last four races, in other words.
He will have plenty to think about over the next few weeks - and plenty to put right in Hungary.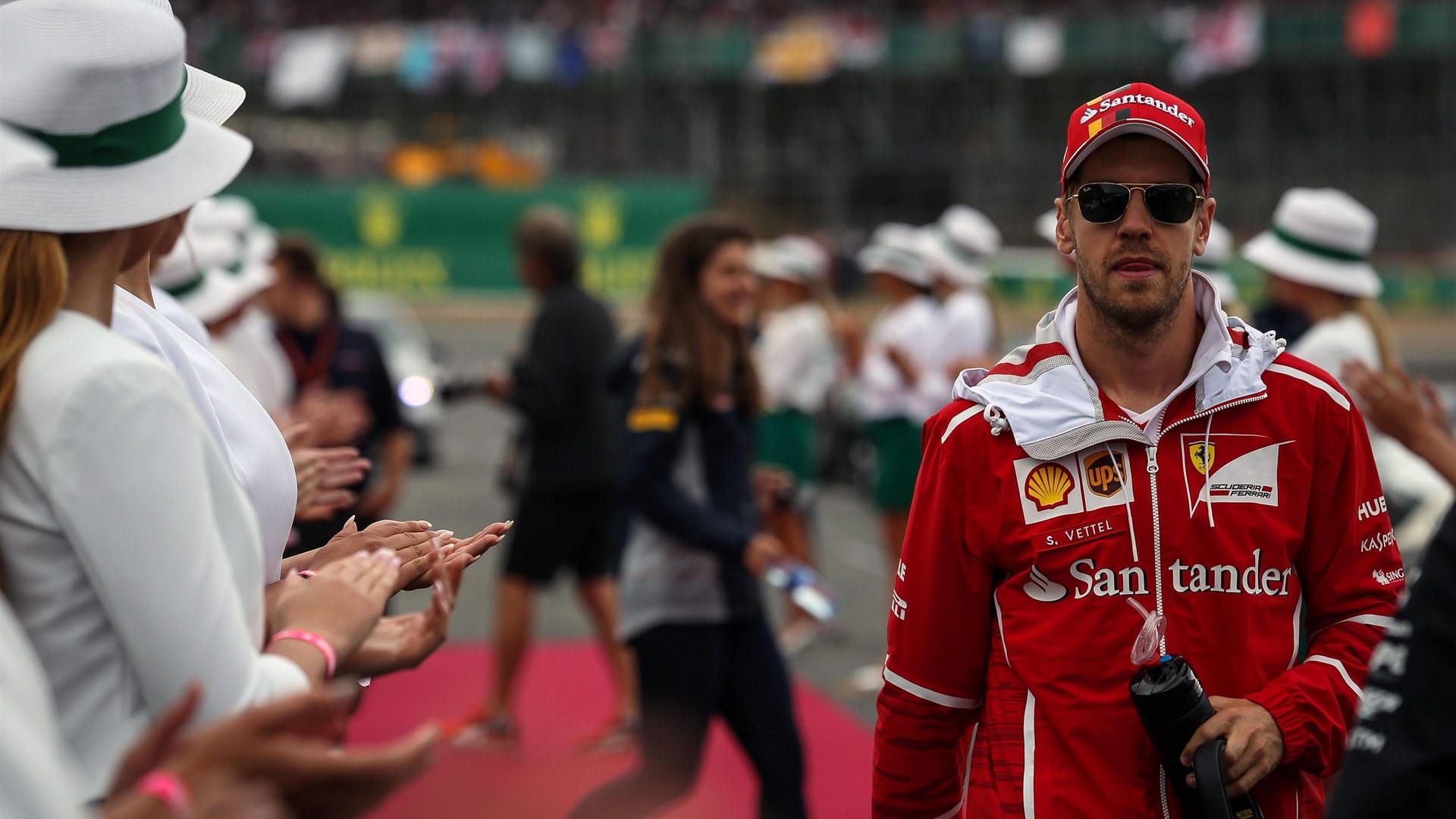 Kvyat's opening-lap hat-trick
When it comes to disaster, Toro Rosso's was pretty significant. Daniil Kvyat and Carlos Sainz debated the source of blame afterward, but the damage was undeniable: Sainz eliminated on the first lap, Kvyat left with damage that restricted him to 15th at the flag.
"I'm not going to say much about what happened today on lap 1 with Daniil, the images talk for themselves – it's just very frustrating to have not finished another race," Sainz said. 
"Even if I was able to continue after the collision with Carlos, my race was also compromised and I'm obviously not happy with what happened," Kvyat said. "I was ahead and on a dirty line, so it's normal to have some understeer, and then, all of a sudden, the crash took place. These things happen and sometimes they're unavoidable. It's a real shame, as this has damaged both us drivers and the team, which I feel very sorry for."
The trouble for Kvyat is that this is part of a sequence. He went off in Baku after misjudging his braking point on the first run down to Turn 1. And he did likewise in Austria, with famous results. Three opening-lap incidents in three races doesn't make for great reading...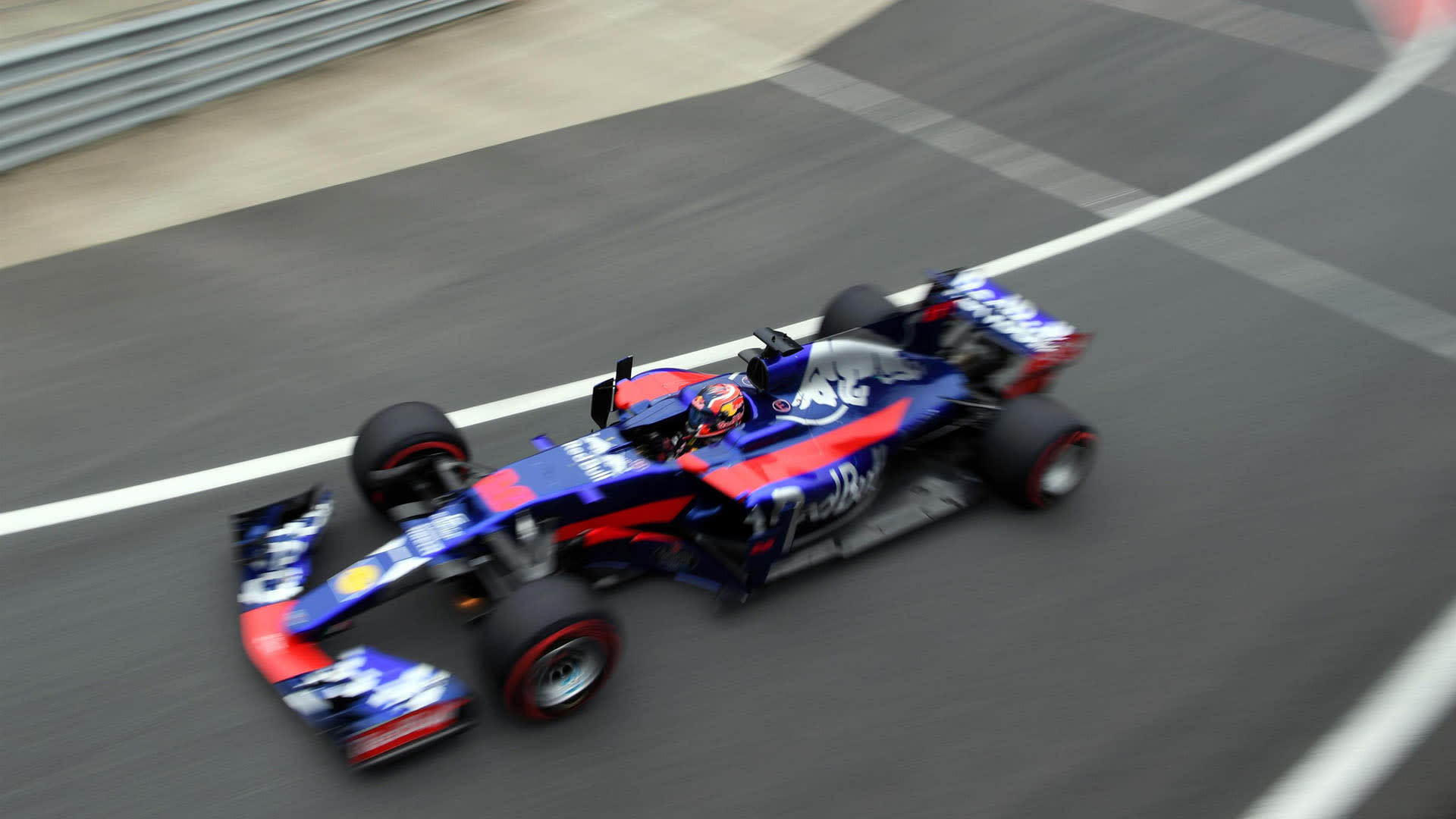 Palmer and catching a break
What does Palmer have to do to turn his season around?
He struggled in comparison with team mate Hulkenberg on his home track, having comfortably outpaced him the previous weekend, but even so was well placed to challenge for the points from 11th on the grid. He didn't even make it to lights out though, with his R.S.17 quitting on him during the original formation lap, leaving him to walk home.
"Going out at the start of the race is really frustrating," he said with serious understatement. "We had a hydraulic leak, which is pretty gutting as I think we were in a good position. Eleventh with new tyres, a car that was working really well with lots of different options on strategy: all was looking good to get some points. I have had so much support all weekend that it would have been sweet to get them here."