A factory shutdown it may have been, but it was by means a quiet summer on the news front, with Daniel Ricciardo's switch to Renault for 2019, Fernando Alonso's F1 exit at the end of this season, plus Carlos Sainz's move to replace him at McLaren and Pierre Gasly's promotion to Red Bull all confirmed since the Hungarian Grand Prix.
Speaking of Hungary, that race capped off what was a thoroughly-exciting and drama-filled opening half of the season, with Lewis Hamilton triumphing at the Hungaroring to extend his championship lead over Sebastian Vettel to 24 points.
And after a well-deserved break, the Mercedes driver has the opportunity to extend that advantage this week at one of the most eagerly-anticipated races on the calendar, the Belgian GP. It won't be easy, with this Spa circuit, set in the picturesque Ardennes forest, often producing a shock or two.
So, with part two of the 2018 F1 season set to get underway, who has history in Belgium? Here's what you need to know ahead of this year's Grand Prix...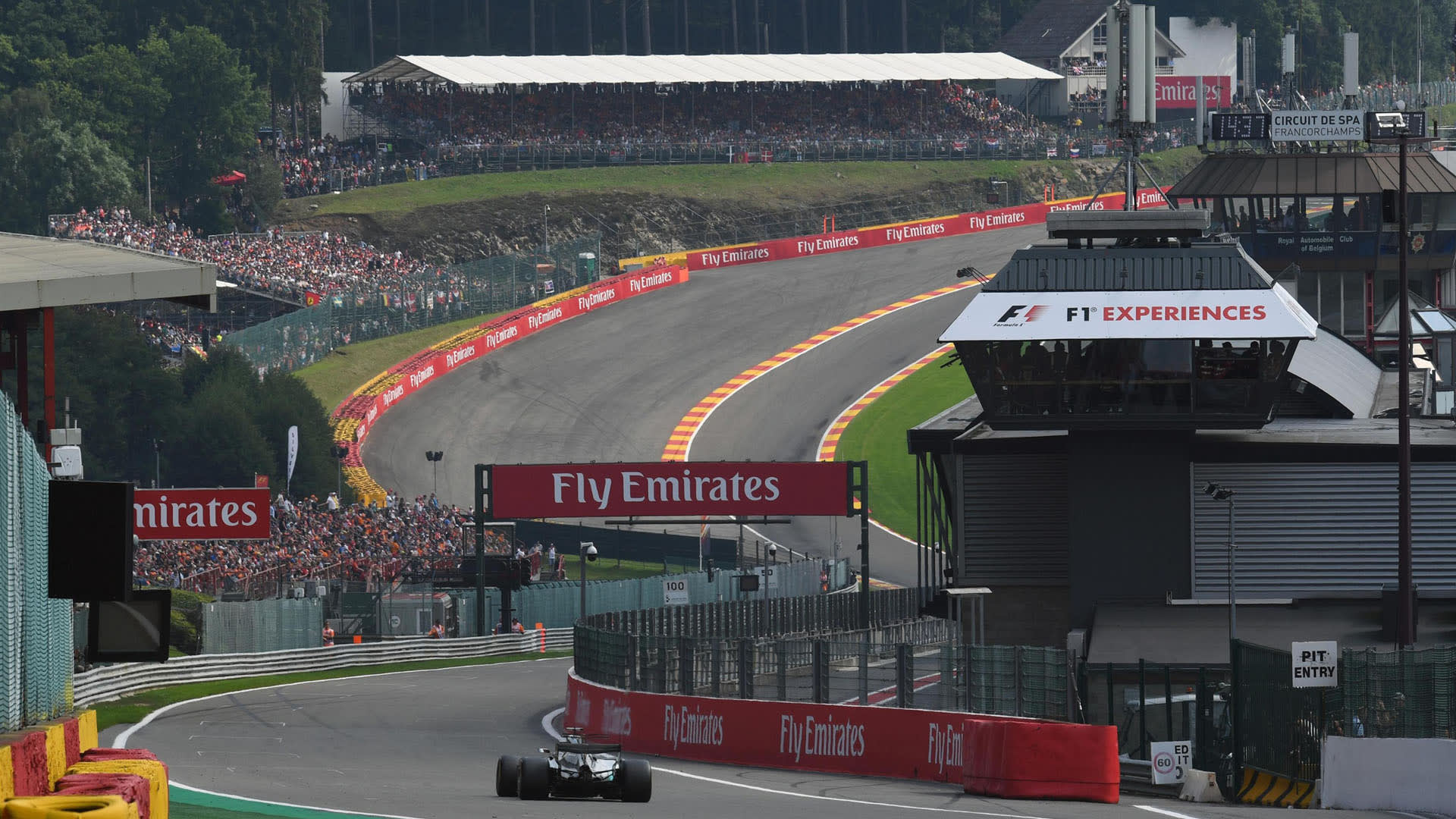 The form book
Championship leader Hamilton has had mixed fortunes at Spa over the years, having retired here four times, more than at any other circuit in his F1 career. But he has also won here on three occasions and taken four poles. Should he triumph for a fourth time this weekend, he'll equal the Spa record of Jim Clark and current Ferrari rival Kimi Raikkonen.
Raikkonen's team mate Vettel will be desperate to bounce back from his disappointing end to part one of the season, but the German hasn't had the best of times when racing here. In fact, he's won just twice at Spa, taken just one pole and has only led three laps in Belgium during the turbo hybrid era - all last year.
Over at Red Bull, it be will the first time Ricciardo gets behind the wheel of the RB14 since his shock switch to Renault was confirmed. The Australian was the winner here in 2014, and he finished on the podium at Spa in both 2016 and 2017, though he's had something of a tough time this season, with team mate Max Verstappen enjoying a better time of late.
Spa tends to throw up unusual results (and not just when it comes to the race winner) with Verstappen breaking the record for youngest front-row starter ever here in 2016 (which has since been beaten by Lance Stroll). And in that year's race, Hamilton made the top three from 21st on the grid, the lowest starting position for any podium finisher in Spa history, while each of the 2011, 2012 and 2013 events featured a podium finisher who started outside the top eight.
Plenty to look forward to, then…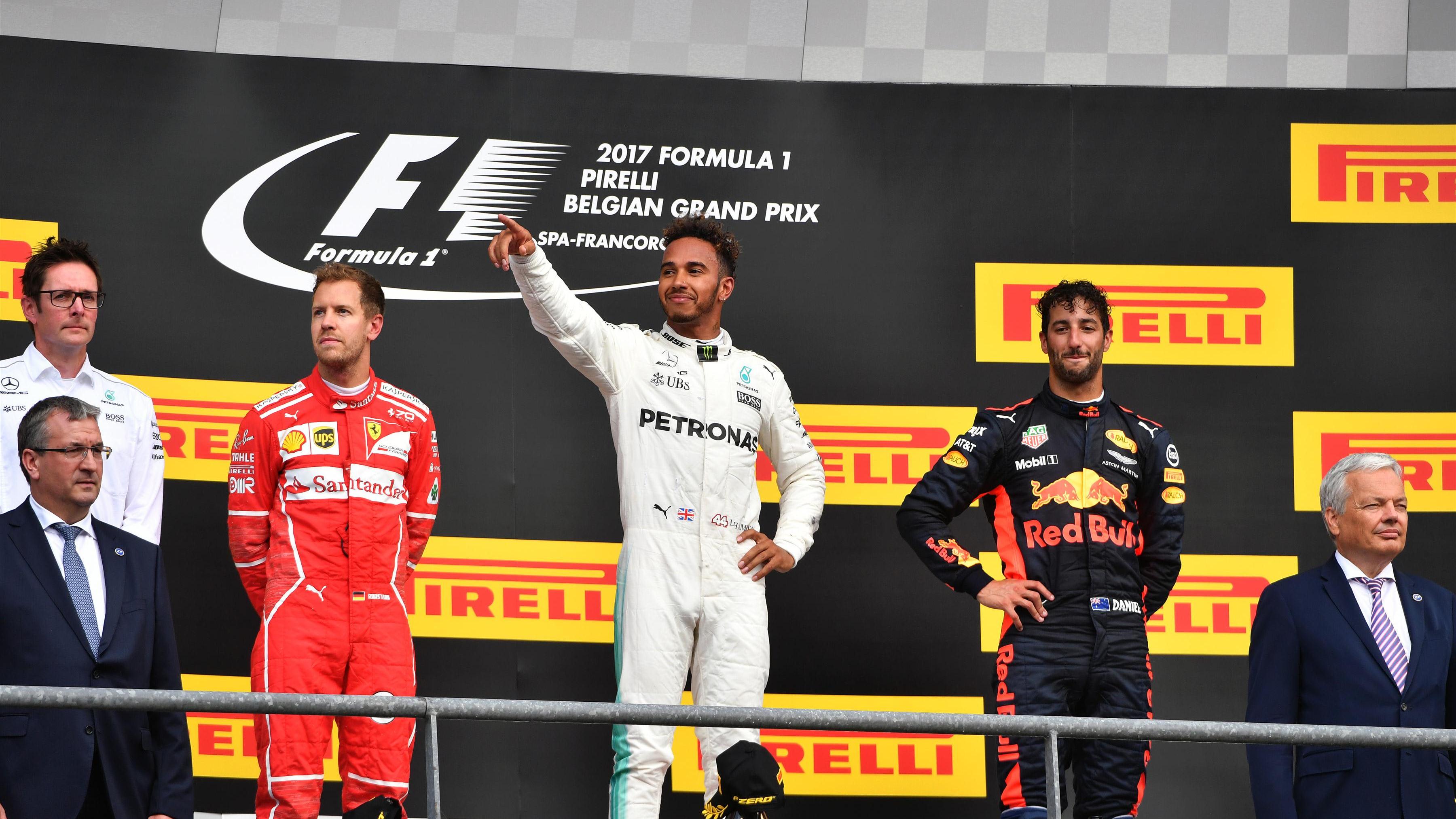 The stats that matter
This weekend will be Hamilton's 111th start for Mercedes, surpassing his career total at McLaren (110). He is the only man to make 100 Grand Prix starts for two different teams and the only driver to make 200 starts for one engine manufacturer.


Vettel is currently tied on wins (51) and podium finishes (106) with Alain Prost, while a top-eight finish this weekend will take the German through the 1,000-point barrier for Ferrari.


Raikkonen is seeking the 100th podium finish of his career this weekend, something only previously achieved by Schumacher (155), Hamilton (126), Prost (106) and Vettel (106).


Despite a good finishing record here (with one win and two more podium finishes), Ricciardo has never started in the top four on this track and has only outqualified a team mate once (Daniil Kvyat in 2015).


Verstappen (below) has never finished higher than eighth in three starts at Spa and has never completed a lap in a top four position here.
The most successful track of his F1 career so far, Hulkenberg has twice finished fourth twice at Spa (2012, 2016) but only once at any other circuit (Korea 2013), and he's still never had a podium finish after 147 starts.


Grosjean finished third for Lotus (Enstone) at the 2015 Belgian GP, which is the Frenchman's only podium finish in the turbo hybrid era.


Alonso has never won at Spa, and has failed to finish here six times in his career, more than at any track other than Montreal (8 times).


Force India's Perez has only reached Q3 once in the last five races (Hockenheim) - his worst run since mid-2016 - but he has qualified in the top four twice here (2012, 2015) - something he's never done anywhere else in his F1 career.


Stroll took one of his 15 European F3 wins at Spa in 2016 on his way to winning the title, a race in which seven of the 12 laps were run behind the Safety Car due to rain (Stroll claimed a hat-trick with pole and the fastest lap).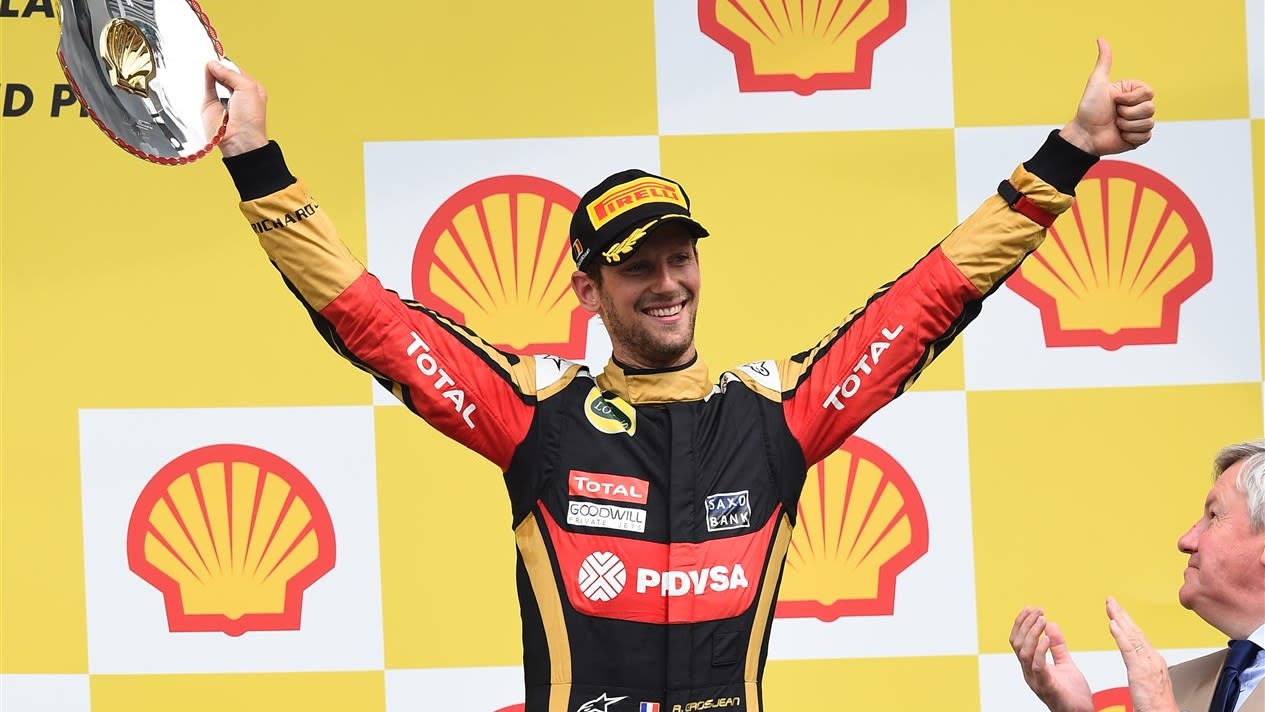 The circuit

Only the truly great drivers conquer Spa, with Ayrton Senna and Michael Schumacher among those to master this magical circuit.
Add in the wonderful setting in the Ardennes forest and it's no surprise that it's a fan favourite, with a record 265,000 spectators turning out to watch the 2017 Spa showdown.
Spa is among Formula 1 drivers' most loved tracks too, with its mix of long straights and challenging fast corners allowing them to push their cars to the edge of their capabilities – if it's dry, that is.
The size of the track and the nature of Belgian weather mean it can sometimes be raining on one part of the track and dry on another, meaning grip can vary from one corner to the next.
Keep an eye on the thrilling Eau Rouge, arguably the most famous sequence of corners in the world, as the drivers flick left, right and then up the hill through Raidillon.

The tyres


With its challenging fast corners, this 7.004km-long track puts plenty of energy through the tyres and that perhaps reflects on the choices for F1's return to action at Spa. The white-marked mediums, yellow-marked softs and red-marked supersofts will be on show in Belgium.
While at first glance it would appear that the compounds selected are a step harder than the choices made for the same race last year (soft, supersoft, ultrasoft), that isn't actually the case as all the 2018 compounds are a step softer than their 2017 equivalents.
Here's what Pirelli's Mario Isola had to say about the tyre choice for the Belgian Grand Prix…
"There's been an interesting range of tyre selections for Spa, which are all different among the top teams. In fact, most of the teams all the way down the grid have gone for some quite diverse choices. This could lead to a wide variety of different strategies, especially as Spa is a track where it's very possible to overtake. But Spa is also very hard to predict, especially when it comes to the weather, so teams will have to react to circumstances as they arise as well. Tyre-wise, this really isn't an easy race.
"Nonetheless, last year we made quite an aggressive tyre nomination, and the race underlined the validity of this choice, so we've gone for the same nomination again: albeit with different names for the compounds."

The forecast
The weather is notoriously changeable (it can often be simultaneously raining on one part of the track and dry on another), making this track an unpredictable and demanding one for the drivers. So, how's it looking for them this weekend?
Friday looks to be the only dry day of the Grand Prix weekend, with a temperature high of 17 Celsius predicted, but we could be in for an exciting qualifying session if the expected rainfall does indeed arrive. And the race itself could be a similar story, with rain forecast in the middle of the afternoon, just in time for the start of the race…

When does the Belgian Grand Prix start?
| | | |
| --- | --- | --- |
| DATE | SESSION | TIME |
| Friday August 24th | FP1 | Local 11:00 / UTC 09:00 |
| Friday August 24th | FP2 | Local 15:00 / UTC 13:00 |
|   |   |   |
| Saturday August 25th | FP3 | Local 12:00 / UTC 10:00 |
| Saturday August 25th | Qualifying | Local 15:00 / UTC 13:00 |
|   |   |   |
| Sunday August 26th | Race | Local 15:10 / UTC 13:10 |
Fantasy F1 – get in the game!
Have you picked your Fantasy F1 team yet? If not, don't panic – you have until just before qualifying to get involved and try to win some amazing prizes.
It's free to play. Click here to sign up!

Watch full F1 Race replays* or Highlights on F1 TV Access. Sign up now. *Only available in certain regions (view full F1 TV Content Schedule here)