A dramatic debut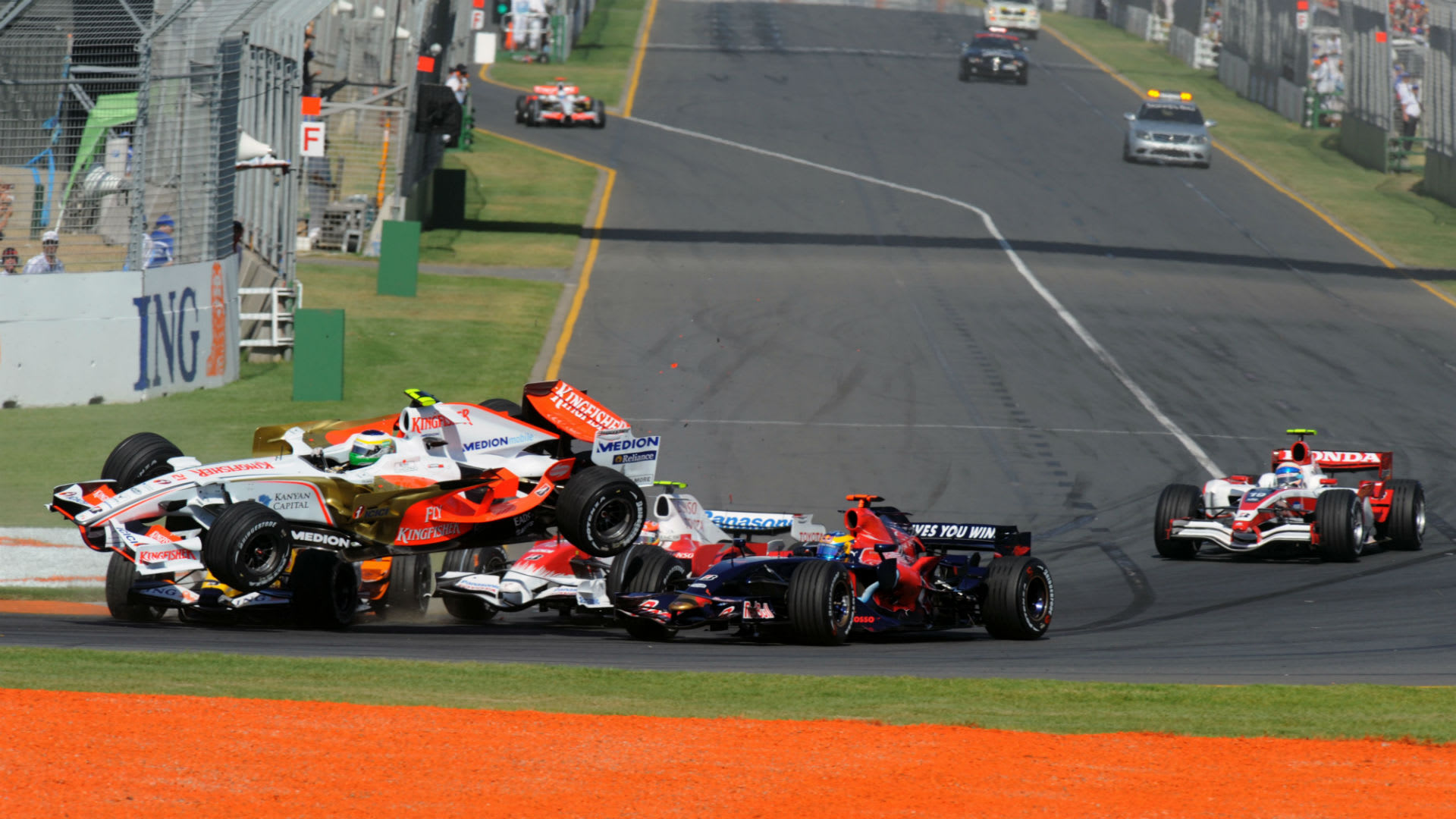 Having won races in their former guise of Jordan, the Silverstone-based team went through something of a fallow period - and several changes of ownership - before being bought by the charismatic Vijay Mallya in 2007.
Rebranded Force India, they embarked on their Formula 1 journey in 2008 – with Giancarlo Fisichella and Adrian Sutil tasked with making it a maiden season to remember, and they kicked things off in Australia.
It wasn't a great opening weekend, qualifying in 17th and 19th, before both cars retired from the race - Fisichella on the first lap following a collision with Nelson Piquet Jr (shown above), and then Sutil on lap 8 with a hydraulics problem.
Things would, however, get better…

Fisichella's pole at Spa

The 2009 campaign saw Force India make dramatic progress, with in-season upgrades boosting the VJM02's pace. But heading into that year's Belgian Grand Prix, their qualifying performances hadn't been great – and they seemed a long way off securing a pole position.
In the season's 11 previous races Fisichella had qualified no better than 13th, but at Spa his Force India was suddenly - out of nowhere - bang on the pace, enabling him to take a shock pole position ahead of Jarno Trulli in the Toyota.
"When you do a pole position with a good car it's fantastic for sure, but when you do it like today, in my case not with a winning car but with a small team with a limited budget, it's something very amazing, very unusual," beamed the Italian.

First points in F1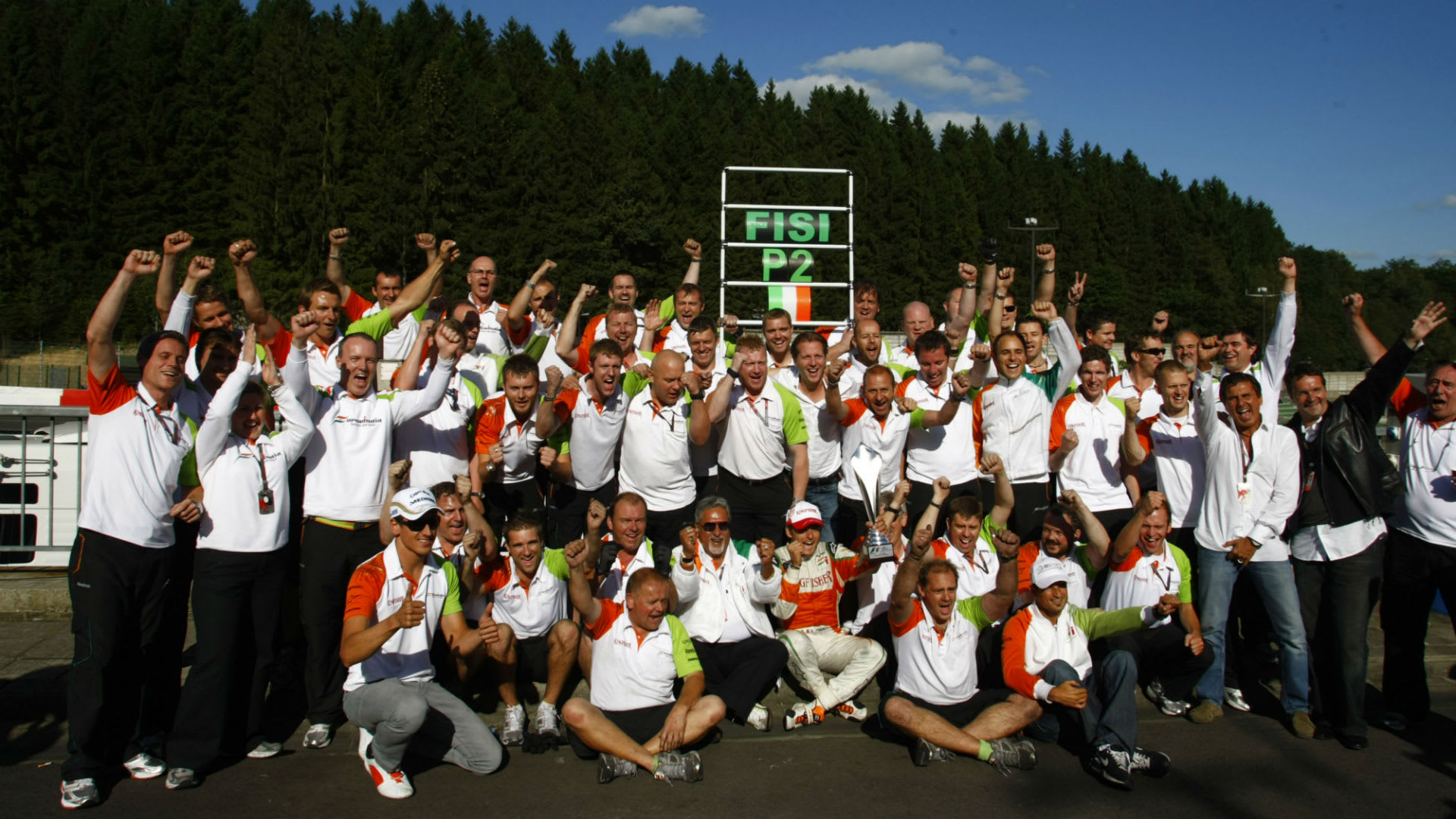 Force India's dream weekend didn't end there. The next day Fisichella handled the pressure, delivering an elegant performance to finish second to Spa specialist Kimi Raikkonen, a result no one had expected heading into this race.
The Italian's mature drive confirmed the team's first F1 world championship points and podium place - and ultimately helped earn Fisichella a seat alongside Raikkonen at Ferrari for the rest of the season, replacing the injured Felipe Massa.
Force India took their second top-ten finish of the season at the following race, with Sutil landing fourth in Italy, but no more points followed in 2009, making Belgium a memorable race for all involved.

Perez's podiums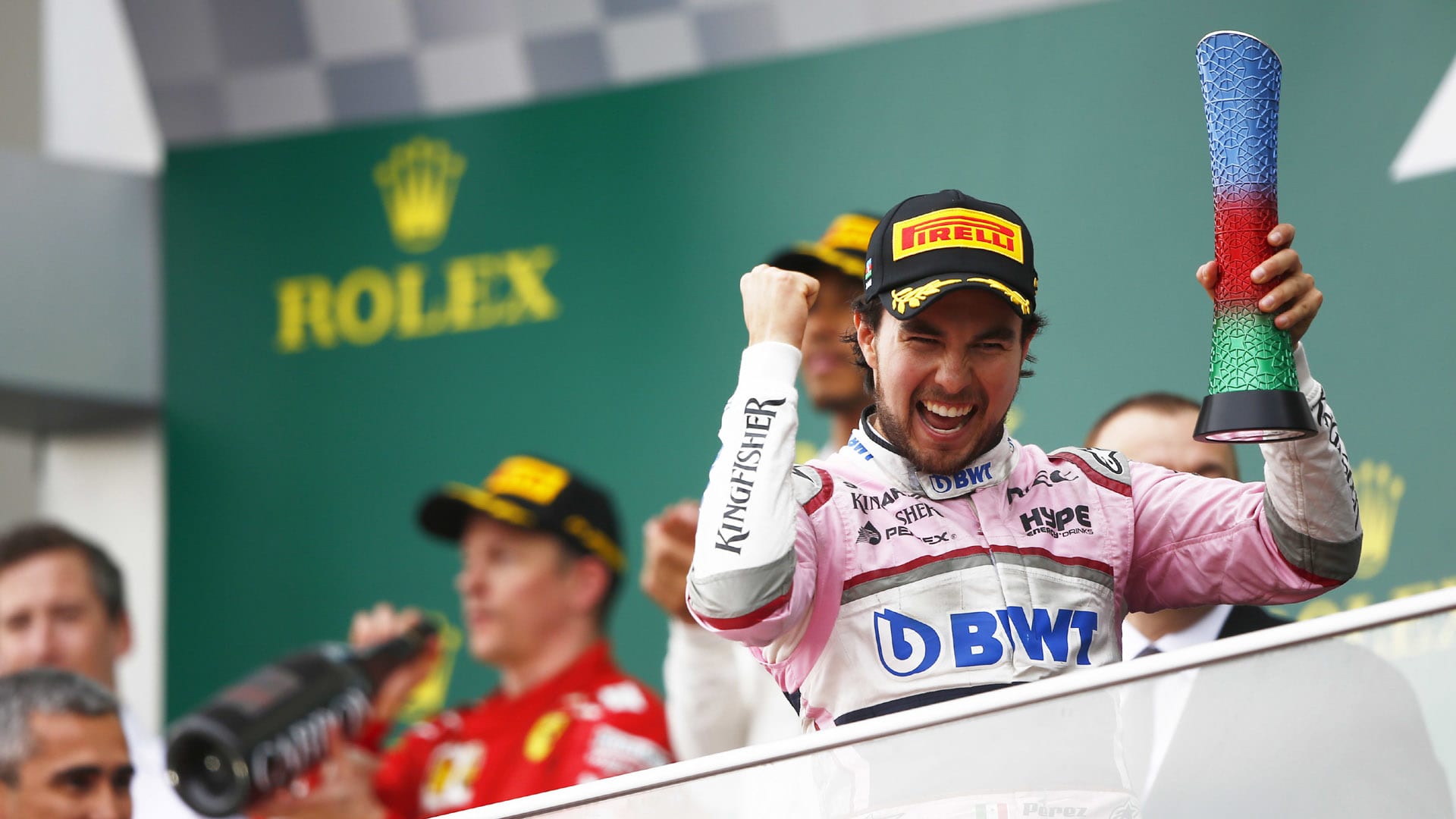 Continuing the theme of top-three finishes, Force India have made a habit of being the midfield team to pick up surprise podiums in recent years – and a certain Sergio Perez has been the man to deliver the goods.
The Mexican has secured the remaining five of the team's six podium finishes in their history, kicking off that run in only his third race for the team when he notched up a stunning third place at the 2014 Bahrain Grand Prix.
Incidentally, all of his podiums for Force India have been P3's, with Russia 2015, Monaco 2016 and Europe (Baku) 2016 all producing the same result for Perez. He repeated his Baku exploits this year, recovering from a first-lap pit stop to register yet another shock podium.

Solid progress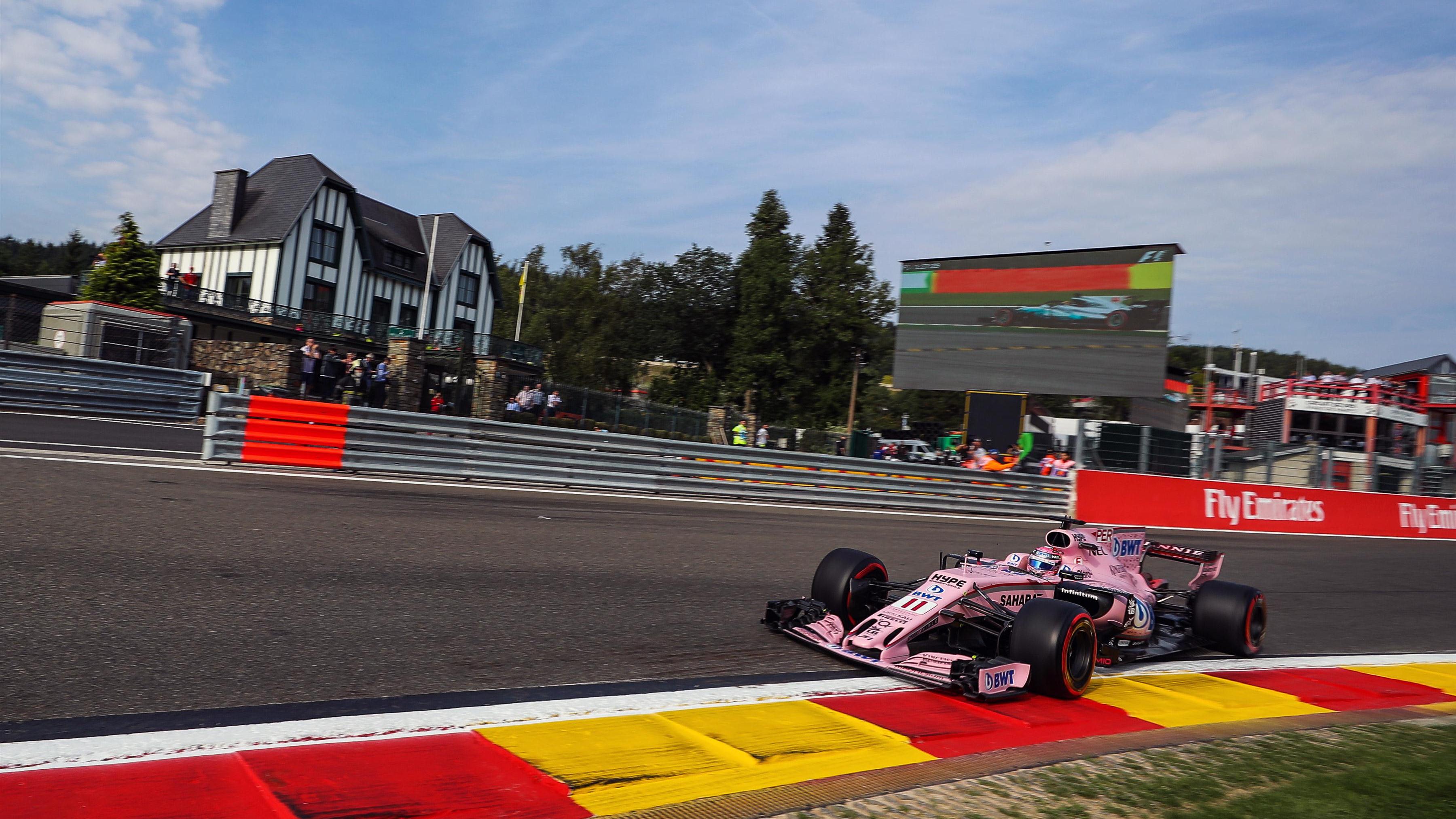 Force India's uphill path has been truly remarkable. It all began after a new technical tie-up with McLaren meant Mercedes power from 2009, giving the team an opportunity to challenge for higher positions.
That they did, with the team - apart from in 2012 - always matching or improving on their previous year's result in the constructors' standings. Heading into the turbo-hybrid era, which kicked off in 2014, they had jumped from an opening-season 10th to sixth in 2013.
They extended their Mercedes engine deal for 2014, which ended their McLaren agreement and meant they would use Mercedes' engine, energy recovery system, gearbox and hydraulics. It helped them, as you'll find out below, to reach even greater heights…

Best of the rest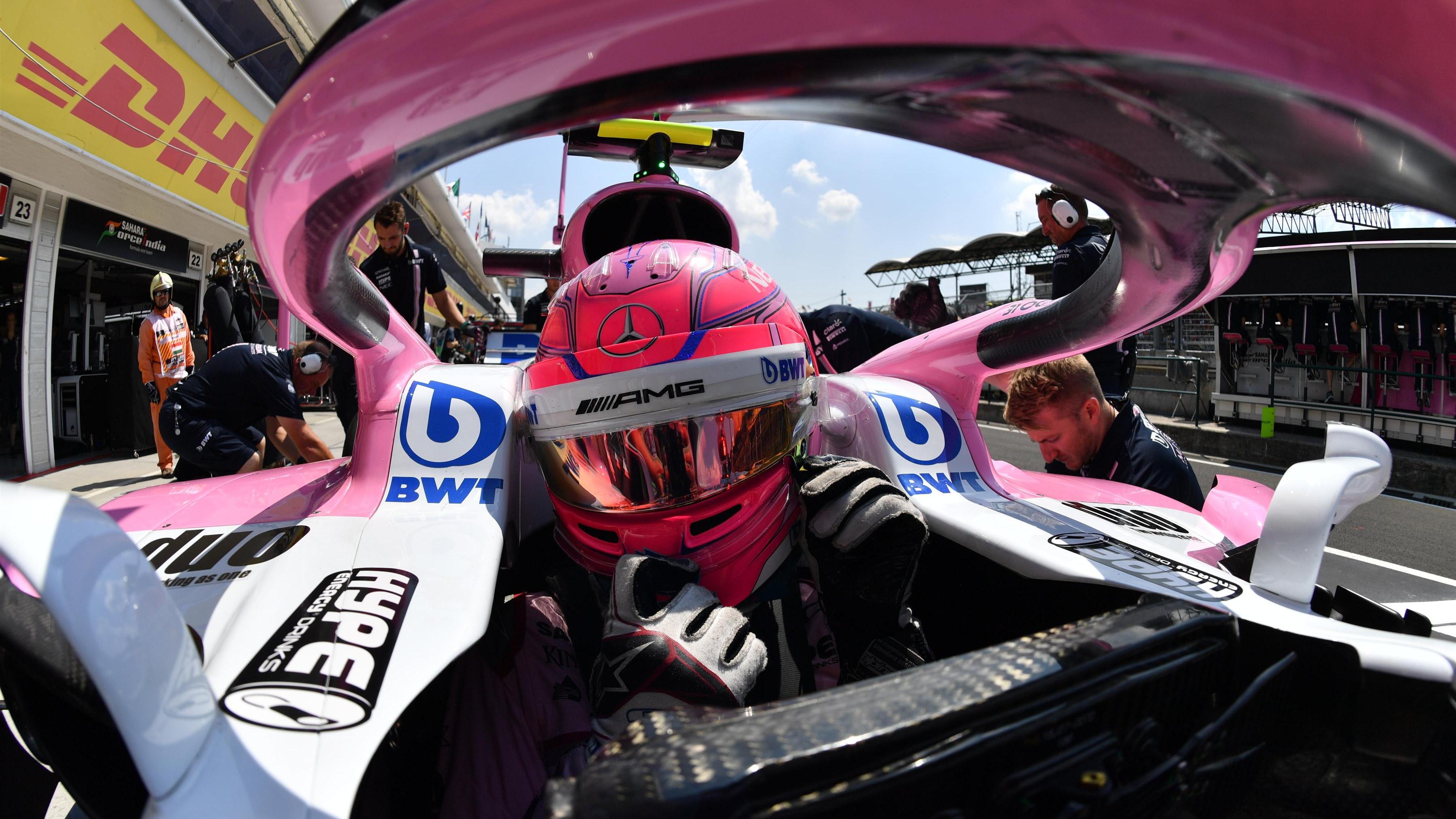 It's no secret that Force India have been surviving on one of the lower budgets in F1, so to punch above their weight in the way they have is certainly something to be proud of.
It was in 2016 when they truly reached their pinnacle, securing fourth place in the constructors' table – and they followed those exploits up with another P4 a year later.
They've been able to attract good drivers over the years, with Nico Hulkenberg and Paul di Resta among their former stars, and they currently boast the consistent and highly talented pairing of Perez and Esteban Ocon.
Their fight to retain their 'best of the rest' title is proving a tough one this year, with Renault currently leading the way, but with their future seemingly secure, they will now be able to focus on upping their performance.
And with a stable team at the helm, spearheaded by Deputy Team Principal Robert Fernley and Chief Operating Officer Otmar Szafnauer, they have been able to build on their foundations, and are reaping the rewards. Long may that continue.

Force India's F1 record
| | | | |
| --- | --- | --- | --- |
| Year | Drivers | Points | Position |
| 2008 | Adrian Sutil, Giancarlo Fisichella | 0 | 10th |
| 2009 | Adrian Sutil, Giancarlo Fisichella, Vitantonio Liuzzi | 13 | 9th |
| 2010 | Adrian Sutil, Vitantonio Liuzzi | 68 | 7th |
| 2011 | Adrian Sutil, Paul di Resta | 69 | 6th |
| 2012 | Paul di Resta, Nico Hulkenberg | 109 | 7th |
| 2013 | Paul di Resta, Adrian Sutil | 77 | 6th |
| 2014 | Sergio Perez, Nico Hulkenberg | 155 | 6th |
| 2015 | Sergio Perez, Nico Hulkenberg | 136 | 5th |
| 2016 | Sergio Perez, Nico Hulkenberg | 173 | 4th |
| 2017 | Sergio Perez, Esteban Ocon | 187 | 4th |