ONE-LAP PACE
Ferrari are making a habit of showing good pace on a Friday, having previously not shown their hand until later in the weekend. In Hungary, Vettel set the ultimate pace on Friday and it was his team mate Raikkonen who delivered the goods with a cracking lap on the red-walled tyres.
The Finn has not got everything together when it matters this year, but it could be different this weekend. He loves this track and has good form here, having won four times – a Spa record held with Jim Clark. "I like this circuit, I enjoy the flow and with these cars, they are pretty nice here, so it's good," he said after topping the times in FP2.
There's more time to be found, too, especially given Vettel failed to hook up either of his supersoft tyre runs. Vettel backed out of his first push lap on supersofts and locked up at La Source on his second.
The Ferrari duo were boosted by an upgraded Ferrari engine. Last time they introduced a new spec for the works team, back in Canada, it gave them a big boost and put them on par – or possibly ahead – of rivals Mercedes. Could we see a repeat here?
Well Mercedes will have something to say about that. They have brought an upgrade of their own and the early signs are encouraging. Hamilton was 0.168s off the pace, but was on course to beat Raikkonen's time – helped by the fastest middle sector – before an error in the final sector cost him two tenths and top spot.
Best single lap (combined sessions, all supersoft)
1 Ferrari (Kimi Raikkonen) 1:43.355s
2 Mercedes (Lewis Hamilton) 1:43.523s +0.168s
3 Red Bull (Max Verstappen) 1:44.046s +0.691s
4 Force India (Sergio Perez) 1:44.662s +1.307s
5 Renault (Carlos Sainz) 1:45.481s +2.126s
6 Sauber (Marcus Ericsson) 1:45.537s +2.182s
7 Haas (Romain Grosjean) 1:45.817s +2.462s
8 Toro Rosso (Pierre Gasly) 1:46.080s +2.725s
9 McLaren (Fernando Alonso) 1:46.153s +2.798s
10 Williams (Sergey Sirotkin) 1:46.451s +3.096s
It will likely be a fight between the two Ferraris and Hamilton for pole, with engine penalties for a fresh engine taking the other Mercedes of Valtteri Bottas out of the equation while Red Bull's lack of grunt from their Renault power unit hampered them on a circuit where drivers spend around 70% of the lap on full throttle.
"We have to be realistic, fifth and sixth is about where we expect to be around here due to our power deficit but we are trying to optimise everything on the car to be as close as we can," said Max Verstappen. Barring misfortune, they should have no trouble locking out the third row of the grid.
On a dramatic weekend for Force India, Sergio Perez showed some tremendous pace to mark out his pink car as the best of the rest. The Mexican was 1.3s off the pace, but his lap was a staggering eight tenths ahead of the next best team Renault.
Force India, like Williams, are benefitting from a Mercedes engine upgrade this weekend and have traditionally gone well here. That bodes well for a team that is now on zero points, following the FIA's decision to exclude the previous entity and grant them a new slot. Now on stable footing, new parts that have been sitting on the shelf can be put into production, meaning a big update is planned for Singapore.
Renault and Sauber were evenly matched and on the evidence of Friday will be fighting it out for the final two spots in Q3. Renault will only have one car in the top 10 at best, though, with Nico Hulkenberg taking a fresh set of engine components that relegates him to the back of the grid.
A fresh engine is a boost, though, with Sainz also benefitting, and it is possible to overtake. Renault haven't introduced a new spec here, but their chief Cyril Abiteboul said on Friday it could be ready in time for the next race at Monza.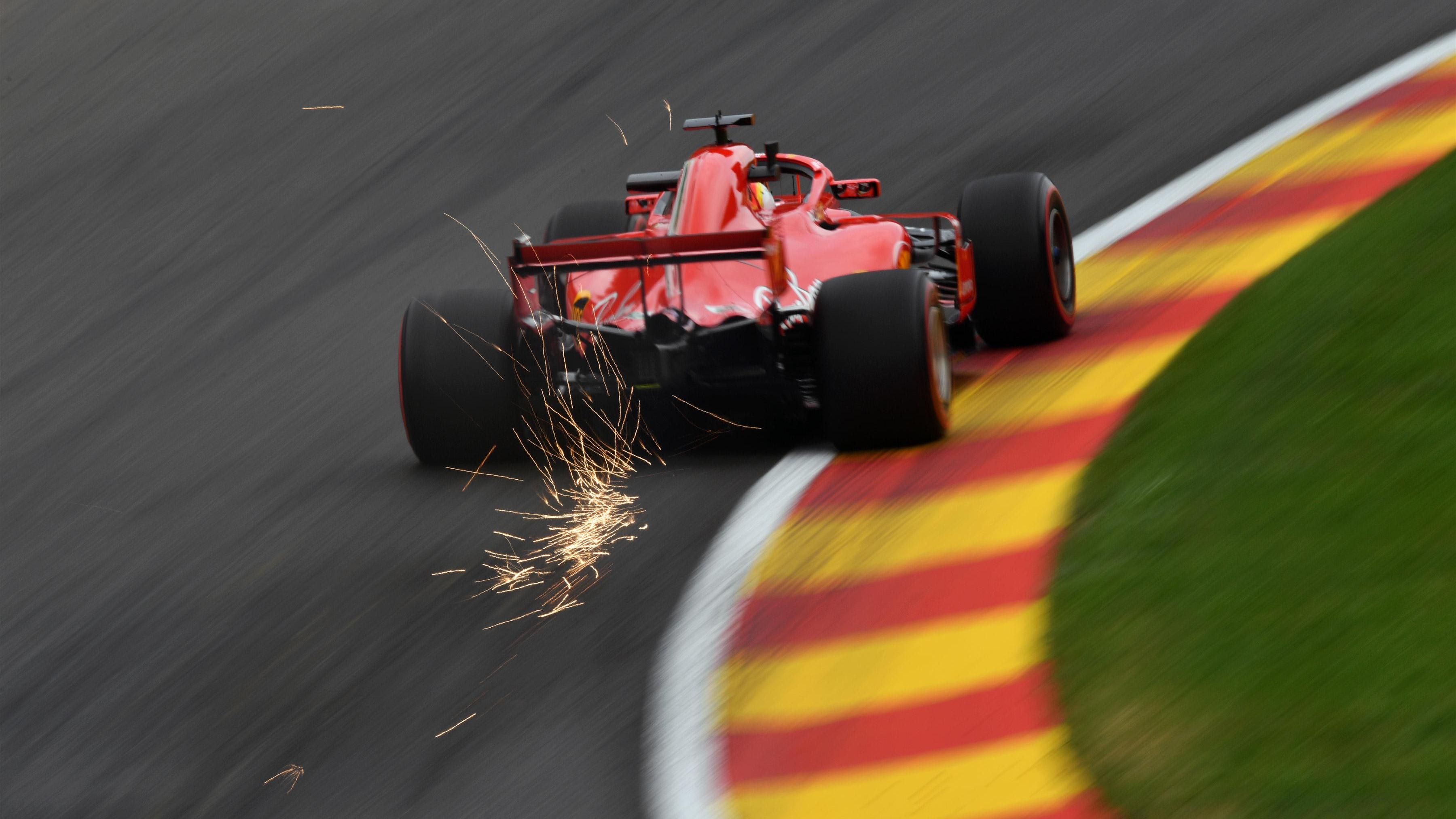 ULTIMATE LAP
Rarely this season have more than a handful of drivers per race weekend managed to put their best three sectors together to secure their ultimate lap. But at Spa on Friday, half the grid managed to achieve the feat…
1 Kimi Raikkonen 1:43.355s +0
2 Lewis Hamilton 1:43.523s +0
3 Valtteri Bottas 1:43.803s +0
4 Sebastian Vettel 1:43.831s +0.298s
5 Max Verstappen 1:43.394s +0.112s
6 Daniel Ricciardo 1:44.250s +0
7 Sergio Perez 1:44.662s +0
8 Carlos Sainz 1:45.290s +0.191s
9 Marcus Ericsson 1:45.537s +0
10 Charles Leclerc 1:45.550s +0.072s
11 Romain Grosjean 1:45.680s +0.137s
12 Nico Hulkenberg 1:45.753s +0
13 Esteban Ocon 1:45.762s +0.173s
14 Kevin Magnussen 1:45.949s +0.129s
15 Pierre Gasly 1:45.974s +0.106s
16 Brendon Hartley 1:46.008s +0.329s
17 Fernando Alonso 1:46.153s +0
18 Lance Stroll 1:46.435s +0.035s
19 Sergey Sirotkin 1:46.451s +0
20 Stoffel Vandoorne 1:46.466s +0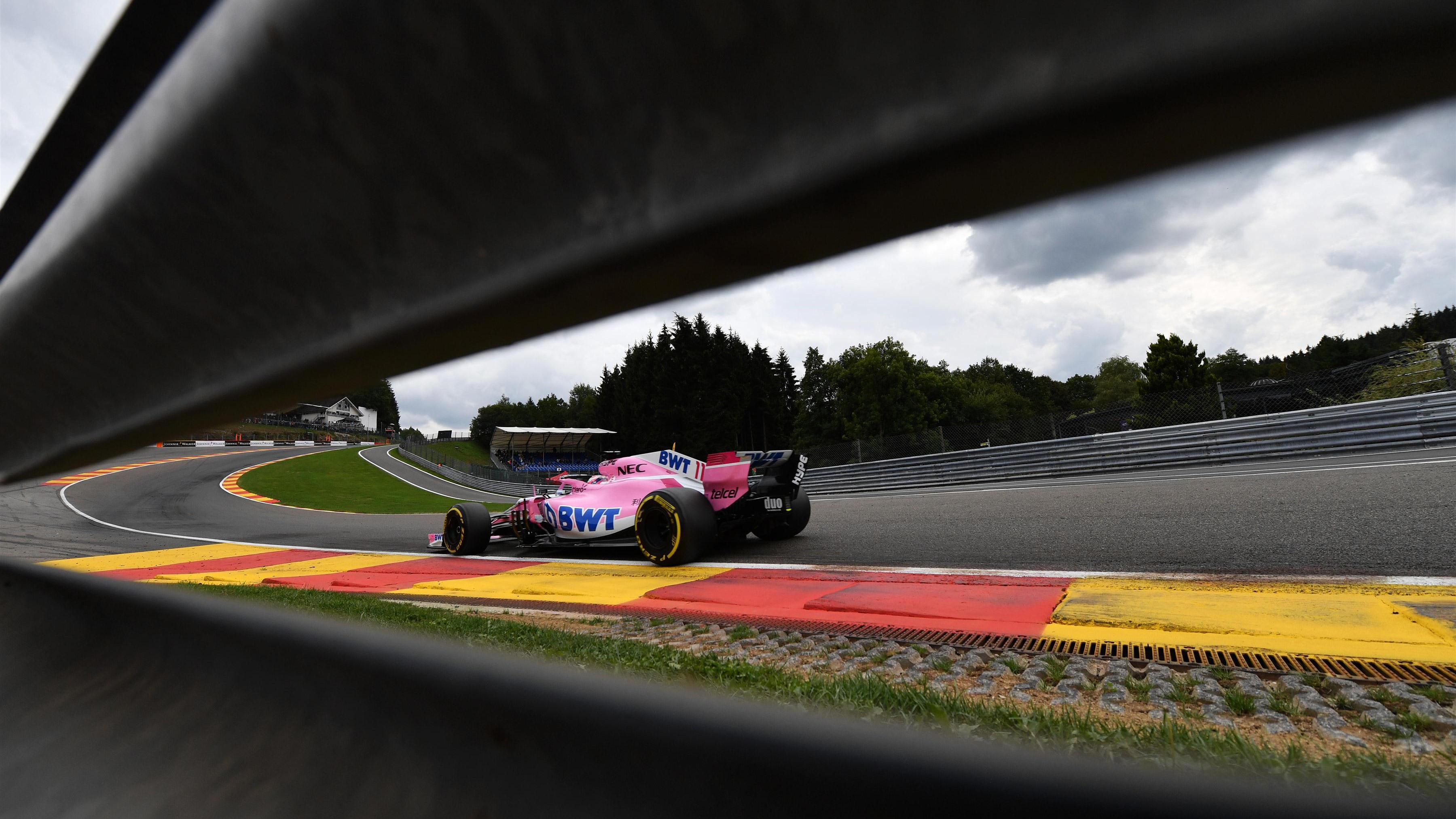 THE PERFECT LAP – 1:43.155s
Vettel has the most time to gain of the frontrunners, but that's not entirely surprising given he backed out of his first run on the supersofts and then made a mistake on the second, meaning he didn't have a comparable run on the softest compound available this weekend.
However, even if he did get it altogether, he would still have been fourth overall, more than four tenths of a second off the pace set by team mate Raikkonen, who along with the Mercedes duo of Hamilton and Bottas all managed to hook up their best three sectors on the same lap to nail their fastest time of the weekend.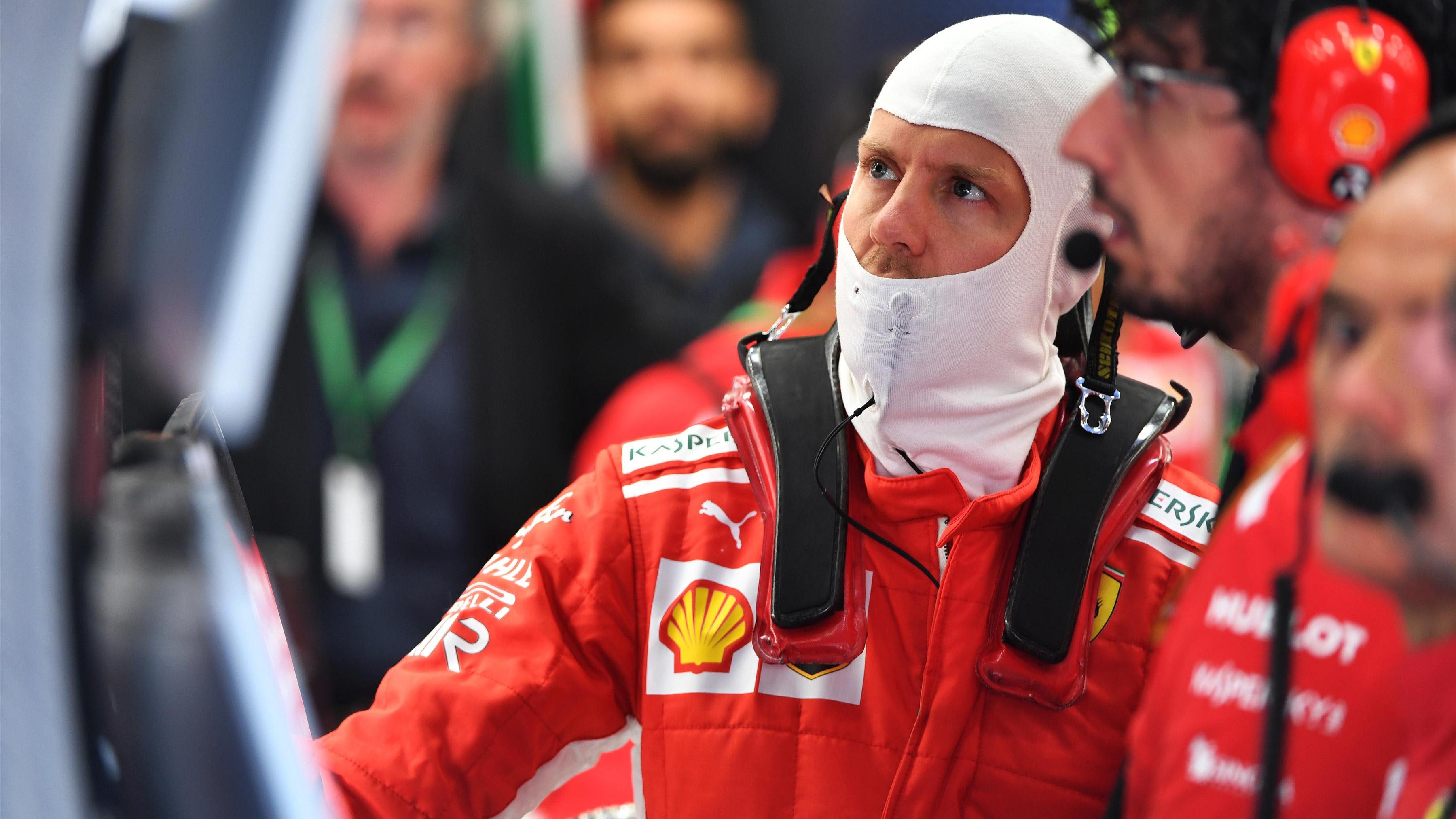 RACE PACE
This has been a Mercedes circuit for the last three years, but it looks like they have a fight on their hands for victory, particularly if they don't qualify on the front row, as they are level pegging with Ferrari in terms of long run pace, based on our data.
As ever, there are the usual caveats regarding fuel levels, but the feeling coming out of both camps is that it will be a very tight affair. Mercedes have time to find, with technical chief James Allison admitting "the long runs were poor and scrappy affairs with both drivers".
He added: "A mixture of traffic and flat-spotting meant that we didn't establish the rhythm that gives you a warm feeling going into Sunday."
Ferrari, meanwhile, tend to make big gains as the weekend goes on with both drivers admitting there was work to do to get the most out of their package. Who comes out on top on Sunday may well hinge on the homework they do overnight.
Long-run pace deficit (seconds per lap)
1= Ferrari
1= Mercedes
3 Red Bull +0.2s/lap
4 Renault +0.7s/lap
5 Force India +0.9s/lap
6= Toro Rosso +1.6s/lap
6= Sauber +1.6s/lap
8 Haas +1.7s/lap
9 McLaren +2s/lap
10 Williams +2.1s/lap
Red Bull are only 0.2s/lap off the pace in third and that data is supported by Verstappen's feeling in the car. "Our long run pace doesn't look bad at the moment either so I'm quite happy with that, with a bit more grip it should be even better," he said.
But team mate Ricciardo, who lost most of FP1 because of an engine injector issue, wasn't so happy in the car, despite making back some ground in the afternoon.
"We weren't quick enough today," he said. "Short and long runs, we still need to find some pace. We need to try and figure out how to do that. We did make changes through this afternoon session. I feel we improved one thing but created another problem so we didn't find the optimum set-up through the changes we made. That's Friday, we'll try and go better tomorrow."
Renault were the best of the rest in fourth, albeit half as second a lap off the pace. That bodes well for Hulkenberg as he bids to fight through from the back. It suggests Sainz should have the pace for a good haul of points, with Force India offering the greatest threat.
Sauber matched Toro Rosso for sixth overall, with Charles Leclerc saying the Swiss team's race pace is "strong". Haas were only a tenth adrift with McLaren and Williams squabbling over last spot in the rankings.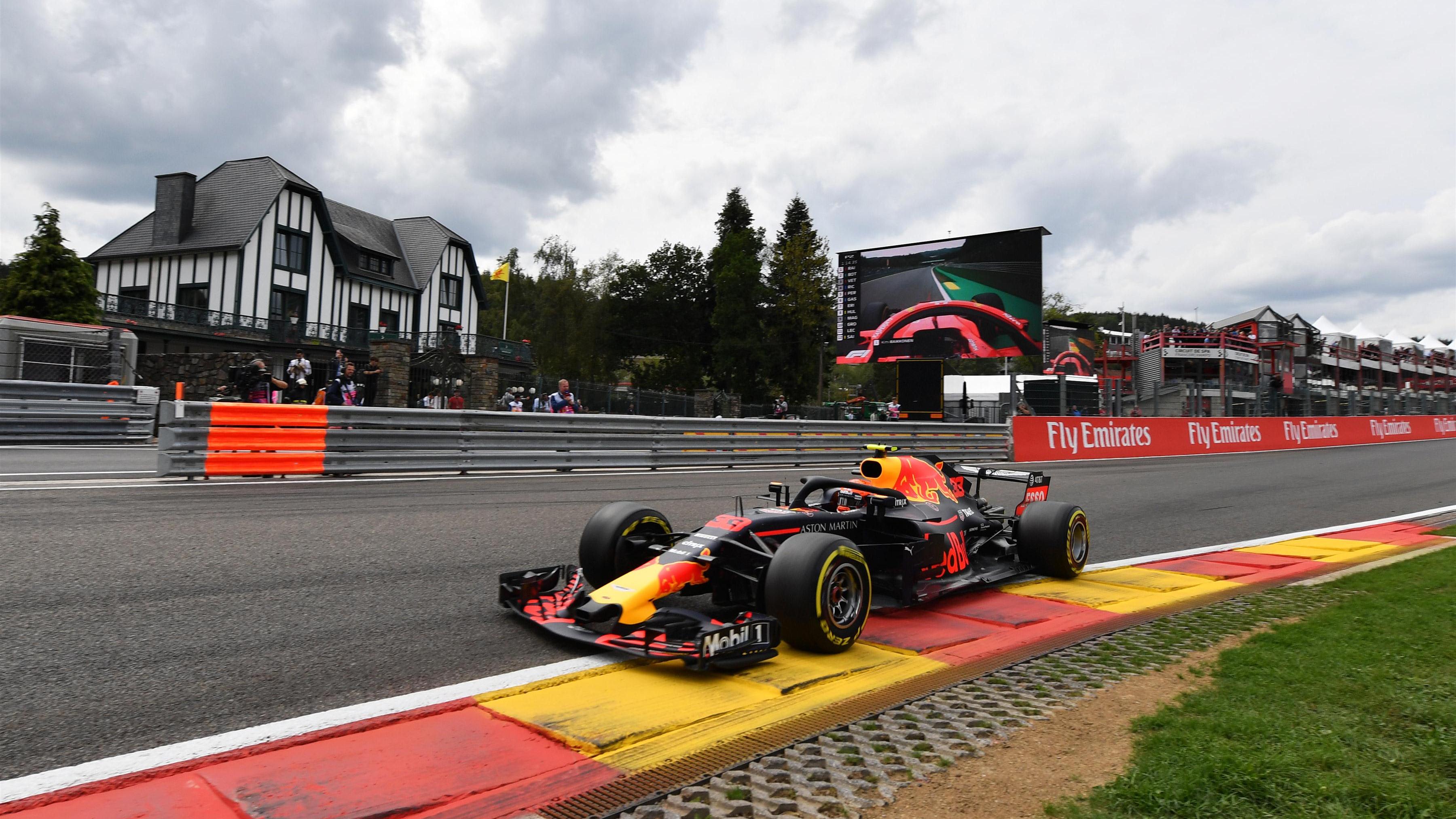 VERDICT
It looks close, mighty close, perhaps the closest it has been all season between Ferrari and Mercedes. The boys and girls in red are quicker on one-lap, based on the data, and there is nothing to choose when it comes to race performance.
With Bottas taken out of the equation because of his engine penalties, Ferrari will also have the advantage with strategy as they'll have two cars fighting for top honours. But this is Spa and notorious for an unpredictable climate. There's a chance of rain on Sunday, but the forecast is changing all the time. If the heavens open, it'll be all to play for.
Rain would play into Mercedes' hands, based on their speed and Ferrari's struggles in the wet. But Vettel seemed confident Ferrari have made gains in that area. "I think we've had our weakness in the wet," he said. "We worked on those and understood those, so if we have wet conditions it will be quite nice to confirm and see if whether we have found the right things."
As it stands, a one-stop strategy looks like the quickest option, with the frontrunners starting on the supersoft and then switching to the soft. There was some evidence of blistering on the supersoft, but it may not be so much of a problem on Sunday as conditions will be cooler.
"So far, the tyres have performed consistently and strongly on what is well-known as one of the most demanding tracks of the year, with only a few small cases of blistering reported in the afternoon," said Pirelli Head of Car Racing Mario Isola.
With Ferrari and Mercedes well-matched, Bottas and Hulkenberg tasked with fighting through the field and the threat of rain, another Belgian Grand Prix classic awaits. Bring on Sunday!
Fantasy F1 – get in the game!
Have you picked your Fantasy F1 team yet? If not, don't panic – you have until just before qualifying to get involved and try to win some amazing prizes.
It's free to play. Click here to sign up!
Watch full F1 Race replays* or Highlights on F1 TV Access. Sign up now. *Only available in certain regions (view full F1 TV Content Schedule here)