One of the key talking points post-race at Spa was how much Sebastian Vettel's victory over Lewis Hamilton was to do with superior engine power of the Ferrari. Certainly, the Scuderia's updated power unit appeared to be working exceptionally well, but Vettel afterwards touched on the other key factor: "To me it feels pretty straightforward," he said. "We ran a little less wing, were faster in sector one, sector three and a bit slower in sector two."
The layout of the Spa-Francorchamps circuit makes it something of an aerodynamic outlier. The extended flat-out sections of sectors one and three give heavy lap time reward for straight-line speed (pushing teams towards minimal rear wings), but sector two is comprised mainly of fast curves and accounts for a significant 43% of the lap's duration. That middle sector discourages teams going to the tiniest wings which are reserved for Monza, where minimising the drag gives the most powerful lap time effect of all the circuits. But Spa is a distant second and ahead even of the other two low-downforce tracks, Baku and Montreal.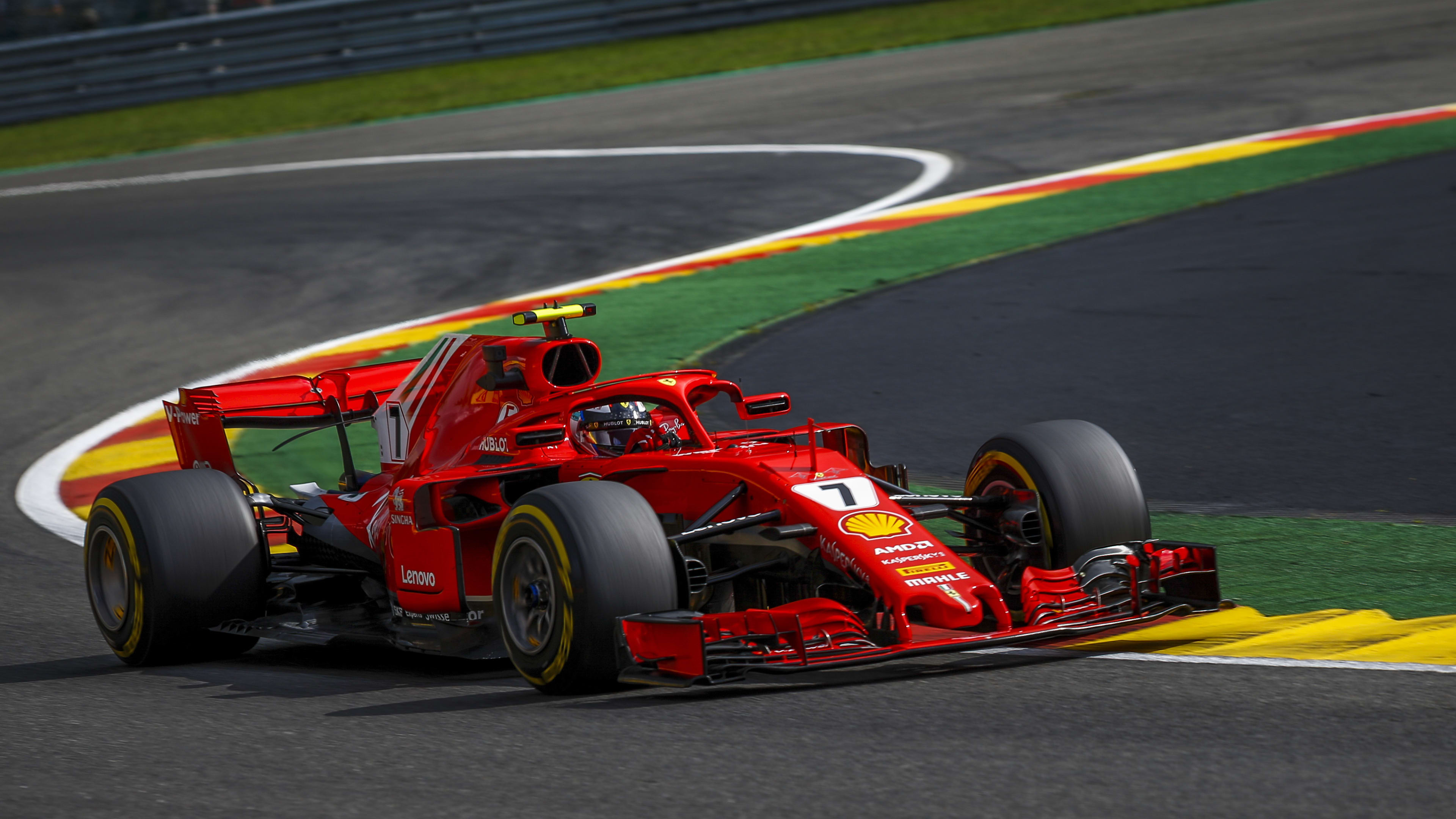 The choice at Spa is typically between a Baku-style rear wing or something even skinnier. Typically, that choice is less than clear-cut – something that was emphasised by Ferrari running a back-to-back comparison on Friday morning when Kimi Raikkonen used the Baku-spec rear wing and Vettel an all-new lower downforce wing (see comparison images above). From FP2 and for the rest of the weekend, both cars ran only with the lower downforce wing, seen in detail below.
By contrast, Mercedes ran a Baku-style rear wing for the whole weekend (pictured below). This – like the Ferrari wing Raikkonen tried on Friday morning – featured a spoon-shaped main plane, thin in section at the more draggy outboard ends and with a more generous deeper profile in the more efficient central part. The wing Ferrari used had a skinny main plane across the full width. The Baku-style wing will give more downforce and will be the main reason Hamilton's Mercedes was quicker than Vettel's Ferrari through sector two. But it will also create more drag – helping Vettel to those prodigious straight-line speeds in the long flat-out sections.   
Why would Mercedes have made a different choice of wing level to Ferrari? Typically, there are many factors driving this choice, but one of them is rear tyre performance. The Ferrari's high-rake concept helps give it particularly powerful rear-end downforce from the underfloor. The Mercedes' low-rake concept, while aerodynamically efficient and creating less drag than a high-rake car for a given level of downforce, tends not to have such strong rear-end downforce. Keeping the rear end nailed, not allowing it to slide, helps protect the rear tyres which at Spa were very susceptible to blistering. If the Ferrari was naturally generating more rear end downforce, it could be that it did not need as much rear wing as the Mercedes to protect its tyres.
Another reason a team might be reluctant to trim too much rear wing would be a traction shortfall. Traction out of the La Source hairpin is crucial to the speed carried all the way down through Eau Rouge and up the long climb to Les Combes. Even with the bigger rear wing, the Mercedes lacked the Ferrari's traction out of La Source – and that's what helped Vettel get a crucial gap on Hamilton at the Safety Car re-start, even though his initial jump was, in his own words, poor.
Mercedes also added a second slotted vertical fin on their front wing (as shown above). It's not yet clear if this was a separate development part or whether it was part of the Spa package, diverting the airflow in such a way as to better match the traits of the Baku-style rear wing, to retain a good aero balance.
Another factor driving wing level at any circuit is horsepower. The more power you have, the bigger wing you can carry before the extra drag begins to hurt lap time rather than benefit it. Red Bull, with significantly less power than either Ferrari or Mercedes, ran with an almost Monza-skinny rear wing at Spa. This carried less main plane area than even their Baku wing.
Other solutions to the Spa conundrum included Haas, who contoured the trailing edge of their rear wing's upper flap to give a slightly reduced area at the draggy outer ends.
With Monza up next, expect the teams to again arrive at quite different solutions. Last year, Ferrari's Monza package was uncompetitive. With their current title challenge and the impetus of their Spa victory, they will be particularly anxious not to repeat that stumble…