Feature
10 things we learned from the opening F1 pre-season test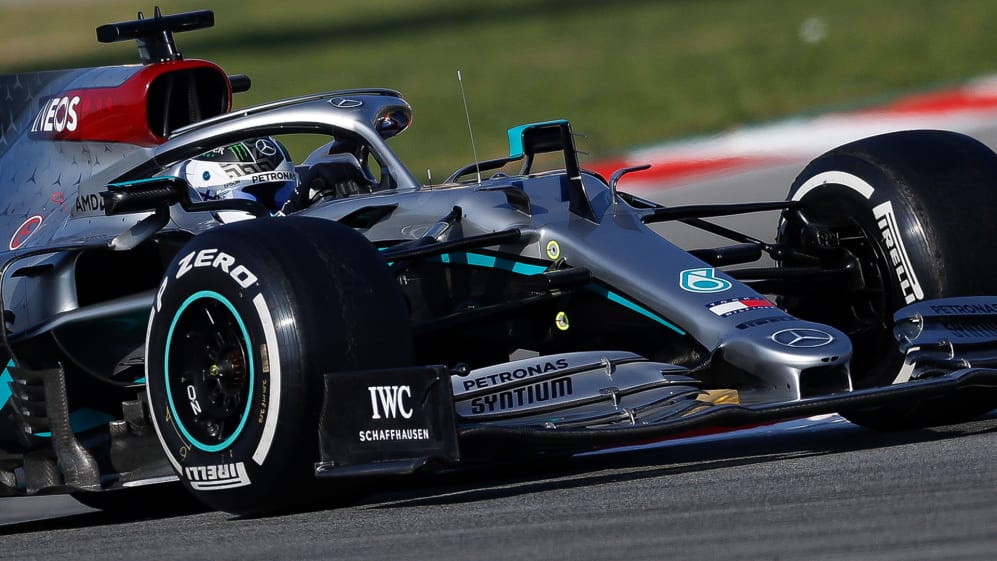 And with the blink of an eye, the curtain has fallen on the first pre-season test of 2020. The lap counts have been impressive, an innovative system raised eyebrows and a number of teams have taken calculated risks with their 2020 designs. Let's take a look at what we've learned over the last three days…
1. Mercedes look very, very, very good
OK, so this isn't really a surprise – they are the six-time reigning world champions after all. But their performance in the opening three days of running has been near bulletproof.
Aside from a small electrical problem in the closing stages of day two, the W11 has run trouble-free, clocking up more laps than anyone else.
They've set the pace, turning their attention to the softer compounds on the final day as they begin the search for ultimate performance. And their clever steering wheel device, nicknamed 'DAS', has given their rivals a headache.
Last year, they really came alive in the second test, bringing a near all-new car. That may or may not be the case again this year, but regardless, they've sent a chilling warning sign to their rivals with their form this week.
TECH INSIGHT: Have Mercedes just changed the game with new steering wheel system?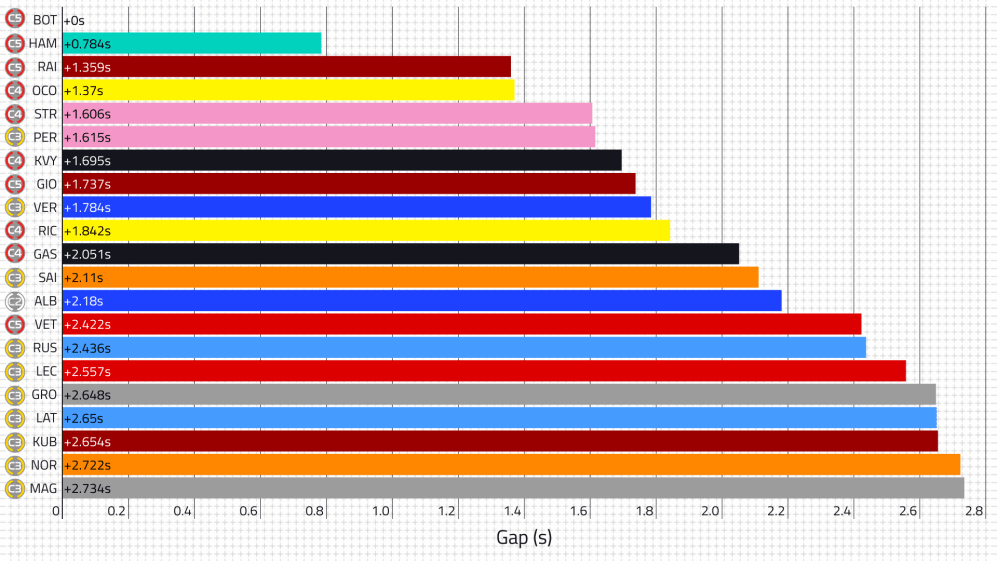 2. Racing Point have upped their game
The pink Mercedes. That's how some have referred to billionaire Lawrence Stroll's Silverstone-based outfit this week, so many are the similarities between their new RP20 and last year's all-conquering Silver Arrow, the W10.
Naturally, some of their rivals were unhappy with what they've done, particularly those who prefer to operate an independent constructor model rather than take many non-listed parts.
But Racing Point aren't bothered, as they aren't breaking any rules. The early signs are very encouraging, so much so that they look like they are among the top three cars on the grid, even ahead of Ferrari.
READ MORE: Why the new Racing Point RP20 caused a stir at pre-season testing
It was a risk to change their concept for this season, given they need to change it again for 2021 with the rules overhaul, but they felt it was one worth taking. They have a big update planned for Melbourne, but very little after that as they shift focus to 2021, so they'll need to hit the ground running to make this strategy work.
3. Ferrari seem to be on the backfoot
What a difference a year makes. This time in 2019, I was writing about how the Prancing Horse was the team to beat, with their rivals' team data suggesting they were on top. This year, things aren't going so well.
With CEO Louis Camillieri in town, keeping an eye on proceedings, they looked fourth-best, at best, with chief Mattia Binotto admitting he is not as optimistic as he was at this point last year and they might not be able to challenge until later in the season. Ominous.
READ MORE: Our rivals are faster than us, admits Ferrari boss Binotto
However, he did say they have changed their approach to testing and it's believed they were running their engine at lower than normal levels all week, which will explain for their disappointing lap times. Positively, they have improved their speed through corners, which suggests they have added downforce. But they are also slower on the straights. So has the compromise been worth it?
There will be plenty of homework to do over the next four days, before the second pre-season test kicks off. It's still early days of course, so it's not over yet, but Ferrari have stuttered rather than exploded out of the 2020 blocks.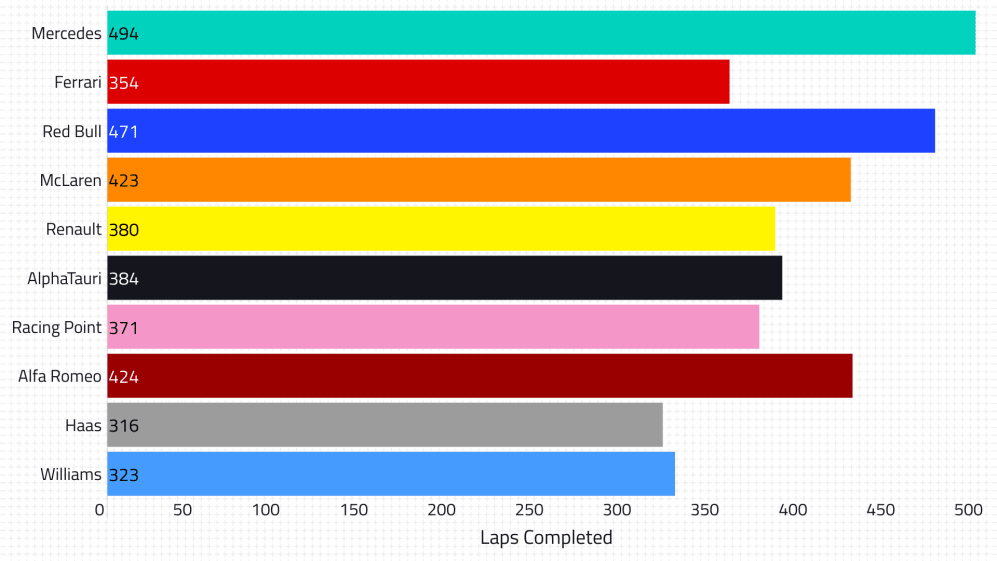 4. The cars are very reliable
There were only five stoppages all week at testing, such was the impressive reliability of the 2020 machines straight out of the box. The lap counts were impressive, too, with a staggering 3,940 laps ticked off over the three days.
Mercedes topped those charts with 494, but Red Bull (471), Alfa Romeo (424) and McLaren (423) weren't too far off. And every team managed to complete at least 300 laps, which is around four-and-a-half Spanish Grand Prix distances.
Mercedes managed a tally just 116 laps shy of what they completed last year, when they had an extra day. Williams made the biggest improvement, their 323 laps way up on the 88 they did in 2019.
5. Red Bull fly under the radar
While Mercedes have made the headlines on week one of the test, their rivals Red Bull have quietly gone about their business to clock up an impressive amount of laps – 471 in total, just 23 laps shy of the Silver Arrows' leading tally.
Head of Race Engineering Guillaume Rocquelin described this test as "one of the most satisfying first weeks of pre-season testing we've had in some time". The car ran largely trouble-free – Honda did change the engine as a precaution on day two but found no problem on further analysis so stuck the PU back in the car – and they got through almost all their programme.
READ MORE: We've hit the ground running in 2020 testing, say Red Bull
There's a real buzz around the team, both drivers are feeling pretty chirpy about the speed of the car and internally they feel like they have a very strong platform on which to build next week as they turn their focus to the search for more performance.
6. Haas in the wars
Ferrari weren't alone in suffering a less than ideal opening test. There were only two crashes during the week, and both belonged to Haas. Guenther Steiner's face was a picture as first Romain Grosjean got it wrong on day two and then Kevin Magnussen lost control after a wheel rim failure caused a puncture.
The damage was minimal, but they lost crucial running. They also don't look very quick. There could, of course, be plenty of reasons for that. They were 40km/h slower on the straights on day two – which certainly won't be the real picture – and speaking to Steiner, he actually seemed pretty happy with their efforts this week.
There's a very good chance the American team was running higher fuel levels, as they look to develop a better core understanding of their car, and there is an underlying feeling that their 2020 machine is a better offering. Whether it's more predictable or not remains unclear. We should get a clearer picture next week.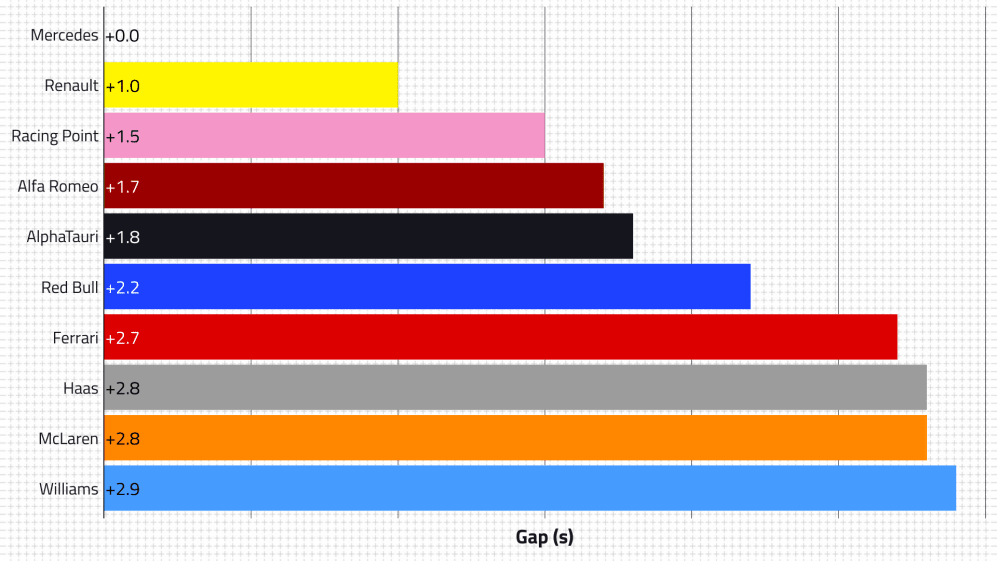 7. Renault's ray of hope after a tough start
There was widespread disappointment when Renault failed to present a car at their season launch, and then they kept a pretty tight lid on their antics during the shakedown in Barcelona, leaving everyone itching to find out what had changed for 2020.
When the car broke cover, it was a radical tweak from its predecessor. Their test has been disjointed, though, Daniel Ricciardo damaging the car when he hit a kerb hard at Turn 9 on day two and then they lost yet more time when the Honey Badger stopped on track on Friday afternoon.
However, they had their best day of the week on Friday, clocking up an impressive 169 laps and even had the opportunity to try the softer compounds. Importantly, both drivers reported a good balance, which bodes well for next week, and they seem pretty happy with the way the car is performing overall.
A look at the short run data explains why they may be buoyant, the French team ended up second in the charts behind only Mercedes, one second off the pace.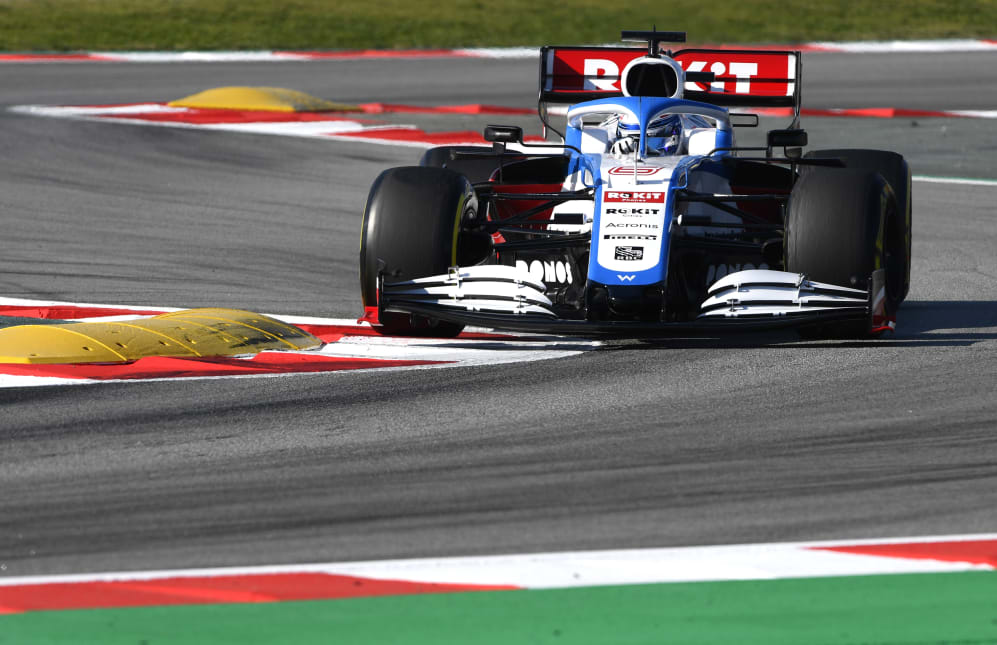 8. Williams have reason to smile at last
The fact Williams got a car out on time, and the first out on track to boot, was a real shot in the arm for the iconic British team who suffered the misery of missing not one but two days of testing last year. By the end of the week, they ended up just 0.014s adrift of Ferrari's best time. They were running different programmes and it's unlikely they will be that close when we go racing, but encouraging nonetheless.
WATCH: Williams first to hit the track at pre-season testing
There's a real optimism at the team this year. There will be no magical rise up the order, but they are showing signs already that they could well have hauled themselves onto the back of the midfield. The car just looks quicker, the quality of the bodywork fit is better and the aerodynamics are more refined.
As chief Claire Williams said on Friday, their main focus is to go racing again, rather than spend their time trailing around cut off the pack. They racked up a healthy lap count, and while the speed wasn't brilliant and they did lose some time with a stoppage on day three, there was plenty of data to be analysed and they look like they are on the front foot.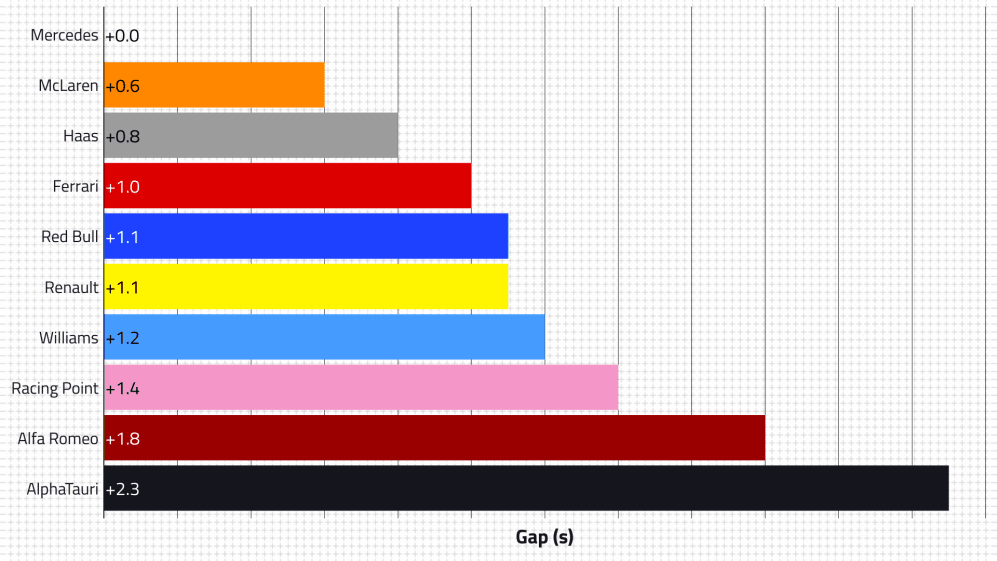 9. McLaren make positive start
McLaren have had some pretty awful pre-season tests in recent years, but this one was certainly not one of them. The leading midfield team completed their extensive programme with ease, displaying very strong reliability across the board.
They haven't turned their attention to pure performance yet, but the long run data did make for very positive reading. Our numbers show they demonstrated the second best race pace of all this week, 0.6s/lap slower than Mercedes, and ahead of Haas and then Ferrari.
Carlos Sainz and Lando Norris developed a good feeling with the car as the test went on, and it's believed they both feel it's a very good step compared to last year's car, which took one podium on the way to fourth in the constructors' championship.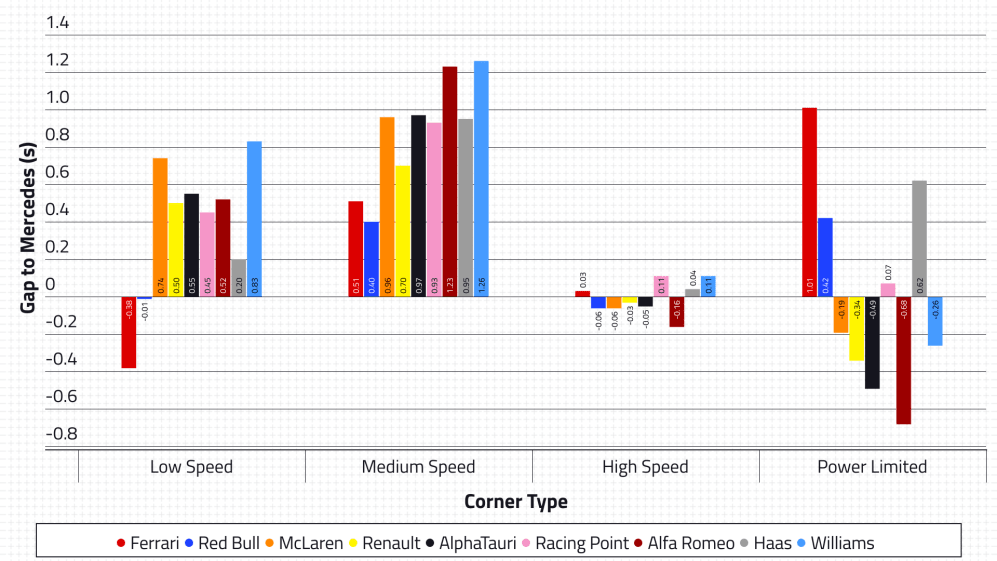 10. Trends are emerging
Traditionally, teams focus on reliability in the opening test, before turning their attention to performance, but that doesn't mean we can't pull out some trends to see who is starting to look strong in certain areas.
Take low speed corners, for example. Ferrari struggled in this area last year, but our data suggests they may well have found something of a cure for this issue, the red cars 0.38s quicker through these types of corners (there are two in Barcelona) compared to Mercedes.
ANALYSIS: What the data tells us from Day 3 in Barcelona
In the medium speed turns, Mercedes appear to comfortably have the edge, with Red Bull their nearest challenger around 0.4s on average slower. In high speed, it was Alfa Romeo who impressed the most, 0.16s quicker than Mercedes in this metric.
Last year, Ferrari had the best engine and therefore performed very well in the power stakes. But in the first week of testing, they opted to run their engine at much lower levels, which explains the huge deficit to Mercedes. Honda did the same, but to a lesser extent, with Red Bull as did Ferrari customer Haas. In contrast, teams like Alfa Romeo and Alpha Tauri opted to push for high top speeds, and more power, as they pursued a very different run plan.
Expect all of the top teams to turn their engines up next week and shift their attention to running more of the softer compounds and chasing performance in low fuel trim. Then we'll start to see a pecking order emerge. Bring on test two!
DRIVER INSIGHT: Jolyon Palmer on how to deal with a difficult new car at testing