Feature
5 things we learned from Friday practice at the Italian Grand Prix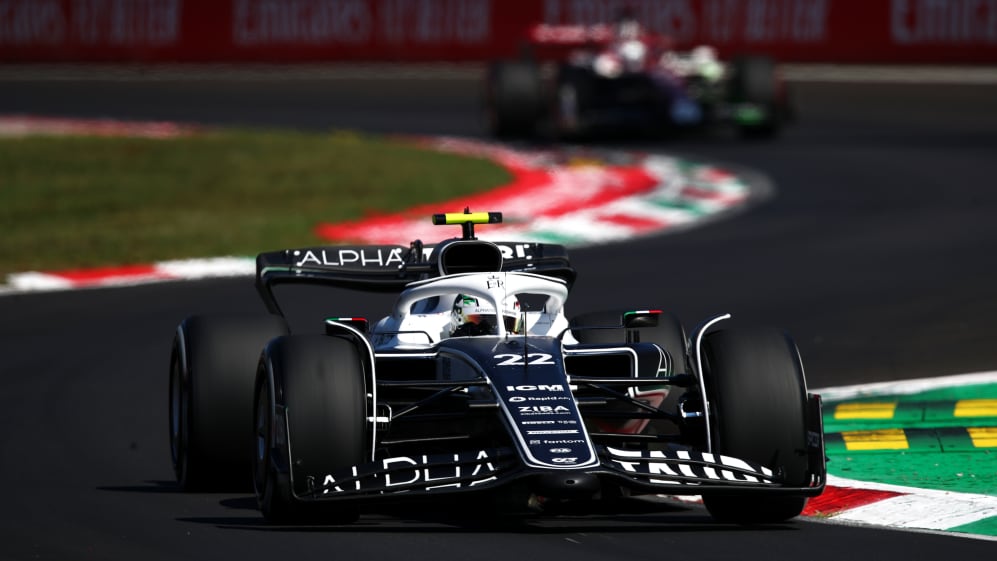 A big Friday crowd at Monza basked in glorious September sunshine as the Italian Grand Prix weekend got under way with the opening two practice sessions. After last year's Sprint event here, it was a more familiar schedule and provided plenty of insight into the potential each team has for qualifying and the race.
1. Ferrari closer than expected
Ferrari gave their home fans plenty to shout about when it came to the headline lap times on Friday, with Charles Leclerc setting the pace in FP1 and Carlos Sainz leading the way in FP2. Leclerc was also within 0.2s of his team mate in the second session, with both drivers ahead of him – Sainz and Max Verstappen – receiving grid penalties this weekend.
But of more importance is whether Leclerc has the race pace to stay out front if he qualifies there, and similarly how much potential there is for Sainz to climb through the field.
READ MORE: Sainz hails 'a pleasant surprise' as Ferrari lead Red Bull with early Monza pace
And the long run data is fairly positive for the tifosi, with Ferrari within a quarter of a second of the Red Bull on a long run. Heading to Monza, the two drivers had been warning that it would be a tough track for them, but the circuit-specific beam wing introduced this weekend appears to be helping keep them close to their main rivals.
Based on the ideal lap data, Leclerc was also fastest over one lap on Friday and will have his sights set on pole position, but might need a bit of help. With the tow likely to play a big role on Saturday given the grid penalties Ferrari could well turn to Sainz to help his team mate ensure the best possible starting position, and therefore the ability to make the most of that race pace from the front.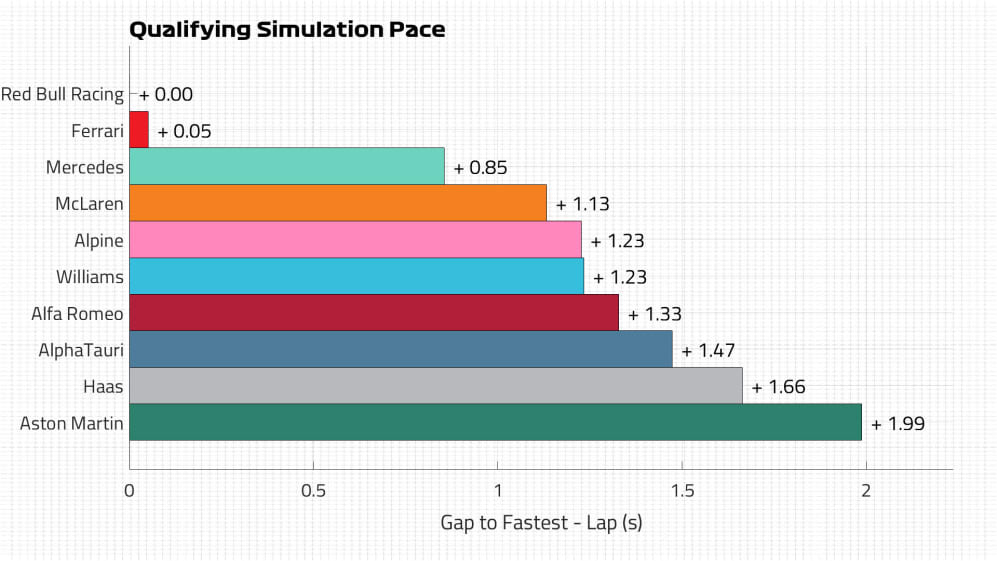 2. Red Bull's set-up for the race
If there's one thing Red Bull know they will have to do this weekend at Monza, it's be able to overtake. Not that that has been a problem for the championship leaders, but they are certain of it this weekend due to grid penalties.
Verstappen only has a five-place grid penalty as it stands for taking a new internal combustion engine (ICE) – his fifth – but team mate Sergio Perez is facing a drop of 10 positions as he has exceeded his ICE allocation for the first time.
READ MORE: Horner explains Red Bull engine penalties at Monza as Verstappen says he's 'not worried' about Ferrari's pace
Despite Ferrari topping both sessions, it's Verstappen who is expected to be the quickest car in qualifying trim, with his FP1 run on soft tyres being compromised by Lando Norris in the final sector, and then the Dutchman going wide at the first chicane in FP2, having to abort and set his best lap on the next attempt.
But Verstappen won't be starting from pole (save for a remarkable set of results), and both drivers will have to make progress. Their long run pace suggests they have the car to do that, but their impressive top speed is likely to be the key.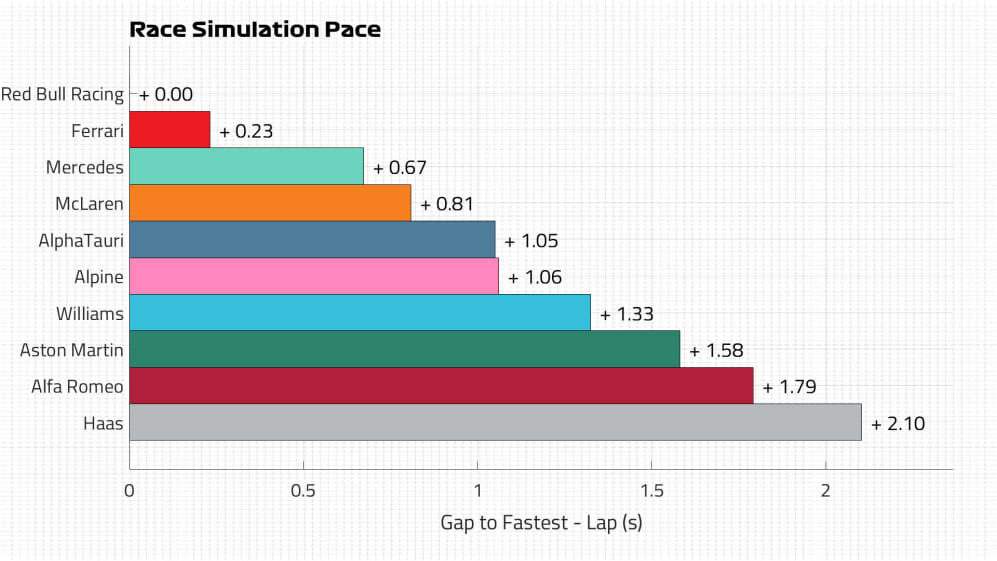 3. Mercedes under pressure from behind
Mercedes has endured an up-and-down season, and that trend continues this weekend. After a very strong run at Zandvoort last time out – where they were in the mix for victory – the early signs are that they are more likely going to be looking over their shoulders at Monza.
George Russell complained that "deployment is a bit all over the place" during the second session and admits there's room for improvement on that front heading into qualifying and the race. But he also feels Ferrari have an advantage in that area compared to Red Bull and Mercedes even if they do make steps overnight.
READ MORE: 'We went a lot slower somehow' – Hamilton left searching for answers as Mercedes fall back from rivals in FP2
It's McLaren who will be the bigger concern, after Lando Norris displayed strong pace and his ideal lap data showing he would have stayed ahead of both Mercedes even if Russell and Lewis Hamilton had hooked up their laps.
Mercedes do still seem to have a couple of tenths on McLaren, but hooking it all up in qualifying could be crucial to their hopes.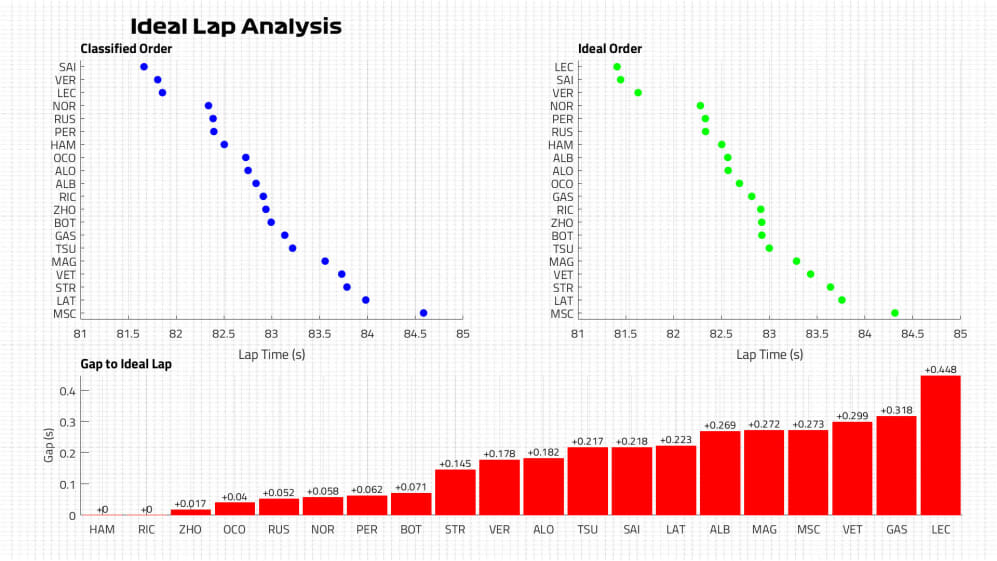 4. McLarens have got pace at scene of 2021 win
McLaren's victory at Monza last year was one of the most remarkable results of an incredible season, as it turned out to be the only one-two that any team had in 2021. And Norris – who was second on that day – showed that they've got raw pace once again here.
Norris was fourth overall in FP2 and quicker than the Mercedes pair as pointed out above, but the data suggests when everything is put on the line in qualifying, he's facing a deficit of around 0.3s per lap.
READ MORE: Norris expects difficult race at Monza with McLaren performance 'maybe a little bit more in line with Spa
That gap does close when it comes to race pace, though, with McLaren looking more like 0.1s off Mercedes based on Friday's running. So if Norris can replicate his FP2 performance and get ahead of one – or both – of the Mercedes drivers in qualifying, then he's got the car to make life very difficult for them.
5. Albon right in the middle of a tight midfield
That's not to say McLaren's focus will only be on Mercedes and beating the Silver Arrows, because the midfield fight is remarkably close, with one team in particular looking like a major part of it.
Williams were strong in qualifying at Spa-Francorchamps, as Alex Albon made Q3, and he was able to make use of the extremely impressive straight-line speed to hold on for a point in the race. That form has carried over to Monza, where the Williams again looks quick in Albon's hands.
His ideal lap on Friday would have put him eighth overall, and in terms of qualifying pace it looks like Williams are within a tenth of both McLaren and Alpine, although they also have Alfa Romeo in that battle too.