Feature
5 things we learned from Friday practice for the Austrian Grand Prix at the Red Bull Ring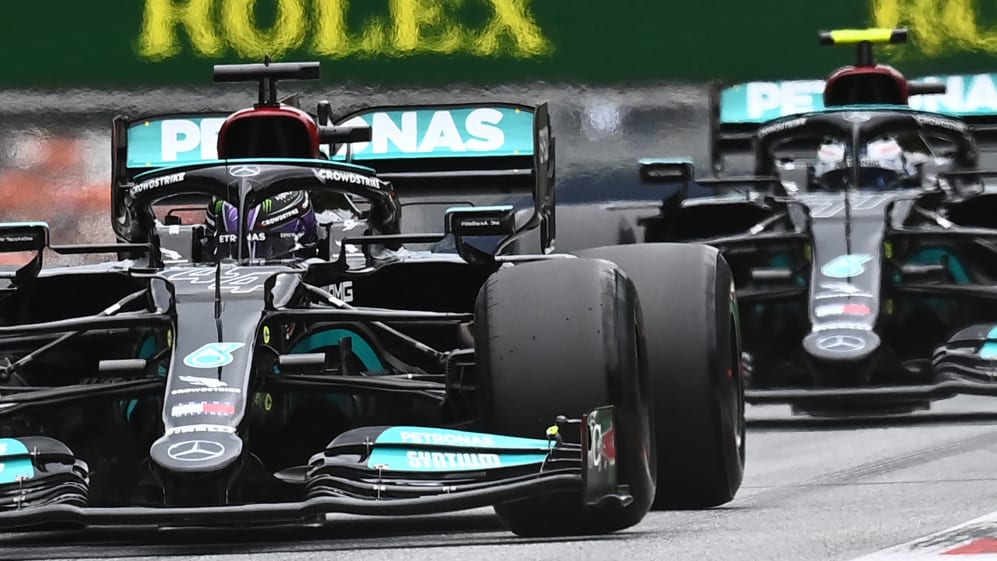 Max Verstappen's loyal orange-clad supporters are permitted in larger numbers this weekend in Austria as local restrictions on Covid-19 ease, and they took their seats trackside for Friday practice hopeful of seeing their hero pick up from where he left off last week to set himself up for a fifth win of the season.
They were left somewhat disappointed, though, when Mercedes locked out the top two spots on the timing charts in second practice, relegating championship leader Verstappen to third overall, two tenths of a second off the pace. But should they rest easy tonight – perhaps in one of the campsites that straddle the Red Bull Ring – in the hope he's keeping his powder dry for the weekend? Or is a night of tossing and turning on an airbed ahead of an anxious qualifying battle on Saturday? Here's five things we learned from Friday practrice...
1. Mercedes are back on form and very much in the hunt
"Carefully optimistic." That was Mercedes boss Toto Wolff's summation of the reigning world champions' hopes after a Friday practice where the silver cars appeared rather more comfortable navigating the Red Bull Ring's 10 turns than they did this time last week. And the data supports that view.
READ MORE: Wolff 'carefully optimistic' about Mercedes chances in Austria, as Bottas says car feels better than last week
Our analysis, which accounts for tyre compounds and fuel loads, says Mercedes lead the way in the long run data, albeit by a fraction from Red Bull as the graph below shows. But this is a significant improvement on last weekend's data, where they trailed their main rivals by 0.19s – a deficit that accounted for Hamilton's inability to fight Verstappen for the win.
The silver cars have a deficit of 0.07s in qualifying trim (see the graph further down the page) – which is exactly the same as the data suggested last weekend, which means we could be in for a very tight qualifying. Importantly, the team look slightly more buoyed by their efforts, with both Hamilton and team mate Valtteri Bottas believing they have made progress – even if they weren't getting overly excited.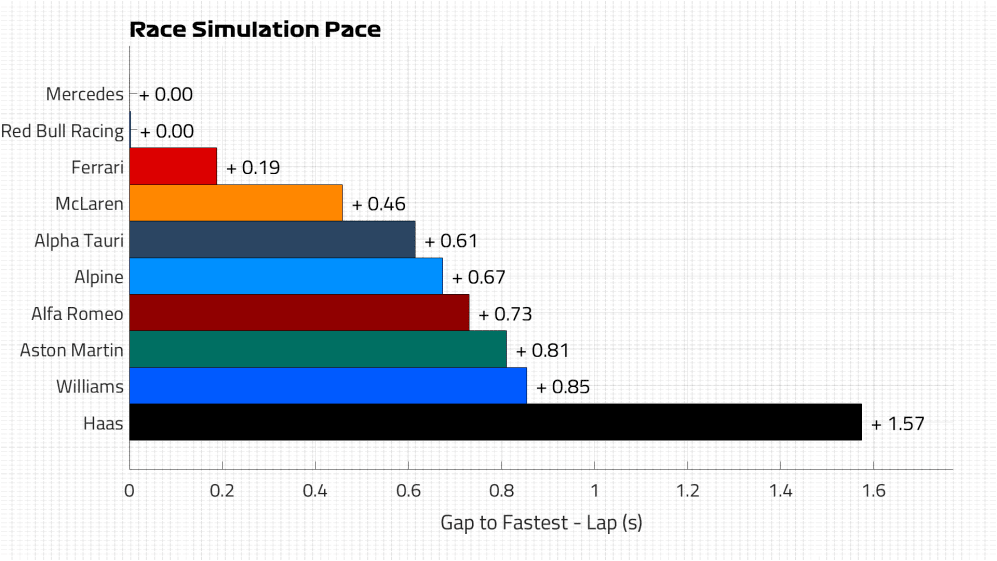 "We started OK in terms of how the car feels," said Bottas, who finished 0.189s adrift of Hamilton. "[It was] much better than last week. Hopefully we can build from that." Hamilton added: "We've made some small progress today, but I think [Red Bull] still have two tenths or maybe it's a tenth and a half, something like that. We've definitely made some small steps forward but not enough to close the two tenths. But over a single lap, that felt OK, it felt pretty good, and I just expect [Red Bull] to turn up a little bit more tomorrow."
READ MORE: Hamilton maintains Red Bull have 'something extra in their bag' despite Mercedes one-two in FP2
Whereas Mercedes used to be able to bring much more performance on Saturday, versus Friday, it is Red Bull who have been delivering that sort of step of late in a role reversal. But the Silver Arrows can take heart from their data which is believed to show they have improved in some of the corner sequences in Austria.
Hamilton, who made an uncharacteristic appearance in the Mercedes simulator this week – he has rarely spent time in it since joining the team for 2013 – was "generally happy" with the car and reckons he is "probably not going to change too much". There was a distinct change in language he used, the tone significantly more positive than this time last week.
The cooler conditions seem to be playing into Mercedes' hands – temperatures are around 10C lower – and that has helped them extract good grip from the tyres, which are a step softer this weekend. They remain wary of the Red Bull threat. And who can blame them given the four-time world champions' pretty dominant performance on home soil just a few days ago?
2. Red Bull lack sparkle but retain confidence
Red Bull are like a different team these days, the Milton Keynes-based squad feeding off their table-topping performance. No longer are they the hunter, but instead the hunted – and they are relishing it.
Hamilton reckons his rivals have "something extra in their bag" as the weekend ramps up. "They've almost basically got the qualifying mode that we used to have and I said to our guys, I don't understand where they get it from, but it's impressive and we've got to work hard to try and see if we can match it tonight," he added.
READ MORE: Verstappen says Mercedes have 'definitely improved' as he pinpoints need to improve soft-tyre pace ahead of qualifying
Verstappen, as has become customary, is refusing to get carried away with it all. His victory celebrations so far this year have been largely muted. And on performing well in practice or qualifying, he gives little away.
"[Mercedes] seem quite quick on that soft compound," he said. "From our side, it wasn't perfect on that run [referring to running wide at the final Turn 9 & 10 sequence]. But nevertheless, I felt good in the car, everything felt quite good.
"There are no real problems, just need to make sure that we have a bit more pace on the soft because I think on the medium, we look good, and also in the long runs, we look decent. At the end of the day, that's the most important."
Verstappen ended up third overall, but would have been second – according to our ideal lap data (in the chart below) – if he had put all his best mini sectors together. He left 0.073s on the table, which would have reduced his deficit to Hamilton to just over a tenth of a second.
"I think it will be tight [this weekend]," said Verstappen. "They definitely have improved a bit. So yeah, we'll see tomorrow in qualifying, but of course the most important thing is with these softer compounds to make them last in the race. That's going to be a challenge."
3. Aston Martin spring a Friday surprise
The top five took on a greener tint on Friday, with Aston Martin's Lance Stroll and Sebastian Vettel ending up fourth and fifth respectively.
It's only Friday, of course, and we've seen recently that midfield teams can star on Friday – ask Daniel Ricciardo and Esteban Ocon who were P2 and P3 respectively last time out in Austria – only to sink like stones as the weekend went on.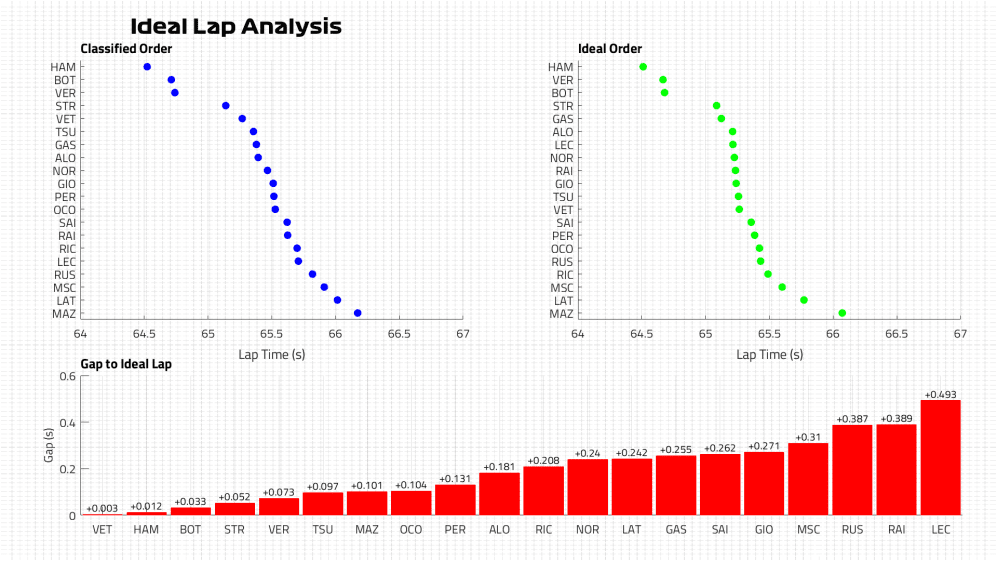 And that's why there was an air of caution from four-time world champion Vettel.
"It's Friday so obviously if we are P5 tomorrow that would be amazing but it's still early days and I think maybe we were a little bit more aggressive than other people," he said. "But it's definitely good, we'll take it, and I think we tried a couple of things as well so let's see tomorrow. Q3 is what we're aiming for."
READ MORE: 'We were maybe more aggressive than others' – Aston Martin duo play down impressive Friday pace in Austria
Q3 should be feasible, given our data shows they have the fifth-best qualifying pace (see the graph below), but with McLaren in third and Alpine in eighth separated by just 0.19s, there is the potential to go from hero to zero in the blink of an eye. Their long run data isn't so rosy, mind you, as they drop to eighth overall, better only than Williams and Haas.
Much will depend on how they can make the softest compound work – the C5 making its debut appearance this season in Austria – especially with many suffering graining on that compound.
4. McLaren and Ferrari are set for a tight fight
McLaren vs Ferrari has been one of the most intriguing storylines of this year's championship, even if the Scuderia's chief says beating their British rivals is "not our objective" as he predicted tough races ahead for his team.
A red car was nowhere to be seen in the top 10 in FP2, with Carlos Sainz 13th and Charles Leclerc 16th – but it is believed they were running a very different programme that focused more heavily on the race and in particular understanding the softer compound tyres.
READ MORE: Ferrari race pace as good as last weekend insists Leclerc, despite P16 in FP2
When the lap times were revised for fuel load and compound, Ferrari emerged as the best of the rest in the race pace charts, 0.19s adrift of Mercedes and Red Bull but significantly 0.27s clear of McLaren. In qualifying trim, things were much closer, with McLaren inching ahead by 0.03s.
It's worth noting that both Sainz and Leclerc left plenty of time on the track, after failing to clock their ideal lap. Sainz had 0.262s left on the table, while Leclerc had the most of all to gain. His lap would have been 0.493s better, enough to lift him up to seventh on 'ideal lap' ranking.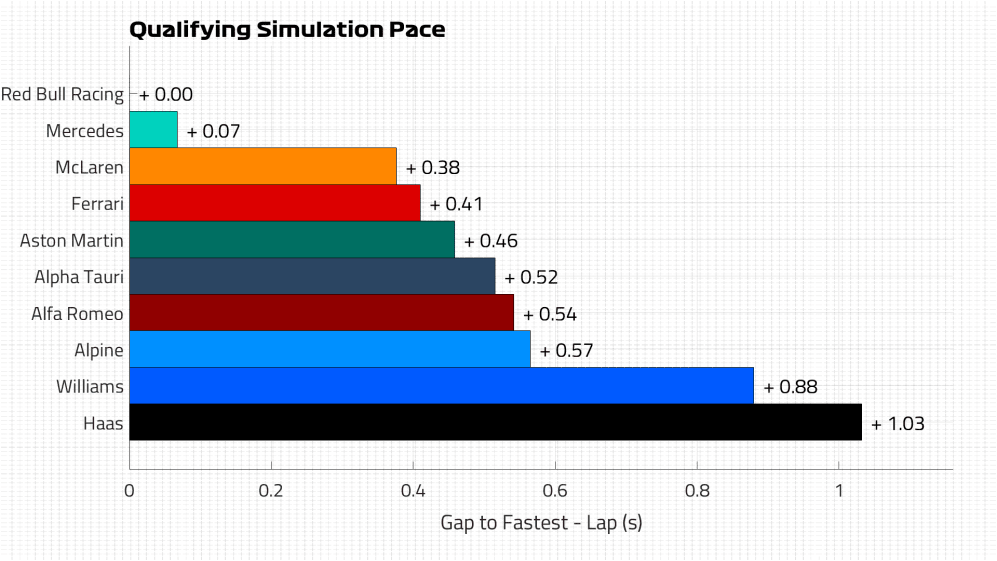 Sainz reckons this weekend is a "similar picture" to last weekend, which suggests qualifying could be tricky again – as they will lose several tenths of the straight to their immediate rivals – but that fortunes should come back to them in the race when he hopes their car "comes alive".
Ricciardo was happy with the car, even if it was a second off the pace, and reckons a bit of "fine-tuning" overnight should help make a big difference come tomorrow.
READ MORE: Ricciardo and Norris confident McLaren's pace is better than it looked in Friday practice
5. AlphaTauri and Alfa Romeo are the ones to watch
AlphaTauri looked like a force last time out in Austria, but Pierre Gasly was cruelly robbed of a seventh successive points finish after contact with Leclerc on the first lap, as his team mate Yuki Tsunoda rescued a point with 10th.
The little Italian team were on the backfoot on Friday, given Gasly missed FP2 last week because of an engine issue, so they didn't have the data pool of their rivals. That made it a busy day for both the Frenchman and team mate Tsunoda. But the early signs are positive.
"There were a lot of things we wanted to try in the long run, trying to understand the tyre and also the high fuel runs on my side," said Gasly. "There were a lot of positives, the pace was still there. [We are] struggling a bit more in these conditions, so I think we need to make a couple of changes for tomorrow and I believe we can have a bit more pace tomorrow."
Tsunoda added: "There's definitely potential to fight [for] Q3, which is really positive. We also tried to work hard more for the long runs which was a bit of a struggle last race and we found a couple of positive things."
The short run data puts AlphaTauri sixth – but bear in mind their greater focus was long run pace, where they move up to fifth. Gasly's recent form suggests he will be a Q3 contender and can make up the deficit while both cars should be in contention for points. But they will face a threat from Alfa Romeo, who surprisingly had not one but two cars in the top 10 when it comes to our ideal data ranking.
Antonio Giovinazzi didn't seem impacted by the loss of FP1, when he handed his car over to one of the team's reserves Callum Ilott, as he ended up 10th quickest in the second session.
READ MORE: Tsunoda eyeing third Q3 appearance after stellar Friday showing for AlphaTauri
He held that position in our ideal lap data pool, having left a quarter of a second on the table. His team mate Kimi Raikkonen could have been 0.389s quicker if you combined all his best mini-sectors, which would have moved him up to ninth in the revised classification.
That might explain why their was a positive tone when the Finn spoke after the session. "I am quite confident, but we know the margins are so small that anything can happen," he said. "In the end, we will need to find something tonight because we know everyone else will and we have to make a bigger step ahead than the others. We just focus on ourselves and on doing our best and we'll see what tomorrow brings."
The stage is set then, for Saturday's qualifying battle...