Feature
5 things we learned from Friday practice for the Dutch GP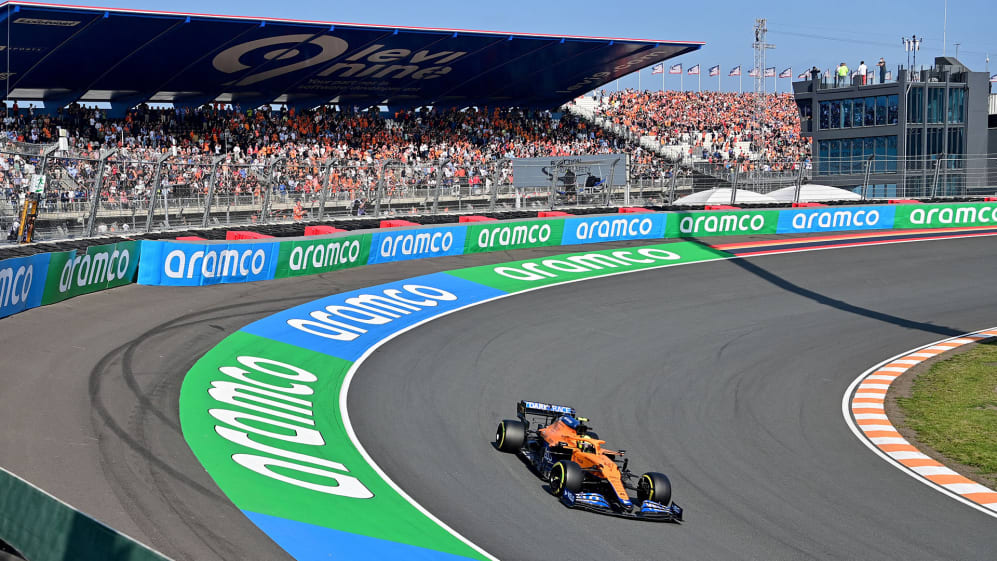 Zandvoort was rocking on Friday, as fans – mostly from across the Netherlands – descended on the seaside track to welcome Formula 1 back to the shores for the first time in 36 years. And while their idol Max Verstappen didn't deliver a table-topping time, he's showed enough speed to suggest he may well deliver the kind of result his loyal Dutch army will be hoping for. Here are five things we learned from Friday's running…
1. Zandvoort gets pulses racing
There was unanimity among drivers that Zandvoort's old school layout, with its 14 turns – three of them banked – and narrow track, got the seal of approval. "It was honestly a pure pleasure to drive on this track," said Alpine's Esteban Ocon, who was third-quickest on Friday. "It's good fun [on] the banking but also just the layout in general."
READ MORE: 'It's pure fun!' – The drivers have their say on Zandvoort as Dutch GP track returns after 36-year hiatus
AlphaTauri's Pierre Gasly, who was seventh, added: "it's an amazing track to drive on and very unique, especially Turn 3 – it's like sliding in a toboggan, with the banking." And Valtteri Bottas, who was the leading Mercedes in fourth, said: "There's many nice different corner sections here, especially the speed in sector three through the corners is nice, I enjoyed it. It's a track with a nice flow, it's definitely not tricky to find the flow."
The track's surrounding streets were covered in a sea of orange from the moment the sun rose, with fans lining the gates six or seven people deep to catch a glimpse of the drivers, before swarming into the circuit, where they were given free orange lion capes and welcomed by a festival atmosphere.
They were in full voice all day long, cheering Verstappen each time he drove past. And they stayed long after the track action was done, enjoying the dance anthems on the PA system. There is no doubt there is a lot of love for this event already – and that's not just because they've got a stroopwafel stand in the paddock…
HIGHLIGHTS: All the action from second practice for the Dutch GP at Zandvoort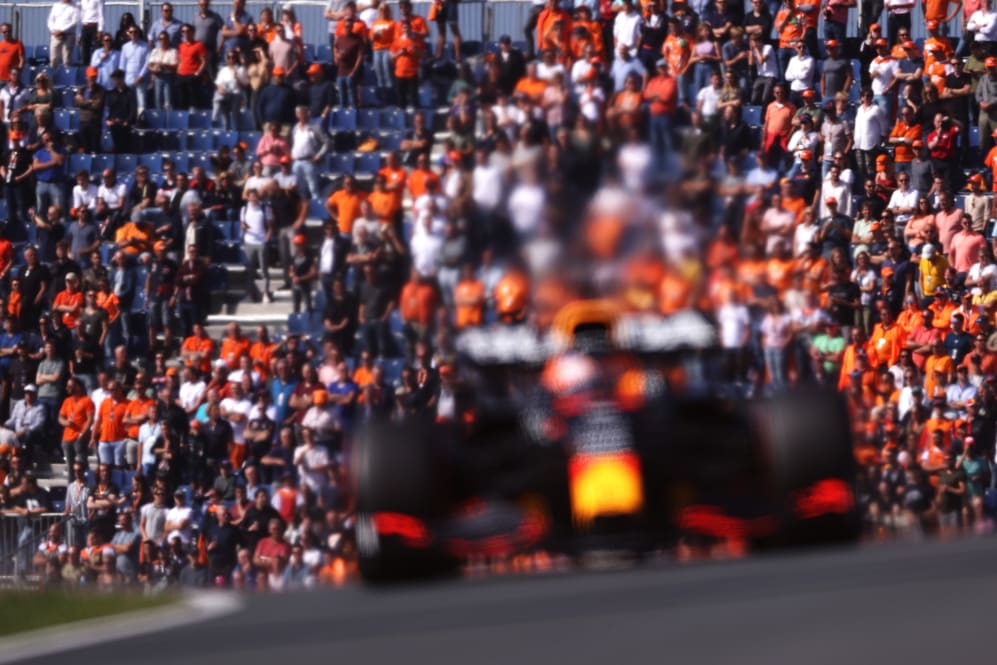 2. Red Bull hold qualifying edge...
Verstappen was the best-placed Red Bull in fifth place, but he was forced to abort his flying lap when the red-flag came out after Nikita Mazepin beached his Haas in the gravel.
The Dutchman, who is three points behind championship leader Lewis Hamilton, looked super committed and immediately at home at the 4.3km track – and reckoned he would have got top spot had he managed to complete his lap on fresh softs.
READ MORE: Verstappen says he would have topped FP2 at Zandvoort without red flag
"There are just a few things we need to understand better to get a bit more pace out of it," he said. "It's also not very representative, because my lap was on a used set, and the lap I had to abort, I think would have been good enough for first. So then of course you talk already a bit differently. It's never perfect so we'll always try to look into details of what we can do better."
The good news for Verstappen, his Red Bull team and around 65,000 people who packed the place on Friday – and will do each day for the rest of the weekend – is that our data suggests they have the quickest car on low fuel, albeit just 0.04s ahead of Mercedes.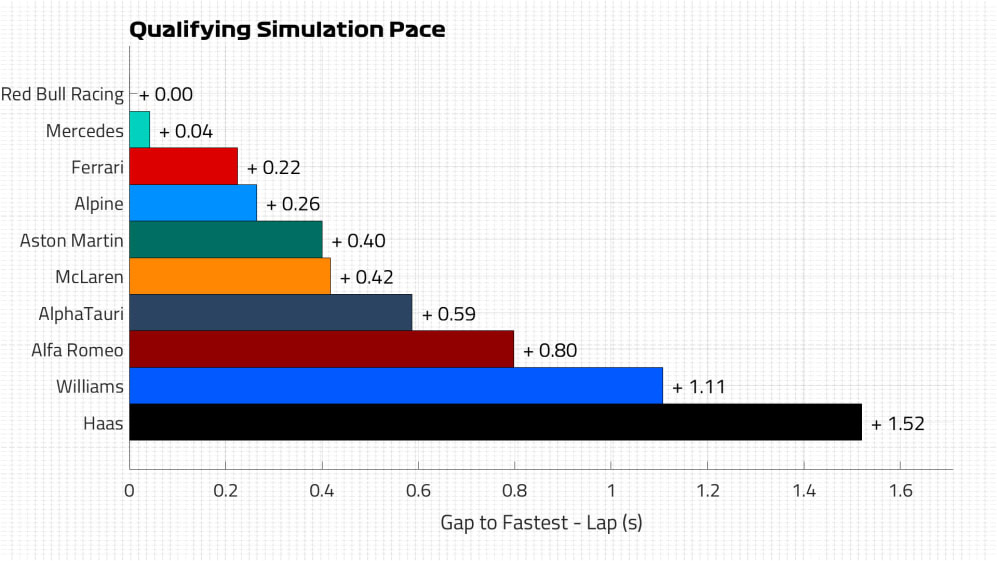 3. But Mercedes lead the way on race pace
This wasn't the smoothest day for Mercedes and in particular Lewis Hamilton, with the reigning seven-time world champion managing just three laps in FP2 after suffering a loss of power. His team mate Bottas had a cleaner session, but was still 0.230s off the pace set by Ferrari. And that means they have got a lot of work to do to get the car in the right window.
"We've had a tricky day with red flags costing us a lot of running time in the first session and then Lewis had an issue with his car, so we had to stop on track," said Mercedes trackside chief Andrew Shovlin. "Everyone has struggled with a lack of running so there isn't masses of data to work with and many had low fuel runs that were compromised with traffic, so we have to expect many teams to move forward tomorrow.
READ MORE: Limited Friday running 'puts us on the back foot' admits Hamilton after early FP2 failure at Zandvoort
"We're struggling a bit with Turns 2-3, we seem to be losing there on both low and high fuel but we've got a bit of time tonight to understand that. There are a few other places we can improve the balance but overall, it doesn't seem too far off. We have to recover a bit of running with Lewis but there is time to do that in the morning session."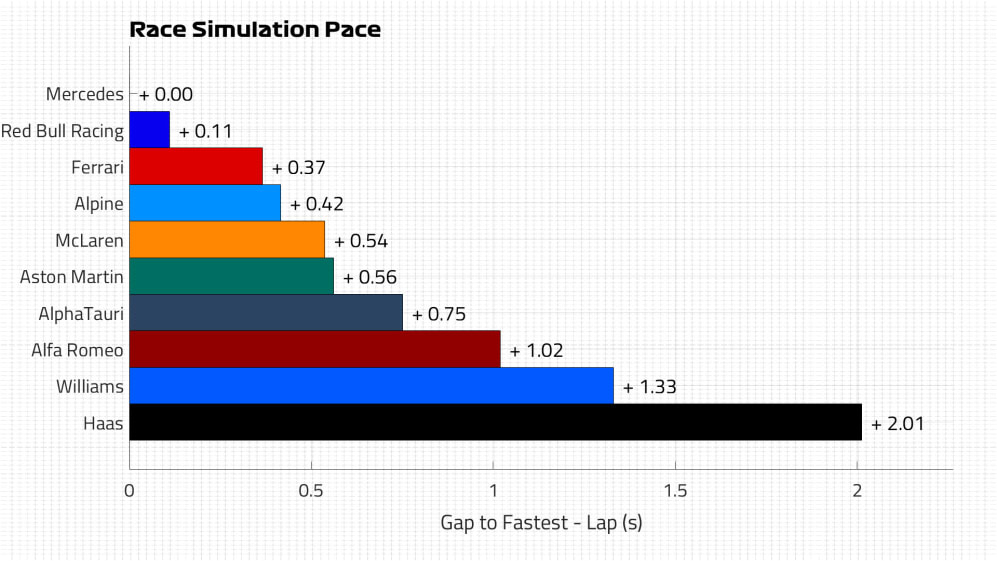 4. Ferrari and Alpine cause a stir
It's not often you see Ferraris take the top two spots on the timesheets these days, but that's what the Italian team managed to achieve in the Netherlands, with Charles Leclerc heading Carlos Sainz in the final one-hour session of the day. It's a marked improvement on their form in Belgium, where they were in the middle of the midfield on pace.
READ MORE: Leclerc hoping to spring a surprise in Dutch Grand Prix qualifying after Ferrari top FP2
However, while pleased with their performance, neither were getting carried away. "We look to be on pace, definitely better than Spa, I think Mercedes and Red Bull are still quicker, especially when you look at the long runs, you could clearly see the red flag in the middle didn't allow them to put the lap on the soft and maybe made us look quicker," said Sainz.
"Lando [Norris] is also quick in the McLaren, I expect a good fight with the McLaren again, Mercedes and Red Bull look to be still ahead but maybe at this circuit a bit closer to them than what we have been recently."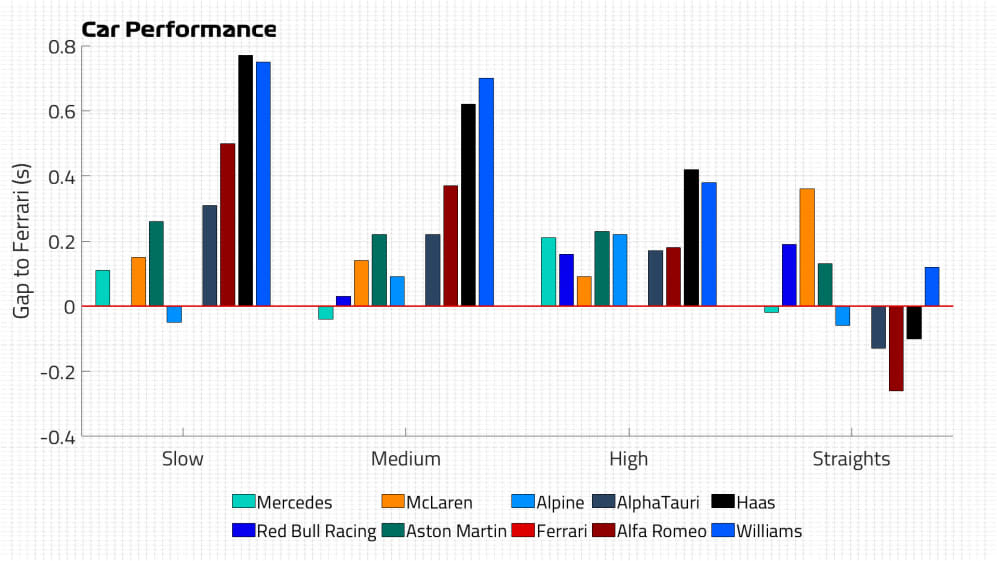 Leclerc added: "Yeah definitely, on paper it was looking a bit better than spa but for now we are looking very good. I'm pretty sure the top teams have something more but compared to our direct competitors we are looking good."
READ MORE: Ocon says he found 'close to a perfect balance' after going P3 in second practice at Zandvoort
The red cars look strong across both one lap and race simulations, with Ferrari slotting into third on both metrics, 0.22s and 0.37s respectively off the pace. If they deliver that kind of form on Saturday, it puts them in a very strong position in their fight with McLaren for P3 in the constructors' championship.
Their closest rivals are Alpine, based on the data, with the French team getting two cars into the top six, with Ocon third and Fernando Alonso sixth. They are just a fraction slower than Ferrari in qualifying trim – 0.04s – and 0.05s adrift in terms of race pace. Q3 and solid points should very much be on the agenda, then, this weekend.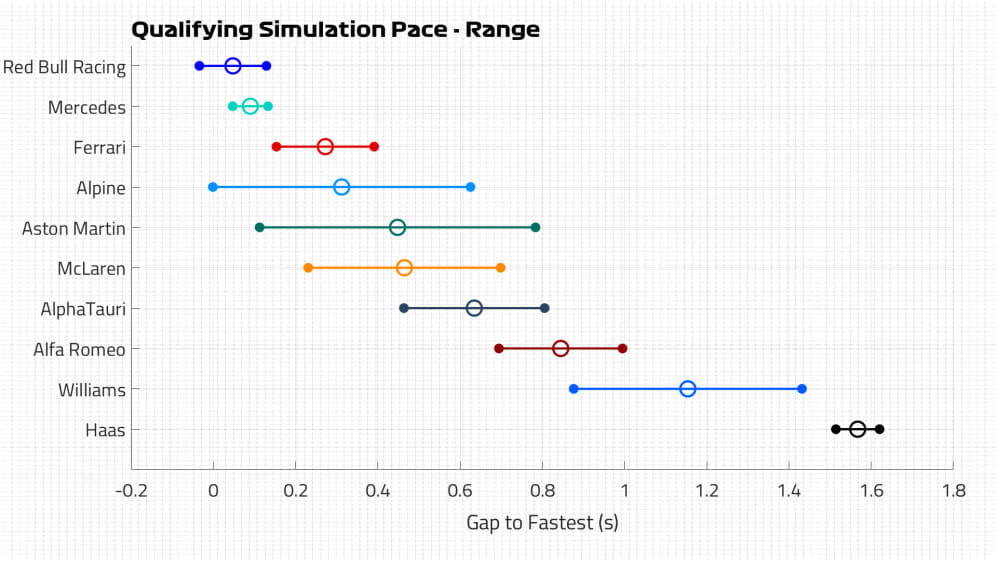 5. Traffic and stoppages provide challenge
With overtaking likely to be challenging at Zandvoort, qualifying will be even more crucial, so expect the teams to put extra emphasis on low fuel running on softer tyres in final practice on Saturday.
READ MORE: Vettel thankful for previous Zandvoort experience after engine issue cuts short running on day 1
Qualifying itself is going to be a busy affair, with everyone struggling with traffic and finding that magic window of free air to get the most out of their machines. The red flag stoppages didn't help either, as drivers had the rhythm and fresh tyre runs disrupted. And given the confines of the venue, it can take a little longer to get things back under way.
That means we could see some big names exit early in qualifying, while the gravel taps and imposing walls that line the circuit will punish mistakes. But the overarching vibe around the paddock is that Zandvoort is a hit and there is much anticipation for the weekend ahead.