Feature
5 things we learned from Friday practice for the Emilia Romagna Grand Prix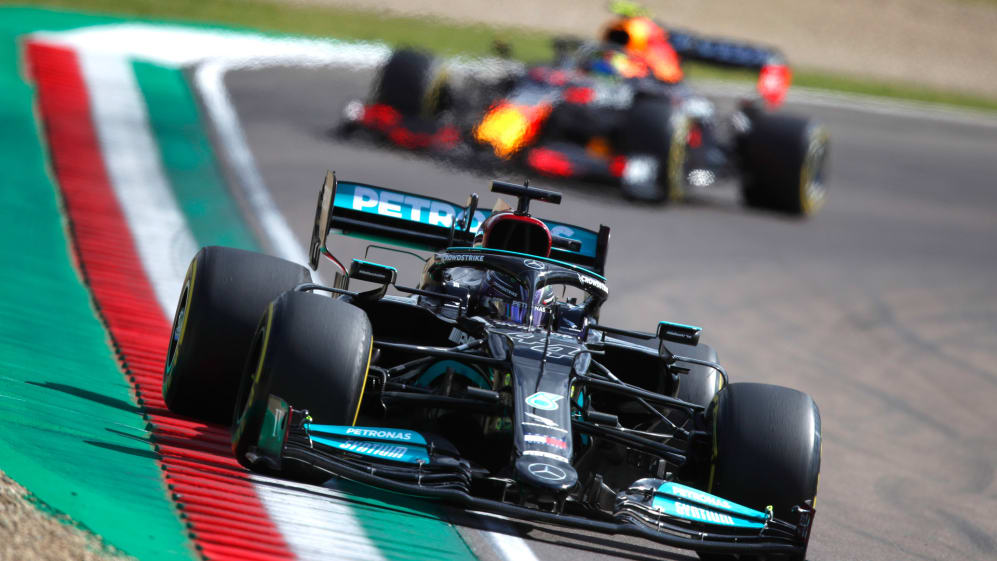 The Friday timesheets at Imola took on a rather familiar look, as world champions Mercedes locked out the first two slots in both sessions. But all is not lost yet for their rivals, so stick with us as we explain why with five things we learned from the first day's running…
1. Mercedes back on song as colder conditions help
Valtteri Bottas said ahead of this weekend that Mercedes are the hunters, not the hunted, despite having arrived at Imola off the back of a first and third in the season-opening Bahrain Grand Prix.
He is partly right because up to this weekend, Red Bull's RB16B has been the quickest machine on the grid, both in qualifying and race trim.
READ MORE: FP2: Bottas quickest as Verstappen stops on track and late Leclerc shunt halts second practice early
But based on Friday's running, it looks like Mercedes have made a step this weekend, having brought a suite of new parts to the race that trackside chief Andrew Shovlin says have worked as expected.
The W12 looks more comfortable around the narrow, undulating and bumpy old school track, with both Lewis Hamilton and Valtteri Bottas saying the balance feels like it's in the right place already.
Hamilton reckons the cooler conditions (which are much lower than usual at this time of the year, so the locals tell me, and thus making the softs grain a little) are helping as the Silver Arrows along with many of their rivals struggled with overheating in the desert.
This was arguably their smoothest day of track running so this year, which explains why they're feeling optimistic about this weekend. But they aren't getting ahead of themselves, not least because Red Bull had a difficult opening day, and they were only 0.078s quicker than the very impressive Pierre Gasly in the AlphaTauri.
READ MORE: Gasly draws praise from Hamilton after AlphaTauri enjoy 'one of our best Fridays' at Imola
"I don't think we've seen the best from the Red Bulls yet," said Hamilton, who ended the day just 0.010s shy of Mercedes team mate and pace-setter Bottas. "It looks like they had quite messy sessions with traffic and that - so it will be interesting to see tomorrow just how quick they are."
Our ideal lap data, where a driver's best mini-sectors are added together to create what would have been their quickest lap of the day, also shows that there is plenty left to come, with Hamilton having left nearly 0.6s on the table. And the whole field is significantly closer, rather than the four today racing clear.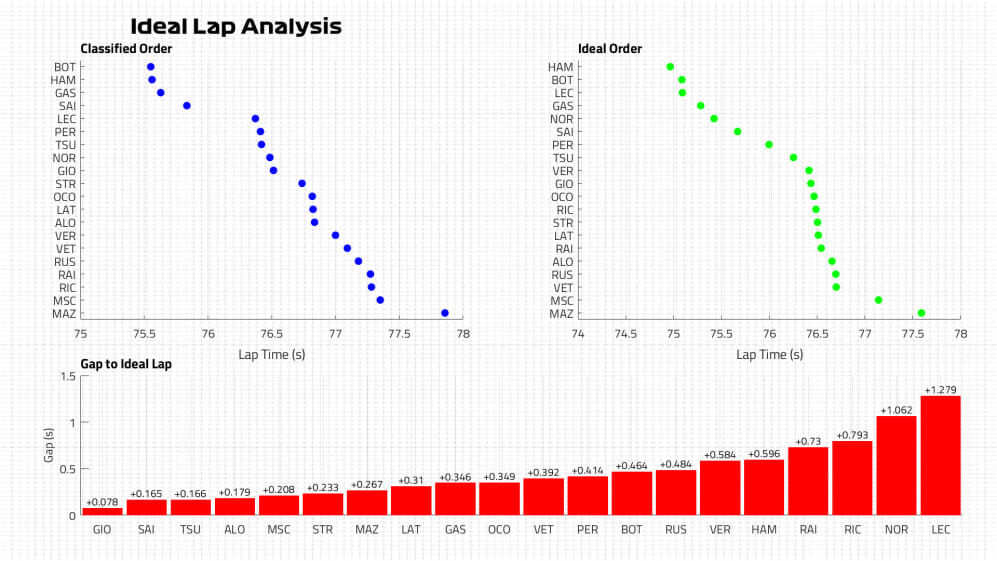 2. Red Bull yet to show their hand after messy day
If Red Bull are to beat Mercedes this year, they need to have the wind in their sails and everything going right for them. But that was not the case on Imola, as first Sergio Perez collided with Esteban Ocon in first practice, limiting his running and then his team mate Max Verstappen suffered a driveshaft issue after five laps, robbing him of the chance to do a soft tyre low-fuel run or race simulation.
But such is Verstappen's confidence right now, he remained completely unfazed by the set-back, when we chatted after the session. He said it was "no surprise" Mercedes looked quick but added "we just have to focus on ourselves to do a better job and then we'll see where we will end up compared to them".
And Checo is starting to find the sweetspot of his new office, too. Sure, he suffered a set-back when he clashed with Ocon, but the Mexican told me after the session that they managed to catch back up and reckons he and the team know where they can gain more performance on Saturday.
READ MORE: Stewards take no further action over Ocon-Perez FP1 clash that triggered red flags in Imola
He's already admitted he needs to change his driving style to tame the RB16B and after some solid running in FP2, he's learned a few more "tricks" to further help his integration. It's surely only a matter of time, and more laps, before Perez is operating at a very high level consistently once again.
For now, though, his pace – and indeed Verstappen's – is something of an unknown and therefore we'll have to wait until final practice – and even qualifying – to find out whether they are still head of the pack or if Mercedes have really pegged them back and moved ahead.
READ MORE: Verstappen says Mercedes Imola pace 'no surprise', as he reveals cause of FP2 failure
3. AlphaTauri the dark horse as they shine on home soil
AlphaTauri have a bit of a soft spot for Imola, which is located just 15km down the road from their headquarters in Faenza.
The little Italian team have spent a lot of time at the venue, having done plenty of filming days and runs with old cars at the track in recent years – so perhaps we shouldn't be surprised to see just how strong they are, especially as they secured P4 in qualifying and the race last year.
GOOD LAP vs GREAT LAP: Ride onboard with Pierre Gasly to see how to nail a lap of Imola
On Friday, Gasly was just 0.078s off the pace, having looked brilliantly quick on the soft tyre, with our data putting them fourth overall in the qualifying simulation pace rankings, 0.54s off the pace of Mercedes and just a fraction behind Ferrari and Red Bull, while their race pace looks pretty handy, too, as the retain P4 in that metric.
"We mostly tried to understand how to operate the tyres in these unusually cold temperatures – concentrating on how to maximise them during the short runs and how to limit the graining during the longer runs," said Chief Race Engineer Jonathan Eddolls.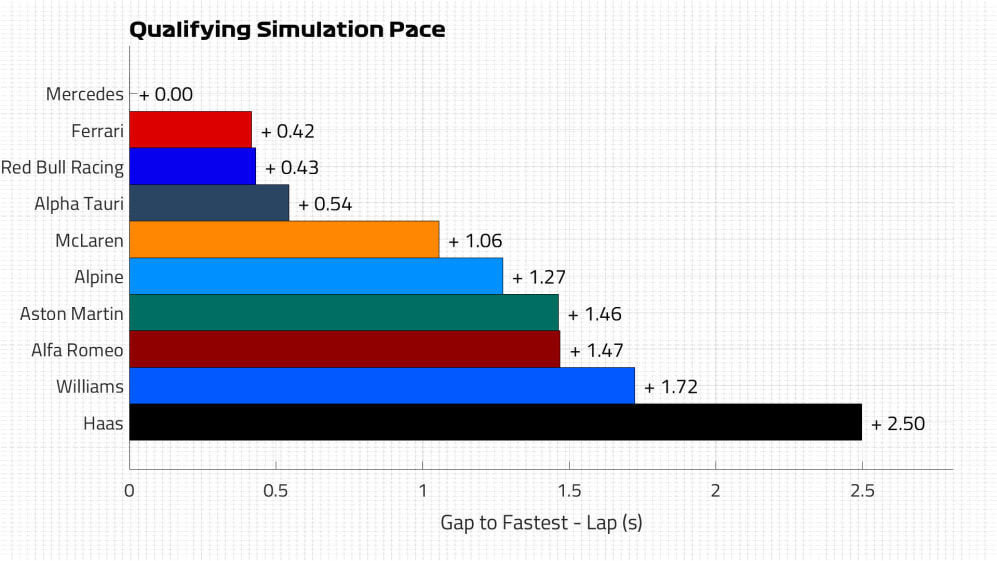 "Overall, I think it's looking positive so far this weekend – the performance over the shorter runs is there and we've now got to work with the data tonight to ensure that the pace is there for qualifying tomorrow."
There's a lot of people talking very positively about the AT02 at Imola, with senior sources at Ferrari suggesting that they will be a real threat to them here, and with a clean weekend Gasly and Yuki Tsunoda could well be heading home with a hefty haul of points – and maybe even a podium.
4. Ferrari resurgence gains traction
The smiles are back at Ferrari this year, the Scuderia making hay while the going is good and banishing the memories of last year's miserable campaign with a handy racing car that is less draggy and an engine which fires out more grunt.
Friday was smooth, aside from Charles Leclerc's late kiss with the Imola barriers, and as our data shows, their performance both in qualifying and race trim looks strong. They're P2 on the low fuel, softer tyres, though Red Bull are almost certainly ahead of them but simply didn't do the running today, and P3 when they add fuel in, 0.4s per lap slower than Mercedes.
READ MORE: 'A lot of positives' for Ferrari despite FP2-ending crash, says Leclerc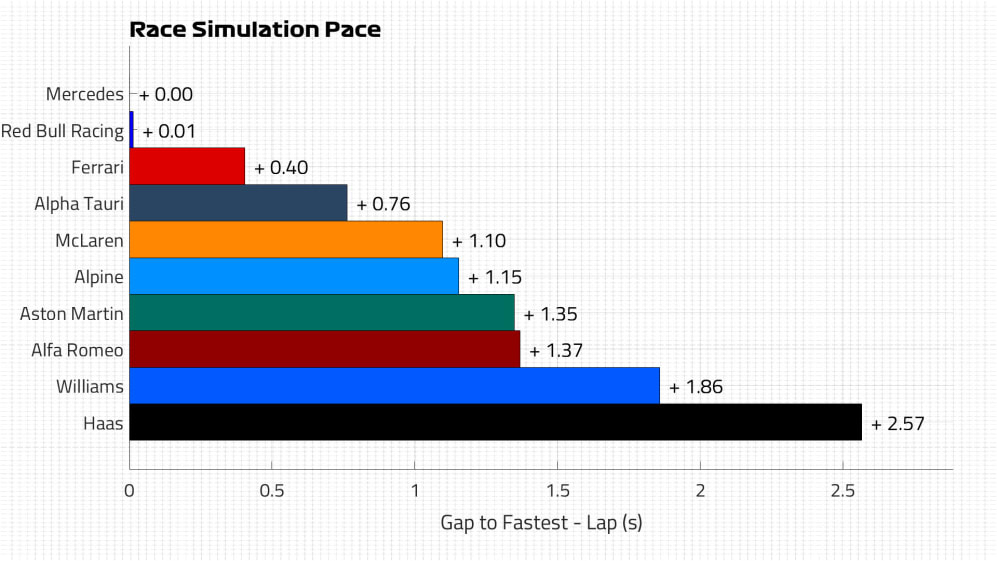 And had Leclerc achieved his ideal lap, having left 1.279s on the table according to our data, he would have matched Bottas' best and been just a fraction off Hamilton. That's why Leclerc was in good spirits at the end of the day, saying there "has been a lot of positives".
How have they done it? "It's all track and temperature specific, because we haven't changed the car at all, but the car feels a lot better in those conditions," added Leclerc. "It feels great this weekend, even if we compare it to the last year, if you compare it with it, it feels much better, the balance is better, the grip is very good and I have quite a bit of confidence in the car, so I'm looking forward to tomorrow."
5. McLaren off colour as drivers search for confidence
We've got so used to McLaren fighting at the head of the midfield that P8 (courtesy of Lando Norris) on a time sheet is a disappointing result for them. Daniel Ricciardo had an even trickier day, and ended up 18th, 1.7s off the pace.
Both drivers spoke of wanting more confidence with the car, with Lando admitting they are not as "confident as we were a couple of weeks ago" in Bahrain where they were easily the third best team.
READ MORE: McLaren put Di Resta on standby if regular Mercedes reserves unavailable
Of all the drivers, our ideal lap data supports that belief as it says Norris (+1.062s) and Ricciardo (+0.793s) left the second and third most amount of time respectively on the table, with Norris rising to fifth and Ricciardo 12th in the revised rankings in that metric.
They're fifth overall in the qualifying simulations, 1.06s off the ultimate pace and quite some way behind AlphaTauri – just over half a second. That gap is closer on the long runs, with McLaren just over a quarter of a second per lap slower than their Italian rivals.
READ MORE: Imola is 'amazing' in a modern F1 car, says Alonso on return to Italian circuit
With track limits being enforced strictly in Imola – and more than 30 lap times deleted on Friday – getting a clean lap and securing a good grid position on a track where it is notoriously difficult to overtake will be key.
And as Alpine, Aston Martin and Alfa Romeo are within 0.4s off them in qualifying pace, it could make the difference between making it into Q3 and fighting to avoid a Q1 exit.