Feature
5 things we learned from Friday practice for the Russian Grand Prix at Sochi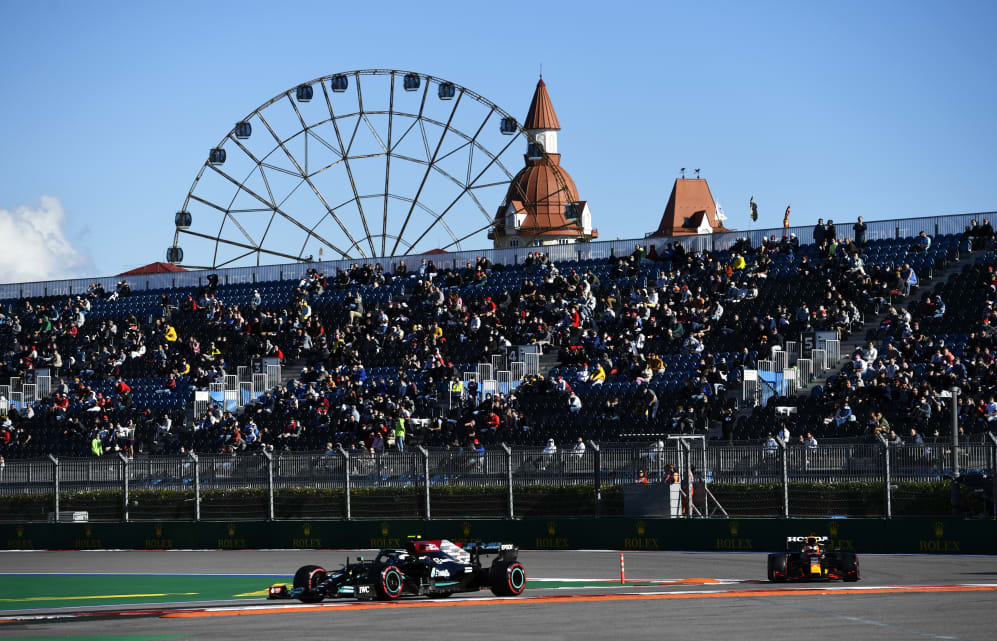 The rain stayed away for the opening day of track action at the Sochi Autodrom, as Mercedes continued their domination at the Russian track by setting an impressive pace. Here are five things we learned from Friday practice...
1. Valtteri Bottas 2.0 appears to be back in business
There's just something about Sochi that brings out the very best of Valtteri Bottas, the Finn having tasted victory on two occasions. He loves the flow of the track, and the types of corners – lots of 90-degree turns – suit his style.
So it wasn't a surprise to see him top not in one but both of Friday's practice sessions, with his seven-time world champion team mate Lewis Hamilton riding shotgun in second.
FP2: Bottas sets pace from Hamilton as Mercedes dominate second practice in Russia
Intriguingly, according to our data, Hamilton would have come out on top had he hooked all his best mini-sectors together on one lap, but only by a fraction. And it's clear that Mercedes have the edge in terms of qualifying trim around Sochi, with an impressive 0.24s advantage over Red Bull. This was made possible by the team managing to get the soft tyre – a rubber they have often struggled with this year – to work.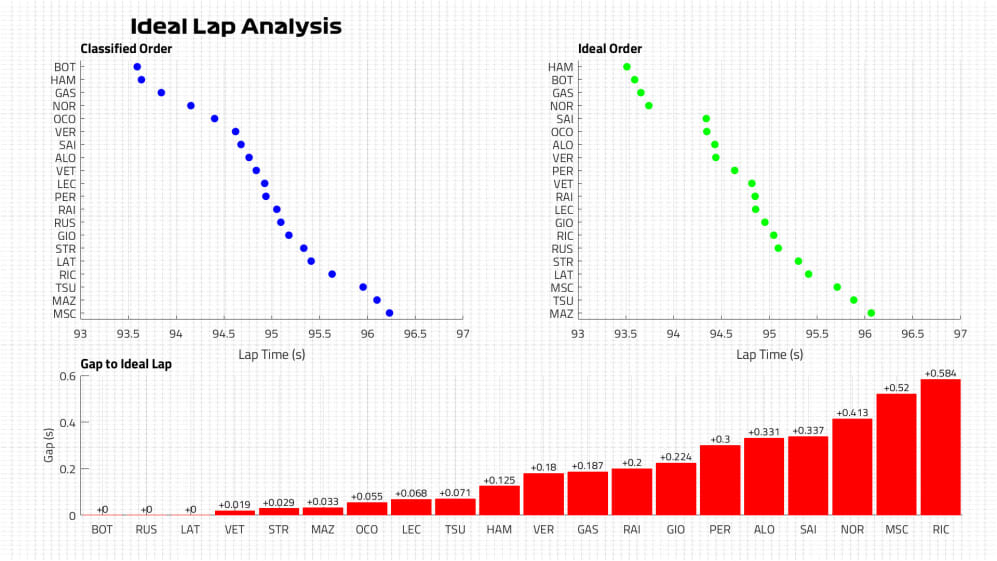 While they gave away time to seven of their closest rivals in the slow corners, our data shows they had a healthy advantage over everyone in the medium-speed turns and were stronger than all but McLaren in the high-speed. It was on the straights where they really stretched their legs, particularly versus Red Bull.
They are favourites for both pole and the race win, however they are wary of heavy rain forecast for Saturday which means this weekend is by far a foregone conclusion. "The forecast looks very wet for tomorrow, especially in the morning but we're expecting dry conditions for the race," said Mercedes trackside chief Andrew Shovlin. "That's going to give us an interesting compromise to deal with, finding a setup that works well in a wet qualifying but also has good long run pace in the dry. Overall though a reasonable start to the weekend."
WATCH: Ride onboard for Valtteri Bottas's fastest lap of Friday practice in Sochi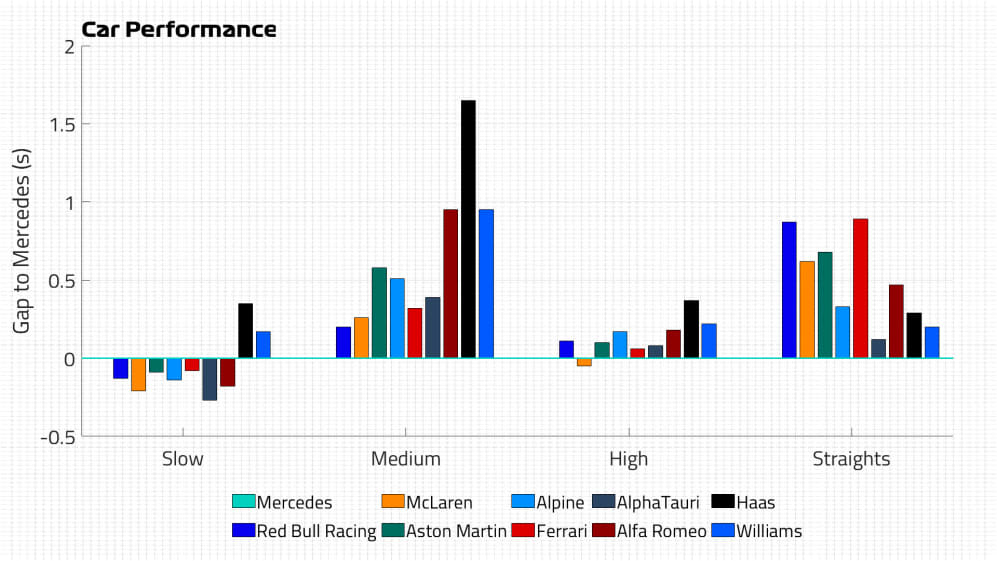 2. Verstappen focuses on minimising damage to title hopes
Heading to Sochi, Max Verstappen already knew it was going to be a challenging weekend. Not only are Mercedes unbeaten at the Russian venue, but he had a three-place grid penalty to contend with for his collision with Hamilton in Italy.
With the Dutchman already on the back foot, and knowing Mercedes would be tough to beat, Red Bull have opted to give Verstappen a fresh power unit, triggering enough grid penalties to confine him to the back of the grid.
READ MORE: Grid penalty-hit Verstappen explains why Red Bull chose to take new engine at Sochi
Having lost an engine at Silverstone, following another collision with Hamilton, Red Bull knew Verstappen would need a power unit at some point, so it made tactical sense to do it in Sochi and minimise the need to take another penalty at a track where they will be stronger at later in the year.
It means Verstappen will have to overtake on Sunday, but we heard him on the team radio saying he would need more top speed if he is to have a car capable of passing. With wet weather predicted for Saturday, followed by dry conditions on Sunday, the team have plenty of time to tinker in a bid to get the best set-up. They have a good race car, according to our data (below), as they are only 0.03s a lap slower than Mercedes.
However they are slower than Mercedes, McLaren, Aston Martin, Alpine, AlphaTauri, Alfa Romeo and Williams on the straights, according to our data gathered on Friday (above), so will need to adjust their set up accordingly.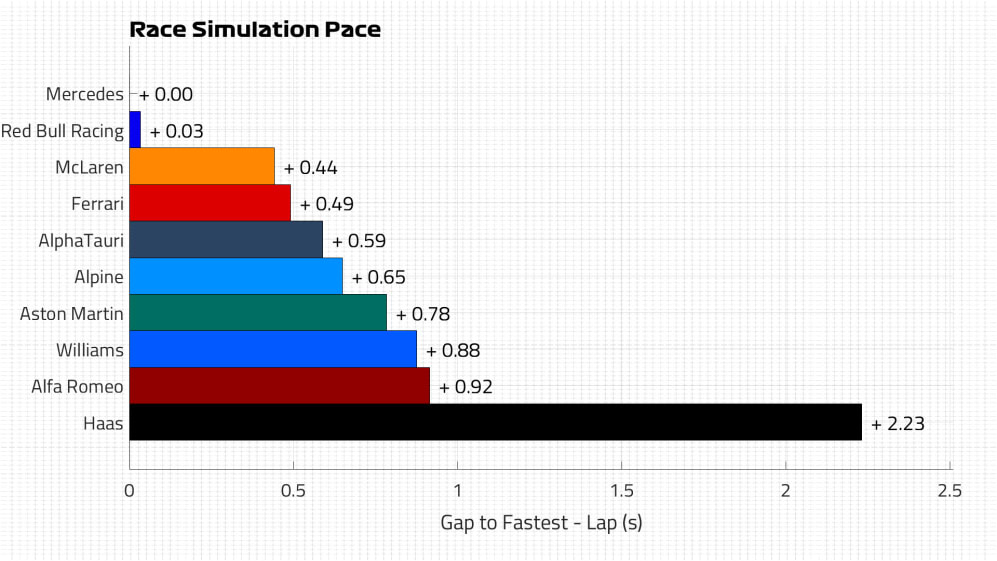 3. Difficult day for McLaren masks potential raw speed
This wasn't the smoothest of days for McLaren, who arrived in Sochi on the back of a one-two at Monza. Race winner Daniel Ricciardo missed half of FP2 as the team changed his engine after they detected an issue in the data. And when he eventually got out, he could only muster the 17th-fastest time.
On the positive side, the Australian is confident they can sort the problem out ahead of the weekend. And Lando Norris looked quick.
READ MORE: Ricciardo confident McLaren can fix FP2 power unit fault as he laments 'messy' Friday in Sochi
He was fourth on the timesheets in FP2, and could have been as much as 0.4s quicker had he got all his best mini-sectors together – only Mick Schumacher and Ricciardo left more on the table. But he too had a scrappy day, which included a half-spin into the pit entry wall in the morning session which he said was caused by an engine issue rather than driver error.
What matters is their position relative to chief rivals for P3 in the constructors' championship Ferrari – and on that basis, things look good. McLaren are third-best according to our qualifying simulation data (below), with Ferrari down in sixth, and while that gap closes in the race pace stakes, McLaren retain the edge, albeit by only 0.05s.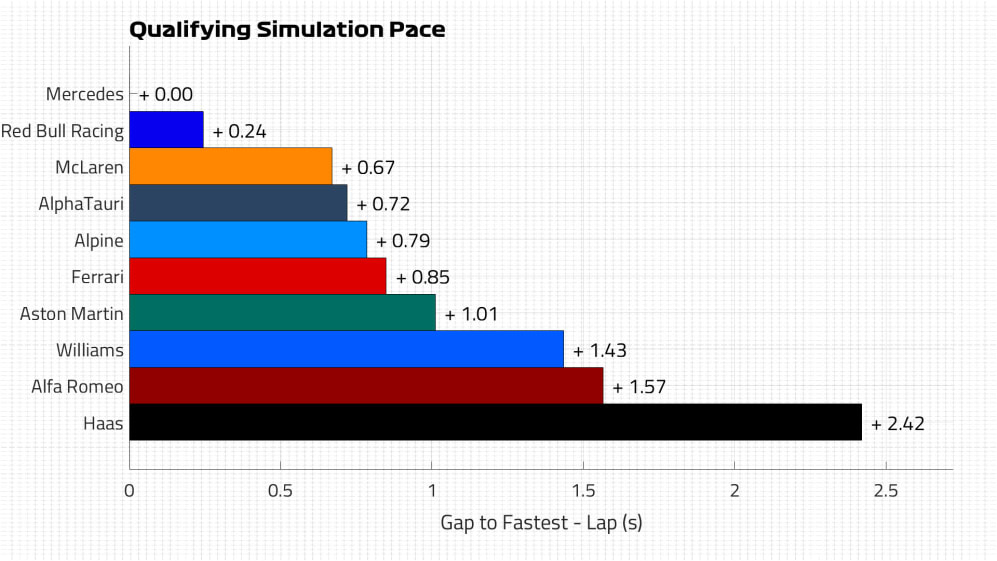 4. Positive noises coming out of Ferrari
Ferrari are trying to build on the positive momentum of their 2021 campaign with technology that they hope will help them take a big step in 2022 and back to title contenders.
Some evidence of that is on show this weekend in Russia, with a new hybrid system, which is believed to offer high single figure gains in terms of horsepower. Charles Leclerc has got it here, and will take penalties as a result, with Carlos Sainz expected to get it in Turkey, where he too will take penalties.
The early signs are that it's a good step forward, which means the data is correlating with the dynos back at Maranello. Ferrari are planning an overhauled all-new power unit for next season, which they hope will move them towards the top – if not the top – of the power stakes.
READ MORE: Leclerc says new Ferrari power unit 'felt great' as he hatches overtaking plan for Sunday's race
For now, though, their focus is Russia and trying to get back on terms with McLaren, whom they trail by 13.5 points in the standings. Their race pace looks decent, which bodes well for Sainz – who if he had got all his best mini-sectors together today would have been fifth fastest. The Spaniard's confidence has been hit of late with a few errors, so he was sensibly being cautious with his approach in the early stages in Russia.
Leclerc will need a quick race car given he'll start from the back. He accepts it's going to be difficult to cut through the field, but has an eye on trying to stick with Verstappen and follow him back through the field in what will be a faster car.
5. AlphaTauri and Alpine could be dark horses
Had Pierre Gasly got his ideal lap in the bag, he would have ended Friday just a tenth shy of Sochi Kings Mercedes. The Frenchman has been in the form of his life this year, with only misfortune and unreliability leaving him outside the top six in the drivers' standings, and once again he was on song.
Even though the wind was affecting his AT02 quite significantly around the turns of the Sochi Autodrom, one-time race winner Gasly was still able to find a way to drag fast lap times out of the car consistently, and it is this which gives him confidence for the rest of the weekend.
READ MORE: Third-quickest Gasly says car 'harder than usual' to drive after losing front wing in FP2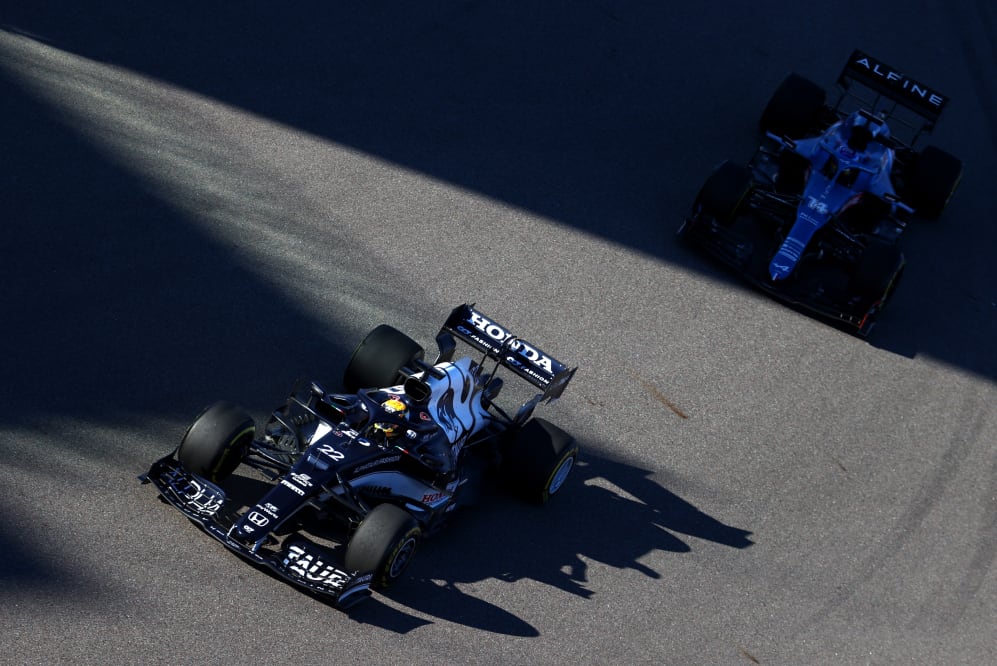 His team mate Yuki Tsunoda struggled in general with grip – and has plenty of work to do overnight. If he can make a breakthrough, it's clear the team have the pace to qualify inside the top eight and stay in the points on Sunday afternoon.
They will face a stiff threat from Alpine. Once again they showed strongly on Friday, but Fernando Alonso has seen this all before and was wary of getting ahead of himself.
The French team were competitive on the straights and while they struggled in the medium-speed corners, the package looks stronger than in Monza, putting them in the mix with AlphaTauri as they continue their fight for P5 in the constructors' championship.