Feature
5 things we learned from Friday practice for the Turkish Grand Prix at Istanbul Park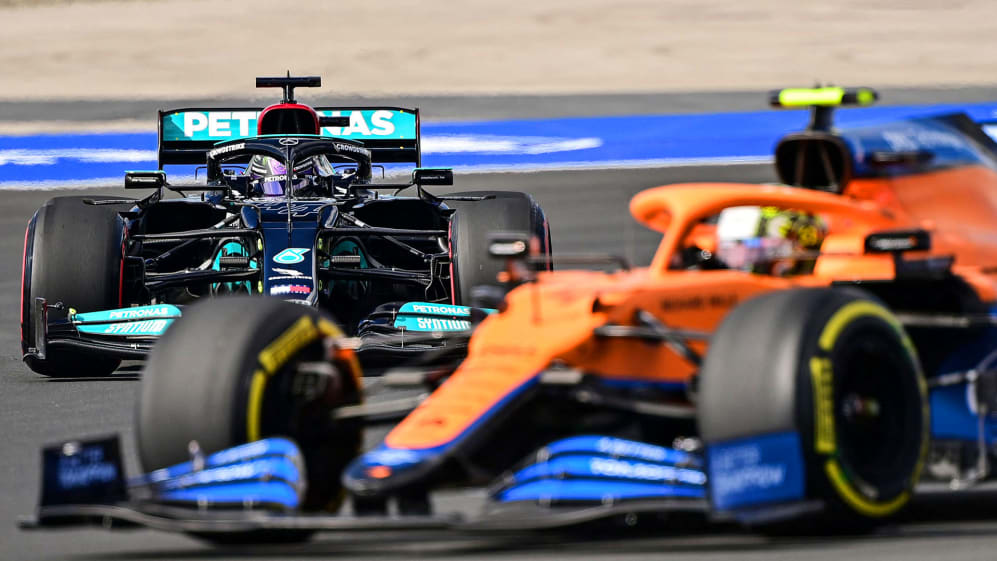 There was a hint of trepidation in the air as the Formula 1 teams arrived at Istanbul Park, given the super slippery conditions last year. But they were all left pleasantly surprised by the huge amount of grip the surface offered this time around after a year of bedding in and some hefty water blasting.
It meant that teams moved their set-up quite dramatically throughout Friday as they gathered data on the surface and learned about the tyres, which are a step softer this year.
Those who could react to and understand the conditions quickly headed into Friday night with a spring in their step, while those who struggled were left facing a long evening ahead. Time to dig into the data…
FP2: Hamilton fends off Leclerc to set pace in second Turkish GP practice
1. Mercedes have edge as Istanbul Park grips up
Lewis Hamilton and Valtteri Bottas were in good form after Friday's two one-hour practice sessions, the duo loving the grip they discovered as they lapped the iconic Turkish track – and the lap times were rosy, too.
The two drivers showed good pace on both single-lap and the longer runs, with their trackside chief Andrew Shovlin saying they ended the day "in about the right place" with regards set-up. Our data shows they have significant advantage over one lap – heading title rivals Red Bull by 0.32s. Over the long runs, they have a healthy quarter of a second advantage.
READ MORE: Hamilton loving 'intense' Istanbul challenge but has 'a lot of work to do on Sunday' after engine change penalty
An engine change for Hamilton complicates their weekend, though, with the Briton destined to start 10 places further back than where he qualifies, with Shovlin saying it will "be quite a challenge for Lewis to overtake on track". But this is a track where overtaking is possible, as Hamilton demonstrated in GP2 in 2006 when he went from P19 to P2.
They will be relying on Bottas delivering on the car's raw performance, the Finn appearing to have the edge over Hamilton's chief rival Max Verstappen on Friday in both single lap and long run performance. It's imperative that he delivers when it matters to give Mercedes some sort of control in the race and help minimise the damage in both championships.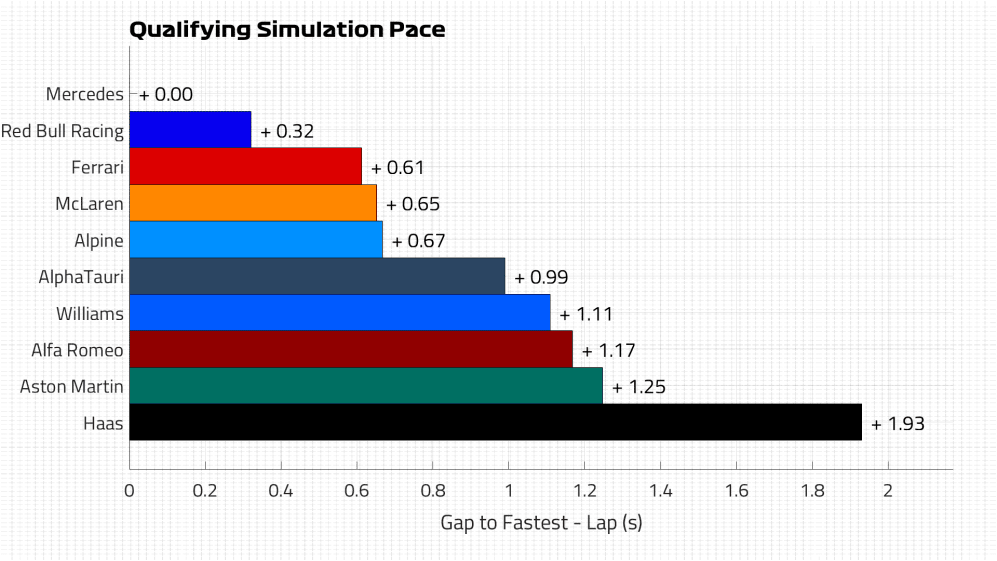 2. Red Bull have their work cut out with mid-corner struggles
Verstappen was despondent after Friday practice, which tallied with his team radio throughout the two sessions where he was chasing performance. The RB16B was struggling in mid-corner and didn't seem to have enough front-end – which you really need around Istanbul.
They tried several tweaks between sessions, which helped improve the feel and they did have the edge over the Silver Arrows in the medium speed corners – but Verstappen still felt they have a long way to go if they are to be on overall terms with Mercedes this weekend.
READ MORE: 'It's not looking too good' says Verstappen, as Red Bull struggle in opening Turkish GP practice sessions
His assertion that "it's not looking too good" summed up his mood, and his frustration is understandable, as he knows with Hamilton taking a penalty, this is a chance to put some clear air between him and the Mercedes driver in the standings – where he currently sits two points adrift of Hamilton.
Red Bull have consistently shown this season that they can find big swathes of time overnight, so they aren't down and out yet, but our simulations show that they are lacking around a tenth in each of the three sectors to Mercedes, which means it's not one single area where they are left wanting.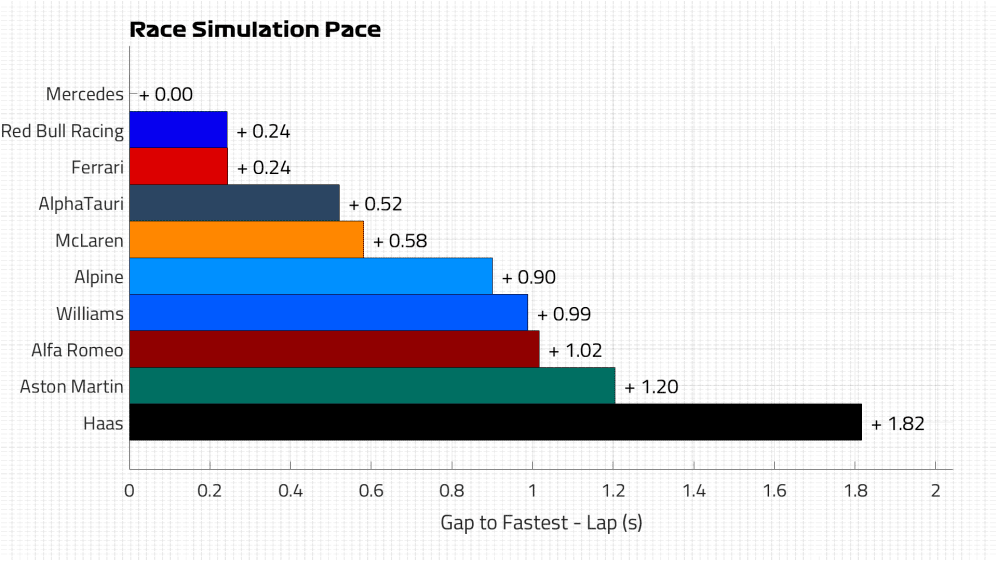 3. Ferrari cautious despite looking strong
Ordinarily, Ferrari wouldn't allow themselves to get excited by finishing second in Friday practice, less than 0.2s off the leading pace – but there's a quiet sense of optimism in Turkey after they did just that with Charles Leclerc. Had he got all his best mini sectors together, our data says he would have been fastest of all, with he and Hamilton having an impressive advantage over the rest of the field.
Leclerc was quick from the off, the Scuderia having nailed a great baseline with which to work. They were strong in the slippery conditions last year, as they finished third and fourth, and this year were very good at switching on the front tyres to put them in good stead.
READ MORE: Penalty-laden Sainz admits feeling 'regret' after seeing Leclerc's low-fuel pace in Turkey
Our simulations put them third quickest in terms of qualifying pace, but that improves to equal second with Red Bull on race pace, just 0.24s a lap slower than Mercedes. This tallies with Leclerc's assertion that the car feels very good on high fuel, and puts them in podium contention again.
His team mate Carlos Sainz was understandably disappointed that on a weekend where they look so quick, he'll be starting from the back, having taken the hybrid system that Leclerc took in Russia – but he can at least take hope from having a car that gives him every chance of being able to cut back through into the points.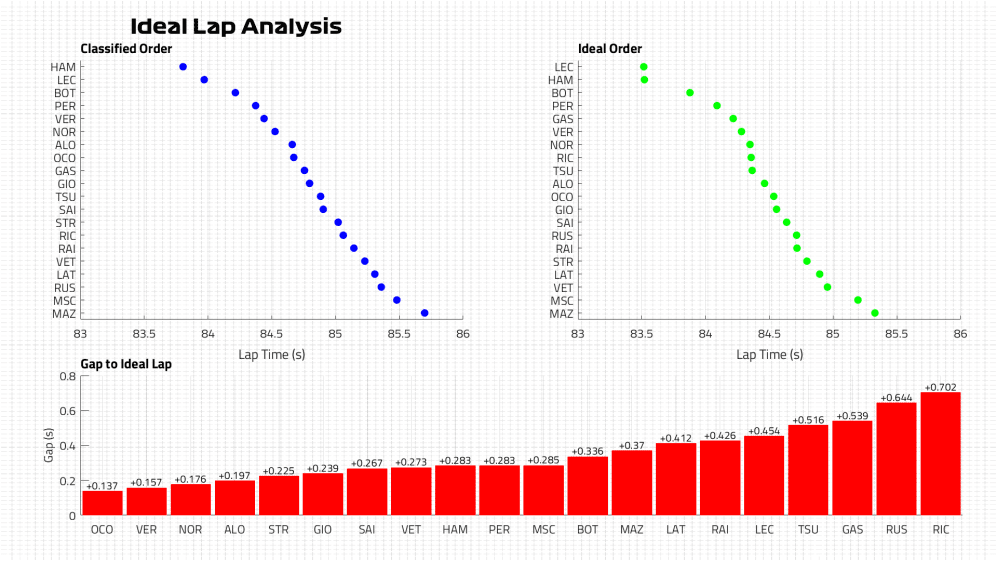 4. McLaren on the front foot after Sochi frustration
McLaren are on some run of form right now, even if they weren't able to secure the points haul they deserved in Russia when the heavens opened. Their Friday was solid, leaving Andrea Stella, executive director for racing, suggesting they are in a "pretty good place".
They were particularly strong in the third and final sector, second only to Mercedes, and were only a fraction off the overall one-lap set by Ferrari, their chief rivals for P3 in the constructors' championship. The race pace was less impressive, leaving them fifth in the pecking order, but they don't tend to show their cards on a Friday in this metric.
READ MORE: Norris says strong pace in opening Turkey practice sessions helping him get over Sochi disappointment
Critically, Lando Norris is showing no signs of a hangover from his Sochi heartbreak and very quickly got down to business – and a strong pace – while Daniel Ricciardo was pretty happy too, the Australian not worried about the timesheets as he didn't set a representative lap in FP2. Our ideal lap data backs that up, as Ricciardo would have been neck-and-neck with Norris if he'd got all his best mini sectors together, having left 0.7s of time on the table in reality.
Ferrari seem to have the slight edge, but with Sainz at the back, a solid double-points haul for McLaren will do the trick.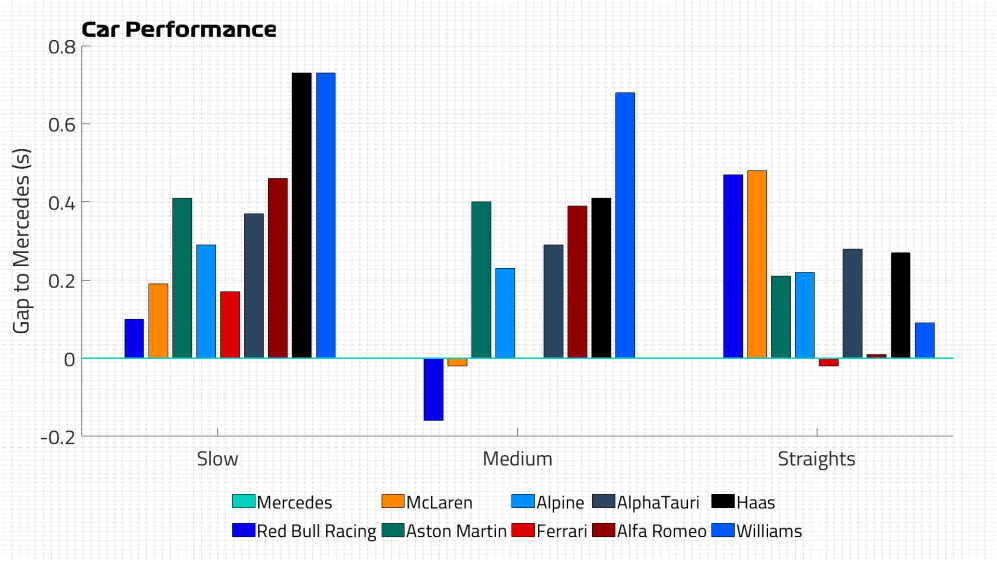 5. Alpine and AlphaTauri locked in battle for points
Alpine have made a habit of making waves on Fridays this year, the French team able to find a good baseline early doors. However, they haven't always been able to carry that through the weekend.
It could be a mixed bag again, though, as while our data shows there's little to choose between them, Ferrari and McLaren in terms of qualifying pace, their race pace puts them a distant sixth.
READ MORE: Alpine drivers revel in 'mega fun' opening day as Alonso returns to Turkey after decade away
Their chief rival for fifth in the constructors' championship AlphaTauri could spring a surprise after two pointless races. While there's more to come to get the car in the right window for qualifying, they look very strong for the race, ranking fourth in our pecking order.
Yuki Tsunoda's form is particularly encouraging. Having felt lost in first practice, the Japanese driver and his crew made a suite of changes to set-up, and he was significantly quicker in the afternoon, leaving him confident enough to be targeting Q3 rather than trying to get out Q1.