Feature
Alex Albon on life as Red Bull's reserve - and his chances of returning to the F1 grid in 2022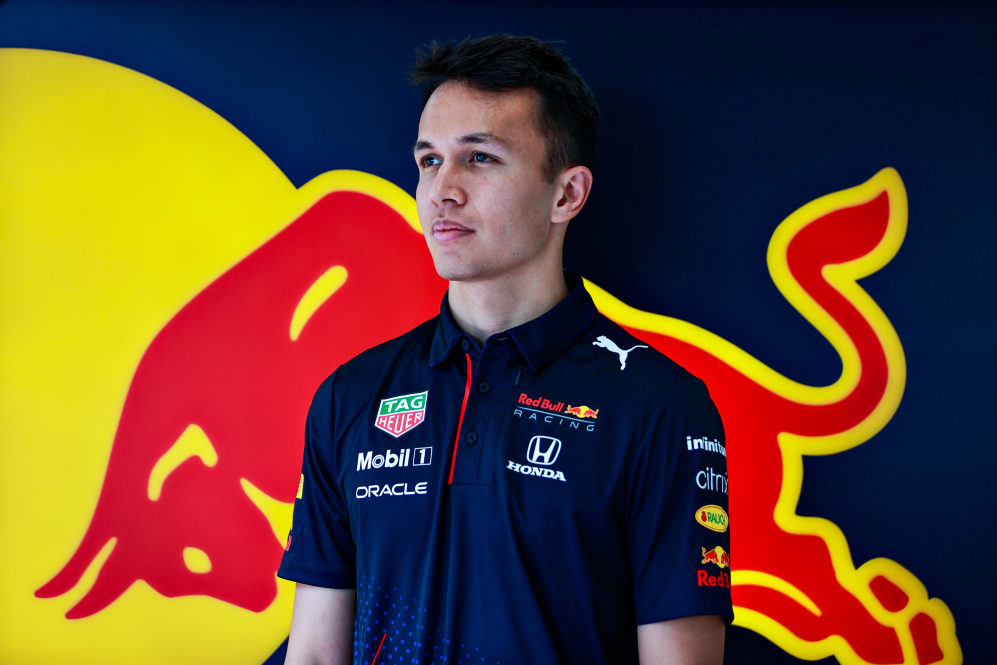 Alex Albon's driving life has changed dramatically. Last year, he was one of only 20 drivers in the world who had the honour of lining up on a Formula 1 grid. This year, most of his professional driving time is spent in a dark, windowless room, piloting a state-of-the-art simulator for hours at a time, with very few breaks.
Albon is now Red Bull's reserve - having lost his race seat alongside Max Verstappen to Sergio Perez for this season.
"I'm getting a different outlook on things," says Albon when we chat in the shade on a roasting hot day in the Silverstone paddock. "I'm seeing what goes on at the factory behind the scenes, the development work and seeing the things we work on in the simulator go to the track. It's very rewarding. Of course, it's not what I want to be doing long term, but it's interesting to see. I'm learning from Max and Checo about the car."
READ MORE: Why did Red Bull opt for Perez – and what now for Albon?
It's clear Albon is looking at the positives of the role, which sees him fully embedded in the team and at the track at all race weekends. They are relying on his simulator work heavily, especially as of all the F1 reserves, he has the most recent experience of the current machinery. And thus he is throwing himself into the role and trying to make himself useful, consistently asking what more he can do to aid what has turned into a world championship-contending team effort in 2021.
Drawing praise from the team
That hard work is paying off – and earning plaudits internally. Perez admitted he didn't expect Albon to be "so open" considering the circumstances, and that he really appreciated the Thai driver spending time explaining all the issues he had as well as all the time that he puts in in the simulator, which directly helps Perez and Verstappen get their race car into a sweet spot on a race weekend.
Red Bull boss Christian Horner was quick to give credit to the 25-year-old after Verstappen's Monaco win, too, saying his efforts in the simulator helped make the set-up changes that turned their weekend around after a difficult Thursday practice and ultimately ended in a Verstappen victory.
Whatever I can do for the team, [I want to] show my worth, show what I can give to them
Albon spent five days in the sim that week, Monday through to Friday, working flat-out to aid the race team in the Principality. Each was a proper shift, 9-5 with a short break for lunch. "It can be intense," he says. "But it varies. For Silverstone, it was just two days – Thursday and Friday. A lot of the work I'm doing now is on next year's car [when sweeping new technical rules are introduced]. I'm about 50% on that and 50% on [this year's car] on Fridays [of a Grand Prix weekend].
He was naturally pleased to hear such positive feedback from his boss, months after he was demoted from a race seat. "Obviously it's nice to hear the comments from both of them, from everyone," he says. "It's a different role. For me, it's clear, I just want to do the best I can. Whatever I can do for the team, [I want to] show my worth, show what I can give to them."
READ MORE: 'I didn't expect him to be so open with me' – Perez pays tribute to Albon after first Red Bull win
He is grateful to Red Bull for giving him a second chance with a recall for his F1 debut, having dropped him from the programme previously. And he's grateful they have kept him on in the family as reserve. But he admits there is a tinge of frustration that the year after he was stood down from racing duties, they have improved the car – with help from him – to the extent that they are now leading both drivers' and constructors' championships for the first time in nearly a decade.
"Already in winter testing, it was clear – when the guys went out – and there was a lot of rear grip in the car, which is something that we were struggling with last year," he says. "It was like 'Ugh! OK! Fine!' The team have definitely made a big step on it from one year to the next.
"It was tricky last year, it wasn't easy to drive. When the car is on the limit, it's never going to be easy. But as you said there is that side [of frustration at missing out on driving a championship-contending car]. I feel like, the car, the team, we're on the up. Look at us now, we're right up at the very front."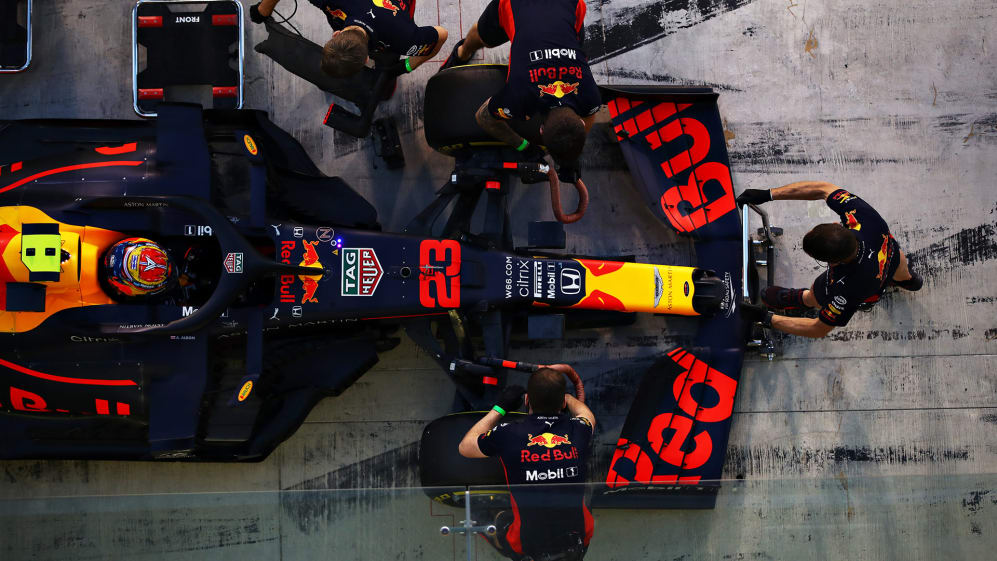 Trying to turn a negative into a positive
The two-time podium finisher admits it's been an adjustment to get used to his new role, and not be racing in F1. He's competing in DTM with Red Bull backing and doing a solid job, and is pleased to have some racing to keep him sharp - but the current situation is certainly not what he wanted. That said, he's trying to make the best of it.
"You can't lie and say it's easy," he says. "If you could say last year was tough mentally, this year is equally as tough if not tougher as you're going to circuits not racing. It's a different feeling. You want to be out there, you want to be driving. We're all born racers and we want to be out there so it's tricky. A lot of it this year is about getting motivated, pushing hard trying to see if there is a chance to come back next year."
READ MORE: Albon says he's 'ready to take anyone's space' as he stays sharp on reserve duty
And that remains Albon's focus, to once again race a Grand Prix car and add to his 38 starts. He's confident he can hit the ground running, if given a chance to return, and feels like he's learned a lot from his experience last year, when he scored in 12 of the 17 races but ended up with a points tally half that of Verstappen.
Had he not had a collision with Lewis Hamilton in Brazil 2019 or again with the Mercedes driver in Austria last year, both when in podium contention, things may very well have gone differently for Albon. But life is full of shoulda, woulda, couldas.
Everyone has been super nice to me at Red Bull. Helmut and Christian, I'm sure if an opportunity did come about they would be open in helping me and supporting me
The positive feedback from the team is boosting his confidence and time in the simulator and getting to know the 2022-spec 18-inch tyres during Pirelli tyre testing (such as two days at Silverstone this week) is strengthening his resolve. He's suffered knocks before and come back fighting. But while he's only 25, he's all too aware that time waits for no one. F1 moves on quickly, and he doesn't think he can afford more than a year out.
"In terms of an age, no [I'm not old]," he says. "But F1 moves relatively quickly. More than a year out, the car gets tricky. A year's break is as much as you can do. That's what Esteban [Ocon] did. Fernando [Alonso] is a different example, but Fernando is Fernando!
"The car evolves so quickly, technology is improving. There isn't a series out there that is close to F1. You can't jump around and do different things. So it's one year [out] maximum. A lot of the push now is making sure I can do everything I can and also being active myself, looking around, seeing what is out there for me."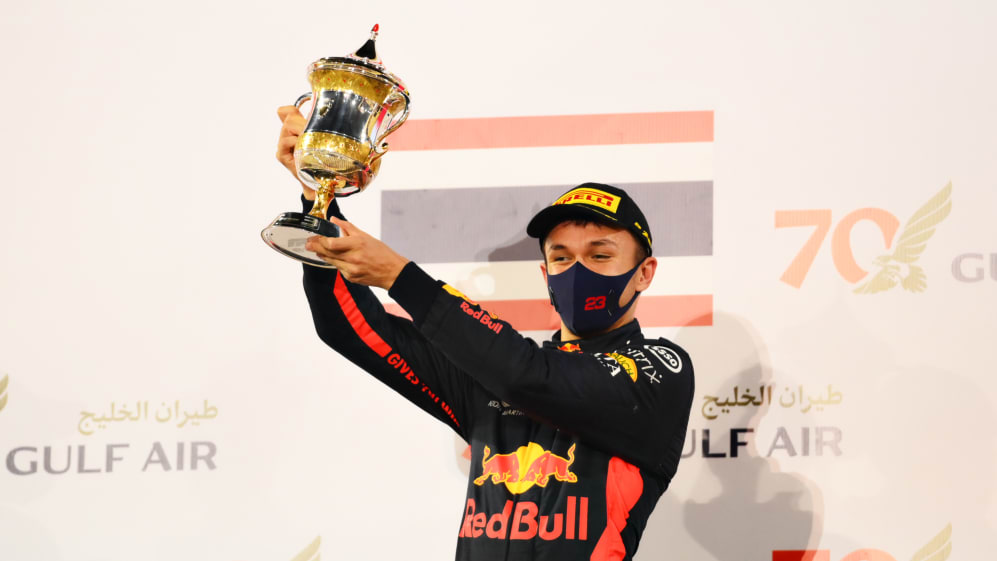 A race seat remains an option in 2022
Albon's options are limited. I understand Red Bull are edging towards retaining their line-ups both with the works outfit and sister team AlphaTauri, which means it's highly likely there will be no room at the inn for next season, at least in a racing capacity.
"There isn't much [around elsewhere on the grid]," he says. "In some respects, I'm reliant on others not performing. It's just the driver market in F1. I was lucky when I got my chance in F1, with Daniel [Ricciardo] moving - that shifted everything over. This year it looks a little stale in that sense. If a race seat isn't available here, there are a couple of teams out there that there are possibilities with. It's just one of those things where you have to wait and see."
READ MORE: Albon confident that work on RB16B has 'ironed out difficulties' of previous car
He adds: "Everyone has been super nice to me at Red Bull. Helmut [Marko, Red Bull Motorsports Advisor] and Christian, I'm sure if an opportunity did come about they would be open in helping me and supporting me. I'm sure the sim and reserve role would still be an option, too. For now, my main focus is F1, to see if there's so space. And then we'll see."
In terms of other vacancies, the only realistic openings are at Williams and Alfa Romeo, with all four seats yet to be determined. In his favour, he has recent F1 experience, proved to be a consistent points scorer, and has been working with a team contending for the world title.
He also has the potential to bring financial backing with him, via an array of channels including sponsors in his native Thailand. But he faces stiff competition from both more experienced and successful drivers and younger talent. And he knows that time is running short to get something sorted.
"It's still relatively early in the driver market but you also have to realise other championships need to be decided in terms of seat position before F1," he says. "You can make a decision in F1 in August-November and it's still fine. But if you look at other championships, like Formula E or Indycar, their seasons start earlier so they need things done earlier. You have to assess the landscape, and make sure you cover all the options, so it is difficult. Let's see what happens."
If Alex Albon does return to the grid, it will be as a different and more rounded driver to the one we last saw race a Grand Prix.