Feature
Alfa Romeo went bold for their new car reveal – but will the results match? 5 takeaways from their launch
Two grand pianos, a couple of dancers and Eurovision-esque presentation. Alfa Romeo certainly didn't hold back with their 2021 car launch, as they unveiled the C41 in an old-school short and snappy event in Warsaw, Poland. But behind the glitz and musical medleys there was a spark of a project aimed at improving on last year's eighth-place finish in the constructors' championship. So how will they get on once the lights go out on the 2021 season? Here's what we took from their launch...
1. Vasseur is keeping expectations in check
It's clear Alfa Romeo and their title sponsors Orlen – a Polish fuel company – wanted to be bold with their launch event and swanky new livery but there was nothing bold or swanky about their targets. Boss Fred Vasseur said specifically that he refused to go big because it does more harm than good.
READ MORE: Fresh look for Alfa Romeo as they launch C41 challenger for 2021
Instead he kept expectations in check, speaking of making progress "step by step" and accepting that it will be a "long path" back to the front of the midfield. And that's a sensible approach because Alfa Romeo have a tough fight in front of them if they are to improve on eighth – and at the very least hold the likes of Williams and Haas off.
The C41, like most challengers this year, is an evolution of its predecessor with the team opting to spend their two development tokens on the nose, as they believe that is where the most gains can be made.
Evolving a package that was already struggling is not ideal, but Alfa Romeo could do little else given the stability of the regulations ahead of sweeping new technical rules to be introduced next year, which will require a blank sheet of paper.
The midfield is tight, so there is a chance Alfa Romeo can shine on occasion, but it's going to be tricky.
2. They need Ferrari to deliver with the new PU
One element outside of Alfa Romeo's control that could have a huge impact on their season is their power unit. Last year's Ferrari engine was poor, dropping from class-leader the previous season to worst of the four manufacturers in terms of power output.
There are positive noises coming out of Maranello that Ferrari have made gains on the engine side, boss Mattia Binotto speaking of strong numbers on the dyno with what is described as an "all-new" power unit.
READ MORE: Vasseur expecting new Ferrari engine to claw back 'a large part' of performance for Alfa Romeo
And Vasseur was encouraged, saying, "I think on their [Ferrari's] side, they will recover probably a large part of the issues we had last year."
Alfa Romeo's relationship with Ferrari isn't like that of Haas, who take all non-listed parts from the works team. Sure, they take the engine and one or two parts, but the greatest benefit is the close collaboration where they can learn from the best resourced team.
If they can utilise that information and know-how this year, but also next year when new rules come in, Alfa Romeo could really start to reap the benefits. of course, the best way Ferrari can help them is by delivering horsepower in that new engine...
3. Raikkonen is just as motivated as ever
Forty two. That's how old Kimi Raikkonen will be at the end of this season, the Finn having amassed a staggering 329 Grand Prix starts. But though he first turned a wheel in F1 20 years ago, his motivation is still as high as ever – and that's why he keeps on racing.
Raikkonen may not be as consistently fast as he used to be, but on his day, he can deliver a staggering result – and his feedback is among the best in the business.
READ MORE: Our first tech take on Alfa Romeo's 2021 C41
With the team fighting to get back to the front of the midfield, and become regular points-scorers, having someone of Raikkonen's experience, as Vasseur admits, is hugely important.
4. Giovinazzi is aiming to impress his Ferrari backers
He may not have set the world of F1 alight in his 40 Grand Prix starts, but Antonio Giovinazzi has been improving year-on-year, race-by-race, and that's a significant reason for Ferrari continuing to support the Italian as part of their development programme.
The 27-year-old has an open-line of communication with the Scuderia, with their personnel offering him advice when required, and he was even in their simulator earlier this year. That support, together with the honing of his skills, means Giovinazzi is in a good place right now.
READ MORE: Raikkonen 'excited for 2021' as he prepares for 20th anniversary of first GP
He was showing signs of matching Raikkonen – and at times was better than him – last season. If he can beat the Finn overall this year, that'll be a feather in his cap, and could well extend his stay in F1. That's why he was full of confidence at the team's launch – and a confident driver is exactly what Alfa Romeo need as they look to battle their way back up the midfield.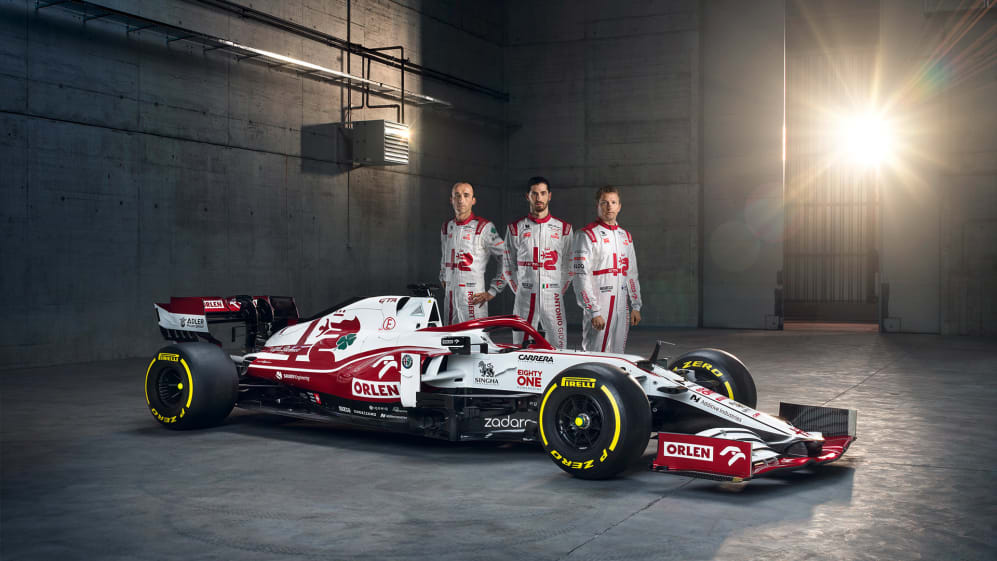 5. They will be switching their attention to 2022 early doors
Knowing that 2021 will be a challenging campaign, giving the stability in the rules, it's no surprise Alfa Romeo are putting a big focus on 2022 in a bid to try and take advantage of the rules overhaul.
READ MORE: 10 ways the new 2022 rules will improve F1
So while the car launched on Monday will look slightly different at testing and again at the first race of the season, developments for the year ahead will be few and far between as they devote their restricted wind tunnel testing time – and restricted budget following the cost cap introduction – to 2022.
Of course, many teams will be doing that, so it's down to Alfa Romeo to make sure the pain in the short term is worth it, and that they do a better job than their rivals to ensure a brighter future in the medium to long term.