Feature
BUXTON: Will Imola 2021 prove to be a symbolic changing of the guard in F1, just like Imola 2005 was?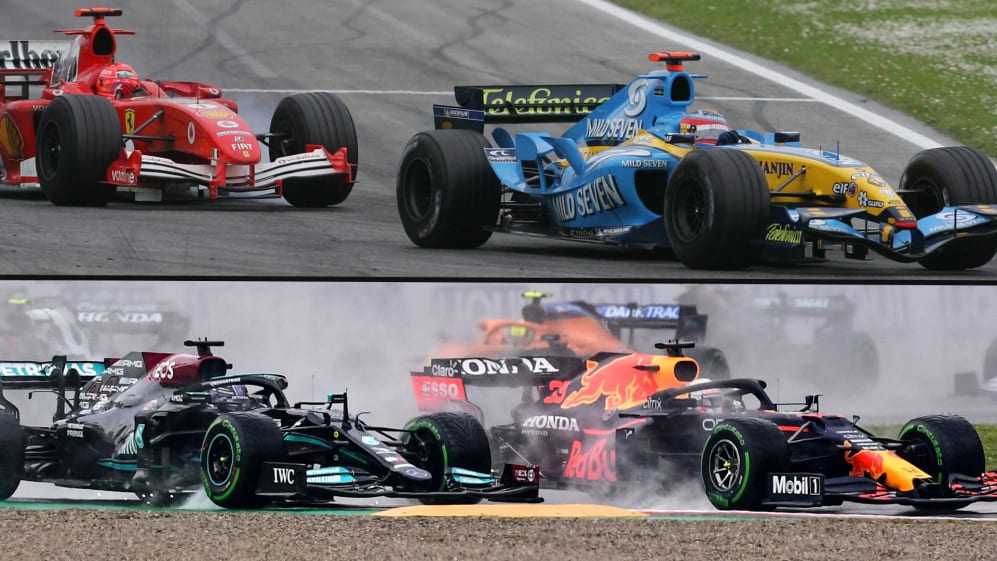 There's something mystical about Imola. Even devoid of the bubbling cauldron of intensity created by the tifosi-packed grandstands, it's an immensely special place and a circuit which takes you back through time and memory.
I was fortunate on the Thursday of this year's race to sit down with Fernando Alonso to go back over the now infamous 2005 San Marino Grand Prix. It may not have been his first race victory, but for many it was the day that the Spaniard truly arrived in the sport. In fending off the advances of Ferrari's Michael Schumacher, who had been all conquering for five straight seasons and recently crowned a seven-time world champion, the torch was being passed from one generation to the next.
ANALYSIS: How Verstappen 'won' the start against Hamilton in Imola
Fernando would win not only the race, but the World Championship. Not a year and five months later, Michael would announce his retirement from the sport.
These generational shifts are of key significance in the history of the sport, yet as Fernando commented on Thursday, you rarely realise the significance of the occasion in the moment. Only in time does its importance truly resonate.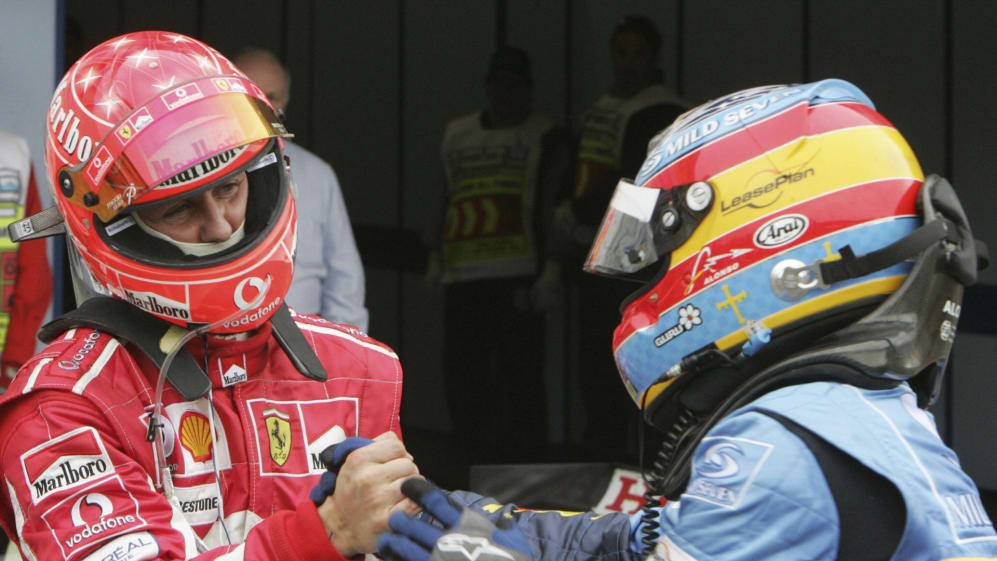 And so, it should prove to be somewhat fitting that Imola's Grand Prix should highlight once again that potential changing of the guard.
It wasn't lost on many that 2021, just as 2005, saw a 23 year-old pretender to the throne defeating a 36 year-old seven-time Formula 1 world champion at the supposed peak of his powers. He did so with a show of force and a mesmerising drive which reflected that a young Grand Prix winner was now fully rounded and able to mount a serious threat to the established order. That the seven-time champ wasn't in the best car in the field anymore was a further similarity, yet as he flew through the field, just as in '05, it couldn't be denied that it still easily had the pace to compete. And that its pilot was showing no signs of slowing down.
TREMAYNE: Ferrari are showing green shoots of recovery - but will their fans afford them the patience they need?
There was even a young British driver on the podium for a British team, a widely regarded hot shot with, it was believed, world champion potential. The history books, of course, record Alex Wurz as taking that third place, but it was Jenson Button who stood on the Imola podium in 2005, before BAR were removed from the record for their somewhat naughty reserve fuel tank. No such worries for McLaren and Lando Norris in 2021.
A world champion finished a minute in arrears of the winner. In '05 that man was Jacques Villeneuve, in a Sauber, in what would become fourth due to BAR's disqualification. In 2021, it was the man who'd lit up the track and defended his lead to grab the torch from Schumacher 16 years previously and who, similarly, benefitted due to a post-race penalty.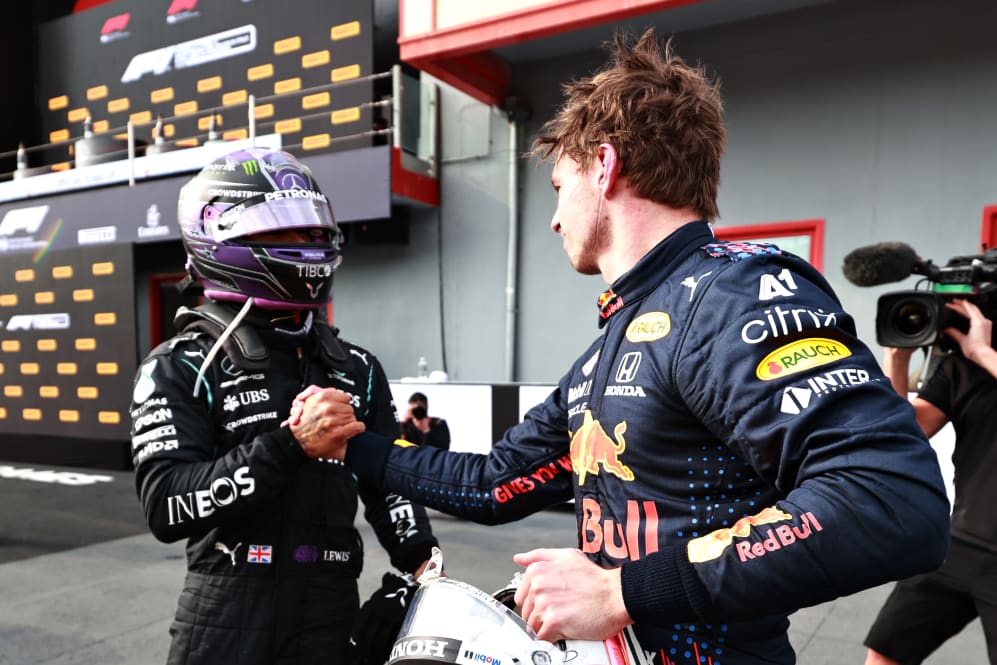 Of course, Imola's 2021 race didn't just highlight the potential paradigm shift from Hamilton to Verstappen. With Lando Norris on the podium, Charles Leclerc narrowly missing out and the headlines, both positive and negative, swirling around George Russell and Yuki Tsunoda, it was a race which displayed once again the strength in depth which exists in the next generation of F1 superstar.
But just as in 2005 that young generation breaking through also means there's an entire generation caught in the middle and which might be locked out. A generation whose time had fallen ultimately and unfortunately in precisely the same period as one of the all-time greats was putting in the kind of performances we imagined we'd never see again and setting records which, we all believed, would never be broken.
READ MORE: Long-serving Mercedes staff reveal 'heartbreak' of Schumacher failing to win for Silver Arrows
Of the entire 2005 Imola field, only two drivers beyond Alonso went on to win a world championship in the years that followed. They were Jenson Button and Kimi Raikkonen. The likes of the Jarno Trullis and Giancarlo Fisichellas had seen their best days, even if they didn't yet know it. Villeneuve would retire the next season, Ralf Schumacher a year later, then David Coulthard and Takuma Sato in '08 and Fisichella in '09. Trulli, Nick Heidfeld and Rubens Barrichello would hold on until 2011. As would Tonio Liuzzi who had, back in '05 and as reigning F3000 champion, been seen alongside Alonso as one of the next generation who had the potential to define the next decade.
As it was, the three drivers who would carve up 12 of the championships over the 16 years to 2021 hadn't even made their F1 debuts. Aged 18, 19 and 20 in 2005, Sebastian Vettel, Nico Rosberg and Lewis Hamilton were waiting in the wings.
It leaves the question of who might fall into the category of those who might have missed their time. Those who destiny ultimately gave a good hand, but not the great hand and winning cards they desired and which some, arguably, deserved.
Are Vettel and Alonso the Coulthards and Villeneuves of the pack, on the downhill path from the pinnacle they'd graced so magnificently? Might Bottas be the Barrichello, well loved and well regarded, but ultimately never quite close enough to the man setting the records to fight for the crown himself? Is Perez a Mark Webber, solidly dependable, but when finally given the shot up against the young hotshoe at Red Bull destined to fall predominantly under his shadow?
WATCH: Sergio Perez's journey from young hotshot to Grand Prix winner in Rise of the Rookie
And what of Ricciardo? Is he to be a Fisichella, never at the right team at exactly the right time to truly show his mettle… or does he still have the scope to be the Button or the Raikkonen and break out of that awkward space to win against not only the old guard but the younger crop flooding the grid? He knows he doesn't have forever. He, like Perez, is 31. Both Button and Raikkonen won their titles, against the odds, at 29.
Fascinatingly, the talk from most of those who might find themselves in that lost generation is of their need to adapt to new surroundings. Perez at Red Bull, Ricciardo at McLaren. The older guard of Alonso at Alpine and Vettel at Aston Martin. When one looks at how comparatively quickly Sainz has got up to speed at Ferrari, although admittedly still with some way to go until completely comfortable and confident, does one's longevity in the sport mean there's far more to unlearn, far more engrained that's difficult to relearn? Does youth, again, have the benefit?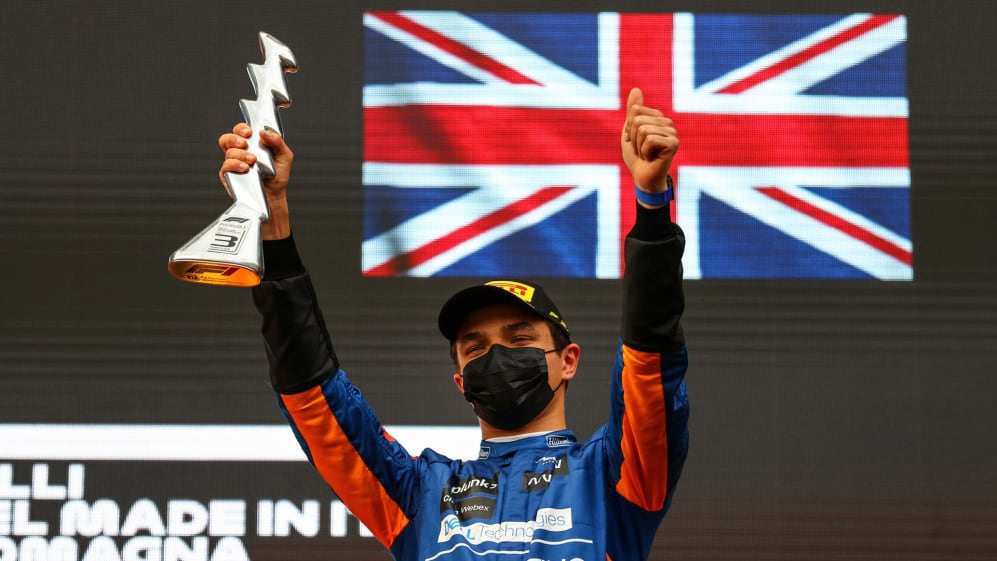 Perhaps one need only look back to Bahrain at the tail end of last season, and the Sakhir Grand Prix. Yes he stepped into the best car in the field, but there was no time to adapt, no time to learn. No five race grace period. Qualified second. Should have won. George Russell made no excuses. Didn't need any.
As Fernando said, these generational shifts are incredible moments we perhaps only ever truly appreciate after the fact.
We are living one right now.
Enjoy every lap.