Feature
Essere Ferrari: Why does the Scuderia inspire passion in racing fans like no other team?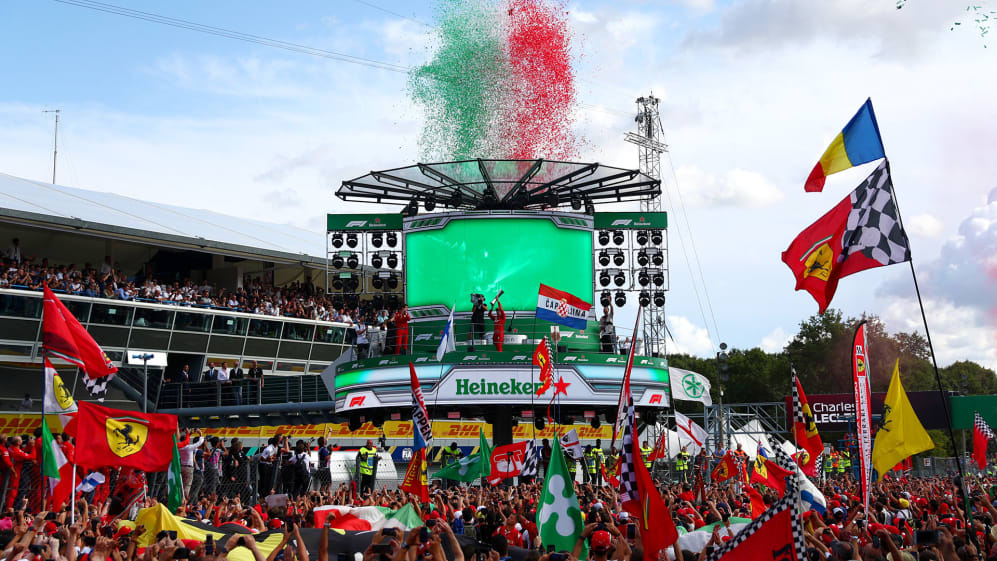 Why is the myth and legend of the Scuderia so endearing to so many tifosi around the world? Acclaimed Italian journalist Pino Allievi explores what it means to be a Ferrari fan, by looking at the history of the storied manufacturer. This feature is from the Official F1 Magazine – for a 20% discount use the code Silver20.
When the Ferrari SF90 was first presented in a slickly choreographed stage show at Fiorano on February 15, 2019 – in what looked more like an Armani fashion parade than a car launch – one slogan liberally daubed around the place created no small degree of interest: #essereFerrari.
In English, this hashtag can be roughly translated as either 'being Ferrari' or 'spirit of Ferrari'. But what did it actually mean? Was it a mysterious marketing message similar to the incomprehensible 'Mission Winnow' created by Philip Morris the year before? Maybe it was a teaser for a brand-new road car that Ferrari was about to unleash?
READ MORE: Top 10 Ferrari bombshells in F1
In fact, it was none of the above. 'Essere Ferrari' meant simply what it said, without even a need for the compulsory hashtag to make it contemporary. Defining a way of looking at life, this short phrase needed no definite article to make itself understood.
Enzo Ferrari himself would have been delighted by this motto, as it would undoubtedly have been called, back in the pre-hashtag era. It was invented by team principal Mattia Binotto for the exclusive use – for now at least – of the race team, because it summarises neatly what the Scuderia is all about.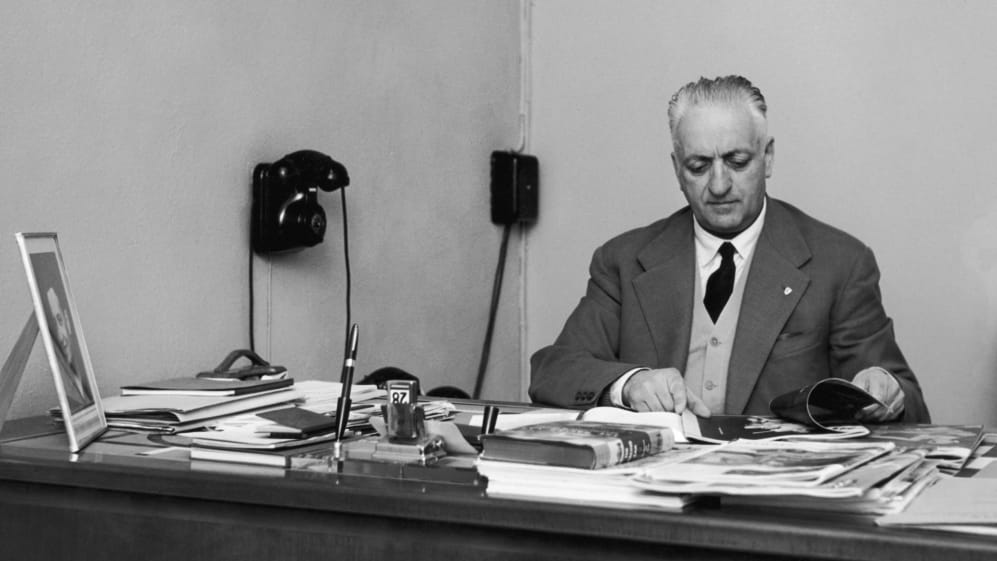 It describes a team that for the past 91 years have been fighting, struggling, disappearing, re-emerging, crying and celebrating: but always with an absolutely unmistakeable style and identity.
When Scuderia Ferrari was created in 1929, its founder already knew that the whole adventure was going to progress far beyond merely running private Alfa Romeos – although he also ran a Duesenberg and a Maserati with the Scuderia Ferrari logo. The goal for Ferrari was always to race his very own cars, which finally became a reality in 1947.
READ MORE: ANALYSIS: Why Ferrari's technical reshuffle - and nod to the past - is so significant
Enzo Ferrari was a methodical man and he knew that his ambitious plan would only come to fruition via a series of carefully orchestrated steps, such as winning the German Grand Prix with Tazio Nuvolari in 1935 and the Vanderbilt Cup in 1936, again with the 'Flying Mantuan'.
The latter success, achieved near New York, introduced the United States to the potential and tenacity of this little team from Modena in Italy, bringing it one step closer to becoming a legend.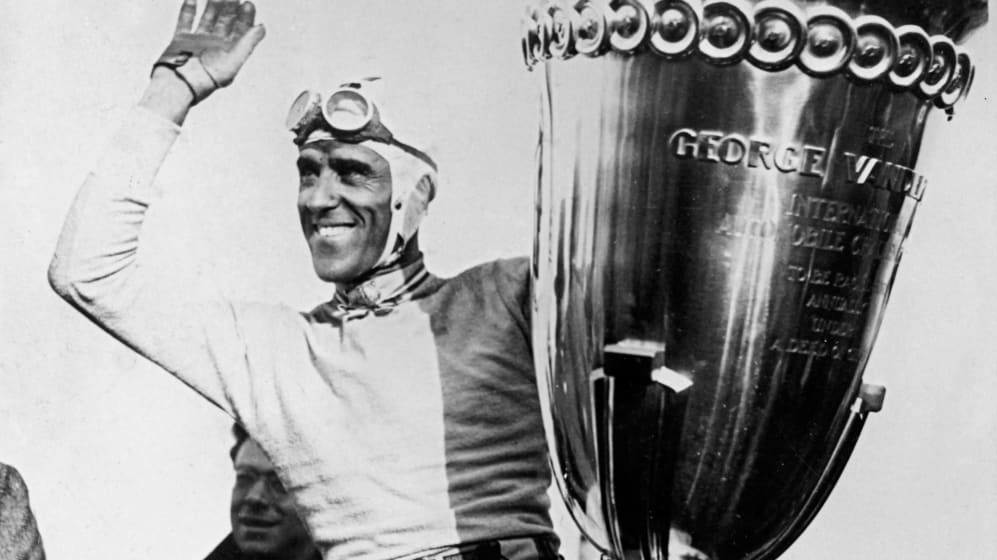 'Essere Ferrari', at the time, referred to the David-versus-Goliath spirit with which a small band of enterprising and brave, but relatively impoverished, Italians took on the might of the German giants such as Mercedes and Auto Union, enriched by the coffers of Nazi Germany, whose mission was to spread the word of an unbeatable technical superpower.
So Binotto's idea with #essereFerrari was to go back to that pioneering spirit seen at the very beginning, linking it to the rapidly-changing modern world while reminding people that the company's roots are anchored in a historic tradition that has never been extinguished.
READ MORE: Ferrari are ready to sign new F1 Concorde Agreement, says Binotto
Ferrari chairman John Elkann believes 'Essere Ferrari' represents "the pride of a team capable of bringing together the best of Italy, as well as creativity, enterprise, ingenuity and heart." Binotto defines it further: "It means having the courage to compete, as well as integrity, passion and determination. It's a mission statement that furthers Enzo Ferrari's dream."
These stirring words are far from empty rhetoric, because that dream is also built on solid commercial realities. In 2019, 10,131 cars rolled off the production lines at Maranello, with a turnover of €3.77 billion and a profit of €699 million. These figures are the envy of carmakers around the world.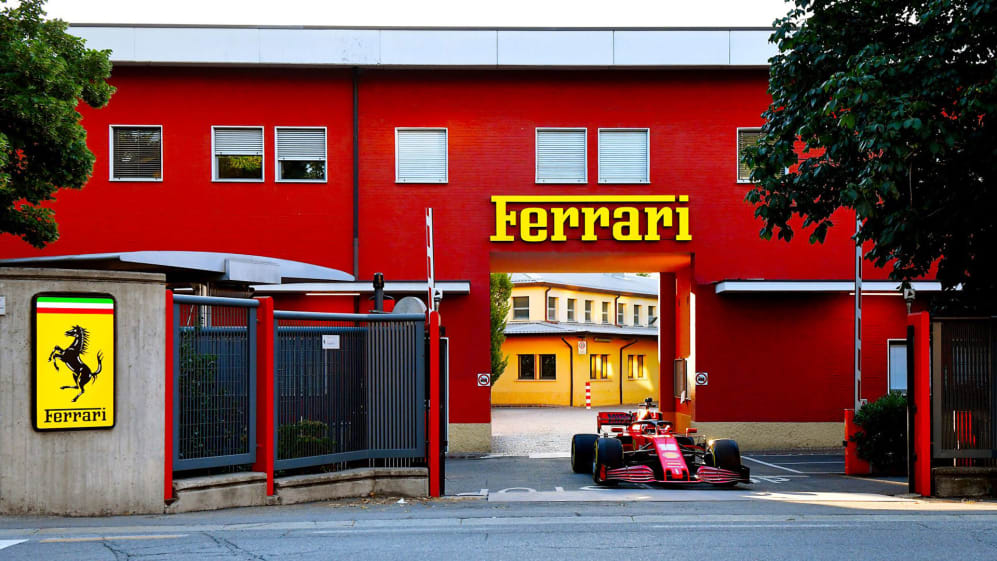 "But we are Ferrari, we've been here a long time, and we've never wavered from our purpose of making cars with unrivalled performance and quality. That's why our customers have always followed us and appreciated us," says Piero Ferrari, vice-chairman of the company and the son of its illustrious founder. But this begs an important question: how can that distinguished image be maintained if the Formula 1 team hasn't won a championship since way back in 2007?
"We've never done advertising in the press or on TV; racing is how we make ourselves known and demonstrate to everyone our technical excellence that nobody else has," Ferrari replies. "People appreciate the qualities of our cars and they know that racing provides established solutions that are ready to go into our road cars. Winning on the track is prestigious and reinforces our pride, but leaving that aside, a Ferrari is the best road car in its class that you can get."
READ MORE: Already a hero: How Charles Leclerc won the hearts of the tifosi in a single season
What he says makes a lot of sense, but do the ardent tifosi scattered all over the world – tens of millions of people – see it the same way? Judging from the very visible support at racing circuits around the globe in the pre-Covid era, passion for the Prancing Horse is seemingly independent of actual results on track.
However, every time a Ferrari wins there's an explosion of sentiment and enthusiasm that transcends nationality, turning the sport into a colourful and unique spectacle, universally tinged with red.
It seems that 'Essere Ferrari' is quite an abstract concept that exists somewhat distinct from the physical world and concrete results. It embodies another side to Ferrari; the one that wants to fight on a level playing field against whoever comes along, without fear and in search only of innovation.
So the fact that Ferrari won't always beat the strongest team in Formula 1 history – Mercedes – is not inconsistent with this overriding message. In a sport as complex as Formula 1, several huge car corporations have come and gone: Ford, Toyota, BMW, Jaguar, Peugeot and Porsche, to name but a few. They've all been defeated by the immense commitment that's needed to succeed at this level, having spent unimaginable fortunes without ever reaching the objectives that they targeted.
Ferrari, by contrast, have always been there – through good times and bad – and people recognise this fact with respect and admiration. Every year for as long as we can remember, the team have come back for more, unhesitatingly putting themselves up against all-comers: not just in Formula 1, but also in the past against the massive car manufacturers involved in the World Sportscar Championship and Can-Am.
READ MORE: Vettel admits he's failed in Schumacher-inspired 'mission' - but has no regrets about Ferrari move
This is an ideology and commitment that fans adore, especially in a world dominated by financial crises, incompetent and often corrupt leaders, global problems that seem insurmountable, and throwaway short-term solutions plucked from the air. In this everyday chaos we are all sadly familiar with, Ferrari symbolises an enduring work ethic that illuminates an unremittingly grey background – they display the sort of courage and faith that can serve as an example for many people.
And that's where some unquantifiable parameters come in, such as the emotional attachment that so many people feel towards the company; the passion of the people who work there, their dedication, know-how and determination to do better every day. It's all part of the typically Italian creative intuition that has made itself felt profoundly over the years within culture, art and industry.
These are the characteristics of very special people, who Enzo Ferrari identified and cultivated from the company's beginnings in the 20th century, involving them all in a miraculous enterprise. The end result, the Maranello factory as we know it now, is where dreams are made.
And so, 'Essere Ferrari' is a philosophy that links the past to the present, projecting a future derived from the company's traditional values. It's a design for life with no hidden meanings: as clear as it is meaningful for the many people who live by it every day, in an age when words have often been substituted by 'messages' and 'platforms' on which narcissistic business leaders and spin doctors try to construct their flawed campaigns.
READ MORE: Jody Scheckter on his 1970s rivals, Enzo Ferrari and life after F1
By contrast, 'Essere Ferrari' stands for strength and belonging. Think of all the drivers who have had their lives changed by driving for Ferrari. A small step that often results in a giant leap. Mika Salo, for example, who stood in for an injured Michael Schumacher in 1999.
Almost straight away, in Germany he found himself leading a Grand Prix with an easy and famous win within his grasp. But instead of claiming it, he slowed down and sacrificed the glory in favour of obeying team orders to let Eddie Irvine past – who was still in contention for the world title at the time.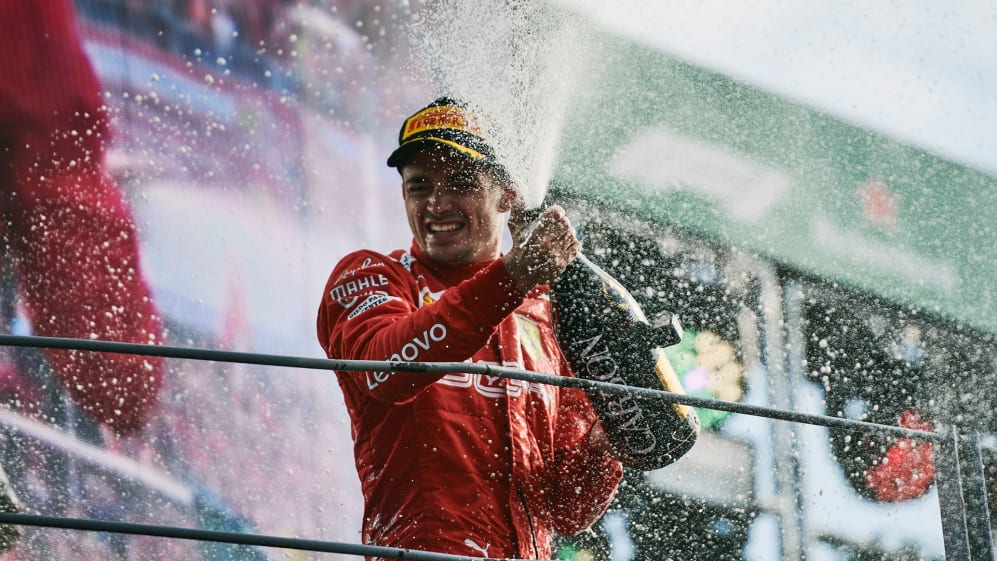 Regrets? There are many, still today. But, paradoxically, that episode – which would have passed almost unnoticed had it happened with any other team – wrote Salo's chapter in F1 history, remembered not only in Maranello but all over the world. Nobody will forget what he did.
Salo was well aware of 'Essere Ferrari' before the slogan had even been thought of – back when Binotto was still taking his first steps in the competitions department.
WATCH: How Sebastian Vettel's five years at Ferrari have unfolded
There were echoes of 1956, when Peter Collins gave up a race win and world title to his team-mate Juan Manuel Fangio at an unforgettable Italian Grand Prix. As Niki Lauda once caustically pointed out, a driver doesn't just sell his services to Ferrari; he sells his soul.
Many other Ferrari champions observed the same fact several years before: people like Mike Hawthorn, John Surtees and Phil Hill. That's because 'Essere Ferrari' also demands the renunciation of personal gain in favour of the common cause, and all the frustrations, sacrifices and humiliations that may bring.
This is a form of psychological conditioning that, once a driver has left Maranello, appears to belong to another life and sometimes provokes a strong reaction – a kind of rebellion against practices that suddenly no longer seem acceptable.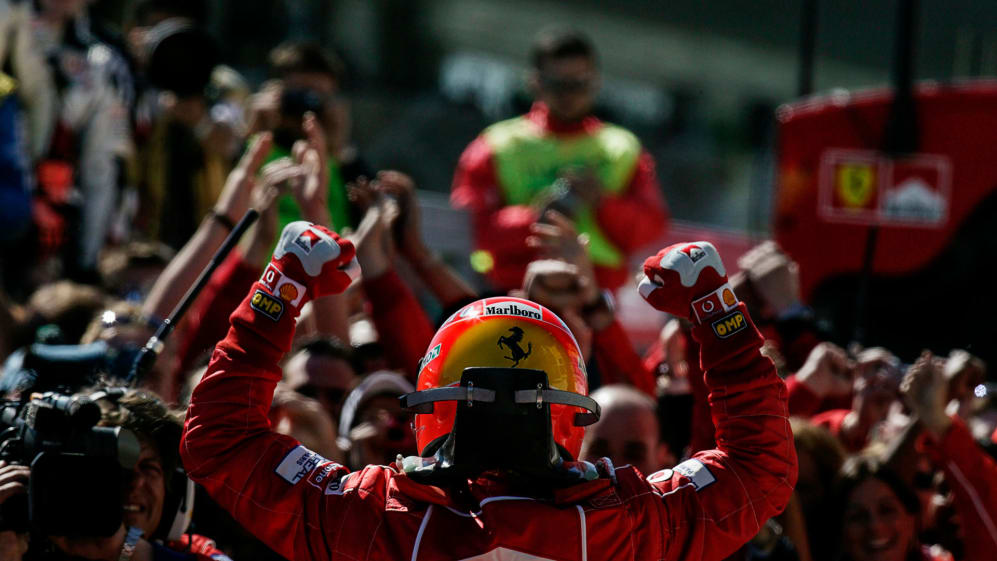 Here we enter the world of drivers – and there are many of them – who have used their 'Essere Ferrari' as a springboard to pastures new, coldly turning their backs on the tifosi who once idolised them. Others have stayed loyal, earning immense affection.
For example, Jean Alesi, who in Italy enjoys the popularity of a world champion. Lauda, despite his earlier comments, is another one: although he led Mercedes from the pitwall in recent years, he was buried in his old Ferrari overalls. It remains to be seen which category Sebastian Vettel will be filed under, who as of this year already represents the past, with Binotto having chosen to turn a new page from 2021.
READ MORE: 5 reasons to be excited about the new Leclerc-Sainz partnership at Ferrari
In the end, it's hard to draw too rational a conclusion about what Ferrari means to people, as we're dealing with irrational human sentiments: emotion, sensitivity, fandom, as well as the vicissitudes of fate. But those feelings last eternally, especially for those on the inside.
From the most junior of the mechanics to the greatest of champions, all are held captive by that spell like no other: 'being Ferrari'. It can carry an enormous price, but 'Essere Ferrari' also offers rewards that money simply cannot buy.
This story first appeared in Issue 5 of The Official Formula 1 Magazine. Your official guide to Silverstone is available to buy now - for a 20% discount use the code Silver20 at www.thef1magazine.com.