Feature
F1 FANTASY: Why you should use your wildcard in Singapore – and who you should pick
Fourteen Grands Prix down in 2019, seven to go: the keen mathematicians among you will have worked out that that means we're about to enter the final third of races this year. So ahead of the Singapore Grand Prix, here's why now is the perfect time to use your F1 Fantasy wildcard – and pick your ideal team for the remainder of the season.
Firstly, a spot of housekeeping. The wildcard: What is? What does? This year, F1 Fantasy players got two of them, one for the first half of the season (up to Hungary) and one for the second half (from Belgium onwards) – and they give you a chance to completely rebuild your team from scratch.
READ MORE: These 5 key tips will make you a better F1 Fantasy player
Much like the ejector seat on a fighter jet, you'd rather not use it – but it's comforting to have it, especially if you've taken a wrong turn with your team selection. And there's a compelling reason to use it ahead of the Singapore Grand Prix, too. Why?
Well, Spa-Francorchamps and Monza are two very particular tracks, set-up wise – and it's no surprise that they yielded the only two Ferrari victories of the year so far. Unfortunately for the Scuderia, however, the rest of the season could be more of a struggle – so while having Charles Leclerc and Ferrari in your team may have worked well for Belgium and Italy, it might not be such a hot idea going forward.
Yes, the last seven races aren't all the same, ranging from the breathless, high-altitude Mexico to the looooong straights of Abu Dhabi – but we reckon blowing up your team and building an all-rounder super-squad for the final third of the year could be wise, now that Belgium and Italy are out the way.
And for the prize-focused among you, there's a second compelling reason to deploy your wildcard ahead of Singapore – and that is the Official F1 Asia League. That league runs across the Singapore, Russian and Japanese Grands Prix, and gives you a chance to win some fantastic exclusive prizes, including signed Mercedes merchandise.
And who would we pick for this squad? Why not try the below F1 Fantasy team (or a variation on it) which we reckon is decently 'last seven race' proof – click here to play around with your squad.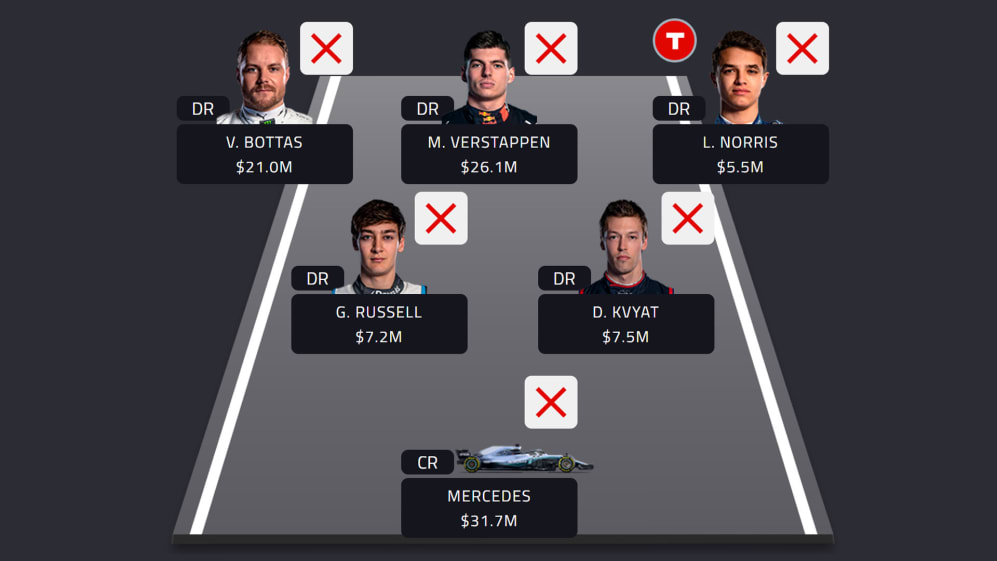 Valtteri Bottas
The Finn has performed exceptionally well for F1 Fantasy players this year considering his relatively low price tag, while he's likely to be the man to beat at the super-smooth Sochi circuit in Russia that he loves.
Max Verstappen
Belgium and Italy were always set to be two of the hardest races of the year for Verstappen – but with the likes of Singapore, Mexico and Brazil coming up, we expect the Dutchman to be back to his best.
Lando Norris (Turbo Driver)
We reckon having a McLaren driver at Lando's low, low price – $5.5 million ahead of Singapore – is a no-brainer, especially now that we're heading back to some tracks that should reward the MCL34's decent downforce levels.
READ MORE: What were the best and worst F1 Fantasy teams from Monza?
Daniil Kvyat
The Russian appears to have matured into an extremely consistent race driver in 2019, and especially given that he knows the Toro Rosso STR14 package better than his parachuted-in team mate Pierre Gasly, we're expecting a handful of Q3s and top-10 finishes from Kvyat before the season's out.
George Russell
A bit of an F1 Fantasy secret weapon is George, given his strong performances relative to Robert Kubica this year, as well as his ability to earn more F1 Fantasy points when drivers in front of him retire – something that happens a lot in Singapore!
Constructor – Mercedes
There isn't a better all-rounder car than the Mercedes W10, with the team finishing within a second of Leclerc's Ferrari at both of the last two races, despite Ferrari's apparent pace advantage. An easy choice, we think.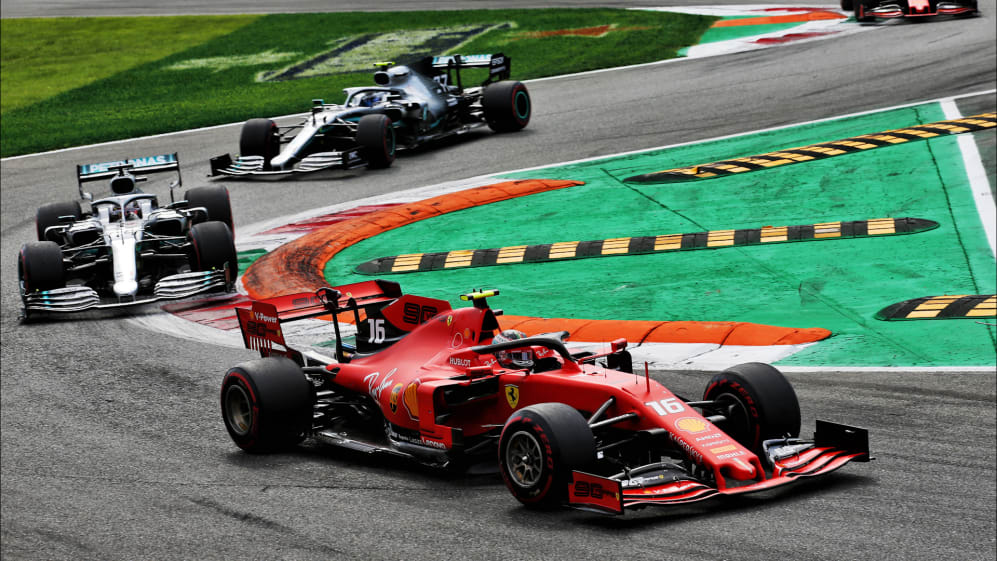 F1 Fantasy – get in the game!
Have you picked your F1 Fantasy team yet? Head here to choose your dream line-up.