Fastest ever F1 lap felt 'awesome' says Hamilton as he claims 7th Monza pole
A lack of power unit 'party modes' for Mercedes couldn't prevent Lewis Hamilton from setting the fastest lap in Formula 1 history for the 2020 Italian Grand Prix, Hamilton averaging 164.267mph around Monza to secure his record-extending seventh pole position at the track.
Hamilton's final effort in Q3 saw him lap Monza in 1m 18.887s, to beat Kimi Raikkonen's previous track record – and previous fastest F1 lap – by a full 0.232s, with Valtteri Bottas taking P2 for Mercedes, just 0.069s adrift, to give the team their first front row lock-out here since 2016.
READ MORE: Supreme Hamilton edges out Bottas as Ferrari struggle at Monza
"It was not too bad!" said Hamilton after the session. "I'm generally really happy with the actual laps I did. Valtteri was very, very close, pushing. I made some big changes going in to qualifying, so I was a little bit nervous going in that it was the right thing to do but it worked just fine.
"The speeds we're going through the Lesmos is pretty awesome," he added. "You are moving around when you get to the low speed sections, so Turns 1, 2, 3, 4, 5, it's definitely a little bit tricky there. But the rest of it, you're just trying to gauge how much you try and attack, keep the minimum speed up and make sure you get the exits, because you've got these long straights, so it's trying to find the balance which is not so easy."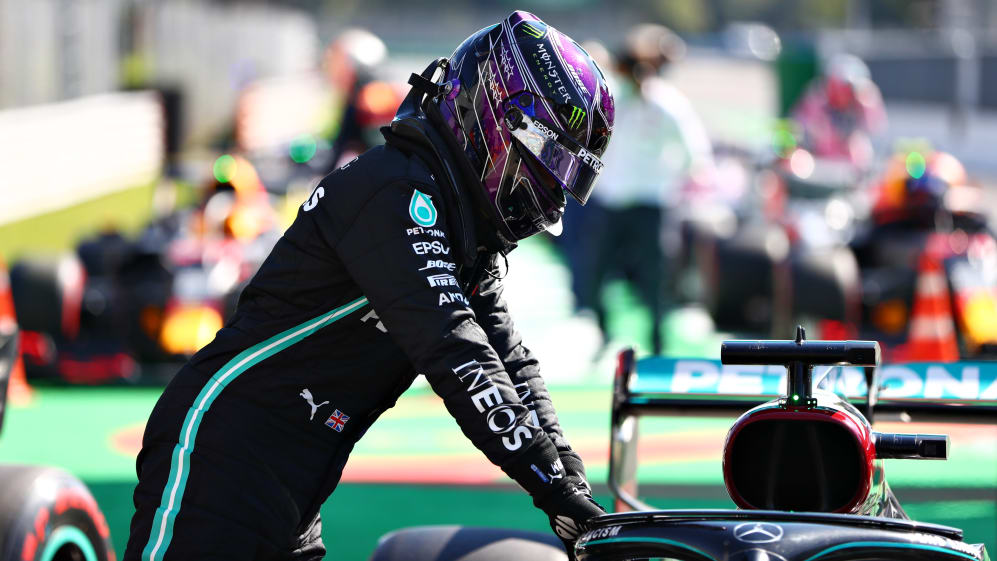 Hamilton went on to admit, however, that despite clocking F1's fastest lap of all time, he'd felt that his pole position from a week ago at Spa-Francorchamps had been a more satisfying lap.
"I don't understand that!" said Hamilton when he was informed about the record. "The Spa lap was probably one of my best. I reckon Singapore [in 2018] and Spa are the two best that I can remember. These ones [at Monza] are very clean. The whole session was very clean. Obviously Valtteri's closer than I'd like. On my last lap I lost a tenth, I think, through that middle sector, which is frustrating – I could see it kind of dropping away."
READ MORE: Q2 exit at home 'hurts' says Leclerc as Ferraris start outside top 10 at Monza for first time since 1984
What did make Hamilton's pole satisfying, however, was the fact that Mercedes were able to demonstrate their dominance despite a Technical Directive from the FIA which prevented teams using more powerful 'party modes' in qualifying – with Hamilton nonetheless ending up over eight-tenths faster than McLaren's Carlos Sainz in P3.
"It's a real hats off to all the guys at the factory," said Hamilton. "With Red Bull really pushing to have the rule change for the engine and the FIA trying to slow us down, they handled it really, really well, kept their heads down and just kept working hard, and this is really a result of the incredible work those guys do, and I'm just really proud to be a part of that incredible chain.
READ MORE: Bottas fires 'party mode' potshot at Red Bull after Mercedes secure first quali 1-2 at Monza since 2016
"We have a fantastic car," he added. "The car has just continued to evolve. These engineers really listen to the drivers in terms of our feedback, because we work together. I've definitely experienced in the past engineers who just want to do their own thing and not take much notice, so it's a big part that we work together collectively.
"They take our input and they take their genius minds and solve problems that we constantly have. There's no one above anybody and that's why we continue to do what we do."
It was Hamilton's first pole at Monza since 2017, meanwhile, with the Briton now hoping for a repeat of that year, which saw him lead home a comfortable one-two for the team ahead of Bottas.