Feature
Friday Pace Analysis: What can the data from practice tell us ahead of the Austrian GP?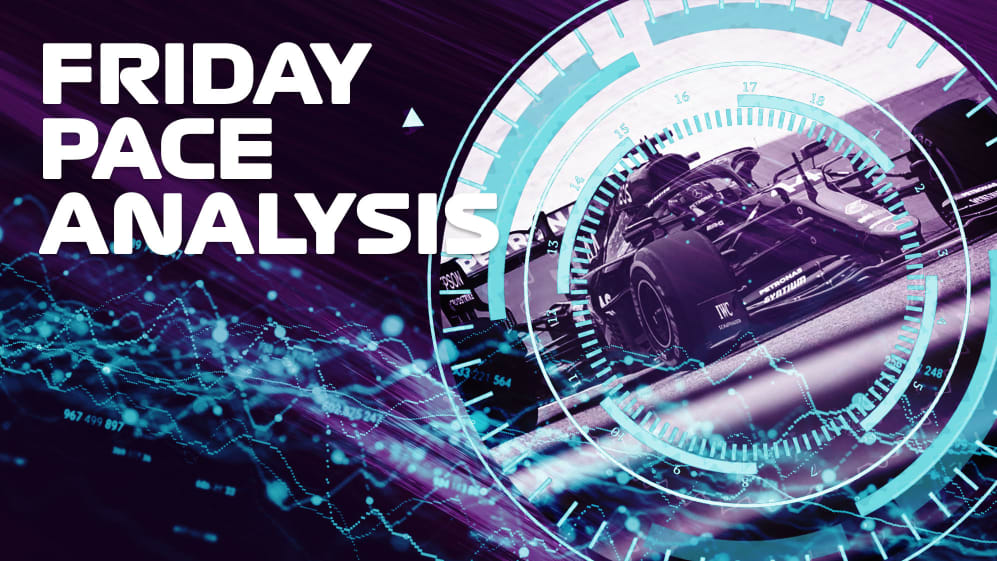 "It's great to be back." Lewis Hamilton summed up the mood in the Red Bull Ring paddock after Formula 1 cars finally hit the track on a race weekend in 2020.
The Mercedes driver, along with team mate Valtteri Bottas, was on the pace right from the off, the pair securing a one-two for the world champions in both Friday practice sessions. So is that a sign of things to come this weekend? Time to look at the data...
READ MORE: Hamilton heads another Mercedes 1-2 with Racing Point's Perez third in Austria
One lap pace
The timesheet for Friday's second practice session, where teams completed their first genuine low-fuel, soft tyre run of the weekend made for grim reading for anyone not driving a Mercedes.
Hamilton, targeting his seventh world title this year and sixth in seven years, was in scintillating form, clocking a time that was 0.641s quicker than any other car in the field.
Sergio Perez, driving a Racing Point that has been dubbed 'the pink Mercedes' given how similar it looks to last year's all-conquering W10, was the closest challenger – but when we crunched the numbers, it told a different story.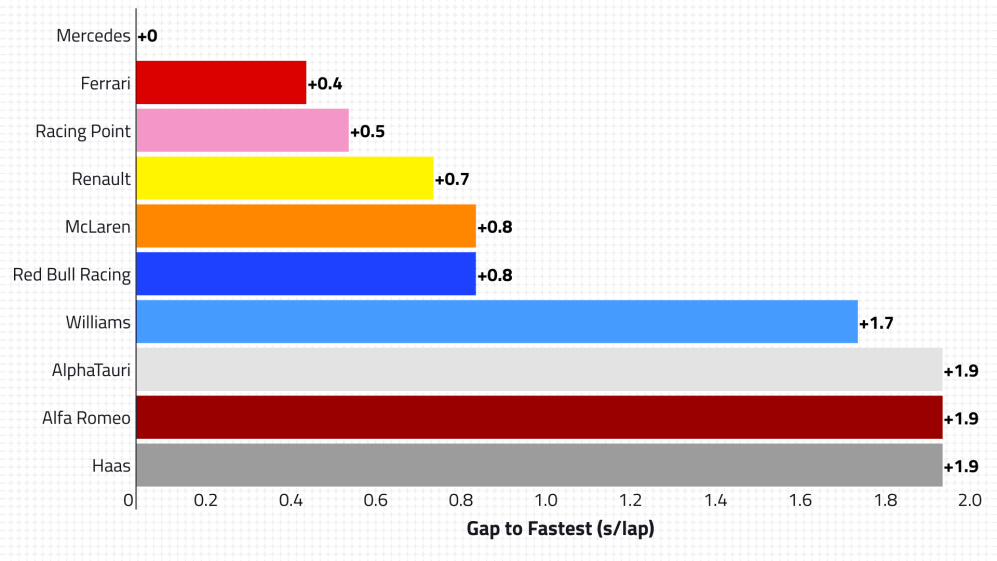 It was actually Ferrari, who entered this weekend with low expectations who were second quickest over one lap, when we corrected the lap times for fuel. However, while Sebastian Vettel described it as a "decent" day, he hinted that they may be looking at holding off those behind, rather than taking the fight to Mercedes.
READ MORE: Ferrari performance 'even worse than expected' admits Leclerc after difficult start in Austria
Whether or not they will be competing against shock performers Racing Point when it matters remains to be seen, but the pink cars certainly delivered on their early season promise based on their form in practice.
Lance Stroll described it as the best Friday he's ever had with the team, the Canadian happy with the feel and balance of the car, while Sergio Perez was focused on attacking the big teams rather than racing in the midfield.
Renault and McLaren were next up and evenly matched with Red Bull over the one-lap stuff. For Renault, who tested at the Red Bull Ring last month, they were "positive" about their chances, particularly in qualifying.
McLaren too were encouraged about their pace relative to Renault, but both Carlos Sainz and Lando Norris referenced Racing Point's impressive speed and reckon it might be too much for them this weekend.
READ MORE: Racing Point 'way too far away' from rest of midfield, admits McLaren's Sainz
Red Bull were perhaps the surprise in this metric, until Max Verstappen told me he broke his front wing on his push lap, and then when he returned to the track, they went with a different wing and he said they were "too aggressive" with it.
The feeling is there's plenty more to come from a team who have heavily updated their car for this weekend, with a Honda power and reliability upgrade to boot.
Williams were in a surprise seventh in this metric – not often we've said that in the last few years. Unfortunately, it's unlikely to be the case on Saturday, though, as while George Russell reckons they've made a step forward, getting out of Q1 might be a bit too much to ask right now – but the positive thing is they seem to be going in the right direction.
Race pace
You may not be surprised to see Mercedes at the top of this metric, as they so often are, but you may be surprised by the significant gap to the rest of the pack.
Racing Point continue to cause a stir, making their pre-weekend targets of taking the fight to the big three look more realistic. They were just 0.4s/lap slow on their long runs, a fraction ahead of Red Bull.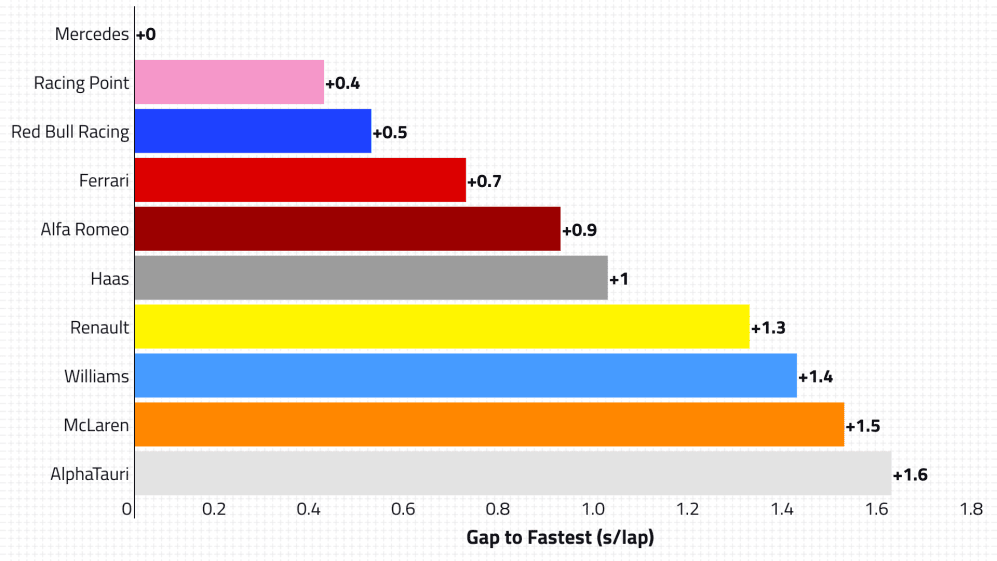 It's here that Red Bull managed to make some ground back, although they will still have suffered from Verstappen ruining a set of tyres when he ran off into the gravel, the Dutchman unable to gather representative long run data on that set of lap times.
Ferrari were down in fourth, with the data worked out based on calculated fuel loads, with Charles Leclerc admitting the team have to "work quite hard to catch up overall performance".
He hinted that they seem to lose speed in the corners. According to our data, as you can see from the graph, they are a fraction off Mercedes in the low speed – an area they have definitely improved versus last year – but among the bottom half of teams in the medium speed.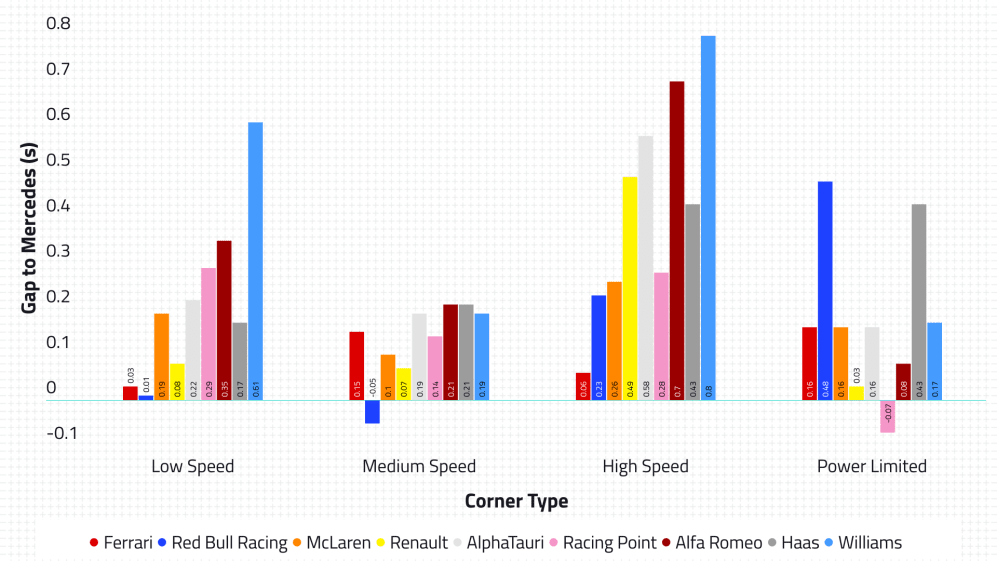 They reduce that deficit in the high speed stuff to just 0.06s adrift of the Silver Arrows but in the power stakes, interestingly they were on par with McLaren, AlphaTauri and Williams and well down on Racing Point and Renault.
Alfa Romeo performed well in the long runs, despite neither Kimi Raikkonen nor Antonio Giovinazzi sounding like they were that happy with the car, with Alfa Romeo in fifth down to AlphaTauri in 10th separated by just 0.7s/lap on what is a very short track, suggesting it could be a pretty tasty fight on Sunday.
READ MORE: Hamilton taking strong Mercedes Friday pace 'with a pinch of salt'
Verdict
On the face of it, this looks like Mercedes are set to start their defence in the best possible way this year, so strong were they on Friday. But let's not forget that last year, there was a Ferrari and Mercedes on the front row, but the Red Bull of Verstappen in third, who dropped to eighth at the start, was the driver who claimed victory – so it's by no means a foregone conclusion.
Then there's the weather to consider, with the temperatures set to rise, and cloud cover reduce, raising the track heat and providing conditions the teams will have very limited data on from Friday, given it was wet early on and generally cooler in the dry.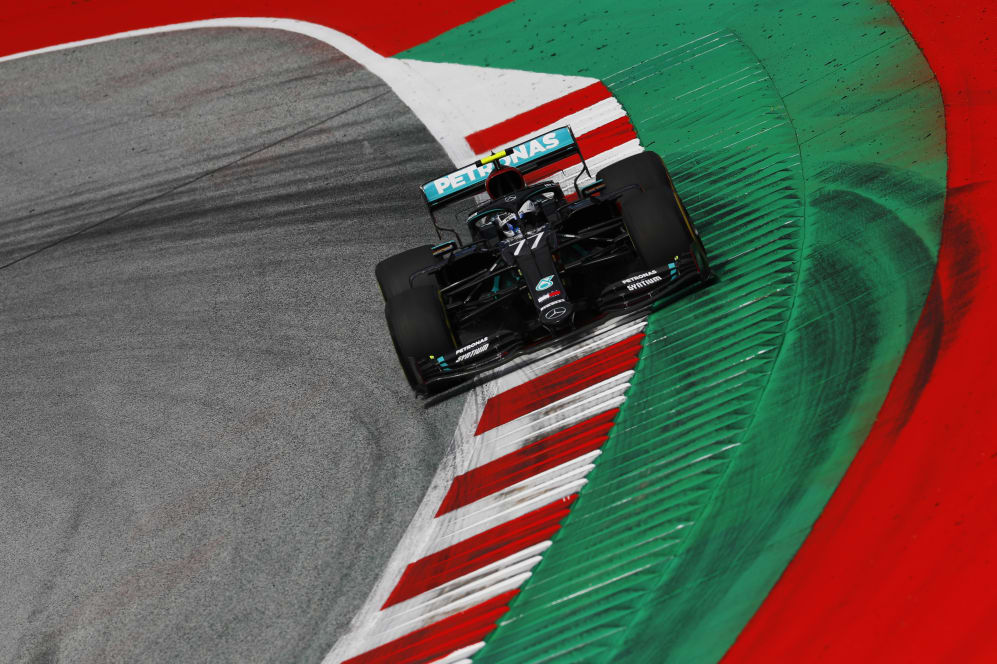 And we await the outcome of the protest lodged by Red Bull in reference to the Mercedes DAS system. They want to know if the innovative device, which turned so many heads in pre-season testing, is legal. Mercedes reckon it is, having had conversations with the FIA, so it'll be interesting to see how the stewards rule.
Should it be legal, Red Bull could well look to add their own version onto their car, leaving Mercedes free to utilise their innovation from FP3 onwards. If it's not, Mercedes will have to take the system off the car, which potentially could hamper their chances this weekend.
Plenty, then, to look forward to. We've already made it further than we did in Australia, with one day of track running. Here's to another captivating day on Saturday and hopefully an intriguing race – much like last year's cracker – on Sunday.
FORM GUIDE: Why recent history favours Verstappen in Austria