Feature
Friday Pace Analysis: Who has the edge in midfield as the teams' battle for P3 comes to a head?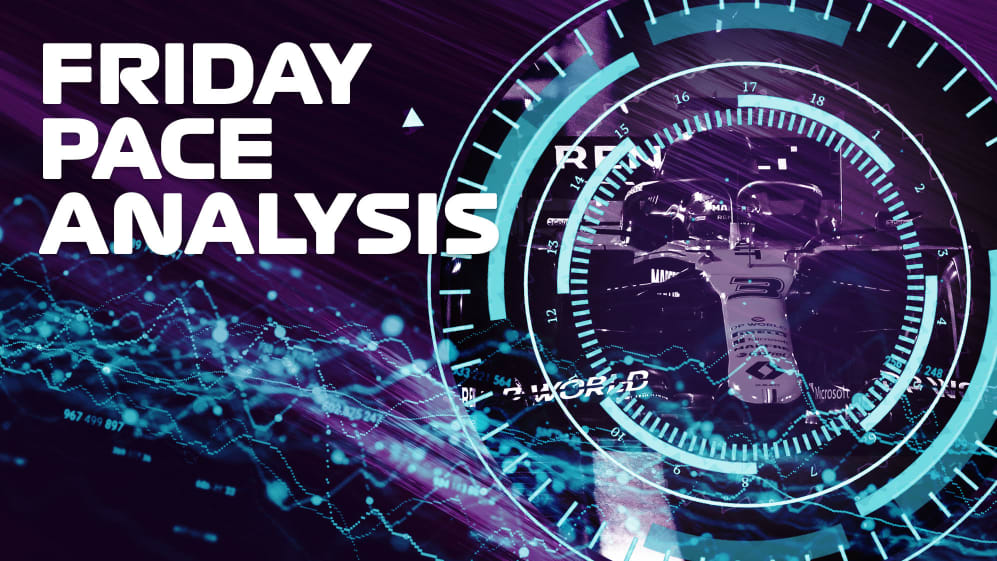 Mercedes set the pace in the final Friday practice of the 2020 F1 season, with Valtteri Bottas getting the better of his returning world champion team mate Lewis Hamilton on the time sheets. So will they end this campaign, which has yielded a seventh successive drivers' and constructors' double, as they started? Let's have a look at the numbers…
ONE LAP PACE
There was a familiar look to the Friday practice timesheets for the season finale in Abu Dhabi, with Mercedes once again leading the way.
It wasn't the smoothest of days for the world champions, Hamilton having an issue with his brake pedal assembly in first practice – and unable to run the soft tyres – while he then also lost his best run on the soft, which would have put him top, for exceeding track limits in FP2.
READ MORE: 'Car not how I left it' says Hamilton after 'messy' first day back with Mercedes after Covid absence
The team also had a problem with Bottas' throttle pedal, which was changed as a precaution during the second session.
And like many teams, Mercedes struggled to get the best out of the soft tyre, with the duo setting their best times in FP2 on the medium, a compound both Hamilton and Bottas felt much better on.
FP2: Bottas leads Hamilton under the lights in Abu Dhabi as Verstappen takes P3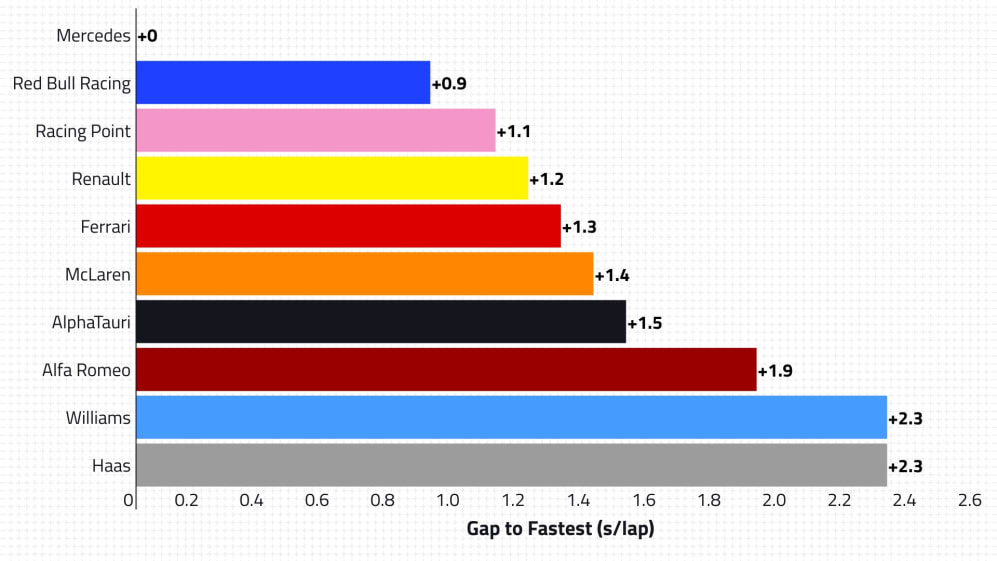 The W11 is particularly strong in the slow corners, as seen in the chart below – holding a massive advantage over its rivals, and also holding a margin, albeit it smaller, in the medium and fast turns.
Mercedes are therefore favourites for pole and indeed locking out the front row, with our data suggesting they have a massive 0.9s advantage over Red Bull. This data is slightly skewed, though, as Verstappen's soft tyre run was ruined when he got caught up behind Sergio Perez doing a long run.
READ MORE: Norris relishing tight midfield battle in Abu Dhabi, even though it 'makes our lives more difficult'
Behind them, there's a brilliant fight for the remaining places in the top 10 shoot-out with Renault, Ferrari, McLaren and AlphaTauri separated by just three-tenths of a second. A small mistake could cost you eight places on the grid – that's how close it is.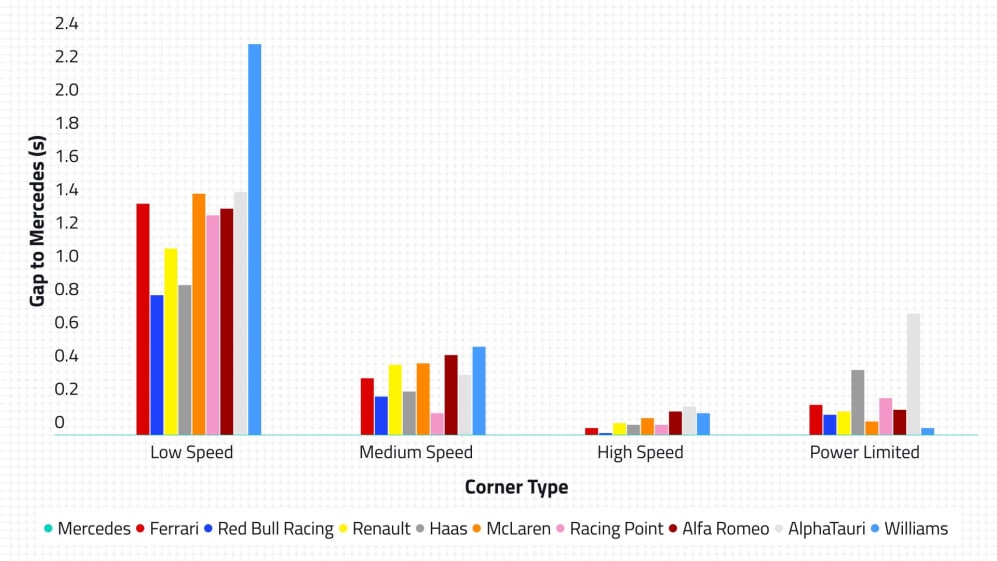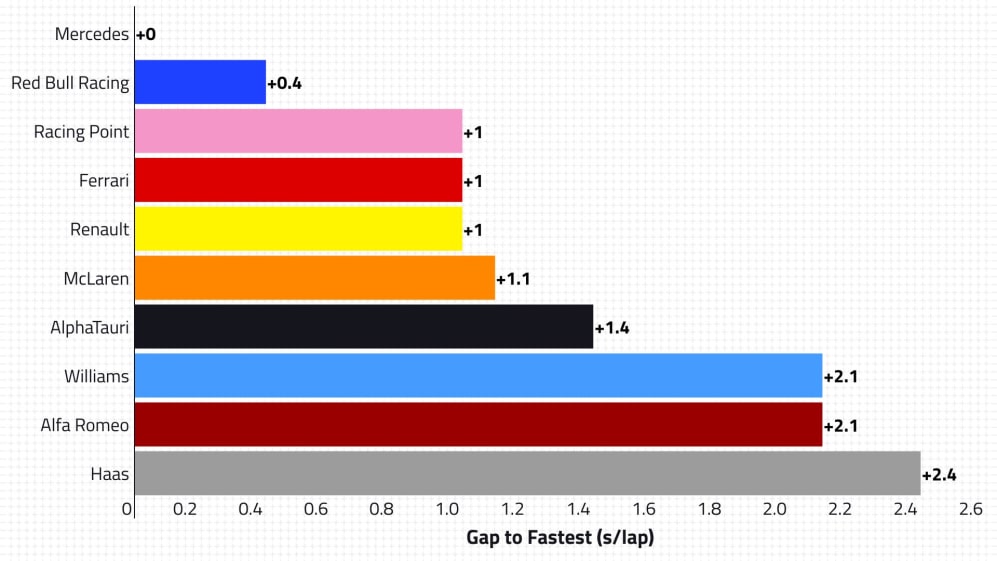 It means all the teams won't have a great picture of their long run pace, with several missing out on data on certain compounds. Mercedes, for example, didn't manage to do a long run on the medium tyres, while McLaren didn't do any running on that compound in any of their simulations.
There's absolutely nothing to choose between Racing Point, Ferrari, Renault and McLaren, the quartet separated by just 0.1s, as AlphaTauri fall adrift of that pack. That'll explain why both Pierre Gasly and Daniil Kvyat said they had plenty of homework to do overnight to ensure they'll be in the fight for the rest of the weekend.
READ MORE: Ricciardo says Renault 'in a decent place' despite FP1 failure as he aims to leave team on a high
VERDICT
Mercedes are the world champions, so we shouldn't be surprised to see them topping the timesheets in Abu Dhabi and marking themselves out as the ones to beat in both qualifying and race trim.
There are unknowns, though, given teams didn't complete proper long runs, and while there is one more practice session left, that takes place in daylight, when conditions will be around 14C hotter than what we can expecting in qualifying and the race.
Several teams experienced graining on the soft tyres, especially on the fronts, but Pirelli expect this to improve over the weekend as tweaks are made to car set-ups.
READ MORE: Russell admits to 'strange feeling' after missing out on Mercedes drive – but determined to do Williams 'duty'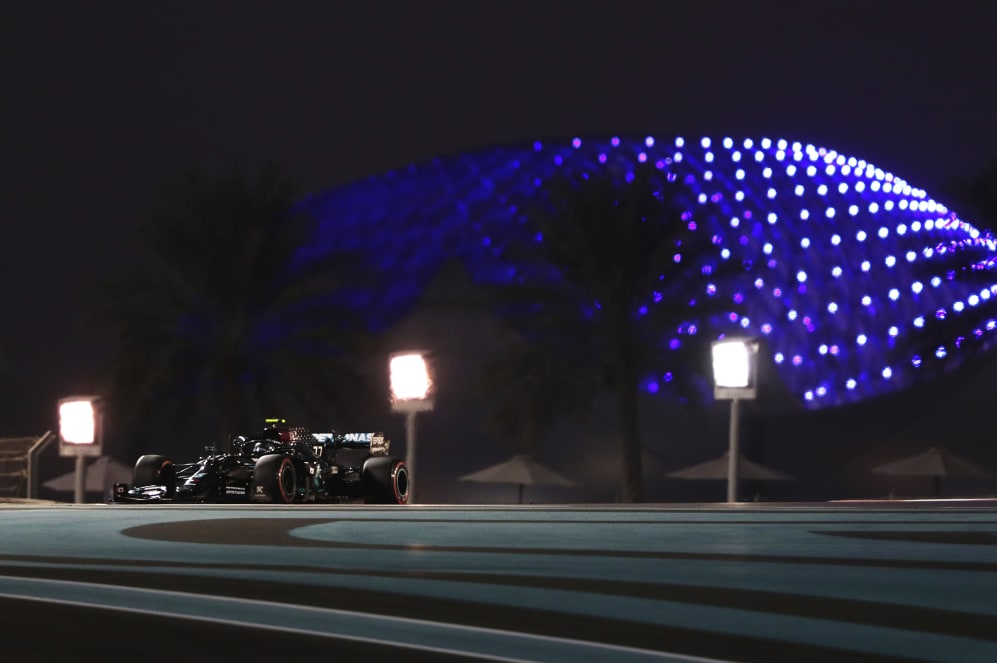 It is anticipated that some will attempt to get through Q2 on the medium tyre, opening up their strategy options for the race, especially as Pirelli suggest there is little to choose between the hard and medium.
IDEAL LAP: Bottas quickest – but returning Hamilton poised to strike
The world championships may be decided, but there's a three-team fight for P3 in the constructors' standings – Racing Point, Renault and McLaren – and they are all incredibly evenly-matched.
Plenty, then, to be excited about as F1 prepares to bring the curtain down on an extraordinary season.