Feature
Friday Pace Analysis: Why the data suggests it's all to play for in the Sakhir GP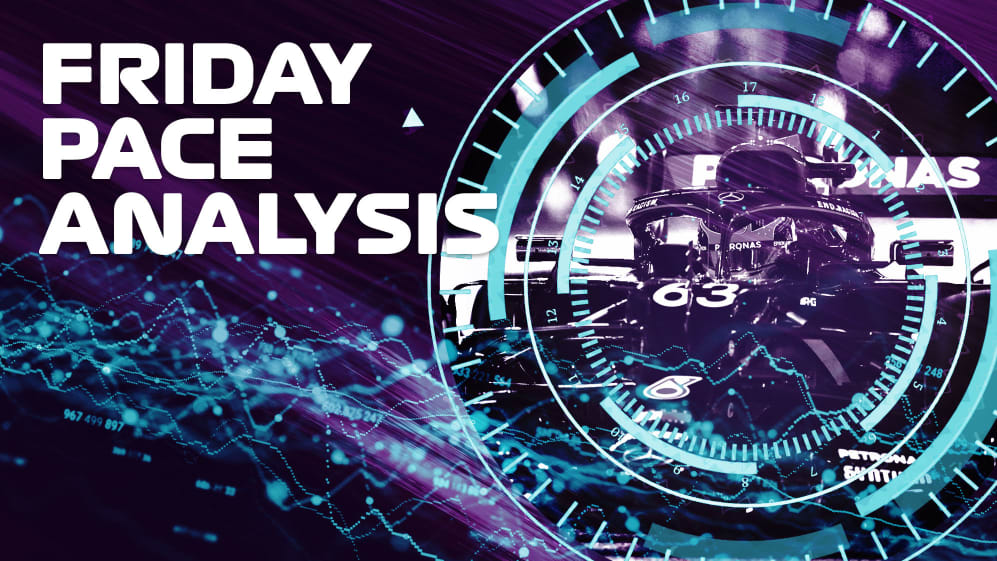 George Russell picked up where Lewis Hamilton left off at Mercedes, the British substitute topping the times in both Friday practice sessions to cap a brilliant opening day in his temporary surroundings ahead of Sunday's Sakhir Grand Prix. The Silver Arrows, particularly in his hands, looked like the car to beat once more, but does the data tally? Let's have a look.
ONE LAP PACE
Mercedes' trackside chief Andrew Shovlin reckons George Russell and Valtteri Bottas have the pace to challenge for pole position, despite the duo having contrasting days.
While Russell settled in brilliantly and topped the times, Bottas struggled to get the perfect lap together. But as our ideal lap feature showed, the Finn is actually the fastest of all if he can get everything together.
IDEAL LAP: Why Bottas will be happier than his lap times might suggest
Looking at our short run data, which takes into account a wealth of factors including tyre compounds and fuel levels, Mercedes are quickest over one lap, heading Racing Point by 0.4s/lap.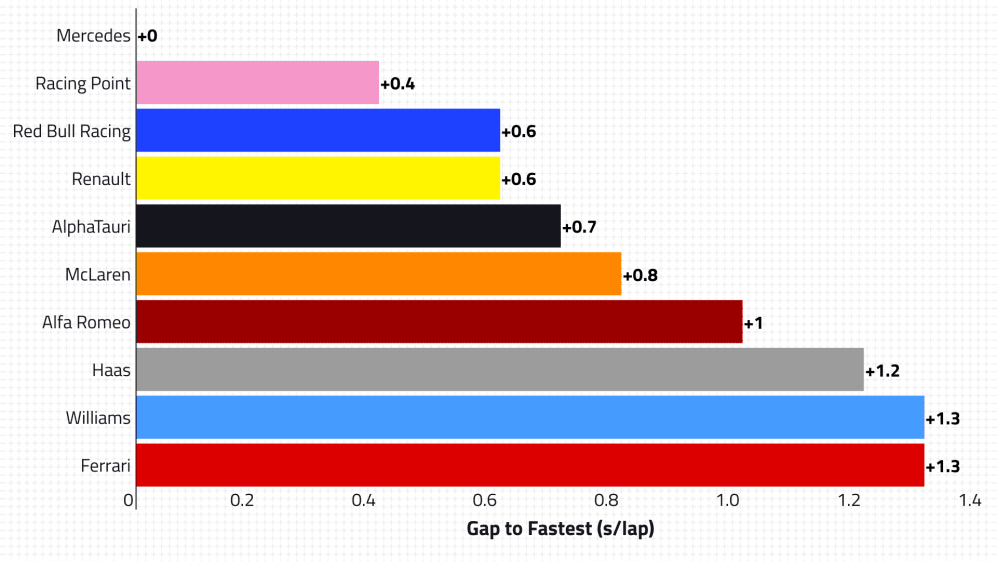 With margins so small because it's only a 3.543km track, that's actually quite a big gap. Sergio Perez was the quicker of the pink cars, and despite the fact he's running an old-spec engine after his latest version suffered so much damage when it met with a fiery end in the closing stages of the Bahrain Grand Prix, robbing him of a deserved back-to-back podium.
Red Bull were surprisingly down in third, but Max Verstappen was adamant they can find more time overnight. They were matched by Renault. The yellow cars have improved their car in low downforce trim – and that was evident here as they looked a stronger proposition than on the traditional circuit layout.
READ MORE: Russell plays down expectations after topping Sakhir practice sessions, saying lap times are 'deceiving'
AlphaTauri love Bahrain – so it's no surprise they are looking very strong. Pierre Gasly in particular looks mighty over one lap, with the blue and white cars 0.7s/lap off the pace according to our data, locked at fourth-best with Renault.
McLaren are down to sixth in the pecking order, which doesn't bode well for their fight for P3 in the constructors' championship. Carlos Sainz said he was puzzled by their lack of pace here, considering they were so strong on the longer layout, where Lando Norris and Sainz finished P4 and P5 last Sunday.
Ferrari were down at the bottom, but this result is skewed by the fact Charles Leclerc failed to set a lap time in FP2 after a problem with the driveshaft. That meant the team relied on Sebastian Vettel, who was well off the pace as he struggled to keep his car pointing in the right direction.
READ MORE: Leclerc encouraged by Ferrari's Friday pace despite FP2 failure, as Vettel targets Q3 in Sakhir
RACE PACE
Andrew Shovlin said that Mercedes had got the car working well in the slower corners, which wasn't their strength last weekend. However our car performance graph shows that they still have a deficit in the low-speed turns to Red Bull and, remarkably, Haas.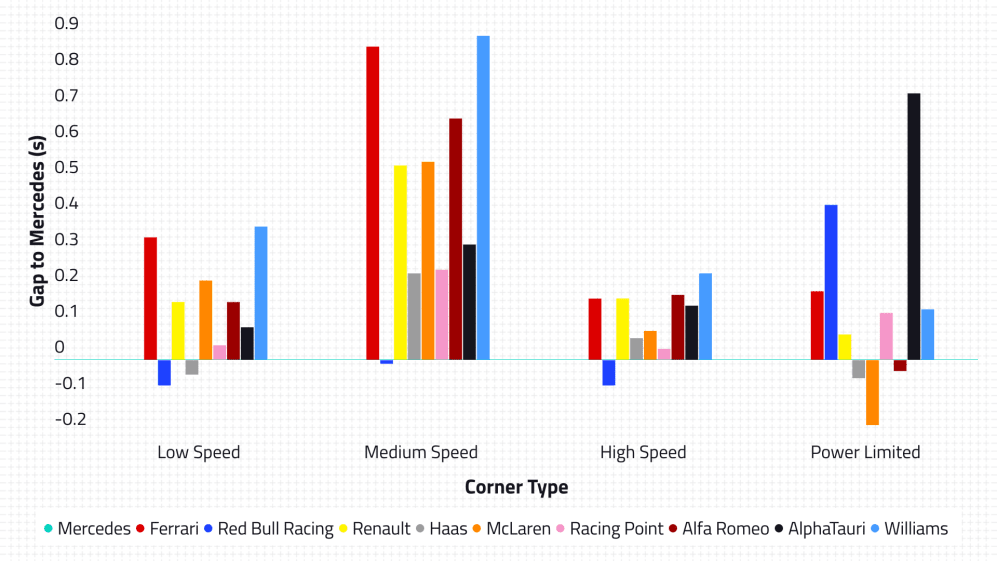 However, while Shovlin reckons their "long runs weren't quite there" and that "Red Bull look to be stronger", our data suggests Mercedes have a 0.2s/lap advantage over the blue cars, with Racing Point third-best, 0.5s/lap adrift. It was an encouraging performance for the Silverstone-based team, who failed to score last time out in Bahrain, which dropped them back behind McLaren into P4 in the constructors' championship.
READ MORE: 'It's crazy, this is the big league now' – F1 new boys Fittipaldi and Aitken on their drama-filled Fridays
They have a 0.2s/lap advantage over AlphaTauri and Renault, who are evenly-matched, with McLaren's race pace as disappointing as their speed in qualifying trim. Norris and Sainz were staying positive, though, pointing to the fact they have had tough Fridays before and recovered.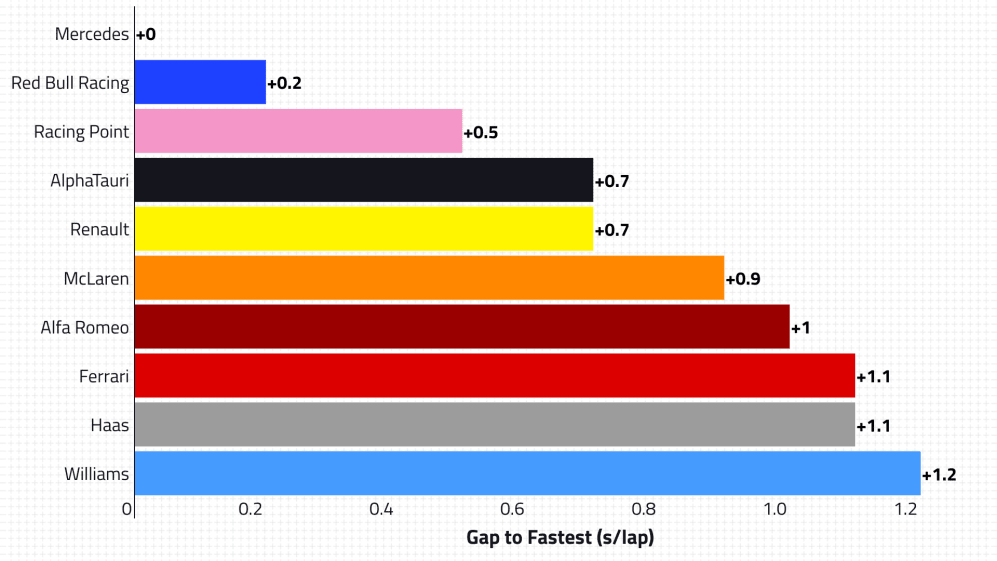 Ferrari's race pace was better than their one-lap speed, but they were still only quicker than Haas and Williams, both of whom were running a new driver, with Pietro Fittipaldi looking strong as he replaced the injured Romain Grosjean, and Jack Aitken stepping in for Russell.
However, Leclerc was pretty happy with the pace of the car both in FP1 and FP2, so is hopeful that they can make some good progress overnight and improve their standing as we enter the weekend.
READ MORE: Drivers predicting traffic 'carnage' in qualifying on short Sakhir GP Outer Loop circuit
Verdict
Lewis Hamilton's absence certainly opens things up, and while Mercedes do look the strongest in the metrics, Bottas is not performing at his peak while Russell looks strong but is on a steep learning curve.
The Briton is looking good for the weekend, but the challenge now is to build a rhythm and pump in a quick lap when it matters, under pressure in qualifying – which is a different proposition to free practice.
Then he must consistently deliver that pace in the race, which is no easy feat in what will be his first time in this car. However, if he can get it all together and deliver, F1 may well be looking at a genuine star of the future.
READ MORE: Bottas rues 'waste' of first practice and has his best FP2 lap times deleted on tricky Friday in Bahrain
The uncertainty means there are is a chance for those behind. Red Bull were expecting a tougher weekend, as their Honda engine isn't quite a match for Mercedes, but they were better than expected – and Verstappen always comes alive in races. His team mate Albon is on an upturn of form, too.
READ MORE: 'We still need to find more' – Verstappen not satisfied despite P2 pace in Sakhir GP Friday practice
And then there's the Racing Points. Perez loves Bahrain, and showed last week that he is podium material. It's a shame he's running an older engine, which he tells me is costing him a couple of tenths of a second, as that might rule him out of the fight for victory – but he's certainly well-placed for a podium.
Traffic is going to be a big problem in qualifying, especially in Q1 when all 20 cars are on track. If they are all out at the same time, and spaced equally, there's only a two-second gap between them, which isn't enough clear air to get a clean lap.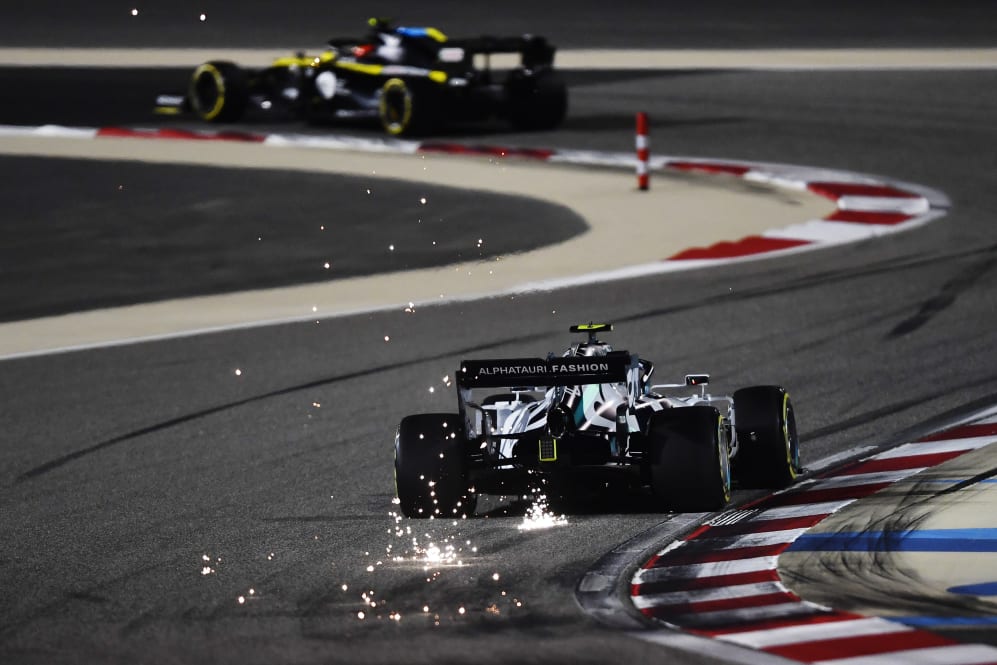 Timing a run, and dealing with passing slower cars, on a track where margins are so small – the top 13 were separated by just 0.8s in FP2 – because there are so few corners, will be critical. And teams will want to minimise their pit stops, as time lost in the pit lane is around 23s – an eternity when a lap is below a minute.
MUST-SEE: Vettel almost collected by Magnussen after massive spin in practice
Qualifying isn't the be all and end all, though, as overtaking should be possible if, as Lance Stroll said, a little harder than they had anticipated over the weekend given how tricky it is to follow cars – so that bodes well for an exciting race, especially as the field is so close on pace, relatively-speaking.