Gasly: 'Unexpected' Q3 appearance key to P8 finish in Suzuka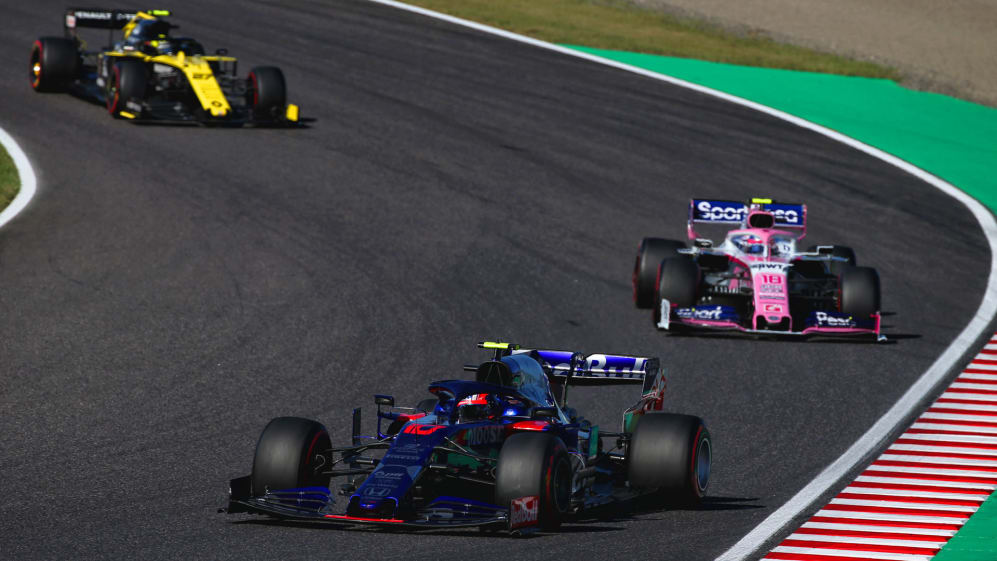 Pierre Gasly twice gave Toro Rosso something to cheer about on Sunday in Suzuka, making a shock Q3 appearance in the morning before holding off faster cars behind him to finish P8 in the Japanese Grand Prix, power unit supplier Honda's home race.
Analysis of race pace from Friday had shown Toro Rosso with a disadvantage compared to rivals Renault and Racing Point. And though that proved to be the case in the race, some tenacious driving from Gasly – and coming through unscathed from last-lap contact with Sergio Perez – helped him to his joint-best finish since re-joining Toro Rosso in August, as team mate Daniil Kvyat could only manage 12th.
To finish in eighth position in front of all the Japanese fans for Honda is really good
"It was quite intense," was Gasly's summary of his day. "With the Q3, we were really happy… we didn't expect to make it to Q3, so qualifying ninth was better than we expected.
"In the race, we knew it would be tough – and it was… with the guys behind pushing quite hard, and I think a bit faster than us, so it was quite hard work to keep everyone behind. To finish in eighth position in front of all the Japanese fans for Honda is really good.
"There was contact, quite big," added Gasly, referring to the Perez collision, which the stewards ruled was a racing incident. "I need to review to see if I could have done something different..."
Gasly's performance was all the more impressive given that he'd had just one practice session to dial into his STR14, with his former Super Formula team mate Naoki Yamamoto having taken over his car for Free Practice 1, while FP3 was canned due to the approaching Typhoon Hagibis.
DRIVER MARKET: Horner says Yamamoto 'doesn't fit Toro Rosso criteria at the moment'
But being "blind" with set-up, according to Gasly, had helped him to spring a surprise.
"I think it was a bit of a strange weekend for everyone with not much work to do on Saturday," he said, "so you need to go a bit more blind into qualifying in terms of set-up in the car, and for us, it seemed to have worked quite well. Honda pushed it quite hard as well, and it's always nice when you feel the horsepower – and today it paid off."
Gasly and Perez's contact, meanwhile, as the Mexican was going for Gasly's P8 on the final lap of the race, was significant in the constructors' championship too, as sixth-placed Toro Rosso were able to stretch their advantage over Racing Point to five points, with four races left to run this year.