Haas 'have to investigate' after suspension failure ended Magnussen's Mexico City GP with team dropping to bottom of constructors'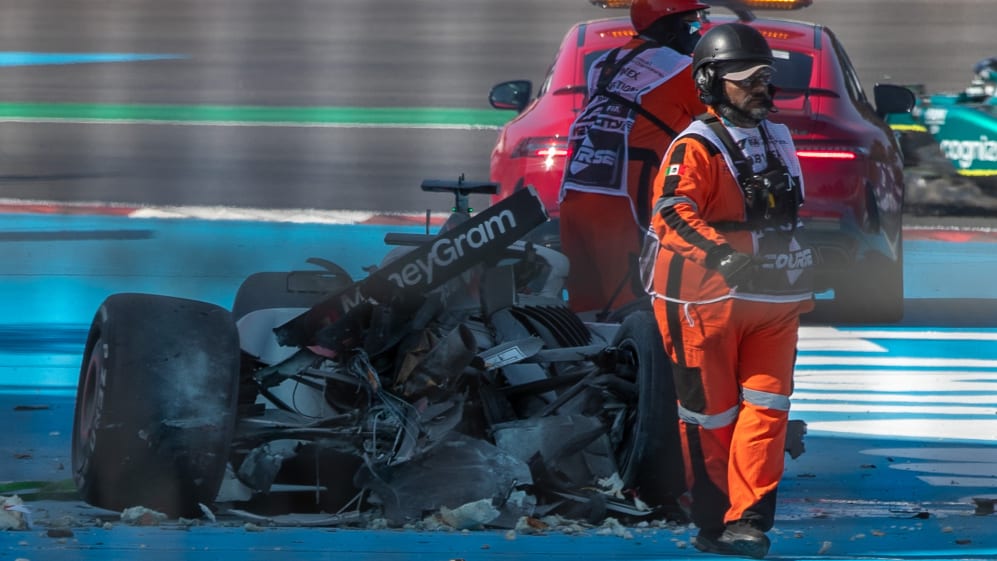 Haas weren't able to finish in the points on Sunday in Mexico, on a day when AlphaTauri leapfrogged them in the constructor's championship. But there were still positives to take from their race, not least the fact that Kevin Magnussen is okay after his huge crash brought out the red flags.
The Dane had had a scruffy lap midway through, running wide and kicking up some dust. As he started the next lap and his tyres cleaned up, he began to push again – only for something to give on the rear of his car, skewing him straight into the barriers at Turn 9.
It was a heavy impact, with next to no run off area to scrub any of his speed, and while Magnussen was able to climb out of his car unaided, he was taken to the Medical Centre for checks and kept under observation before being released.
READ MORE: 'I paid a high price' – Perez admits he 'took a risk' in race-ending incident after hoping to win in Mexico
"The rear suspension, rear left suspension broke in Turn 9," he said afterwards. "Unfortunately, in a bad place, so I hit the wall. I just got a knock on my hands and they hurt a little bit but they are fine.
"We have to investigate a bit more what exactly happened as it just gave up. Before that, it was going okay, I was stuck in traffic for a long time and cooked my tyres, but I don't know if whatever caused the failure had an impact for a while beforehand."
Team boss Guenther Steiner said afterwards that the failure might have been "heat related."
The red flags that came out as a result of Magnussen's crash – with barrier repairs needed – didn't help his team mate one bit. With everyone able to swap tyres during the stoppage, Haas were left with an impossible choice. They only had mediums left to fit but knew that with 37 laps still to run and their car not renowned for being kind to the tyres, that would be a tough ask.
READ MORE: Hamilton has 'total faith' Mercedes can build a contending car in 2024 after finishing second in Mexico
Nico Hulkenberg did his best, running in the top 10 for lap after lap. He frustrated the Alpine of Esteban Ocon for a large portion of the race, but in the end ran out of rubber with which to defend. Once Ocon went by, he dropped to P13 by the flag in his 200th Grand Prix.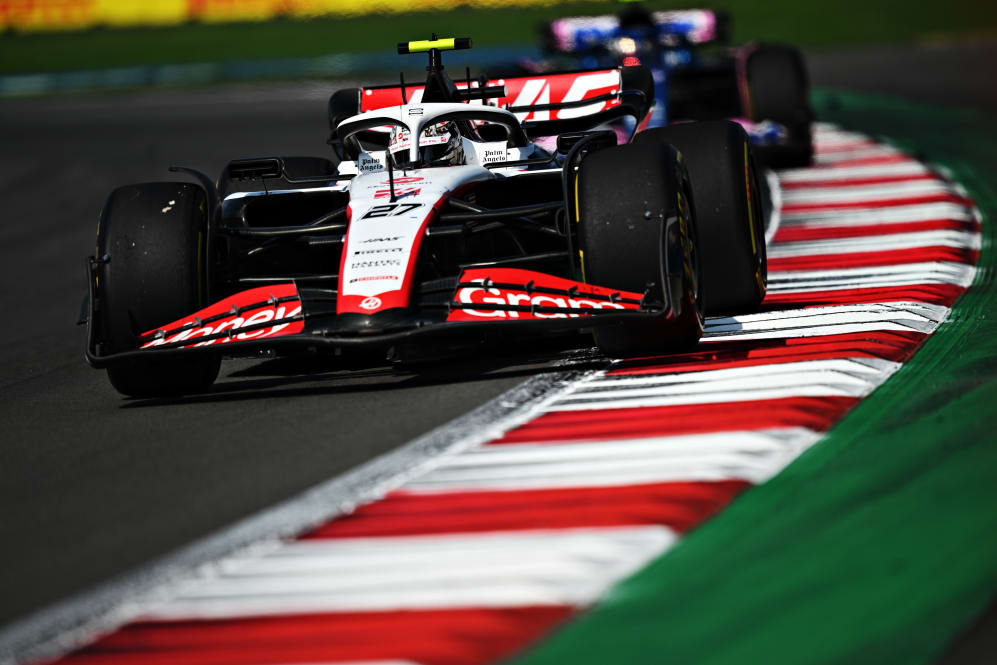 "It was good, I was hanging in there, I was annoying other people," he said with a laugh afterwards. "I'm sure they got frustrated seeing my rear wing for so long so that was good, gave me some pleasure today.
"The timing of the red was not ideal, it really hurt my race. But more importantly Kevin is okay there."
AlphaTauri's six-point haul courtesy of Daniel Ricciardo's P7 finish lifts them from 10th in the constructors' to eighth, and means that Haas now occupy that P10 spot. They have three races left to try and rectify that, starting in Brazil next weekend.
READ MORE: Verstappen 'very proud' after record-breaking 16th win of the season in Mexico City GP